Stunning views; space by the bucket-load. Freedom.
Overlooking the mouth of the Pembrokeshire Heritage Coast is a simple field, where you (and, of course, anyone else who fancies it) can pitch your trusty canvas home-from-home and enjoy the simple pleasures of life – think kids roaming free in a lovely big field. The farmers run a very relaxed ship and seem somewhat perplexed by campers' fascination with this field. After all, it is only a large field, backed by a rocky outcrop with a few grazing sheep – oh – and did we mention the view? In high season it's a wetsuit-drying mecca, littered with surfboards and dinghies, smoking BBQs, impromptu ball games and kids ducking in and out of the guy ropes. Sheer magic. Beware though; this site should really come with a warning – camping at Dale Hill Farm could induce a certain smugness. You could become smug because you are on the closest campsite to coveted Dale, with its surfy, yachty gang. Smug because you know that there's a short cut from the back of the site to surf-tastic West Dale. And, finally, smug because you know that you have a field 'with a view' (unless, of course, the sea mist has rolled in).
Gallery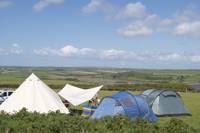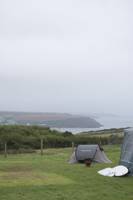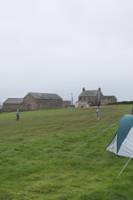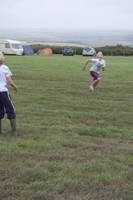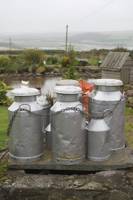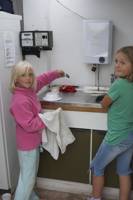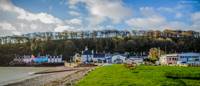 Reader Reviews
Add Your Review
Sadly now a victim of its own success
We've camped here in the past and loved it, but sadly it now appears to have become a victim of its own success, on a bank holiday at least. There doesn't appear to be any formal booking system so to speak and this time they had opened up a 2nd field to cope with the numbers...but there are still only two toilets, two showers, and one washing up sink...which were massively overstretched, to the point where we had a 20 minute wait for the loos in the morning...not great when you've got little ones who are bursting. The other big problem we faced this time was a very large group who seemed to decide that because a campsite doesn't have official rules they should be completely selfish and ruin everyone else's weekend. One night of extremely loud partying into the small hours could probably be forgiven, but night after night of the same thing, despite many people politely asking them to keep the noise down (to which they were told "it's a bank holiday, who cares?") was beyond selfish. The campsite owners didn't appear to care and several people left early because of the noise. It's a real shame as we loved this campsite but now we certainly won't be returning on any bank holiday weekends. If the owners are going to continue to allow such large numbers in then they really need to look at putting some more toilets in at the very least. And if they want to continue to allow large groups to have parties there then they should make sure they are all in one field, and then anyone else who actually wants to enjoy the beautiful peace of Dale (and get some sleep) can in the other field.
Unbelievable - highly recommend
well, what can I say, amazing hospitality by the owners of this site, they have some great stories to tell about the airfields and history of the Dale. Unbelievably welcoming, friendly & cheap, excellent site, highly recommended with a great coastal walk into the village of Dale! Great beaches close by for surf and bathing... Everything we wanted and more with the bank holiday fun in the village! Thank you Dale Hill we will be back x
Friendly and relaxed, Aug 2013
  With 8 nights to camp in Pembrokeshire and many campsites to choose from we used the Cool camping web site to narrow down the search and decided on 3 sites (2x3 nights and 2 nights). Our first stay was at Dale Hill ...
From the road by the bay we followed the windy hairpin track to the sparse farm yard and wondered whether we'd arrived at the campsite - until we spotted some tents in the field beyond. We pitched at the top edge of the field, getting some shelter from the breeze by the hedge and checked out the 'facilities'. It takes a night/day before you can really know whether a site works for you as our first impressions of the narrow track and limited facilities were eased away as we realised how laid back and friendly this site is.

There were around 20-25 campers/caravans in mid-August, no loud groups, children playing in the middle of the field and chatty neighbours. We walked into Dale via the road and  on another day via the airfield and valley. The disused airfield is vast and not obvious that a path leads down one of the old runways! This takes you to the West coast, about 1 mile to Westdale beach/cove or 2 miles to the superb sandy Marloes beach [the path down the cliff is approx in the middle of the beach].
So we swam at Dale, Westdale and Marloes. We also did a coast walk around the Dale Peninsula, past St Anns Head, great scenery. There was a regatta in Dale on the Sunday and the next weekend was going to be cruisers. There's a cafe/shop in Dale open till 5pm which sells some basics (milk, bread) and a few other items. There's a shop at Marloes which closes at 5pm prompt selling papers and a range of food items and also a chip 'shop'.
So we made use of the facilities - fridge (a bit full but worked), freezer (a bit full but worked), washing up - hot water, showers and toilets. At first you think there is only one wash basin but the two showers also have a small washbasin in them. All worked fine. An outside tap is useful for washing swimming gear.

Late one afternoon some campers arrived with a tent but no poles and were rather stuck. However a caravan couple (visited the site for last 7 years) who were leaving that day said that they would leave their caravan on site for another night (someone else was storing their caravan) so that the campers could sleep in it! Now that's friendly.
All this for £10 / night - a bargain.

Nigel, Katherine and Helen
Dale Hill Farm
We took coolcamping's advice; also The Telegraph recommended this as one of the top 10 in the country! Michael & Sharon have to be one of the most friendly, welcoming and helpful couples I have met in a long time. Nothing is too much trouble and we felt part of the working farm family from the outset. This is no frills camping, a large field, that's it. A clean shower block with plenty of space, outside drinking water tap. The view; we sat for hours looking out over this amazing sight. Simply, it's stunning for miles around. If you are lucky enough to pick your pitch then go far end near the meadow for the best spot. We were lucky enough to be the only campers for the weekend because of the terrible weather forecast however, glourious sunshine for the 2 days and we were in second heaven. Dale is only a short walk away down hill, but remember what you walk down, you have to climb on the way back. At the end of the path, on the main road is a beach area with parking which will be great for families who want the security and a quiet place for kids to play. We walked into Dale to find a cash machine but were a little shocked to find we could only get cash-back at the pub for a £1 charge which is fair. The Griffin is friendly, great outdoor spot for watching the activities on the secure, enclosed bay. If playing on water is your thing then this is your place. Watch out for the cool sea breeze when the sun is beaming down as it gives you a false sense of how strong the sun really can be - or it could have been the local brew! There is a 'Dale Stores' which has 'limited' stock, after a few of the local beers and not driving we were a little surprised to find nowhere to get some wine in Dale to take back to the farm and ended up paying more then I liked at the pub for take-out. We like simple, no frills camping that reminds us of being big kids again. Marks out of 10; It gets a 9 from me however, I'm now in trouble from my better half because I'm telling everyone that we found our special place and it will get too busy.
Best Price Guarantee, with no fees
Instant booking confirmation
Trusted for over 10 years
A chance to win £50 of Cool Camping vouchers!
Book campsites near Dale Hill Farm