A basic, peaceful, family-friendly campsite in Pembrokeshire, where campfires are welcome and the sea, sand and surf of the Welsh coast are within easy reach
On the stillest of still nights at Walton West Campsite in Pembrokeshire you can hear the waves crashing along the coast. It's less than a mile to the beach (less than a mile to two beaches, in fact) but all the same the soft crunch of water tumbling in upon itself is usually lost beneath a gentle chorus of other sounds. Campfires crackle, marshmallows bubble, wildlife rustles among the bushes and at dusk the resident barn owl can sometimes be heard. They are the sounds of traditional, no-frills camping. And for folks like us heading to the coast, they are exactly what we're looking for.
Set in an organic meadow, where short camping lawns have been mown into irregular aprons of longer wild grass, Walton West Campsite is a simple site of old with four flush toilets, a couple of hot showers and washing-up sinks, half a dozen fridge freezers but very little else besides. There are no electrical hook-ups – though small campervans are still welcome – and there's no shop, café or playground. The entertainment here is more about having space, peace, being surrounded by nature and a cracking beach within easy reach.
Little Haven is the closest – a picturesque fishing village with plenty of facilities (car parking, toilets, etc) and quaint village pubs nestled into a sheltered valley that opens up onto a beautiful golden beach. The sandy bay is dotted with rock pools and spectacular craggy formations to the sides, while there's easy access onto the beach itself – ideal for families with young children. It also offers safe swimming and surfing for all ages and abilities. Once you round the headland, the beach actually stretches much further, linking up with neighbouring Broad Haven. It's here that you can hire water sports equipment to make the most of the surf, or retreat back onto land to snake your way along the Pembrokeshire Coastal Path. It too can be easily reached from the campsite.
At night the skies remain wonderfully dark. The campsite is within the Pembrokeshire Coast National Park and not only does this mean spectacular scenery and wildlife but also restrictions on further building, so there's no neon urban glow once the sun sets. Dusk means putting another log on the fire, wrapping up in a blanket and admiring the spectacular star lit skies. The unblemished nighttime views echo the Walton West ethos – that interference and manmade luxuries aren't the way to enjoy the great outdoors and just leaving things alone works much better. Walton West Campsite has, but for the basic facilities and the occasional trim of the grass, been left nicely alone for campers to enjoy. And isn't that what camping's about?
Best Price Guarantee
Easy and Secure, with instant booking confirmation
Trusted for over 10 years
A chance to win a brand new Coleman tent!
Gallery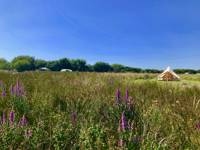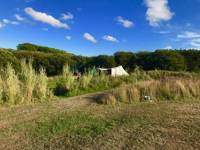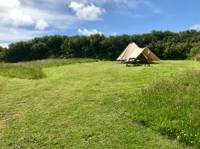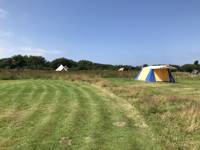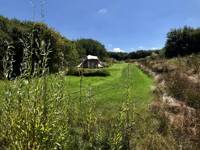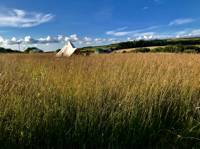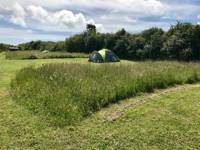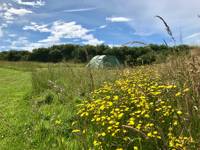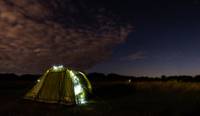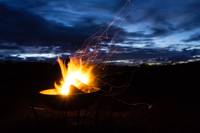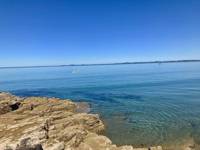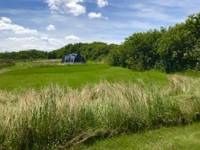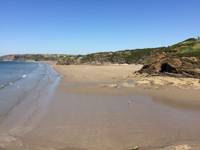 Video Tour
The Owner Says
A basic, peaceful family campsite in Pembrokeshire with campfires close to beautiful beaches, sea, sand and surf. Smell the sea, feel the sky, tell a story around a campfire...
Reader Reviews
Add Your Review
Quiet, peaceful campsite with everything you could need
Four nights of peace and tranquility, within walking distance of the beach and coastal path, and with everything I could need meant I had an amazing stay. The pitches are huge, and there are loads to choose from - I would definitely recommend exploring the site before setting up camp. Each site is separated by long grass, giving the illusion of seclusion, and there are firepits and BBQ bricks available to use, as well as wood and kindling to buy. There are several flushing toilets and showers, which were always clean (and £1 for a 7 minute shower was plenty of time) and fully stocked with loo roll. The washing up area was more than adequate, and with cars only allowed on site to unload and pack up, the site was peaceful and child/dog friendly. The location is perfect - just a 10-15 min walk to Little Haven and Broad Haven along quiet country lanes, with the coastal bus stopping even closer. I'll definitely be returning.
Quiet and secluded, beautifully layer out.
Despite the weather not being very clement during our stay, we enjoyed the campsite tremendously. There were plenty of lovely spacious spots for us to pitch and we soon had our bell tent in one of them. We explored the site and it's facilities, which were superb and very clean with most things provided, such as washing up bowls and eco liquid, fire fits and plenty of toilet paper. Logs and kindling could also be purchased from the house and so we had a warming fire for the evening. I would recommend Walton West Campsite to anyone, though wouldn't want too many to know about it! 😘
Amazing site
What an amazing find, tucked away from all the world. We stayed for 5 days as a family of 3 with our teenage daughter and on day one she saw bats flying overhead, toads hopping past and a newt on the tent and we went to sleep every night after campfires and the noise of owls. The night sky here is just something else! A lovely contrast to city living, the toilets and amenities were always impeccable, such wonderful hosts. Will definitely be back. Thank you for a great holiday!
Beautiful and peaceful
I have to give it to Greg and Alison they have a fantastic site here and all the people camping on the week we were there were friendly and really considerate of their fellow campers. We have a family of 5 with two autistic children and found it just lovely, will be returning new year. I thought that honestly logs and kindling was just a nice added to]ouch and the fire lighters were fab. Perhaps Greg you could let me know how to make them. Only niggle is that there is no hot water for washing up. ( maybe we should have thought of boiling a kettle for that !! ) Newbies to camping.....
Fantastic ,relaxing peaceful campstie
The campsite was just what we were looking for ,your own space ,well maintained,and within easy walking distance to the beautiful Pembrokeshire coastline. We were made very welcome by the lovely owners, Greg and Alison. Can't wait to visit again ,hopefully in the not to distant future. We had the most perfect relaxing holiday ,and recommedend this campsite very highly .
Amazingly peaceful campsite
A great place to get away from it all, it's a campsite that makes you feel like you are out in nature but also has all the creature comforts you need (hot showers and even fridge/freezers to store your food). We loved the chance to make your own fire (bags of wood £5.00) and sitting out watching the stars with bats flitting over head was magical. Will definitely be back 10/10!
Wonderful Campsite brilliantly situated in beautiful Pembrokeshire
Great place to go camping! The owner, Greg has done a fantastic job with lovely spacious pitches, the views are perfect and fantastic facilities. The campsite is within short driving distances of some of the best beaches in Pembrokeshire and there's a couple of brilliant local ones within easy walking distance. Very child friendly and a nice atmosphere on site. This campsite has gone straight to the top of our favourites and we will be staying again!
The perfect campsite
We loved our stay so much we have stayed twice this summer. Big enough to have a lovely range of pitches and small enough to feel very secluded. Lovely friendly atmosphere. The facilities are just perfect, hot showers and toilets without taking away the nature feel. The campsite is also the perfect walking distance from beautiful seaside villages. Both times we bought fresh lobsters down by the beach to cook up at our campsite, very luxurious! Would gladly stay again!
Brilliant campsite
We had a great week staying here. Loved the layout of the site with the large pitches separated by uncut meadow. The facilities were good with showers and toilets always clean. Having the use of freezers and fridges was something I have never had camping elsewhere and was really nice touch. It was great to sit around a fire using the metal fire pits which were available for all to use. The campsite is also located in a beautiful area of Pembrokeshire with lots of places to go nearby. The Friendly owners gave the site an easy going atmosphere, what more can I say, recommended!
Absolutely stunning campsite - Cant wait to go back
This is by far the nicest campsite we have stayed on. We have both been camping for around 20 years now and I felt so lucky to have stumbled across somewhere as beautiful as this in such a stunning location. I will keep my review short but list below the reasons why fell in love with this place and will definitely return for a number of years to come. - Each pitch is so spacious. You do not feel crammed in or on top of each other like some sites, meaning that each space felt big and private. In our pitch we had a campervan, awning, gazebo and still had plenty of spare room. - the facilities are ideal with lovely clean showers, fridge-freezers, washing up facilities and nice clean loos. - The local town Little Haven is picturesque and only a 10 minute walk from the site. With three lovely pubs and a stunning beach it was ideal for nights away from camp. - you are only ever a 5 to 40 minute drive to anywhere on the Pembrokeshire coast line. Meaning we used the site as a base and explored some of the worlds best beaches. - the camp site owners Greg and Alison are very friendly and accommodating. We had only booked for 3 nights and ended up staying an extra 5 because we just didn't want to leave. All in all 10 of 10 from us !! We cant wait to go back again next year.
Idyllic chilled camping
My boyfriend and I stayed at Walton West for 7 nights at the end of June. Greg was really welcoming and helpful and when we arrived we were able to choose our pitch from those that were free. The pitches are absolutely huge, and separated by patches of tall grass which helps to create a more private feeling. There are fire pits which are free to use and you can buy fire wood at the campsite, with the camp fires making the evenings feel really cozy and special. The campsite is beautifully quiet and helps you really feel like you're getting away from everything. It's only a 15-20 minute walk to Little Haven village where you can swim and there are three lovely pubs. We ate at the Swan one evening and the food was excellent quality. The campsite is also in a brilliant location with regards to accessing the rest of Pembrokeshire. The facilities at the campsite are great, with the showers and toilets always very clean. A £1 coin gives you a 7 minute hot shower which is more than enough time. There's also plenty of fridge and freezer space which is especially useful in hot weather. We'd definitely recommend Walton West and I'm sure we'll be back before too long!
Perfect haven in beautiful surrounds.
We found Walton West Campsite within a few minutes 2 days before we were to drive to Pembrokeshire for a well needed break. The price was amazing and the booking procedure easy. We easily found the site and were delighted with everything about it. The description on the website was completely accurate - a simple, quiet site in a beautiful area with good recycling facilities and electricity run from renewable energy. As described it was a pleasant 15 min walk to the coastal village of Little Haven with its 3 pubs and several cafes and close to the Pembrokeshire coast path. Each large pitch was neatly mown with meadow grasses between giving space and privacy and the hedge was full of birds (and bats at night). The rustic wooden shower rooms and toilets were beautifully set up and outdoor dish washing was a pleasure. Everything was clean but simple and small details eg washing up liquid, cloths, hand wash liquid and toilet paper were really helpful. The small room with fridge/freezers, power socket for phone charging and useful local information was very helpful too. We felt that the business was not just there to make profit or attract holiday makers but to blend in with local networks to enhance the life of that part of Pembrokeshire. So we had a relaxing and enjoyable holiday greatly enhanced by our experience on the campsite and would definitely go again.
We had a brilliant time there!
Greg was really friendly, helpful acoomdating and a good laugh! The site is so pretty with long grass inbetween so you feel secluded. It's close to beaches on foot. my favourite thing was all the recycling facilities including food. They've put a lot of thought into this site and you can tell. Even doing the dishss was a joy with a prrfect look out spot. Great for day trips and waking to other beaches too. We will definitely be back! Thank you again.
Back to nature!
We stayed for 12 days at Walton West, 2 families with toddlers. We loved it, and would love to return. The pitches are huge, we fitted 2 family tents on one pitch, with plenty extra space for eating/playing. The facilities are basic, but always clean, and certainly enough for our needs.
Ticked all the boxes
Had a lovely stay at Walton West Campsite. Amenities were clean, spacious, sweet smelling and well constructed. There was plenty of fridge and freezer space. We were able to choose our own pitch and appreciated the long grass between pitches even though there weren't many other people staying there. Would definitely recommend to others
Peaceful, huge nicely spaced out pitches
Just spent a couple of nights at Walton West at the beginning of June. Such a lovely relaxed site with great facilities. So quiet and peaceful at night and felt totally safe for the children to run around as we were encouraged to leave cars in the car park except for loading and unloading. Both the nearby towns and beaches were fabulous - safe and clean and lots of nice pubs etc if you didn't fancy cooking back at the tent. Fire pits and wood easily available, with an honesty box so you could go and help yourself if you find you've run out of wood at 10 pm but not ready to turn in for the night! Pitches are huge - you could easily get a couple of good sized tents on most of them - and beautifully spaced out. Really lovely site, one of my favourites so far and will definitely be returning!
One of the best campsites
Beautiful setting, the field is part of 10 acres of meadow land left to grow, long grasses and wild flowers, the pitches are mown with long grass in between each pitch, which makes you feel you have your own space and separate from other campers. The showers and flushing loos are impeccably clean as is the washing up area, there are recycling bins, fridge freezers and free charging facilities too. Best of all fire pits provided..you can't go camping without a fire. It was wonderful. We went horse riding on the beach at near by Nolton and that was one of best organised stables I've been to too, you get a good ride at a stunning beach. Hope you enjoy it as much as we did.
Very relaxing campsite!
What a lovely find! Tucked away just inland from 2 great beaches is this rustic, meadow-like campsite. The friendly owner cuts grass pitches out of the long tall grass. There were yellow irises and meadow flowers all around our pitch. The sound of birdsong and the bleating of the lambs in an adjacent field. There's no playground etc and I think this encourages imaginative play. Certainly the lovely children on site when we were there kept us amused with their games! Hot showers (for £1) and a helpful sink with washing up gear made camping life a civilised affair (we often wild camp so this was a treat!). Highly recommended!
Fantastic pitches but found facilities lacking
Recently returned from a 3 night stay at Walton West. As mentioned the pitches are great, they are well spaced and nicely mown giving each pitch a decent amount of privacy. The location is great too, great views, lots of wildlife, not far from the coats but in land enough to be sheltered from the weather. I did feel the facilities were a bit lacking however, what was there is clean and tidy its just there is not enough of them. There are only 4 toilets, 2 of which are in with the showers and 2 showers, When the site filled up there would often be a queue 3 or 4 people deep waiting for either the toilet or shower, in quieter times i am sure this isn't an issue but when the site is full, it was. There was also only 1 sink to wash dishes which was not undercover and had no hot water, i don't mind roughing it a bit when camping but its difficult to wash things properly with no hot water and if its hammering down with rain you get soaked, an undercover washing area is a must. Really loved the location and pitches and would have happily gave 5 stars if the facilities had been better.
Lush campsite!
What a great campsite! We really liked how the designated pitches were mown, so you get a good sized area to yourself. Toilet blocks are great, and super useful to have fridges/charging. Easy to walk in Little Haven and Broad Haven - great pubs in Little Haven. We saw buzzards hanging out at the campsite - bliss! Greg, the owner is a great guy and could not be more helpful. Highly recommended!
Fantastic Campsite, very relaxed atmosphere, idyllic location!
We stayed 2 nights this May, and would highly recommend this campsite. The way the pitches are marked is a really nice way to keep the place from being overcrowded. Very relaxed atmosphere, and the owners couldn't do enough to help. Walking distance to some of the most picturesque fishing villages, with excellent pubs and cafes.
Superb campsite !
If you looking for a quiet and rural campsite near the coast with no trailers this is the place to go. Nice pitces, mowed as they are grain circles, spacy and privat. The facilities are simple, beachstyle which i like, clean and proper. We stayed here end of june 2017 and we were about the only tent exept for the weekend. The owners are very friendly and proud about the site. They are right, come on over and see for yourself. Grtz from Holland.
Relaxed and magical bank holiday camping
We have just returned from a wonderful three nights at Walton West Campsite over a hot August bank holiday weekend. We stayed on a very large "double pitch" which accommodated our family of 4 and a family of 4 friends (along with 2 Walton West toads who were discovered in one tent when packing up!). The weekend will live long in the memory - warm days exploring the nearby beaches, with clear starry nights spent by the campfire (courtesy of the fire pit provided free of charge by the campsite). The facilities are nice, new and clean. All the essentials are catered for, with 2 showers, 4 toilets, a good washing up area (washing up liquid, brush and tea towel supplied). In addition there are fridges, freezers and phone charging points for free communal use. We all agreed this place has a magical quality. It has been cleverly managed and very subtlety developed by the owners, Greg and Alison, to retain the natural beauty and wild feel of the site, whilst also being practical and compact. This is the best campsite we have stayed in. It also happens to be in a wonderful location for exploring the varied and beautiful local coastline. In the end, our time for doing so sadly ran out. We cannot wait to return, and to discover more.
Summer 2017
As a keen, life long, camper this truly is one of the best sites I've ever stayed at! Cool grassy nooks cut out of a meadow create your own personal pitch where you can enjoy long evenings sat around the campfire (available at no extra charge), sipping a cool glass of prosecco (chilled in the on-site fridges provided). Greg and Alison give a warm welcome on arrival and are often seen around the site chatting to campers and providing a friendly touch. The facilities are beautifully clean and always well stocked with the necessary items! The added bonus of a beautiful beach in easy walking distance, local pubs and a small shop make this a perfect getaway from city life.
May 2017 Half Term
We spent 3 nights and 3 days at Walton West during the May 2017 half-term. It was the first proper camping experience for our 4 kids aged between 3 and 9. From the moment we arrived, met Greg and started to set up camp, we knew we had stumbled on a great choice. Although the whole site is set up for convenience, there is still plenty of space and privacy and lots of room for kids to run around and explore. The pitches themselves are nice and big, and we found it an advantage to be able to park our car right on the pitch for extra storage. Plenty of good kindling and wood was available for great fires and outdoor grilling. The washing up area was really useful, and clean, and the fantastic quality and cleanliness of the shower and toilet facility was a totally unexpected bonus. At the end of a day in a wetsuit or in the wind on the beach, and those showers were lovely. Further afield we were really struck with how amazing the beaches were, particularly Broad Haven and the beautiful little bay at Little Haven. The kids happily spent hours a day on both. There were great little pubs, some good seafood and stunning views just about everywhere. The kids were hooked, and so were we. We would absolutely not hesitate to come back here for another break. Really great place!
Immaculate pitches
I have just spent 8 nights at this wonderful campsite! After an unusual welcome from two Canada geese who were protecting their off-spring in a rather aggressive fashion, we quickly realised that we had made the right choice of campsite here in Pembrokeshire. I always think about what my ideal campsite would be like and I have to say that Walton West ticks almost all of the boxes. First of all, the field is enormous and the pitches are extremely big. They are allocated pitches, but there is plenty of space in each of them and they are all mown attractively into the field. The grass separating each pitch is much longer which gives you a feeling of having your own space and privacy which is nice. There is also space to park your car next to your tent which is an advantage for someone like me who has a relatively small tent, so it is convenient to use your car as a storage facility. The facilities onsite are very good as well with 2 toilets and 2 showers (which also contain toilets). This is the first campsite I have stayed at where you have to pay for the use of the showers which I always thought was a bit of a liberty but, having witnessed guests completely abuse hot water in other campsites, it does make sense and I was surprised to learn that 7 minutes was more than enough time for both myself and my partner to shower! The showers and toilets were well-built and very modern and were kept in an excellent state of cleanliness at all times. There was also a huge amount of fridge space (4 fridges I think) which is a major plus for me as I like to cook fairly extravagant meals by camping standards! There was also the ability to charge phones and toothbrushes which is extremely helpful. The site is well situated too and is within easy reach of Haverfordwest where there is a huge Tesco and the attractive village of Little Haven with its picturesque beach and 3 pubs not too far away. If there was one small thing missing, it would only be hot water in the washing up area. I have seen this at some (not many) campsites I have stayed at, although I appreciate campsites aren't charities and some guests might use more than their fair share of hot water. All in all, I wouldn't hesitate to recommend this campsite to anyone wishing to explore this area of Pembrokeshire. If I come back to this area, which I would dearly love to, then I would not hesitate to come back here. I hope that the geese will be better trained by then!
Perfect site - loved every minute!
We have just got home from an amazing 8 nights at this site - two units consisting of 4 adults and 4 children (10, 8, 2.5 and 4mths) Always a bit of a risk going somewhere new, but the reviews here really helped. Totally our perfect kind of site - small, unassigned pitches and basic facilities (showers, toilets, water, washing up, fire pits, logs, fridge/freezer, charging points (at own risk), recycling, local info, tide times etc). A couple more toilets would be ideal but they are planned to be put in later this year (2016). Great value for overnight, showers are a small charge (£1 for 6 mins which is ample to shower you and a child!), and log price standard, the rest is all included. Loved the communal fridge/freezer set up which was also a godsend in warm weather (and after a local fishing trip which brought back a lot of fish!). Worth booking, as we did, as they have to turn a few people away at this time of year which keeps it small and spacious. All email comms and in person were lovely - thank you both! Very close (and walking distance by road) to lovely beaches and a cute little farm stall very nearby for fresh eggs and other produce. We loved this site and will definitely be visiting again and recommending to our other camper friends.
The Perfect Campsite!
I have recently returned from a week stay at Walton West with my wife, 2 children and dog and for us it was pretty much the perfect campsite. There is plenty of space and the pitch areas broken up by wide areas of wild flowers and long grass (perfect for the little ones to play in). We thought that we had the best pitch on the site but then when we spoke to other families everyone thought that they had the best pitch on the site as well! This is very much a back-to-basics site. Although there are 3 family sized bathrooms (two of them with hot showers) and a communal fridge there are no electric hook-ups, there is a single sink with cold water for dish washing a and single drinking water to outside of the bathrooms. This basic approach suited us just fine and it also seemed to attract many other like minded campers so we found it to be probably the friendliest campsite that we have ever stayed at. For those who like the old-school approach to camping I can't recommend this site highly enough and we will certainly be visiting again.
Brilliant
I came here with 4 of my friends, we are all 18 year old boys and had a great time. The campsite is a short walk from the beach/small nearby town and has a lot of room to pitch up. It has clean toilets, showers and fridge. We had a great time here and would highly recommend.
Hard to beat
Our recent week away in Pembrokeshire, camping at Walton West, was such a positive experience that it is making life back home rather hard for my 6 year old daughter (and trying for me) who every ten minutes or so wails "I miss Wales! I miss camping!" We were a family of four and even my husband who'd been dreading camping (bad childhood memories) really enjoyed it and would like to return. Walton West is a lovely haven of a campsite in aptly named Little Haven, which perfectly suited our needs. There are three charming geese who seem to have the job of vetting each new arrival before kindly waddling out of the way and back towards the wetland area (pond sounds too manicured-this is a wonderful wild habitat for a wide variety of creatures) allowing our car to slowly wind up the path and meet the equally charming owners, Alison and Greg. This warm and friendly couple immediately made us feel very relaxed and welcome, and had loads of useful tips and information to share. I was impressed with the facilities - basic, but all you need and always clean and well stocked (plenty of loo roll, soap, tidy washing area and bins). An added bonus was the fridge and freezers, which was very handy. The children spent hours playing in the (organic~ yay!) grass, both the mown areas and the left alone long meadow grass, where they would burrow and pretend they were rabbits, or whatever. We loved how quiet it was at night (apart from my husband's out of control snoring) and how free the skies were from light pollution. The night skies were amazing, especially when the moon was low and full. As for the location, it's perfect. As it's not overlooking the coast directly but set back a bit, you are sheltered from strong winds. We thoroughly enjoyed the nearby beaches of Little Haven and Broadhaven, excellent gelato in St David's, exploring Pembroke Castle, but the highlights, at least for my daughter and me, were a perfect sunny day at breathtaking Marloes Sands (15 minutes away) and kayaking at Newgale. A week was not nearly enough at this brilliant little campsite in this amazing part of Wales, and we shall be back for more. Mummy's honour.
camping at its best
This is a really welcoming and charming campsite. Stayed here with my 2 children and dog, and were lucky enough to be there fairly early in the season so had our pick of pitching spots. Incredibly laid back atmosphere at the site, with no designated pitching areas, which was really lovely. The site had everything we needed: toilets, showers, washing up area, a chilled out vibe and beautiful views. The toilets and showers were kept beautifully, and very well stocked. Brilliant night sky viewing too, with mini al light pollution. From the campsite, little haven is only 5minutes drive and has really good rock pooling for the kids, who also went crabbing with much success. Broad haven, again only 5 minutes drive, offers a really good stretch of beach too. Pretty much all the beaches in Pembrokeshire are dog friendly, which was such a bonus for us, and so empty compared to the southern / south west areas of the UK....beautifully clean too. Marloe's sands, about 15 minutes drive, lived up to the hype we'd heard about it being one of the best beaches in the UK. One of the highlights was riding at nearby Nolton stables, which had us cantering on the beach at druidstone (again, stunning beach) on impeccably behaved and well looked after horses. A brilliant week away, and would happily have spent another couple of weeks there. Alison and Greg, the campsite owners, were so friendly, and nothing was too much trouble. I'd recommend this site to anyone who enjoys camping away from commercial and overcrowded sites, for a truly laid back and peaceful experience, and in a really good location to access so many of the gems that Pembrokeshire has to offer, at an incredibly reasonable price. Highly recommended!
Best Price Guarantee
Easy and Secure, with instant booking confirmation
Trusted for over 10 years
A chance to win a brand new Coleman tent!
Book campsites near Walton West Campsite