Pitch-up at this pop-up in a magical pocket of Pembrokeshire paradise
With just nine pitches set in a whopping 60 acres, Kitewood must surely be one of the UK's most spacious campsites. The scattering of generously-sized pitches can easily accommodate the largest modern tents and swanky canvas creations. Facilities are very much of the green variety, with innovative and immaculate composting 'i-poo' loos (one per pitch, so no need for queuing). Campers also get their very own covered campfire area complete with picnic table and folding wood fire grill... with as much complimentary firewood as you can burn. There are two roomy, clean showers with plenty of hot water and a separate washing up area. These are all housed in beautiful timber-framed, canvas-topped structures nestled seamlessly into the woods.
With open moorland spaces between the woodland areas, there are nearly 4 km of paths around the site plus numerous 'rabbit runs' linking sites and facilities, not to mention a safe adventure land for children (just watch them turn feral). Most pitches are accessible by car for unloading and loading during all but the worst of weather, all the site itself is completely car-free. For those less sun-blessed days, park the car in the yard (300 metres away) and pick up a wheelbarrow to trundle your gear to camp.  
For those less enamoured with guy ropes and peg hammers, there's also a tipi for hire... or rather, a psychedelic 'Dragon Tipi' emblazoned with full colour fairytale dragons designed and created by the local children's author and artist Jackie Morris. Furnished inside with a proper double bed and two smaller futon beds, it also boasts a full camp kitchen nestled in the trees. For camping couples seeking sylvan solitude, experience Kitewood in June or July when the weather promises the best and you'll wonder if there's even another soul on site.
Kitewood is helmed by the affable David and Sarah, who camp onsite with for the entire season. David is a proper woodsman, making charcoal, giving bushcraft demonstrations, and managing the woodland throughout the year. The couple's personal hosting really makes you feel like you are one of the family and not just a guest. David will take groups on pond dipping excursions to discover the hidden mini beasts of the woodland ponds and in the evenings you can join him for an evening bat walk. Wildlife abounds at Kitewood.
Life slows to a snail's pace here the moment your tent is pitched. Settle down and soak it all in – recline barefoot in a private glade, a blade of grass in your mouth, watching squadrons of dragonflies patrolling their woodland domain and, of course, the titular Red Kites soaring over this magical pocket of Pembrokeshire paradise.
Best Price Guarantee
Easy and Secure, with instant booking confirmation
Trusted for over 10 years
A chance to win a brand new Coleman tent!
Gallery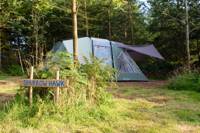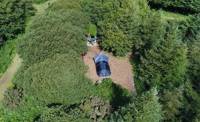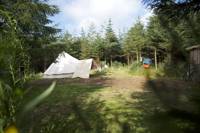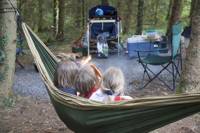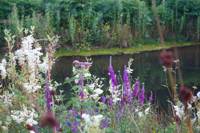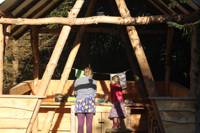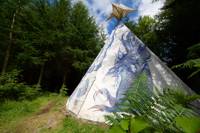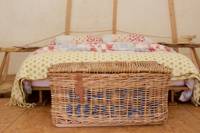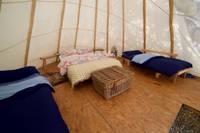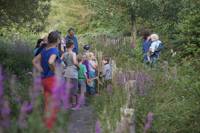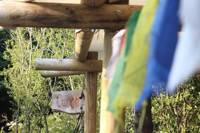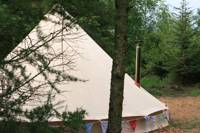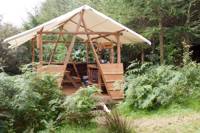 Video Tour
The Owner Says
Welcome to Kitewood, offering you the most spacious, family "hideaway" woodland camping in Pembrokeshire, possibly Wales. Just 10 secluded family "Hideaway wild " bring your own tent camp pitches and our Dragon Tipi set in 60 acres of woodland with campfires allowed, in fact we encourage them! Just 2 miles from the Pembrokeshire Coast National Park and close to the beach.
Reader Reviews
Add Your Review
Amazing, clean, wonderful
We are just back from a weeks stay at Kitewood. It was our first time visiting but most definately wont be the last. We booked the Dragon Tipi as a treat. We usually take our own tent away but being 5 1/2 months pregnant, thought the less set up we had the better. It is worth noting we usually camp for 2 weeks, so take all but the kitchen sink with us. I was slightly nervous as the date came closer as to what we were getting into. The thought of arriving at the campsite and having one dirty pan and a couple of plastic plates haunted me. Then we recieved an email asking we only use the shampoo and soaps provided. I will hold my hands up and admit my mind went into over drive! Have we booked into some commune? Will they expect us to eat tofu and sing songs around a fire??? I'm very pleased to say my paranoia was unjust and upon arrival we were greeted by a very friendly David, who showed us to the tipi. We were instantly blown away by the set up of the camp. Every detail had been considered, from having an individual toilet per camp pitch, to the sheltered fire area and the free space between the pitches for the children to run wild. The inside of the tipi was kitted out to allow for a comfortable stay and the kitchen area was immaculate. We didnt want for anything but felt very assured that should we need anything, we could have asked. The showers in the cwtch were very good too, nice and clean, hot water and the toiletries were great. Its safe to say my assumption that all eco friendly toiletries left you smelling of tea bags was wrong. The stuff provided was lovely and I would happily change from what I currently use at home. The whole atmosphere of the campsite was different from what I had expected. We got a very relaxed vibe, David made us feel welcome and was happy to talk about the different aspects of running Kitewood. We were encouraged to explore the area and didnt feel judged for having a wonder around, something which we have experienced in other lived on campsites. Everyone was there to enjoy the peace and quiet and I felt safe letting the children play in the woods and make friends. There were numerous activities throughout the week and we took part in the bat walk. The children loved it. The notice board was updated daily with interesting happenings at kitewood and we were made to feel involved with what was happening around us. Overall, it has to be the best place we have ever stayed. The only downside, for me personally was the getting in and out of the tipi. The door is pretty low and I struggled with being pregnant but that's the only negative I could think of. Everything else was perfect. Completely unforgetable holiday, in a beautiful location. Really educational, really clean, really friendly, really unique. We cant wait to book for next year with our own tent and another addition to the family!
Just perfect in everyway
We stayed here for a few days at the end of August. It's the best campsite we have ever been to. Wonderful large and private pitches, own tarp covered area which housed our camp fire and picnic table. With the added bonus of our own compost loo, it was perfect in every way. Totally relaxing and an opportunity to get away from it all. Both David and Sarah were perfect hosts and the children just loved wondering around the woods, playing in the kids only areas and making dens. It's what camping is all about, we can't wait to book again for next year when we hope to stay longer and for a few short breaks too.
A little slice of heaven
We have just returned home from a fantastic week at Kitewood, and it was truly spectacular. I'm not sure whether to start with the fabulous Cwtch, the compost loo (you get your own one for each pitch), or the covered fire area in the woods. We stayed on Toadstool pitch, along a grassy track by the edge of the moor, and true to name, there was a toadstool by the loo! We were able to pitch our tent on the grass leaving ample space for the children to play at a safe distance from the fire. The large tarp provided cover for the inevitable rainy moments (it is Wales after all), with space to store firewood, cook on the fire, have a picnic bench and set up a camp kitchen. We didn't need to use the gas cooker once (it didn't even make it out of the trailer), as all firewood is included in your pitch cost, and a cup of tea from the fire is infinitely more satisfying than the cooker. You may expect the site to be basic, and while it is definitely rustic, it has plentiful hot water, fab washing up facilities, and how many campsites give you your own loo for each pitch! Knowing that the site was car free for the week (you can drive to the pitch for loading/unloading in good weather, and we left the trailer next to the pitch all week as well) meant that allowing the kids to explore to their hearts content was stress free. It's worth mentioning the adders, they are there, but providing your all observant and sensible, then they will move out of the way. The Cwtch has amazing showers, with 2 additional sinks for clothes washing and teeth cleaning, while across the track are 2 washing up sinks, with scrubbing sponges, washing up liquid and even a tea towel for the moment when you've left yours back at the tent. They also do a weekly get together where David provides the charcoal for the fire and you just bring along something to grill. Whether you are looking to escape for a bit, allow the kids more time and space to run wild, or just get in touch with your inner caveman, Kitewood is a wonderful place to spend time.
Amazing - truly chilled
We've just returned from our first stay at Kitewood and we'll almost certainly be back. Pitches are huge and private, the site great to explore, and David, Sarah and Flynn amazing hosts. Facilities are scrupulously clean, there's tonnes of hot water and because the site is so small, there's never a queue. There's loads to do in the local area, for adults and children alike. An amazing site, my new favourite!
Woodland idyll
We have just returned from our third visit to Kitewood and cannot fault it. We love it here; from the peaceful walks along hedgerows and down hidden paths which skirt the edges of the campsite to the cosy under-cover picnic areas where you can cook over the fire and relax surrounded by woodland. Pitches are very generous in size with shaded as well as sunny areas and each has its own composting toilet. These are clean and well maintained. Paths link the different parts of the campsite, with the 'Cwtch' or communal area providing a focal point just as you arrive onto the site. This year's upgrades include a separate space for washing dishes adjacent to the showers/covered seating area. A weekly BBQ takes place here and updates on activities (bushcraft, pond dipping) including weather reports are featured on the noticeboard. In line with its green ethos, lights are solar powered and opportunities for recycling are abundant. This is a very family-friendly site and is great for children - many ride their bikes around the paths and there are lots of opportunities to nature watch. David and Sarah, the site owners are very welcoming and give freely of their time, suggesting beaches to visit, places to eat and areas to explore. I can't recommend Kitewood enough - it's the perfect base from which to explore Pembrokeshire.
Woodland camping at its best!
We have just returned from our third visit to Kitewood Camping and very much wish we had stayed for three weeks this year. We love everything about this campsite! The setting is beautiful and each pitch is a private clearing in the woodland, complete with composting toilet and covered kitchen area with campfire and grill. The communal area 'Cwtch' is home to sinks and showers, along with tables and a communal fire area which has hosted many a campsite BBQ. The kids love exploring the woodland, and as it's car-free during the week we can let them roam independently which they absolutely love. There is the opportunity to go pond-dipping, take part in Bushcraft courses, explore the site and much more. David and Sarah are fantastic hosts. As the campsite is such an amazing place to be, leaving it is somewhat difficult, however it is surrounded by the most beautiful Pembrokeshire scenery and coast, including numerous beaches and the wonderful Pembrokeshire coastal path. We cannot wait to go back next year!
Book campsites near Kitewood