Letterston, Pembrokeshire














Wonderfully back-to-basics tent camping in Pembrokeshire, hidden among the thicket and fauna at the end of a secluded lane
You'd be hard pressed to find anyone more suited to running a campsite than Kate and Andy Fox. "We literally lived camping for four years", they confess, referring to the nine months they lived in a bell tent while they built their own tiny wooden home on wheels. They subsequently set off on an impromptu tour of small farm campsites in West Wales, living from their crafted wooden hut, building up friendships in the area and keeping an eye out for the perfect piece of land. Only when they stumbled upon this semi-wild 22-acre smallholding – lost down a narrow country lane overgrown on either side – did they settle down. And now they've opened the place up to other campers, too. We couldn't be happier that they have.
A patchwork of gorse, thicket, woodland, meadow and marsh, stitched along the banks of the Western Cleddau River, make Into the Sticks one of the most an aptly named campsites in Wales. It's a wonderfully hidden spot where only tent campers are allowed – save for the lucky pair who nab a few nights in Kate and Andy's innovative 'Tiny Home', which they now rent out to glampers. On most days campers play second fiddle to wildlife, with much of the campsite a designated Site of Special Scientific Interest and Special Area of Conservation. Otters have been spotted on forays from the river, wildflowers and orchids grow and tiny, native birds flitter between the bright yellow flowers of the thicket.
Despite the thoroughly natural scene though – aided by the primal smoke of campfires and rustic, handmade table and log benches provided at each pitch – the campsite is never too far from civilization. It's a short stroll to a farm barn that has been converted into a warm communal space with sofas and games, while a covered 'camp kitchen' and washing up space adds further convenience. Hot showers are provided, a super-swanky eco-toilet too and, when the weather turns bad, Andy and Kate are quick to organise impromptu wet weather workshops for all ages – build a bird box or craft an artistic masterpiece out of flotsam, jetsam and drift wood from the Pembrokeshire beaches six miles away.
Yet while the village pub and playground are within walking distance and the coastal attractions of Pembrokeshire and the Preseli Mountains are just a short drive away, this campsite is so adept at getting you back to nature, you may well choose simply to stay put. The modern world is lost here to the sound of the stream and the crackle of the campsite. With nature trails to explore and dens to build in the adjacent ancient woodland, why would you go anywhere else?
Gallery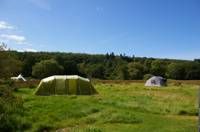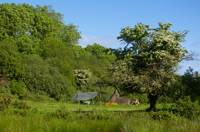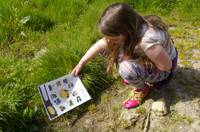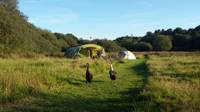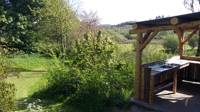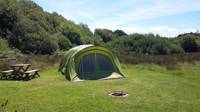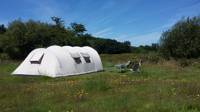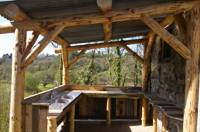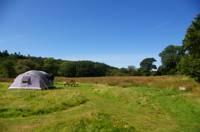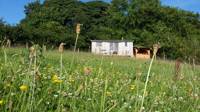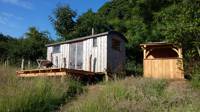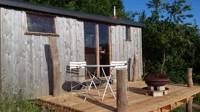 The Owner Says
Into the Sticks campsite is the perfect campsite for a technology detox! Breathe the clean air and enjoy sharing acres of unspoilt natural space with the local wildlife. The campsite is situated at the end of a no through road in a secluded peaceful valley teeming with wildlife and just a few miles from Pembrokeshire's famous coastline and wild beaches. There are no signs of the modern world, only the sounds of birdsong and running water. The campsite offers a level area to pitch your tents, and free dry wood for your campfires. Individual pitches are spread out over the meadow in a 14 acre nature reserve so each one has a good degree of privacy. Each pitch has a rustic picnic table and benches and there is a covered camping kitchen/washing area  (eco friendly washing up liquid is provided by the campsite). They have a luxury dry toilet (twinned with a toilet in Cambodia) and free hot shower with eco-friendly soap and shampoo. If the typical Welsh weather is forecast during your stay there is an indoor space to hang out in and there are opportunities to take part in guided workshops suitable for all ages including bushcraft skills and beach debris art.
Into The Sticks have a weekly barbecue for all their guests and ensure that plenty of activities are available to choose from, for example Nature Trails, Den Building, Treasure Hunt, River Fishing, Wildlife Watching & Star gazing. There are reclaimed bikes available to use free of charge and if you fancy something more challenging you can visit Pembrokeshire Coast just 6 miles away and have a go at Surfing, Coasteering, Kayaking and Rock climbing or head off hill walking in the Preseli Mountains or on the Pembrokeshire Coast Path.
Reviews
Add Your Review
A glorious campsite in an enchanted corner of the country
An amazing campsite which we loved for our 5 night stay. Intimate, with only five pitches in use at a time, it is a perfect get away. Andy and Kate make wonderful worldy wise hosts and their love of the land shines through. Situated by a nature reserve, the opportinity for wild life spotting is in abundance. Our children's feet were stained yellow with buttercups and covered in mud from building dams in the brook that ran past our pitch. The solar powered shower works a dream and the toilets dont smell. 15 minute drive from stunning coast line and in wetter weather lots of castles to explore. In all it was magic.
The perfect campsite
Into The Sticks is by far and away the best campsite we have ever stayed at. The site has well spaced out pitches which gives lots of privacy and excellent facilities which are just the right mix of basic and comfort; allowing us to feel we were going 'into the sticks', but still with that all important hot shower! We love nature and this site gave us many special moments including walking around the nature trail and catching a fleeting glimpse of a kingfisher, to evenings spent watching the swallows and house martins swooping up flies around our tent. Andy and Kate are excellent hosts and we wish them every bit of success.
Enchanting wild living
Venturing 'into the sticks' was enchanting. The shower's woodland view, unspoiled meadows, the nature trail, a fresh flowing river and the most amazing recycling puzzle box, Andy and Kate have thought of it all. The site is rich in butterfly species, birds, bees and plants too! It was wild(ish) camping at its best in a very peaceful, cared for and beautiful place. We loved it and will definitely be back.
A wonderful place
A true gem of a campsite. It oozes the passion of Andy and Kate the owners. They are very welcoming, hospitable and clearly love their home. On arrival we were greeted by Andy. A true gent. We liked him instantly. He keenly showed us around and we were very impressed by their recycling hut and fabulous compost loo. Our tent pitch was spacious and very well set out. A bench with seating is provided which is really handy and practical. A fire pit is cleverly set into the ground...again a good feature. Plenty of fire wood is available. Washing up facilities are great. Eco friendly wash up liquid is provided too. Same with the shower, good quality eco friendly washing products provided. They have a lovely little converted barn which is used as a recreation area/information area and in the corner an honesty box with goodies and a gift box where you leave unused grocery or camping items for the benefit of the other campers ( a fantastic idea ) In conclusion this campsite is ideal for those of us that want to get away from the fast pace of life and do nothing but relax and reflect. Enjoy the beautiful surroundings and the wildlife, especially the two comical ducks, Dibble and Dabble who provided lots of giggles for myself and the children. They are the stars of the show....we shall without doubt return next year. A big thank you to Andy and Kate
Our best yet...
It says much for the charms of this place that for our family of 5 this was unanimously voted our favourite week's camping ever despite the day of arrival and the pitching of our tent taking place in apocalyptic rainfall! The facilities are the perfect kind of basic (darts in the barn was a big hit with our 3 boys) and Andy and Kate were great hosts - friendly, funny and always approachable. It's a precious thing to find somewhere so completely stress-free. As an early riser, I spent most daybreak hours sitting peacefully down by the river before the rest of the family awoke. Bliss. The later daylight hours we divided, depending on the weather, between exploring the nature trail and other parts of the site and some wonderful excursions in the extended area. - highlights of which were probably the walk around Dinas Island; a day at the "secret" beach at Traeth Llyfn and a boat trip seal and shearwater-spotting around Ramsey Island. Friction fire-starting threatens to become the new family hobby after Andy's introductory tuition and the (extraordinarily good-value) Friday breakfast at the warm and welcoming local community centre is not to be missed. For the week that we were there our fellow campers were a relaxed and companionable bunch, with a special shout out to Nick and Nic, who our boys were very taken with (not just for the loan of the bat-detector I'm sure!). Downsides? We had pre-booked the following week at the very well-reviewed Naturesbase campsite up in Ceredigion and we would have enjoyed that week a whole lot more if we hadn't been constantly making comparisons (always unfavourable) with this place. That's not really fair on Naturesbase, which was pleasant enough, but the simple truth is that by comparison it felt so much more commercialised and uptight than I suspect it would have if we hadn't been so thoroughly spoiled by our week by the Cleddau! We will be back...
Pretty much the perfect campsite!
We just had a lovely week staying at this campsite. The pitches are spacious and spread out making it quiet and peacful. Andy and Kate made us feel very welcome and the communal games barn with fridge, dart board, books etc. gave the camp site a lovely community feel. Whilst it is a little more pricey than a traditional commercial campsite it gives very good value for money as firewood, showers etc. are all included as was a free workshop on friction fire making! The only improvements I could think of would be a sink in the toilet (alcohol gel was provided and the washing up area is just next door so not a big problem) and hot water in the washing up area. Very minor points and certainly wont be stopping us returning!
Lovely place to stay
We stayed at this campsite for 6 days and I can honestly say it is the nicest campsite I have stayed in. The pitches are really spacious so we didn't feel overlooked. All the other campers were really chilled out and there to enjoy the beauty of the place and the quite. The owners were really helpful and friendly. Everything was well set out with great care and attention. My daughters liked doing a craft session when it rained. I would definitely recommend this site and would like to return.
Spacious and beuatiful
This campsite was everything we imagined when we saw it on the cool camping site. The pitches are large and in very natural surroundings. The free fire wood is a real plus too as is the picnic table provided for our pitch. The facilities are very good and includes the most luxurious compost loo, I have ever used. The shower was always hot and very spacious, so plenty of room to keep your towel and clothes dry. There is a good recreation area for the wet days perhaps, which also has a fridge for communual use. On arrival, we were given our own information pack, which proved very useful for local walks, restaurants, beaches etc The owners Kate and Mark are extremely helpful, friendly and committed to their ecological ethos. As the site is slightly inland, we felt protected from the worst of the winds that blow around this part of the world. Access to other parts of North Pembrokeshire were surprisingly good. The roads are straight, quick and pretty empty. It takes probably 15 mins to St. Davids and 10 mins to Fishguard. Beeches can also be accessed within 10-15 mins maximum.
Heaven is a Tiny House
We were delighted to stay with Kate and Andy in their Tiny House early in July. It was wonderful. So peaceful and private. The Tiny House is beautiful, lovingly designed and built by Kate and Andy who lived in it for 3 years. It felt very special to stay here. Views across the valley into lush green woodland with no sign of human habitation. We spent hours soaking up the tranquil atmosphere, looking at the sky and watching the birds. It was so quiet on the first night I could hear my own heartbeat! Kate and Andy are lovely people and so welcoming. They gave us great information about places to visit and things to do. They really care about the land they are on and are working hard to provide a truly green experience. The showers and toilets are beautifully constructed. Everything is lovingly hand crafted. Its a labour of love and such a contrast to our mass-produced lives. The local village is friendly with pubs, shops and eateries. The Friday morning 'friendship club' at the church hall provides a lovely window on life in Letterston. We loved our stay at Into the Sticks. Thank you for making us so welcome and for sharing your special place with us. Wishing you a successful summer and looking forward to visiting again in the future.
A Rural Idyll in Pembrokeshire
Myself and two friends were fortunate enough to stay here for 3 nights in early June, we were particularly lucky as due to my ineptitude I booked the wrong weekend and was forced to contact Andy and Kate and ask to move the booking. They could not have been more helpful and changed the dates straight away even though it meant opening the site a week early when they were still putting the finishing touches to the facilities. Because of this we enjoyed the whole site to ourselves for the duration of our stay. The site is in an idyllic location and is very peaceful, don't be put off by the proximity of the railway line as there are very few trains and they are gone before you notice them. I would describe the shower, toilet and washing up facilities as rustic - but in a good way! ( I loved the smell of the shower gel provided for guests), Andy has done a fantastic job building them and they fit in perfectly with the surroundings. My friends and I have already decided that we will return to this beautiful place in the future for another stay. Many thanks to Kate and Andy for the warm welcome and for the fresh mint from the garden for the spit roasted lamb.
Perfect site, wonderful people
I stayed at Into the Sticks as a solo camper in May and I couldn't have enjoyed the experience more (well perhaps with a little less rain but then that's why Wales is so green!) The site is lovely, packed full of wildlife and beautifully spacious. Every detail is carefully thought out by the passionate, dedicated and knowledgeable owners, Kate and Andy who were just the right level of attentive (I had everything I needed without feeling overlooked). The shower and washing up area were immaculate with beautiful views over the valley and I especially loved the biodegradable products provided free of charge. The fire pits and free firewood were a lovely touch and a perfect way to spend an evening relaxing surrounded by bird song. The coast is just a short drive away whilst some lovely walks can be found directly from the site. For food, Fishguard is a short drive and the village has a fantastic fish and chip shop (and pubs though I didnt test these) and thanks to Andy and Kate's chickens there are fresh, free range and organic eggs available. I'm already looking to book again and wish this site and its owners the very best of luck and success.
Fantastic!!
I stayed here with my three children aged 13, 12 and 8 over the Easter break and we had the most amazing time. Into The Sticks really does bring you closer to nature. My children loved the nature trail, animal tracking and toasting marshmallows on the camp fire as well as the clear starry skies and listening to the animals and birds at dawn and dusk. Kate and Andy were really welcoming and helpful, and their ethos of working with nature and preserving our natural habitats only increases the fantastic camping experience they offer. Will definitely return.
Win a £100 Blacks Voucher!
If you've stayed at Into The Sticks campsite, please take a minute to tell us about your experience. Every month, one lucky reviewer will be picked at random to win a £100 voucher, courtesy of our recommended retailer Blacks. Each review counts as one entry, so get writing!

Best Price Guarantee, with no fees
Instant booking confirmation
Trusted for 10 years
A chance to win camping goodies in our regular competitions!
Book campsites near Into The Sticks