Stackpole Under the Stars
North Lodge, Cheriton, Stackpole, Pembrokeshire SA71 5BX










Camping and glamping on the Pembrokeshire coast, with the enchanting grounds of a country estate to explore next door
When the sun has got its hat on, there really are fewer places we'd rather spend the day than the beaches and bays of the Pembrokeshire Coast National Park, while as dusk descends the rarefied night sky round these parts displays the twinkling stars in utmost clarity. And at Stackpole Under the Stars, a hidden idyll of a spot just outside Pembroke, campers and glampers have an unspoiled setting to relax, rejuvenate and reconnect with nature. After all, how many campsites can boast a National Park location just a stone's throw from a recognised National Nature Reserve?
While the only remaining link to the Stackpole Estate is the pair of Grade-II- listed stone gate pillars you pass through to enter the campsite, the site of the once grand Stackpole Court is just around the corner. Here, the Stackpole Estate's landscaped grounds, now reclaimed by nature and managed by the National Trust, are abuzz with wildlife and vibrant flora and centred around the picture-perfect (not to mention, otter-residing) Bosherton Lily Ponds. It is within the grounds of the estate's North Lodge that Stan and Laura Ridgway's welcome new addition to the Pembrokeshire camping landscape was born.
Offering the best of both worlds, Stackpole Under the Stars has space for five tent pitches alongside a smattering of glamping accommodation which includes hand-crafted yurts, bell tents, and a luxury pod. Keeping things small scale in this way ensures the tranquility of the hay meadow setting is not compromised and all plots are a respectful distance apart. It also means the crafty new wash-pod facilities and eco-friendly compost loo are never over-run. With acres of space, mown play areas and meandering grass pathways, kids can let their imaginations run riot here, with yet more adventures awaiting in the nearby Lodge Park Woods. 
Stackpole's prime spot on the southern Pembroke peninsula means some of the region's finest beaches like Broadhaven South and the sand dunes and pine trees of Barafundle Bay are easily accessible. With the Pembrokeshire Coast Path a stone's throw away, you can really soak up the dramatic nature of the West Wales coastline. And just when you think you know this pocket of Pembrokeshire, it continues to reveal hidden treasures like the hermit's chapel, built into the side of a cliff at St Govan's Head. To get there, you'll have to traverse the 52 vertigo-inducing steps that lead down the cliff-face. Local lore (or tourist board propaganda as some have suggested) has it that the number is never the same on the way back up. Either way, we're sure you'll settle that argument back at camp over the nightly ritual of marshmallow-toasting over the flickering flames of the campfire.
'Dreamy Days and Starry Nights' runs the Stackpole Under the Stars tagline and we think that sums things up pretty nicely.
Gallery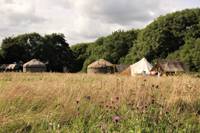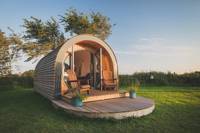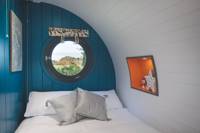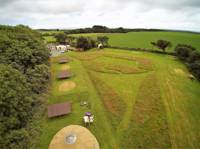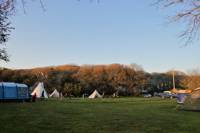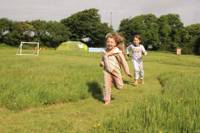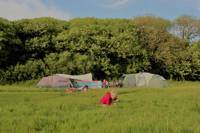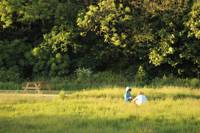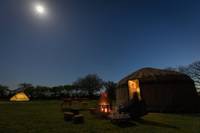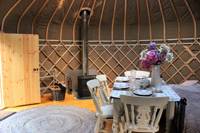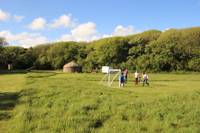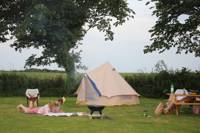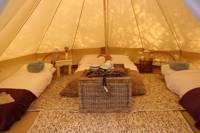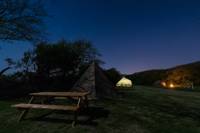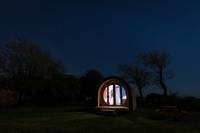 The Owner Says
Our family-run campsite is like a little green oasis, tucked away behind woodland in the Pembrokeshire Coast National Park , and yet only 10 minutes' drive from the historic town of Pembroke. It's the best of both worlds. If you're seeking a place to unwind, in a quiet rural location but within easy reach of what others may call 'civilisation', we think you'll love it.
We look forward to hosting you for your camping and glamping holidays here in Stackpole. However long you choose to stay, and whether you're in your own tent, camper or caravan or relaxing in our glamping accommodation, you'll share experiences that will last a lifetime.
Reviews
Add Your Review
Lush!
The site has the BEST facilities I've ever experienced on my many travels around Wales. It is extremely clean and orderly, Laura & Stan are very friendly and extremely helpful. The site is very easy to find and the walks especially around the very near Boaherston Lilly Ponds are stupendous. I camped with my 3 dogs and we had a blast and will most definitely return. Thank you Lauren & Stan
A true glamping experience
My girlfriend and I stayed in the Moon Pod for two nights. It was extremely well finished and clean. The bed was comfy. It's the perfect place to escape modern life. The fire pit gave much enjoyment and the little extras, such as the marshmallows with the tag 'toast me', was a lovely touch. Everyone on the sight was friendly and welcoming and it looked like a great place to bring children. For a place that has only been open a year they are doing fantastically well!
Beautiful and idyllic campsite
Stackpole under the Stars is a fantastic campsite for couples and families. It has great facilities (best camping facilities I've come across - 4 clean wet rooms with power showers and toilets, washing machine, tumble dryer, 2 sinks for washing up etc.). The campsite is beautifully set out with large pitches for everyone and a communal tent in the centre of the field for anyone to sit in or for children to play in. Loved how the centre of the field was not mown so wild flowers and grasses could grow. Definitely recommend staying at this site if you're heading to Pembrokeshire National Park!
Cracking campsite
Couldn't have asked for a better campsite. The couple that ran the site were so friendly and helpful giving us amazing walks and beaches to visit. The campsite itself is lovely and the fire pits were a great addition, meaning we could sit out until late enjoying the evening. Wouldn't hesitate to come back again!
Fantastic Couple of Nights at Stackpole Under the Stars
Just spent a couple of nights in one of yurts at Stockpole Under The Stars and had a wonderful time. Stan and Laura were very welcoming and made sure we had everything we needed for our short stay. The yurt easily took a family of four and was very comfy. Along with each yurt/tent/pod there is your own dining area including fire pit, gas hob..and "your" space is roomy enough so as not to feel that you are not stepping into someone else's. The showroom/toilet pods are very modern and clean...and better than a lot of hotels in the UK. SUTS is also a great place for families and kids to socialise...and very near some of Wales' best beaches incl. Barafundle. Lovely!
Wonderful weekend
Had an amazing stay here. This was our first time and will definately be returning. The camp was peaceful and relaxing, set in beautiful surroundings. The owners, Stan & Laura were on hand for info etc and were friendly and welcoming. Beautiful & clean shower/toilet pods and washing up room with everything provided. Even a freezer if needed. Washer & Dryer available at a cheap rate too. This was a great base to explore the beautiful area and coast line of the stackpole estate which i must say was very impressive and owned by the national trust, bonus, we are members so no parking fees. Also great to venture further out too. Loved every minute being here and looking forward to returning
Great camping trip
My husband, Digbeth the Irish Terrier and I had a lovely stay at Stackpole under the stars. The campsite is well run, clean, not too large, good location and Stan and Laura were really friendly offering help/guidance as required. We enjoyed eating our dinner and drinking wine with our fire pit under the stars! The coastline and area is stunning. We strongly recommend Barafundle beach and the local pub in Stackpole. We would really recommend this campsite to others.
Fabulous
This is a superbly run, impeccable little site with exceptionally helpful owners who are always around when you need them. It's ideally located and we spent a couple of days just exploring the Stackpole estate on our doorstep. The vast nearby beaches are clean and almost empty, the walks through the woods and along the lakes were a delight. It's also within easy reach of Tenby and St. Davids, and the wonderful woodland gardens at Colby. Our yurt was well-equipped and full of charm, and although the clear nights were chilly we were kept cosy by the roaring log stove. And clear nights means stars...
An absolute gem
This was the first time we chose to stay in a small site with our motorhome. From booking right through to moving on, everything was superb. Laura, Stan and Ossian couldn't have been more pleasant and helpful and the facilities were top class. The site is close to some of the best beaches in Britain and a great pub! The weather was great and we really did sit under a star filled sky. We will be back next year.
Breath taking
This was our first time we have ever been glamping & it didn't disappoint. To start of we got lost so when we rang the owners of stackpole under the stars they came out in our car to find us and guided us to the camp site. They where both lovely & helpful with whatever we needed. The facilities on the site were also up to standards with washing machine, tumble dryer, plugs, places to wash up and also lovely shower/toilet pods. The yurt we stayed in was decorated beautifully with all the little details covered including everything you would need to cook. ( not forgetting the large marshmallows! ) We had a comfy night sleep with the warmth from the logfire. Would defiantly visit again! Thanks from vicki & derek
Win a £100 Blacks Voucher!
If you've stayed at Stackpole Under the Stars campsite, please take a minute to tell us about your experience. Every month, one lucky reviewer will be picked at random to win a £100 voucher, courtesy of our recommended retailer Blacks. Each review counts as one entry, so get writing!

Best Price Guarantee, with no fees
Instant booking confirmation
Trusted for 10 years
A chance to win camping goodies in our regular competitions!
Book campsites near Stackpole Under the Stars