Celtic Camping and Bunkhouses
Pwll Caerog Farm, Berea, St David's, Pembrokeshire SA62 6DG











Knock-out sea views, direct access onto the Pembrokeshire Coast Path and a beach within reach
This campsite will have you dancing a little jig of joy as soon as you've stepped foot on its delightful ground. Nuzzling the shores of the Irish Sea, the gaping National Trust land on which the farm and campsite reside offers knock-out views along the coast as well as direct access to the Pembrokeshire Coast Path and a sheltered swimming cove.
Owner Ian is a softly spoken guy who greets campers with warmth and ease. He and his wife Judy opened the site back in 1992 with just a tiny green corner of grass for campers. Since then he's added a flat terrace with electrical hook-ups, situated even closer to the coast, for families and, because two is never a crowd, a third field – huge, undulating and guarded by a magnificent army of hawthorn bushes – has also been cleared for camping. The farm's evolution didn't stop there; its diminishing outbuildings have also been transformed into an impressive facilities block, while barns have become year-round holiday accommodation, activity and dining spaces, or cosy, ivy-clad bunk houses. The camping meadows have almost become a footnote to the rest of the farm's great holiday offerings, albeit the sort of footnote that you'll instantly remember and will return to again and again and again.
Testament to the site's allure are the tales of grumpy teenagers who arrive in a sulk at the lack of mobile-phone signal, but who after a week of outdoor activities, campfires and barbecues, become tearful when it comes to going home. One or two Cool Camping authors may even confess to having felt the same way on packing up their tents…
Gallery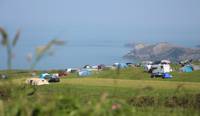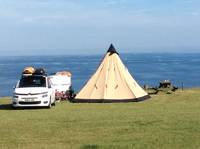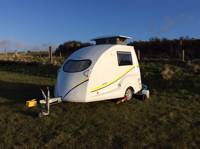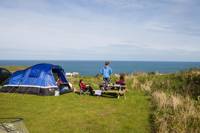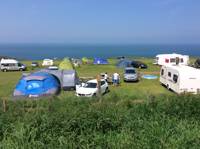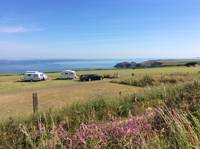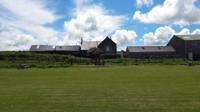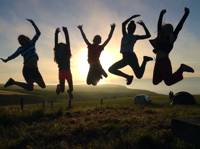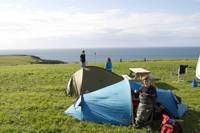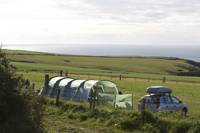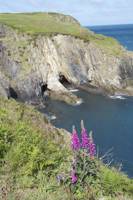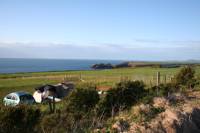 Video Tour
The Owner Says
At Celtic Camping you have space to breathe, space to play and space to relax on our Pembrokeshire camping site. Set in 250 acres of open farmland, you can enjoy knockout ocean views, our own little beach of 'Aber Pwll', easy access to the 'Pembrokeshire Coastal Path', which runs directly through the farm and a wealth of stunning local activities.
Reviews
Add Your Review
Lovely campsite
we stayed at the top field for EHU , the field we in was quiet it was a bit noisy in the Lower field where there was more children. The only negative was the toilets and showers, they were dirty as there was groups who had done the mud run. There is no where to get changed after a shower I had to balance everything on a hook on the cubicle so wouldn't get wet! Overall it's a lovely site and the views of the sea are wonderful . We had a lovely walk on the coastal path to the nearest pub past beaches and took 1 1/2 hrs.
Stunning Views and spectacular sunset.
Fantastic campsite if you're looking for a no frills experience, the showers and toilet block were kept clean although a queue for the ladies showers each morning. We pitched at the bottom of the field away from the electric hook ups ( this area had far more campers and as result could get quite noisy), the pitch we chose was very quite with only a few other tents pitched near but this resulted in a few minutes walk back up to the toilet block and showers but this was a small price to pay for the spectacular views we had from our tent. If you enjoy walking then you will be spoilt for choice as they're are several coastal walk's that are a must do , we chose to walk along the cliff tops to White Sands (about 3 hour walk) the views and wildlife you get to see are well worth the effort of this walk. Great weekend away and will be coming back again at some point.
Noisy and Overcrowded
They blocked off all facilities apart from 2 toilets and shower as they had multiple school trips there. Laundry was broken and facilities were filthy. Very disappointed. Only upside was the view and the 2 Alsatian's which were adorable. Staff were friendly but wouldn't stay again. Wouldn't recommend if you are looking for a peaceful getaway. Their focus is on the money from school trips not on private visitors. Such a shame.
Quiet basic campsite, good for no frills camping
Easy to find, lady who booked us in was very friendly and recommended an excellent place for our dinner (fish and chips from Porthgain! A must have if you do come to the area). Pitching was entertaining as we arrived at the beginning of a little storm. The site is very exposed so putting the tent up was like trying to hold a massive balloon down. The campsite is set away from the road so could be quite quiet but there were a lot of kids/ teenagers playing football and making noise until quite late. Having said that it was their holiday too and we weren't given any instructions about noise curfews etc., so it's just something to bear in mind. Honestly, I found the website quite misleading. We expected the showers and dining hall to be a lot better than they were (portakabins with holes in the wall) and I think the use of the term "barn" implies something more permanent looking! While we were there the gents showers werent working properly so only one block was open some days. Not a massive problem but apparently there's a big disparity between the two blocks. Two sinks for washing up isn't really enough for a site of this size and there was usually a queue, even if you ate at different times. We actually left two nights early, not entirely due to the site it must be said. There were definitely plus points to the holiday - the sunsets were beautiful and the picnic tables dotted around were useful for those with tents, but I think I would have appreciated seeing a review that was perhaps more honest about the down sides to this site. If you want something very basic then it's fine, but don't expect much in the way of shower/washing up facilities.
Excellent
If you are looking for a site that allows you the freedom to camp in an informal and relaxed manner then this is the place. a beautiful site with stunning views over the picturesque coast line. Clean facilities with plenty of hot water.  Welcoming staff who are very helpful and happy to pass the time of day with you.
Although remote it's within 10 min drive of the local shops in St David's and 5 min walk from the bus stop allowing you to enjoy the coast path walk and have a easy ride back to the site.
Camp fires are allowed which is fantastic and adds to the whole expirence
There is lots of space for the kids to run around and play and I safe environment.
We will be back, have thoroughly enjoyed the whole expirence.
Thanks very much
Great experience
Lovely people, took very good care of us when the weather took a turn for the worse and our tent collapsed. We stayed in the bunkhouse for a couple of days to dry out. Good facilities, great location on the coast even if it can be windy. Loads of space. They're happy to let you have fires and sell wood for them.

Absolute bliss at Celtic Camping
I absolutely love this campsite. We've been twice now having found it recommended on Cool Camping (once for 5 nights September 2013 and recently for 3 nights July 2015). Ian is so friendly and all the staff are so helpful but laidback. The campsite has a really nice vibe and atmosphere, it's well organised but at the same time very relaxed. You can pitch anywhere you like on their massive area of land unless you want electric hook up (this is a specific field). Great walks nearby and from the door with the coastal path starting from the campsite. Campfires allowed, clean showers and toilets with plenty of hot water and spacious pitches not to mention breathtaking views especially at sunset! Being able to snag a picnic bench is a bonus and these are dotted around the campsite for campers to use.
We walked Mynydd Preseli in the pembrokeshire national coast park and this was a great walk (PDF map can be found online if you search in google) and spent our time reading and relaxing when we weren't walking the dog! Felt very rejuvenated afterwards. I can't wait to go back for my next visit!
P.S. some tips - the campsite can be very windy because of its exposed position on the cliff so would recommend taking a decent tent (some of our tent pole sections snapped in particularly high winds but a bit of duct tape kept them sorted for the duration of our stay) and also taking hard ground pegs. The electric hookup field wasn't as bad but from our first stay, our normal tent pegs wouldn't go in very easily and we had trouble putting our dog tether in the ground so would recommend investing in some if you like this campsite as much as we do!
Wonderful location
This was our first campsite from the Cool Camping recommendations, we visited last year at the end of May and it was fairly quiet. The views were amazing, only a hedge and one field away were the rugged cliffs and crashing sea, the walks along the coast were some of the best in the UK, the space and freedom in the fields with the peace and quiet was exactly what you want on a campsite and the facilities were great. Hosts were welcoming and helpful and we could have a fire by our tent straight on the grass. We intend to return every year as it's faultless, really!

Thank you for such a lovely stay!
We chose the Celtic Camping site for the views, the location and the spectacular reviews.
Pitchup made it really easy to find great campsites and narrow down your requirements!
We took the scenic route which took around 4 hours. We essentially drove West then followed the coast down to Pembrokeshire. Driving through the Pembs National Park was great and we saw some really lovely towns on the way. The extra distance was worth it to see the views on the way down there.
Once we found the campsite (it was really easy to find by the way) we drove straight to Reception. It's always a bit daunting meeting the camping staff because sometimes they're not too friendly but these guys were absolutely lovely. We handed over our booking confirmation, met their dog, Jack and were shown the site. We checked out the toilets and they were literally spotless, the showers were also really clean - very impressive! On site there is a toilet/shower block, an extra toilet building and a lot of sinks round the corner to wash your pots and pans. 

The view is spectacular! The only downside is the field is on a slope. But, this is not a problem as there are spots which are flat enough to pitch your tent. We headed to the bottom of the field. The views were more amazing at the top of the field so next time we go we will probably pitch higher up the hill.

As the field is so big everyone on the campsite had their own space. Children had the freedom to run and play around (without disturbing you). The site allows campfires, another necessity. They also sell wood and kindling on site, £5.00 per bag. You can get it cheaper elsewhere but it is handy if you have no room in the car. Although there were other people camping no one disturbed us at all, it was brilliant. 

If you stay here I really do recommend bringing a windbreak (or two) as you are very close to the coast so it can get windy, plus the rainy weather made it worse. Without these we would have been sleeping in the car!
We really want to return here with friends so they can share the same great experience as us! 

Thank you Ian and family for providing such a great, relaxed, friendly and welcoming campsite. 

See more plus photos on my blog: www.charlotteinengland.com

not happy
we stayed at Celtic camping recentley campsite is lovely views are stunning the only thing that spoilt our holiday was rowdy young people that pitched next to us they pitched up in middle of nite and kept us awake the whole nite my husband tried to ask them to be quiet but was ignored there is no number to call if there's a problem we left one day early so lost 20 pounds

Wow!
As a novice to motorhoming, we rocked up to Celtic Camping unsure of what to expect. Even if we had had high expectations I think they would have been surpassed! What an absolutely superb spot and lovely greeting from Ian. Nestled on the top of the Pembrokeshire cliffs, this is a truly special place. A warm welcome, great facilities, right on the coastal path and a taxi away from an amazing restaurant called The Sloop Inn (we weren't driving that night!). I couldn't recommend it highly enough. 
Stunning location, excellent facilities
We chose Celtic Camping because of the fantastic reviews and weren't disappointed. The location of the campsite is simply stunning, with fabulous views all around. It was an absolute pleasure to sit round the campfire (no need for a fire pit here, just light it on the grass) and watch the sun set. We acquired a picnic table when one of our neighbours moved on but with hindsight it would have been useful to have sorted one out at the beginning of our trip.

The field with electric hook ups is close to the barn - inevitably you end up pitched quite close together and everyone else has to walk through that field to get to the facilities. But if you can manage without hook up you can pitch up anywhere in the massive field so you can have a bit more privacy and an unbroken view. We visited in August - there were a lot of people camped in the big field, but everyone had masses of space around them.

Given the number of people on the campsite at the time we were there, the showers and loos were excellent - yes, they got muddy from time to time, but they were cleaned up regularly. We obviously timed our visits well as we never had to queue in the ladies for either the shower or the loo. The boys said the gents were a bit smelly but I can't comment and I suspect they were being picky. A number of families were using the huge barn for cooking, eating, washing up and generally hanging out, which is a great plus of this campsite, and there are lots of fridges and freezers which you can put your stuff in.

We had a brief walk along the cliff path from the bottom of the campsite - stunning. We visited the Blue Lagoon, which is amazing and watched some crazy people diving off the cliffs! Porthgain was stunning too - sadly we didn't eat fish and chips at the Shed which is a shame as since we got home, the Times have voted it one of the top fish and chip places in the country.

St David's is a lovely little city. One basic supermarket, but excellent independent shops - butcher, deli and lots of cafes (we had lunch in the Sound Cafe). We found the beaches rather disappointing - but maybe we didn't find the best ones (I know that in South Pembrokeshire they're stunning). Whitesands was really busy and commercialised with sun lounger hire! Newgale is close to the main road, so again fairly commercial.

spectacular views and a great place for large groups
this is a great site which i thoroughly enjoyed visiting! the majority of the site is on a slope and we camped right at the bottom of it which meant we had knockout sunset (and sunrise) views and beautiful sea and cliff views.  the facilities are good, there is a large bunk house with loads of seating space, two huge communal fridges, hot water urns, tea and coffee making facilities and loads of space to be out of the rain if the weather is bad.  There are also plenty of showers and toilets which were nice and clean, the only down side is that all the facilities are right at the top of the hill which means about a 5 minute walk up hill if you pitch at the bottom (which was obviously our choice!) and this was made worse by the very long grass combined with dew/rain which meant soaked through shoes by the time you got back....again, this wasnt the end of the world and avoidable if you put your flip flops on! also, the grass was cut the day we left so we may just have been unlucky!  I think if you visit as a couple or individual and you're looking for peace and quiet then you may need to choose your pitch carefully but there is enough space to do this (we had a couple with a one year old next to us, we warned them we may be loud as there were 16 of us and asked them to let us know if we were disturbing them, they didnt come back to us and didnt move pitch despite us being up well into the early hours... i think the wind probably carried away any noise we made!)

Ian, the owner, and the others that were working on reception were all lovely laid back and helpful people and we are planning to visit again in September.
Fabulous views
 A warm welcome awaits at this very spacious site. Cleaning facilities are clean and spacious and plentiful. Amazing views of course. Just takes a few minutes to get on the coastal path so possibilities for exploring are endless. Nice walk to the blue lagoon and p porthgain harbour is cute - bakery and good pub meals. We will certainly return at so a point despite the long drive. Highly recommended.
Not long enough...
This was my second visit to Celtic Camping and it was just I remembered it.  We stayed for a week in the middle of June and were blessed with the weather.  The views are incredible and the opportunity to watch a great sunset is something that I will never bore of.  The facilities are great, clean and well maintained.  It was quiet just before the school summer holidays and whilst I'm sure that it gets much busier there appears to be a huge amount of space so that everybody can enjoy their freedom.  The team are welcoming, very helpful and take the time to stop and chat during your stay which added to the experience.  I suspect that this will be an annual trip for us now.
Best Campsite
Spent an amazing weekend at Celtic Camping in early August with my two daughters.  The amount of space and panoramic views of the sea are simply amazing.  The campsite is very laid back and to me able to pitch where you want and have a campfire was a huge bonus.  The area is full of activities, we spent two days enjoying the surf at Whitesands Beach but also went on a guided rock pooling expedition and visited the amazing cathedral in nearby St Davids.  I don't normally return to the same place twice but will be coming back here next year to do some coastal walking and rock climbing.  Fantastic campsite in a splendid location.
Sensational Wild Camping Place to Stay
We've just had 8 nights exploring the Pembrokeshire coast in a motorhome with our two young children. Our two nights at Celtic Camping was one of the highlights. Stunning views, great coastal walks, very good service from owner and staff and a real pleasure to stay at such a clean yet rustic farm camp environment. Sitting by our own campfire toasting marshmellows and watching beautiful sunsets over the clifs and Irish Sea is a stress free way to explore Wales. We have already highly recommended Celtic Camping to a number of friends and family and would love to return there ourselves again soon. Nothing at all was a problem for Ian, Rob and Thea at Celtic Camping and they are very easy going and a pleasure to deal with compared to the more regimental Camps around. 
Brilliant stay
My first camping experience and Celtic Camping didn't disappoint.  We stayed over August Bank Holiday weekend and, despite the numbers camping, there was loads of space around the tents to stop it feeling crowded.  We camped on the huge L shaped field looking out over the sea.  It was quite windy the first night but that's to be expected on the exposed West Wales coast and you don't get that sort of view for nothing.
We had a fantastic time with a firepit to sit round every evening.  Ian and Rob were really helpful and nothing was too much trouble.  The facilities were excellent, loads of hot water in the showers and a large barn with picnic tables, boiling water, toaster, fridges and washing/drying facilities.  A great place to sit if you want to eat/read/play inside.  Also loads of electricity sockets in the barn for chargers if you don't get a site with electric hook up.
I can't wait to go back, hopefully for a longer stay next time.

Great Campsite
We camped here for a weeks holiday and wanted to endorse all the positive comments in previous reviews. This is a campsite with a great relaxed atmosphere. The owner and his team could not have been more friendly or helpful and we will be going back.

Spacious, views, August 2013
  With 8 nights to camp in Pembrokeshire and many campsites to choose from we used the Cool camping web site to narrow down the search and decided on 3 sites (2x3 nights and 2 nights). Our second stay was at Celtic camping ...
We inspected the vast field for least wind but decided it made little difference when the breeze was from the West and pitched our tent in the middle of the large field. This was brilliant for views and quietness and a good choice. There were around 50 campers/caravans on site [August], many using the EHU area. But this site has space and you can mix with the crowd or go find your own space away from it all.

The facilities block comprises of showers, toilets, wash basins all kept clean. Then in the barn area there are many tables that you can make use of with free washing machine and tumble driver, boiling water, toaster, microwaves and huge fridge. There's washing up sinks outside and 2 inside. The barn area was good for us to sit in after dark in the evening as we only had a small tent.

The breeze came and went but when present one advantage with a large grass field and breeze is it's brilliant for kite flying. One afternoon there were at least 6 people all flying at the same time - some of them dueling (and later untangling). The uninterrupted view out over the sea is great for watching the sunset.

We had a swim in the cove (10 mins walk down from the camp site) - gorgeous as there's no breeze down there and the water's clear. We also walked around to Abereiddy (2 miles) to visit the blue lagoon and swim in the bay. There is a toilet block here and an ice cream/drinks/food van.
The campsite has no shop. The nearest are a few miles away - garage at Square and Compass or on the outskirts of St Davids.

It cost us £24 / night - good value. Nigel, Katherine and Helen
Excellent!
We went as a group of 13 18 year olds, and had a fantastic time. The people are lovely- laid back and very welcoming! The campsite has great facilities! Amazing costal views!

Our fave site
We have recently returned from our second stay at Celtic Camping in Pembrokeshire. We absolutely love everything about this site, from the warm relaxed welcome to the wonderful views straight across the sea towards Ireland which also means you face the sunset as the sun dips below the horizon in the West. We also feel the stay is added to by the fact that you can have a log fire in front of your tent and as another camper said ' it isn't at all Stepford Wives with cordoned off neat little areas', you just feel you can be yourself. The nearby coastal footpath is a bonus as is the little cove just below the site where you can take a dip in crystal clear waters. The weather this year was an extra bonus. No doubt – we will be back again

Lovely Stay
We stayed here for a night with a large group of friends two weeks ago. We had a great stay and the campsite was very well organgised.

Celtic Camping & Bunkhouse
My partner and I stayed here last summer and were not expecting everything that came with this great site! Views are spectacular, across the field and straight out to sea, the costal path is a few minutes walk away and you can walk all the way to Abereiddy beach. From here you can go to 'the blue lagoon', a filled in quarry where the sea-water has come through a wall, great fun and Carribean-like blue sea (a little colder though!). 
The owner greeted us and was fantastic, he helped us choose our pitch, showed us around and left us his number telling us that if we got lost or needed help or directions when we were out and about to give him a ring and he would come and get us. 
This campsite feels like it's on the edge of the world and is so natural it is fantastic! We'd be there every weekend if it was just a little bit closer!
Brilliant camp site- couldn't recommend it highly enough!
Me and a group of my friends camped with Celtic Camping over the August bank holiday weekend and we all commented on how refreshing it was to have no silly rules enforced on us and no extra charges for everything! We all thought they were incredibly helpful, friendly and laid back and we'll definitely come back to stay with them if we're in the area again :) They helped us have a brilliant and very fun weekend! The only very small reason they don't get 5 stars is because in an ideal world there would be a good pub within walking distance, but most seemed to be 10 mins by car.
Scenic, friendly and relaxed - great place!
Difficult to add to the comprehensive review ... Lucky with weather ... caught first five consecutive rain-free days this summer, raised mood considerably. Testing new Outwell castle with family of 5 for 5 nights. Location: just outside St. Davids, OK with bike (30 mins) but better with car (5 mins). About 5 mins from coastal path. Very scenic on cliff top with wonderful views ... but it does get windy! Great little pebble beach 10 mins, bigger sand beach 20 mins by foot. Mobile reception on hill OK. Site: Loads of space, so you can choose your level of privacy. No pigs left, but hundreds of very pretty ponies. Farm machinery cleared, except for forklift-type vehicle. Fires possible on at least one field ... wood and kindling available on site for tenner. Atmosphere: very friendly and relaxed! Bit louder on the family hook-up pitch with some music, quiet on the two other fields. Bunkhouses are converted barns which look a bit grey from the out side but are not very visible from the fields. Facilities: excellent, spotless showers and wash rooms. Huge indoor cooking and eating area (may be occupied if large group in bunk houses). Assortment of different BBQ available. Good for: pretty much everybody, because there is so much space. Recommend: highly!
Celtic Camping & Bunkhouse
There are very few campsites quite like this one in the UK, and the people are really what makes it. It has magic views out over the ocean and the Pembrokeshire countryside, and everyone seems catered for. My wife and I love it there so much that it's where we decided to have our wedding.
Ian and Rob not only made us feel at home, but made us feel part of the family.
Nothing was too big or too small a request for them, and they went so far out of ther way to accomodate us we could hardly beleive it.
Aside from being one of the most beautful campsites, it is also one of the friendliest. They are always welcoming and the facilities are great. There is a real mix so you can choose how wild or not to make your stay, either buy being in one of the bunkhouses or camping out on one of the fields.
Personally, I would suggest dragging your tent to the far corners where it seems as if you are alone in the world and have unsurpassed views out over the sea.
Win a £100 Blacks Voucher!
If you've stayed at Celtic Camping and Bunkhouses campsite, please take a minute to tell us about your experience. Every month, one lucky reviewer will be picked at random to win a £100 voucher, courtesy of our recommended retailer Blacks. Each review counts as one entry, so get writing!

Best Price Guarantee, with no fees
Instant booking confirmation
Trusted for 10 years
A chance to win camping goodies in our regular competitions!
Book campsites near Celtic Camping and Bunkhouses