Coastal Stay Camping
Coastal Stay Camping, Noddfa Farm, Llanrhian, Pembrokeshire SA62 6DP
















A wonderfully friendly family-run campsite with epic sea views. It really is Pembrokeshire's new best kept secret...
Ah, Pembrokeshire. Truly a coastline to rival any of the world's greatest. Epic sea views, mysterious hidden coves, lush verdant fields – the undeniable allure of this area in south-west Wales is clear to see. This is the Welsh holiday experience. And yet, the trouble with top-rate tourist destinations is... all the blinkin' tourists! While the snap-happy hordes descend en masse to St Davids and the surrounding hives of Solva, Whitesands and Newgale, we know a little gem of a place a little off the beaten track. Head north from Pembrokeshire's tip, and tucked away a little inland from the glorious golden sands of Aberiddy beach you'll find Coastal Stay Camping.
Originally a one-season-side-project to the adjacent 4-star B&B, campers were so enamoured with the stunning views and lazy lake-side air of relaxation that the Williams family are now opening for their second year.
Your wonderful host Marilyn is a proud farmer's daughter who'll greet you with a sunny "shwmai" and some organic eggs and veg from the small-holding.

With a well-tended field for tents, tipis and the odd caravan, an onsite cafe serving cream teas, and possibly the most immaculate bathroom this side of Offa's Dyke, facilities are ample to say the least.  
Location-wise, Coastal Stay offers the perfect retreat from the tourist trail while still being readily accessible for all the region's stunning sites and attractions. After a day of foraging or exploring Aberfiddy's famous Blue Lagoon, you can retire back at camp to watch the sun descend over the Irish Sea. As campfire mingles with the heady scents from the herb garden and the unspoilt night sky starts to twinkle, you'll thank your lucky stars you went off the beaten track
Just remember, keep it to yourself...
Gallery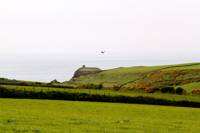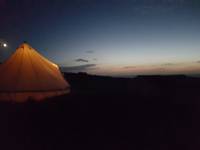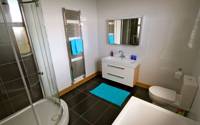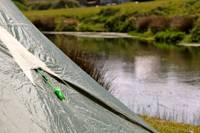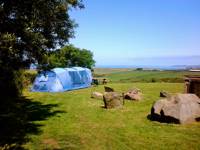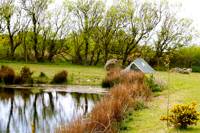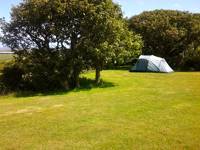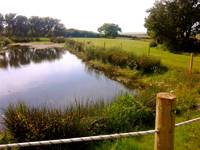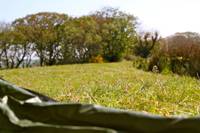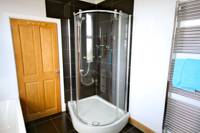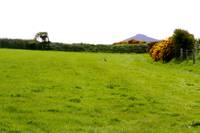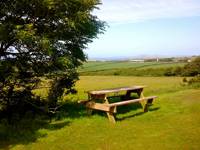 Video Tour
The Owner Says
Escape to a beautifully finished campsite small-holding located in a National Trust Conservation area with uninterrupted views of the north Pembrokeshire Coast National Park. Relax and experience the magic of a holiday in the heart of Wales at this Pembrokeshire Camping site. Views overlooking the Pembrokeshire Coast National park with incredible sunsets and unhindered views of the night sky, making our campsite perfect for stargazing around a camp fire after watching the sun set into the sea at Abereiddy. An ideal and tranquil base for viewing the attractions of Pembrokeshire and only a few miles from the shops, pubs and restaurants of St Davids. If you are looking for a hi-tech holiday park then we are probably not for you. But if you want your children to know how to build a den or forage for blackberries, then our Pembrokeshire camping site will be exactly what you're looking for.
Reviews
Add Your Review
Excellent friendly site
Had a really good stay over three nights at Coastal Stay Camping. The campsite itself was really good - quite small and with plenty of space between pitches. The owners were both really friendly and helpful. Facilities were all pretty new and in great condition. It's also in a good location for getting to the Pembrokeshire Coastal path for walking and it's only a couple of miles to Porthgain. Would say the info needs updating slightly as definitely no onsite cafe unless that's only open during July-August. All round great stay!
What a haven of peace and tranquility
I don't understand the negative reviews I've read about this site. We booked deviating from our normal Pembrokeshire camping sites as we needed one with glamping to go on a family trip - we had booked 2 pitches for myself/boyfriend, dogs and brother/fiancée and my parents were glamping in a bell tent. Marilyn and Nick were super friendly and run a really homely, cosy, quirky campsite. The loos are unisex and small but were always clean and hot showers. Despite the campsite being full, we never had to queue. The views were absolutely incredible and we had two pitches overlooking the sea which was fabulous. Yes, it's not RIGHT on the coastal path but if you're coming to Pembrokeshire to enjoy walking the coastal path, I'm sure you won't mind the 20 min walk down the road to Abereiddy to begin your adventure (or alternatively drive and park closer to the sea)! Pitches aren't huge but were generous (we had plenty of space to pitch our 6man tent with canopy (this adds 3m to the front of the tent) and even though the campsite was quite busy, we still felt like we had our own private space, made all the better by hammocks dotted about in the trees and large wooden bench tables for campers to use. Overall, this was a great camping experience for us and I really enjoyed our trip away - we'll be returning and adding it to our favourite campsites list! Firepit on each pitch for a campfire was the icing on the cake. We had a great family holiday and even the newbie campers enjoyed! P.S. Bring hard ground pegs! We did manage to get our dog tether/stake in but with some difficulty (tethering them to the heavy bench was a great alternative).
Not the location we were expecting
The name coastal stay made us think this site was on the coast! This isn't the case it's not even on the coastal path you have to walk down a road to get there & the beach was another very long walk along the road. We also felt the site was very crowded with pitches very close to each other.
Blown away by this site
Mainly because we camped there during a three-day long gale. However we found it to be a pleasant spot, and I'm surprised by some of the negative reviews. The toilet block was indeed quirky, but who cares if it is unisex? It was clean and I never queued for the showers. I love the unique touches at this site; Marilyn was friendly and kind, she dried my son's clothes in her drier after he fell in a rock pool. Nik's breakfast burrito was superb. We even borrowed a scrabble set for the cold and windy evenings in the tent. Would definitely use this campsite again.
Simply superb
Just finished visiting this site and can't speak highly enough of the place, the location is excellent with stunning views, the hosts are the friendliest people you could wish to meet, complimentary coffee on arrival and pancakes for breakfast.  We were allowed to choose our own pitch, use the house wifi for free, free use of the firepits and wood etc. -the best site we have visited and will definately back.
Nice but not really all its cracked up to be on all reviews
Camped first week of August.  Having read various reviews was expecting more to be honest.  Friendly female owner who was always very pleasant.  Pitch was as expected.  The place is really let down by the shower rooms/toilets.  I expect all the other reviewers went at a slightly quieter time.  All pitches were full, tents with Multiple occupancy all having to use 2 showers in a really strange 'self build' shower/loo block containing 3 loo's also - Unisex!   There is an inside shower room for women and children only.  The inside shower was good but as you can imagine there was a queue to use this facility frequently.  Lovely setting though.  I have to say we may have felt much more displeased with the site if we had not had glorious weather.  Not much sign of a Café either.

Camping virgins!
This was our first family camping trip and I think we have been spoilt for life. Lovely campsite, very relaxed and beautiful location. We came with family who didn't want to camp so stayed in the b&b. This is a great selling point and the owners were happy for us to use the b&b bathroom whilst my brother and sister in law ate breakfast and even fed our children pancakes. Nice touch!
2 days that turned into 3
After much deliberation and searching through the cool camping website (initially we were going to Devon) we found Coastal Stay Camping and from that point onwards it all went downhill, sorry I mean uphill. 
On arrival we immediately felt welcome and we knew we had made the right choice. We were shown a  selection of pitches and opted for the forest area, which was perfect!
We intended to stay for 2 nights but the ambience was such that we opted to stay for a third. Marilyn, Nick and the gang made it feel like a home from home. 
We could not have asked for more, beautiful people, beautiful place, we will be coming back for sure.
Nice stay
We booked this campsite after reading the raving reviews on the cool camping website.
Coastal Stay is a nice campsite. It has beautiful views across the fields and one can see the coastline in the distance. There is a lovely pond in the middle of the camping ground and the sunsets are spectacular. 
It can be tricky to find it (and we had a GPS). It does not have a hot sink nor an independent shower block so one has to walk to the main building to use the facilities.
Lovely Campsite
We have just had four days at this site, with our campervan, and we had a lovely stay. It was very chilled and a great place for our kids. The view was fantastic and our hosts were very welcoming. Great to have really good showers available for the campers. The local pub (Sloop Inn, in Porthgain) was very popular, as the food was excellent (advisable to book if you want a table inside). This is a campsite well worth all the stars and one we will be returning to.

Lovely small site
This was my first camping trip away from my parents with my partner and it was lovely! The owners are lovely and welcoming, and the site had a good friendly atmosphere with a range of different people camping, from first timers, families and seasoned campers. The owners knew all the best places to go, and recomended a very nice fish and chip shop in a neighbouring village. The site had amazing views to boot as well.

Only downside is the site is a little stoney, so don't forget your mallet, although as we found in St Davids there is many a store you can pick yourself up one if you have forgotten it, or any other camping stuff for that matter!
Long Weekend Of Bliss
I stayed for a long weekend last week and had the most wonderful time. The views are spectacular, across the field and straight out to sea. Aberiddy beach is just over a mile away and from here you can walk to the blue lagoon which is an incredible sight, It was the chosen location for the Red Bull cliff diving championship (Well worth a visit).  

Marilyn (the owner) gave us the warmest of welcomes and we enjoyed ground coffee and Welsh cakes in their conservatory whilst talking about local attractions etc. It's well worth taking their advice as they know the area very well. We were then taken to our pitch which was beautiful and there was a 180 degree view of the ocean in front of us. Later that night the owners setup a large campsite and cooked homemade pizza, it was a brilliant night and one I won't forget in a hurry... The sunset that night didn't disappoint either.

I'm hoping to return here later this year with the family and have already booked a trip back in August to make sure we get a pitch.

Win a £100 Blacks Voucher!
If you've stayed at Coastal Stay Camping campsite, please take a minute to tell us about your experience. Every month, one lucky reviewer will be picked at random to win a £100 voucher, courtesy of our recommended retailer Blacks. Each review counts as one entry, so get writing!

Best Price Guarantee, with no fees
Instant booking confirmation
Trusted for 10 years
A chance to win camping goodies in our regular competitions!
Book campsites near Coastal Stay Camping