Rhosson Ganol
Rhosson Ganol, St Davids, Pembrokeshire SA62 6PY







Wales' westernmost campsite, boasting stunning views overlooking Ramsey Sound on the Pembrokeshire Coast
All manner of weird and wonderful campsites are brought to your attention via Cool Camping, but we all need a little bit of normality in our lives and this includes campsites where us average bods, whether couples or families, can enjoy a standard camping holiday – after all not all of us are searching out the weird or eccentric.
This is where Rhosson Ganol rides to the rescue, and where there isn't a yurt or a tipi to be seen. Neither are the owners on a campaign to save the planet, and there is absolutely nothing strange or uniquely different trying to sell the site to the camping punters. They (the Griffiths family – Henry, David and Kate) just want their guests to enjoy their holidays.
The wide and unspoilt view may very well be the strongest reason for falling in love with Rhosson Ganol, but there is something else here gnawing at the senses, and it could be that feeling of being in a place where there is nothing beyond. In effect this is the Welsh version of Land's End, or John o' Groats, with Rhosson Ganol being the westernmost campsite in Wales. All this can be felt in your bones, too, sitting outside the tent staring happily and vacantly out at the sea on a warm summer evening.
Right, enough notional nonsense, for this is a fantastically practical place to come for that normal camping holiday we promised. Before venturing too far from the site in search of things to see and do it is worth kicking off the explorations by strolling down to that rocky little cove at Porthstinian, where a few leisurely facts become clear. The first being that a walk along the coast path from here is eminently possible, with a bus service bringing walkers back to base at the end of the day.
There are also quite a number of boat trips running out of Porthstinian, offering a bewildering variety of aquatic adventures including contrasts such as a visit to the RSPB reserve on Ramsey Island, to an outrageously mad jet-boat session in the whirlpools and big, big waves that batter this coastline. Added to all this is the existence of a nice beach just half a mile away, the city (well, it's a village really) of St Davids just over a mile, and the whole of west Pembrokeshire readily accessible from this small campsite, which teeters on the very edge and makes a normal kind of holiday something rather extraordinary.
Gallery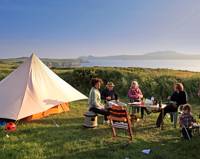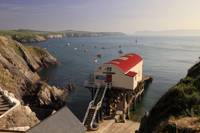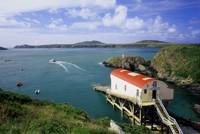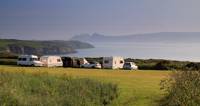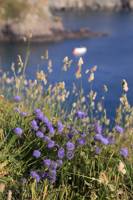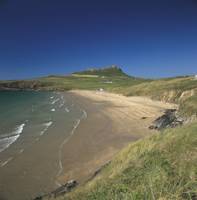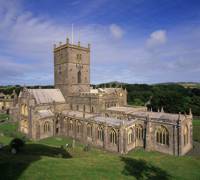 The Owner Says
Rhosson Ganol has 35 pitches all in a scenic location overlooking Ramsey Sounds. The large camping field gives you plenty of choice on where you wish to pitch your tent for your holiday. There are plenty of walks nearby along the coastal path with a handy bus service bringing walkers back to base at the end of each day. There are also a number of boat trips running out of Porthstinian, offering a bewildering variety of aquatic adventures including a visit to the RSPB reserve on Ramsey Island.
Win a £100 Blacks Voucher!
If you've stayed at Rhosson Ganol campsite, please take a minute to tell us about your experience. Every month, one lucky reviewer will be picked at random to win a £100 voucher, courtesy of our recommended retailer Blacks. Each review counts as one entry, so get writing!

Reviews
Add Your Review
Magical stay
Everything you could want from a campsite- stupendous all round sea views right on the best coastal path in the uk - can walk to beaches town and around coast. Friendly quiet unfussy and well serviced site. Just returned as seasoned travellers from a four day stay at one of the best sites we have ever stayed on in a vw camper with dog! Perfect break thank you-we will be back!
Wow...... what a first experience!
We have just returned home from our first EVER camping trip. We stayed at Rhosson Ganol site and I was blown away by the views. Everyone was really friendly and we took our 5 month old pup who also enjoyed his first holiday. We will definitely be back.
Ace campsite
I stayed here in mid summer 2017. Annoyingly, after several sunny weeks, it rained as soon as we arrived which was a real shame because I could see the campsite had everything for an amazing holiday but for us it was a bit of a washout weather wise. We still managed to do some swimming e.t.c. though and the campsite itself was perfect. Well priced, amazing views, amazing location, nothing too flashy or fancy but that's not the kind of camping we were after. Really friendly owners. Highly recommend. Next time we go we want sunnnn though!
Rhosson Ganol
Wonderful and truly amazing. View to die for, great, clean if basic facilities, friendly, peaceful and cheap. We were there for two nights at the start of our holiday and one at the end in a campervan. I wish I could live there, thank you for a much needed slice of peace and tranquility.
Rhosson Ganol
We've been going to Rhosson Ganol four or five times a year for nearly 30 years. Due to 'knees' we no longer tent but have a small caravan. We have such a lot of happy memories and now we take our grandchildren. Believe me, you have never seen stars until you have been to this corner of Wales. Breathe the fresh air, hear nothing but the sounds of nature and chill.

Rhosson Ganol
We spent one night here at the end of May. The site has a wonderful location with amazing views over the sea and Ramsey island. It was very quiet when we visited, the owner told us that it is busy at bank holiday weekends. short walk down the hill to St Justinian and the boats to Ramsey and around. Right on the coastal path too. We walked into St Davids and back for the evening, about 30 minutes, all along quiet lanes. Highly recommended, but if busy, the toilets and showers would, as the cool camping review suggests, be under pressure. They were well kept and effective for our stay.
Best Price Guarantee, with no fees
Instant booking confirmation
Trusted for 10 years
A chance to win camping goodies in our regular competitions!
Book campsites near Rhosson Ganol