Wild flowers, wild woodland and ample wildlife-friendly facilities in this 10-acre tract of off grid camping space
'Wild place'. That's what the Welsh word Cynefin means and it's abundantly clear when you arrive at this 10-acre smallholding that preserving a sense of wilderness is at the heart of everything owners Kay and Judith do. Half covered with hazel, rowan, willow and Welsh oak trees, the partially wooded space is a campsite designed for a multitude of species. Bird boxes perch among the trees; honeysuckle, dog-rose and bramble shelter dormouse boxes and, at dusk, barn owls silently explore the starry sky above the wildflower meadow where campers pitch their tents. It's a place of harmony and natural tranquillity – a 'habitat' (another meaning of Cynefin) for campers and creatures alike.
"While out for a walk seven years ago we came across a 'land for sale' sign on an old broken gate," Kay tells us. "Being inquisitive, we climbed over to investigate. Before we'd got half way down the concrete path we'd decided that we just had to buy the place".
Since then, the couple have crafted a real off-grid camping sanctuary. To preserve the natural biodiversity, there is a maximum of just six tents at the campsite, including the two pre-pitched bell tents and a tipi that are already there, so space is never an issue. Solar-powered lanterns provide the only artificial lighting, the piping-hot shower is driven by bottled gas and toilets are of the composting variety. Certainly don't come expecting Wi-Fi. Instead, rummage in the resource box filled with books and charts to help you identify the resident birds and bugs, or use the bat detector to listen to the distinctive clicking of their echo-location at dusk.
It's not all about the animals at Cynefin Eco Camping though. An area in the woods has been specifically laid aside for children to set up shelters and make dens and swings, while pathways have been mown between the camping pitches in the wildflower meadow so that you don't get dewy trousers every time you wander to the loo. Those staying in the bell tents and tipi also have access to use a well-equipped kitchen shelter and all campers are provided with campfire-pits with a grill and pan to use.
Three miles away, the ancient fishing village of Burry Port has hung up its trawling nets in favour of leisure boats, which now populate the marina-style harbour. It was here that Amelia Earhart completed the first trans-Atlantic flight by a woman in June 1928 (commemorated today with a plaque in the harbour), soaring in over what is now the Pembrey Country Park. Bring a picnic to make the most of the vast 500-acre parkland or bikes so that you can take to the Millennium Coastal Path that follows the waterfront. The eight-mile-long beach there is backed by sand dunes that are a wonder to explore for kids, forming just one of the many seaside attractions that this part of Carmarthen Bay affords.
Our Best Price Guarantee
We guarantee our prices at Cool Camping are the same, or lower, than booking elsewhere. If not, tell us, and we'll match it or beat it. Click here to read the full terms
Details
Facilities
No electric hook-ups. 3 compost toilets, hand-washing facilities, washing-up sink for dishes, 2 gas-powered shower pods with running hot water. A covered kitchen area for those in the glamping accommodation, with all the necessary equipment, plus a picnic bench. Wild flower meadow mown with pathways and tent pitches, plus an open space to play football, fly kites or lounge around. Circular woodland nature walk. Campfires permitted as long as they are inside the firepits and the weather conditions are good.
Suitable For
Yes to Glampers, tent campers, groups and people with a love of nature as well as a sense of fun. Sorry but no to campervans or caravans –  we do not have enough hard standing or chemical toilet disposal.
Nearby
The fabulous beaches of Carmarthenshire are within easy driving distance, including 8-mile-long Cefn Sidan Beach (Blue Flag) less than 2 miles from site, along with Llanelli Beach, Burry Port Beach and Pendine. The historic harbour of Burry Port is well worth wandering around, particularly at high tide. Cyclists should try the 13-mile-long
Millennium Coastal Path
 along the waterfront, while walkers can follow the same route or, from the campsite, stroll up
Pembrey Mountain
or explore the local SSSI (
Ffrwd Farm Mire
; 10 minutes' walk from the campsite) and 500-acre
Pembrey Country Park
 (great for family picnics and access to the beach with lifeguards on standby).
Food & Drink
Burry Port has a small selection of shops for everyday needs, including local butchers and bakers. Llanelli (5 miles away) has a large shopping centre with supermarkets (Tesco, Asda, Morrisons). Llanelli and Carmarthen both have indoor covered market selling local produce. Burns Farm Shop (01554 892724) at Park Y Bocs Farm, Kidwelly is an excellent farm shop with a children's play area and very nice café-restaurant. For a good local pub, you can't go far wrong with the Pembrey Country Inn (01554 834530), in Randell Square, Pembrey. They have good pub grub, some live music and the locals are friendly. Other pubs in the area include the Coasting Pilot (01554 833520) and Pemberton Arms (01554 832129). The golf club (01554 744888) in Machynys, Llanelli is also a top place for a drink or meal with a spectacular view of the estuary.
Opening Times
Start of July–end of September.
Why book with Cool Camping?
Best Price Guarantee, with no fees
Instant booking confirmation
Trusted for over 10 years
A chance to win prizes in our regular competitions
The Owner Says
Are you looking for an environmentally friendly camping experience? Do you want to escape the stresses of modern day life and enjoy the peace and tranquillity of our woodland site? You might just have found your next perfect holiday!
Cynefin is our 10 acre site which we manage to preserve the wildlife and biodiversity. When we bought the property seven years ago it was part of a larger farm and we had to re-register the land and give it a new name. Cynefin is a Welsh word that means 'habitat' or 'wild place' which sort of fits the bill! We also noticed it on a list for 'untranslatable' Welsh words, where it defined the meaning as 'a place where a person or an animal feels it ought to live'. We thought this fitted our dream really well.
This year we have:
 2 fully equipped bell tents which are sited in our small meadow, away from the main camping meadow.  This will allow you to have plenty of space but will ensure you have your own private area within the campsite.  All you need to do is drive up and move in and relax. Why not book both bell tents for a family get together or friends sharing the outdoor experience?
A 5 metre tipi set up in the corner of our main camp field with its own private kitchen A-frame shelter with all the camp equipment you will need to make some super outdoor food.  The tipi can fit 4 or 5 blow up beds for a group of friends or a family wanting some real camp experience.  We provide everything apart from pillows and sleeping bags.
7 camp pitches located in the wild flower meadows with plenty of space to relax where you can bring all your own equipment.
Social Distancing Measures
The Welsh Government seem to be saying that campsites can only open in August  this year (maybe the 1st or 3rd August but it is still an unknown).    All bookings taken at the moment are taken under the provision that shared toilet and shower facilities will be allowed.  The shared spaces such as the office, the lounge area, the wash up sinks etc will all remain closed if this restriction is not lifted .  We are hopeful that by August we will be able to open up at least 7 pitches, each with huge amounts of social distancing space, so don't worry.    We are also opening our previously unused bottom field for one tent/family who wants total seclusion and a very wild camping experience.  This is for the hardy campers only as toilet/shower facilities will be very be very limited!  Your safety and our own are the priority at the moment.
Accommodation
6 camping pitches and 3 glamping pitches (2 bell tents and a tipi).

Check Availability
Location
Contact Cynefin Eco Camping, Cynefin, Pembrey, Carmarthenshire SA16 0JR
Getting There
From the east, leave the M4 at junction 48 and head to Llanelli on the A4138. Join the A484 at the traffic lights at Pemberton and follow the road through the centre of the town, following signs for Carmarthen. Drive through Pwll, Burry Port and on to Pembrey. In Pembrey, pass the church on your left and carry on until you reach the old pub on the right hand side (now an Indian restaurant called
Nazs Rasoi
; 01554 891083). Turn right onto the B4317, over a hump backed bridge, past a row of old cottages on the left and round a tight left-hand bend with a cottage on the left. Go up the hill until you reach the ranch fencing and metal gateway of Cynefin. If you pass Fairview Farm on the left you have gone too far. The nearest train station is Pembrey and Burry Port railway station, in the centre of Burry Port village, 3½ miles from the campsite.
Reviews
Add Your Review
Rated ★★★★★ over 10 reviews
Eco camping heaven
What a find! This campsite is a hidden gem. A very special place with love and thought gone into every aspect. Beautifully set out with large pitches but also friendly. The kids in the meadow field all clubbed together to play in the woods and do den building, they ran around in a safe but fun environment that prompted contact with nature and learning about wildlife. The night time bat walk was a memorable bonus that our daughter loved, provided by Judith and Kay. The moth trap, bat detectors and head torches made for so much excitment our 5 year old and 7 other children demanded another walk the next night (provided by some willing parents!!) Great compost loos, careful recycling, firepits provided and a relaxed approach made this all feel like eco camping at its best. Watch the stars, listen to the peace and feel yourself unwind. Amazing beaches v close too. I can't wait to go back next year... thank you.
Response from Cynefin Eco Camping
Thanks.  That's a great review. Glad you enjoyed our eco campsite.  It seems very quiet now that all the children are getting ready for school.  You were there at our busiest weekend so I am glad you enjoyed it.  The wildlife walks will definately be a weekly activity next year.  Kayx
Quiet and relaxed stay
We had a lovely three-night stay at Cynefin; really peaceful setting with plenty of space; the bell tent was in a lovely spot with shade so it never got too hot. It was really well equipped, making it really easy to arrive and settle in straight away. The beds were incredibly comfortable, and we slept brilliantly. Everything you could need for a getaway!
Response from Cynefin Eco Camping
hi Fiona,   Thanks for you lovely review.  So pleased you enjoyed your stay in our bell tent and glad the sleep was brilliant.  Hope to see you again sometime.  Kay
Fabulous outdoor weekend with family
Just returned from a long weekend at this fabulous site. Warm welcome and tour from the hosts, fab facilities which are very well maintained, peaceful and beautiful surroundings. My boys enjoyed playing cricket in the field with neighbours, making dens in the equipped den making area, exploring the safe woodland trails, playing on all the rope swings, spotting bugs, dragonflies and bats and listening for badgers as well as cooking on the campfire. Easy short drive to miles of golden sandy beaches, castles to explore, fish and chips, boat spotting in the harbour and loads more. Overall could not have asked for more. Perfect as a short break for my family and would VERY highly recommend for anyone with kids to spend some time at this beautiful place.
Response from Cynefin Eco Camping
Hi Rachel,   Thanks for your lovely review and I am so pleased that your family loved your stay with us.  Your comments are great and I appreciate you sharing all the things your boys got up to.   Hoping to see you sometime soon..  Kay
Grandparents #makingmemories
We were made to feel very welcome - guided tour of facilities with information and instructions in use of toilets, hand washing and dishwashing area. Our Tipi was well equipped with beautiful furnishings lamps and charging point. External kitchen space had everything you need. Crockery cutlery's cooking utensils etc etc . We had the added luxury of a swinging lounger - very relaxing. Fire pit with a complimentary basket of wood ( more may be purchased) The grandchildren nearly exploded with the den building area, forest trail and multiple tree sings, green space for ball games with the neighbours, meadow for bug hunts, We cannot recommenced this beautiful piece of heaven enough - every effort has been made to compliment our fragile eco system - recycling most definitely encouraged with wonderful facilities. I nearly forgot my favourite bit - The Shower!! Thank you for introducing me to some wonderful eco friendly products- was lovely to try before I definitely BUY We had the most wonderful time #makingmemories with our 5 grandchildren ages 1 - 9 something for everyone - we will be back.
Response from Cynefin Eco Camping
Hi Shan,   Thanks for your lovely review.   So pleased you loved your stay with us.  What a great pair of grandparents you are.  Lucky children .....they did have a ball!   As our most local campers you must come and visit us again soon, even if it is just for a cup of tea.  Kay
A real find
Loved this place from the minute we arrived and were warmly greeted by Kay. There were only two other tents and the owners own tipi in the field so lots of space / privacy. The fire pit was an added bonus and foraging in the woods for free twigs / firewood was a great idea. The use of complimentary organic shampoo and shower gel was a lovely idea, and very happy to support as a way of living. Shower with hot water, and a couple of compost toilets .... actually pretty sweet smelling! Quiet, and location was good. We did take a drive out to spend the day at Rosilli Bay, well worth a visit, and breakfast at Hillend campsite where we parked for the great price of £4 all day and lunch at Kings Head are both well worth a visit! Cynefin is lovely and a great place to get away from it all, quiet and you have your own space. Thanks Kay, we hope to be back, Ali & Howard
Response from Cynefin Eco Camping
Thanks Ali for your lovely review.  Glad you enjoyed your stay with us.  I love that you appreciate our organic shampoos and shower gels.  We do like to protect our environment and our filter bed.   Thanks for mentioning the sweet smelling toilets too - I do try very hard.  Hope to see you again soon.  Kay
Beautiful spot with campfires
Lovely big pitches in a small field bordered by a bit of woodland, each with a fire ring and starter pack of wood. Friendly and helpful owners. Unfortunately when I was there there was some noise from some kind of race track/dirt bike trail/speedway nearby (wasn't sure what or where it came from) during the day that didn't help the natural hideaway feel, but the owners can't help that, and everything else was great.
Response from Cynefin Eco Camping
Thanks for your review Sylvie, glad you enjoyed your stay.  Near us is the Pembrey Race Circuit which depending on the atmospheric conditions/ wind direction, can occasionally create some noise.  The Track states their level of noise is within legal requirements for a residential area.  One day you were here they were testing a new Formula 1 racing car which might have been noisier than usual.   Some of our campers enjoyed a day out at the race course but sorry if it spoilt your peaceful day.
Perfect for children
It was our first camping with children. Our daughter for the time spent there forgot about her laptop. There was so much to explore in this lovely place. We had fire every night; Alicia played in the bushes with other children till late night looking for bats and cows. She learned more about recycling and living in harmony with nature. The facilities were clean. We had lots of privacy because the site was big and licensed only for 6 tents. It also made us feel safe. We truly liked the place. I already recommended the place to my friends.
Response from Cynefin Eco Camping
Thank you Edyta.  I am so pleased you loved your stay at Cynefin.  The weather was gorgeous  and the evenings just perfect for sitting around a log fire.  There were some lovely children on site too for Alicia to go exploring.   I hope next year you will keep on camping with your children.   Kay
The beautiful wildflowers, the peace of the small site, the great location - what a restful break on a lovely small campsite with helpful and friendly hosts.
Cool Camping directed us to a lovely little campsite called Cynefin near Llanelli in S Wales. There are only six pitches set amidst a wild flower meadow full of butterflies (In July) with a woodland walk at the edge of the site and footpaths for further beyond. Kay and Judith were the perfect hosts, offering us advice about the local area and even lending us a map for the duration of our visit. It is an eco site so no electricity but the toilets and shower were very clean and homely. Nearby is a stunning 8 mile sandy beach, a country park where you can hire bicycles, go horse riding etc, and local pubs for evening meals. We will definitely recommend this to our friends. Well done Kay and Judith, you've developed a wonderful site.
Response from Cynefin Eco Camping
Thanks for the lovely review Sarah.  It was a pleasure to meet you as one of our first campers on our new venture.  Hope you come back some day to see how Cynefin progresses.   Glad you enjoyed the meadows with all the flowers and butterflies in.   Thanks also for the photographs you posted.  Hoping you are continuing to enjoy the good weather in Brighton.    July 23rd 2018   Kay
Beautiful and peaceful - a gem of a campsite
We had a wonderful two-night stay at this special campsite. The owners have done an great job at transforming the land from a dumping ground into a beautiful, natural haven for wildlife and people. We loved watching the butterflies in the wildflowers by our tent and listening out for the sounds of animals in the woods at night. Loads of space, a fire pit for each pitch, clean and efficient facilities and an idyllic setting. The stunning Cefn Sidan Beach is just a few miles away, with its 8 mile stretch of golden sand. Nearby Burry Port is a lovely little town and the harbour is particularly pretty at high tide. We will definitely be back to both beautiful Carmarthenshire and this wonderful campsite.
Response from Cynefin Eco Camping
Thanks for the lovely review Kate.  Glad you enjoyed your stay.  Wasn't the weather fantastic!  Really glad you explored the local area and saw Burry Port at its best when the tide was full in.  Hope you come back to Carmarthenshire someday.  You will always be most welcome here.  Best wishes Kay.
A peaceful off-grid experience - bags of space to enjoy and explore
We had a wonderful, relaxing stay at this beautiful wild place. Kay and Judith gave us a warm welcome. They have done an incredible job transforming this site into a stunning wildlife haven - make sure to take a look at the 'before and after' picture book! So many wildflower species and heaps of butterflies. It's just a couple of miles from the outstanding beach at Pembrey, but the kids were having so much fun hanging out in the woods that I had trouble prising them away. The well-equipped firepits meant cooking over an open fire was easy as well as fun.
Response from Cynefin Eco Camping
Thanks for the lovely review Jess.   You were our very first camper in our first year as a campsite and I am thrilled that you have booked to come back and try out one of the bell tents at the end of the week.  Really looking forward to seeing you again.  Kay
Why book with Cool Camping?
Best Price Guarantee, with no fees
Instant booking confirmation
Trusted for over 10 years
A chance to win prizes in our regular competitions
Book campsites near Cynefin Eco Camping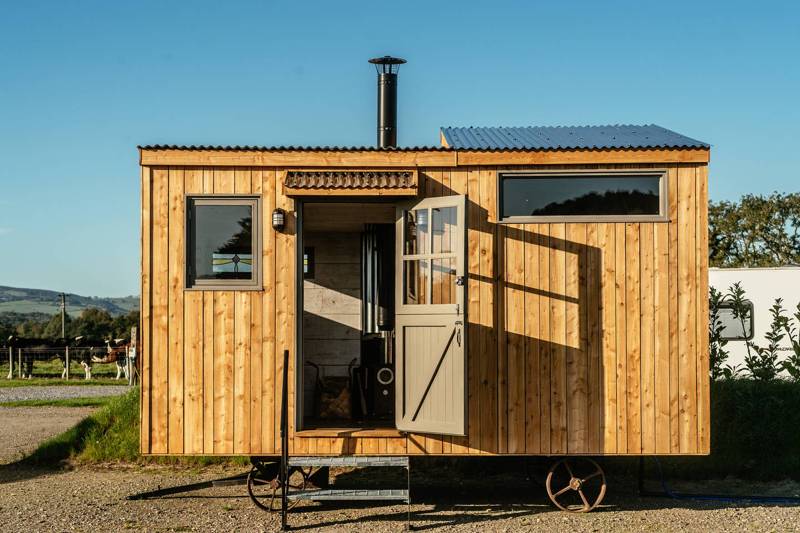 Glamping in Llandeilo
Glamping in Carmarthenshire
Glamping in South Wales
Available:
1 Shepherd's hut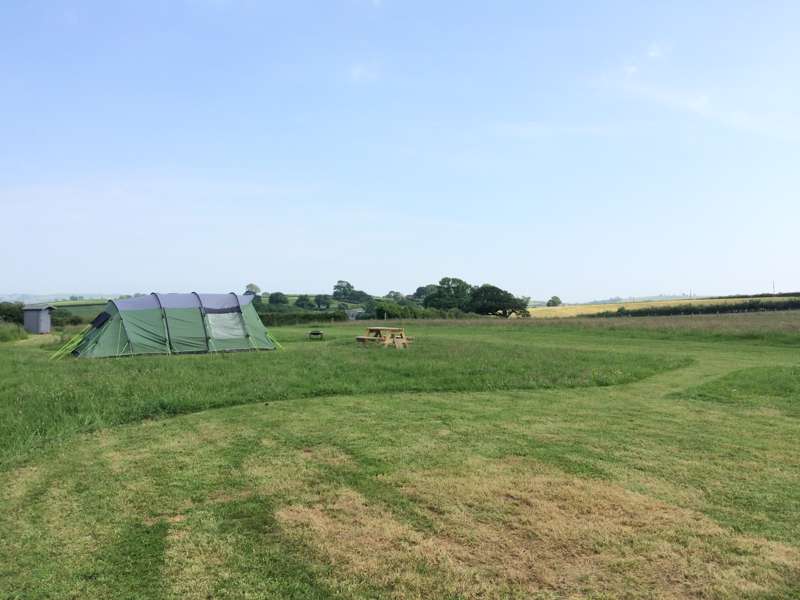 Campsites in Laugharne
Campsites in Carmarthenshire
Campsites in South Wales
Available:
10 Pitches
3 Pods
2 Bell tents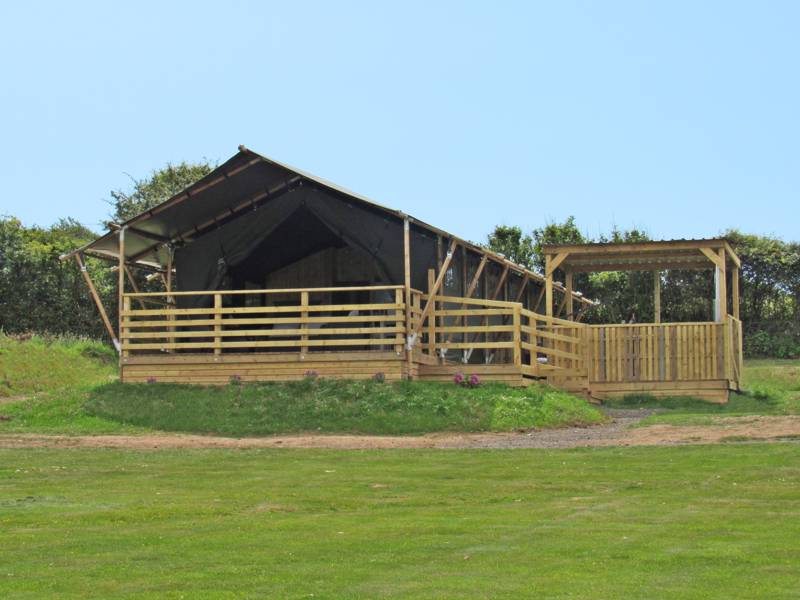 Glamping in Llangennith
Glamping in The Gower
Glamping in South Wales
Available:
3 Safari tents