Care-free camping and glamping in the heart of Carmarthen Bay's Dylan Thomas country.
Carmarthen Bay might just be Wales' best-kept secret. While scores of tourists flood the Pembrokeshire Coast out west or scale the mighty peaks of Snowdonia in the north, this lesser-frequented stretch of South Wales promises hidden coves, sandy expanses and wildlife in abundance. The Three Rivers Estuary – one of Carmarthen Bay's two vast river openings – is where the rivers Taf, Tywi, and Gwendraeth converge. Overlooking this jaw-droppingly beautiful coastline lies Laugharne, a tranquil waterside settlement and former home of Dylan Thomas who described it as a 'timeless, mild, beguiling island of a [place]... there is nowhere like it anywhere at all' - a fitting appraisal that could well have applied to Big Barn Camping.
Based on a 36-acre smallholding a short stroll from the centre of Laugharne, Big Barn Camping is, for our money, one of Wales' best-located campsites. Offering family-friendly camping and glamping on a proper working farm, this rural retreat is easily accessible for some of the country's best beaches, famous tourist attractions and the charming seaside villages that make the Welsh coast so special.
Camping here is a peaceful affair, with a spacious paddock reserved for just seven prized pitches. There's no danger of overcrowding (in contrast to some of the other more commercial holiday parks along the coast) and group sizes are controlled. It's largely a tent-centric zone too, with just the odd campervan or retro teardrop caravan permitted meaning all are free to enjoy the unblemished views of the surrounding countryside.
For those looking to leave the tent at home, a trio of cosy pods are also available. These unique designs are a characterful alternative from the identikit versions found on many sites – more like bijou barns that fit seamlessly into the rural setting. Inside, these homely abodes include a dining space that effortlessly converts into a comfy double bed, and an adjacent kitchen shelter comes equipped with everything you could need for cooking up a feast. As for ablutions, eco-friendly composting loos are located in the camping field, while the titular Dutch barn houses showers and washbasins.
With a welcome for well-behaved dogs and campfires encouraged in the firepits, families can enjoy the key components of cracking camping holiday. Whether exploring the woodland on the circular walk, spotting red kites circling overhead, or seeing who can swing highest on the rope swing, kids will simply love it here. It's a proper working farm too with Herdwick sheep, Saddleback pigs, goats and assorted ducks and chickens, meaning little ones can enjoy an authentic slice of rural Welsh life.
Beyond the confines of the farm, an abundance of attractions await. Pendine Sands beach is just 10 minutes drive away while Oakwood Theme Park near Narbeth is around half and hour away if the kids demand rollercoasters. That being said, the lure of Laugharne might not see you stray far. The Dylan Thomas connection makes for a fascinating visit and needless to say the poet's presence looms large over Laugharne (not least with annual literary festival held every spring). Besides the boathouse museum and historic pubs, Laugharne Castle is well worth a visit or you could just plot up with a bag of chips overlooking the estuary and watch for cormorants catching cockles in this most magical of scenes.
Gallery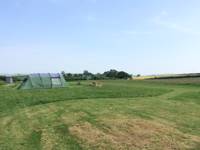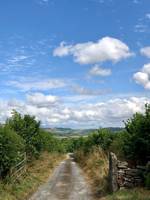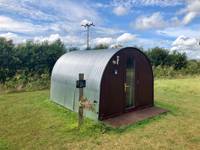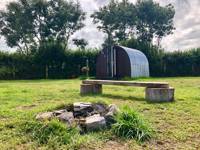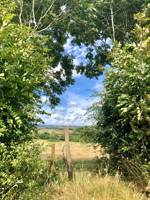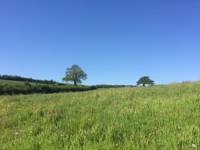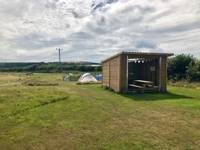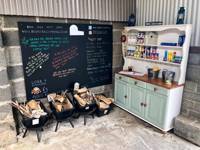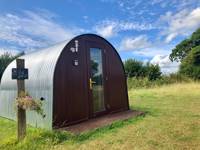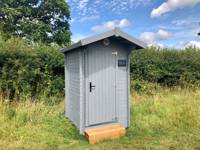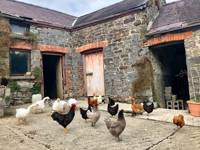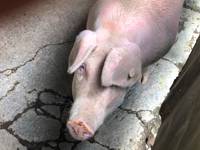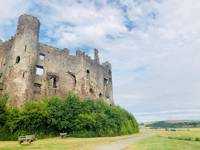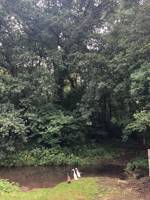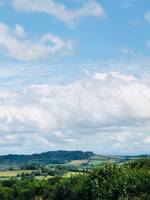 The Owner Says
Welcome to Big Barn Camping at Lower Cresswell . We are a small  eco friendly campsite with just 11 camping pitches 3 little barn camping pods and the Laugharne Belle bell tent.
The camping paddock is situated next to the big Dutch barn which dates back to the 1950s.
We welcome tents, trailer tents, campervans and tear drop caravans.
From the camping paddock you have breathtaking views stretching over the Carmarthenshire countryside. We enjoy regular sightings  of red kites, other birds of prey and lots of wildlife.
Our three little Barn Camping Pods are handmade and furnished for a cosy and relaxing stay with a fully equipped camp kitchen.
At night time the true magic begins. Let the Astronomer in you find your favourite constellations, watch shooting stars to make a wish upon whilst toasting marshmallows on a campfire.
Located close to the Township of Laugharne on the estuary of the river Taf, made famous  by the poet Dylan Thomas , you can explore his favourite walks and marvel at the grandeur of Laugharne  castle.
Lower Cresswell is a Georgian farm set in 36 acres of beautiful pastures, including ancient woodland. We currently have Herdwick sheep, Welsh and Saddleback pigs along with a range of Chickens and waterfoul.
Reader Reviews
Add Your Review
Brilliant!
Such a lovely campsite, everything you could ever need for a brilliant holiday! The hosts are great and can't do enough to help you have the best time! Probably the cleanest camp site I've stayed at too!
The perfect pod stay in the perfect location
Me and my partner recently stayed at this perfect location in one of the Pods on offer. Everything was perfect. The super friendly host who greeted us with lots of useful information, the location of the pod with amazing views and all of the extras that you don't normally get. Added to all of this is the fact that the whole camp site is remarkably eco friendly. Do not hesitate to book this for one second... you won't be disappointed! Wake up to the sound of singing birds and go to sleep with red skies while knowing you are staying on a campsite that is helping improve our fragile planet earth at the forefront of its mind. Thank you so so much
Lovely spacious quiet campsite
We recently stayed at big barn camping for 3 nights with our 2 children (6 and 9). The campsite is really spacious and the pitches are huge and not too close together. We loved the fact that the children could run free without us worrying. They loved the rope swing and Michael (the host) took us to feed the animals one morning. The facilities are great, campfires, a small honesty shop and powerful hot showers! A truly beautiful place with lovely hosts in a great location- thank you.
fantastic campsite
My children and I had the best week at Big barn camping. The campsite is incredibly clean and tidy, Matt and Michael were brilliant, friendly and nothing was too much trouble. As a single parent holiday-ing with two small children I was a bit nervous but I can honestly say we felt so safe. The views were amazing and we'll definitely be back to stay in Hilltop Barn again! 😁 Thanks for making our first camping experience one to remember!
A beautiful site with a warm welcome
We stayed at Big Barn as a family group in the Taf Valley view field, in Hilltop Barn and Cwtch Barn, with a tent pitched alongside. The pods were a great alternative for the less adventurous amongst us who didn't fancy tent camping! Lovely to have the field and it's kitchen facilities to ourselves and let the kids run free, and truly stunning views. The kitchen was a real bonus when the weather turned on us, providing somewhere dry and sheltered to cook and eat. Matt could not have been more welcoming and helpful, and was so kind helping me to pack the tent up in pouring rain on our departure day. Much appreciated. This was our first experience of composting toilets, and they and all other facilities were spotlessly clean at all times. Great showers with plenty of hot water. This really is a lovely set up, and I have no doubt that Matt & Michael would do everything in their power to make your stay as enjoyable as possible.
Lovely, peaceful, gorgeous, well-appointed little campsite.
A beautifully set up campsite with great spacing between pitches and each pitch having its own picnic table and stone for a (hireable) firepit or barbeque. Composting toilets were a great novelty but show the idea works and is practical - I kept expecting to find a guinea pig in the sawdust! I LOVE that we are respectfully asked to keep the cars in the car park by the field entrance - except for unloading/re-loading - it just keeps that lovely atmosphere of simply tents and tables. BUT, two points for Matt to consider; 1. You may need to think about expanding your car park area, it would be quite easy to get blocked in. 2. PLEASE approach those who ignore the request not to park next to tent or (in the case of our visit the neighbouring) camping pod and ask them to park in the car park. What really adds to the ambience is that lack of visible cars. And for that and the current spacing policy I would be prepared to pay a premium over other campsites. Well done with the new venture though. I wish you both great success and look forward to returning at some point. Will
Excellent
Brought my son camping for 10days and from the second we arrived Matt & Michael couldn't have done more for us if they tried. Not just the facilities which were always immaculate and ample but their local knowledge and suggestions of places to go/try. Always checking everything was ok and having a chat. I haven't been to any other campsite like this. Keep up the good work.
What a charming find...
What a charming find near the Carmarthen Bay estuary. The fields are vast with each flat tent camping pitch enjoying ample room and expansive views across the Carmarthenshire hills. The Dutch-style glamping barns look wonderful – far more characterful than the standard wooden pods most sites have these days. We will definitely give these a try on our next visit. The communal barn has impeccable facilities including showers, firewood store and honesty shop selling all the basics, plus a few treats like biscuits. The farm itself is filled with animals like goats, sheep, ponies, pigs and a whole array of geese, ducks and exotic hens. Matt and Michael were the perfect hosts, with plenty of local recommendations on things to see and do. The whole operation is very well run yet the atmosphere is relaxed and convivial – hard to believe they've only been running the place for a few months. Laugharne is just down the road. The castle overlooking the estuary is a lovely place for a picnic or fish and chips. There's a handful of pubs too including Dylan Thomas' favourite, Browns Hotel (they also do pizzas in the evening).
Peace and tranquility
We stayed at Big Barn camping for 3 nights in Fox Barn pod and had a brilliant time. Matt and Michael were exceptionally welcoming and took an interest in everyone's days and had great ideas for days out if you wanted recommendations. The site itself is kept spotless and immaculate, great facilities, brilliant showers and booking a pod meant everything was included for us and all we needed to worry about was our toothbrush and clothes! Well deffinatley be returning hopefully this year, and the highlight for us was an evening around a campfire. Brilliant memory's 5* from us!
A perfect first time camping
I was more than a little nervous taking my two children camping for the first time but Big Barn camping gave us a brilliant experience. The owners were friendly and helpful and even took the time to give my boys a tour of the farm with a chance to meet all the adorable animals. The site has just a few large pitches and a big field to play on. The picnic bench and fire pit provided for each pitch really enhanced our stay and made life easier. We spotted lots of wildlife and the children spent a long time finding frogs and ladybirds. The dark skies gave us a great view of the night sky and we were excited to see the international space station pass overhead. The owners took the time to show my boys into another field with a rope swing and they played happily for hours. The facilities were great, spotlessly clean and quite charming. We are really keen to return to this magical site
A new site (July 2018) with charming hosts
This site has superb countryside views, big skies, peace and quiet, red kites flying overhead. The 7 pitches, which include picnic tables, are well spaced out and the helpful and friendly owners have thought about the little details when designing the facilities (eg, a little Welsh Dresser displaying useful items to buy, and an honesty box). Fresh eggs are for sale from the farm chickens and we watched the hay being collected and baled during our 8 night stay. Would definitely revisit for a relaxing break.
Lovely campsite....fantastic views, clean facilities.
What a gem of a campsite this is. The views are amazing. The pitches are really spacious and flat and there's just so much space. The toilets showers and washing up facilities are all brand new and spotlessly clean. The hosts were great and we had fresh eggs each morning laid by their own hens and ducks. We will be back. Thanks for a truly fantastic weekend.
Best Price Guarantee, with no fees
Instant booking confirmation
Trusted for over 10 years
A chance to win £50 of Cool Camping vouchers!
Book campsites near Big Barn Camping