Tansy - Grass Pitch
Cowpots Camping, Penback Farm, Ciffig, Whitland, Carmarthenshire SA34 0NG
Sleeps 6

(max 6 adults, 5 children)
Book camping accommodation at Cowpots Camping
The Owner Says
Cowpots Camping is a secluded campsite in the countryside on Penback Farm. Expect to see our pedigree Jersey cows grazing on the hills above the campsite and some tractors working the fields.
Each pitch has its own under cover area with private picnic table, bench, washing up bowl, water canister and a fire pit.
Visit 'The Cowshed' - our fully licensed, family run Pizzeria and Ice Cream Parlour featuring hand made, wood fired pizza and Cowpots' Ice Cream which is also made at Penback Farm. Take away is available to take back to your pitch or you can sit and enjoy it inside if you wish! (Booking is advised)
Less than 2 miles away is a lovely local pub called The Station House, up the hill is also The Alpha Inn which serves a delicious Sunday roast!
View Gallery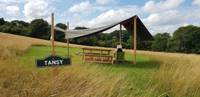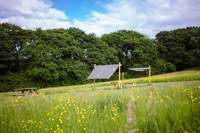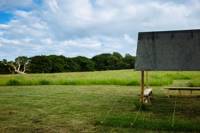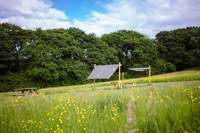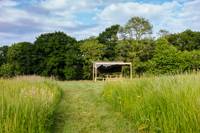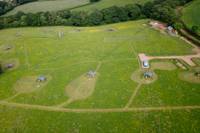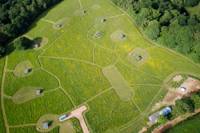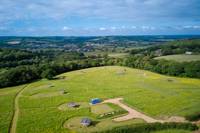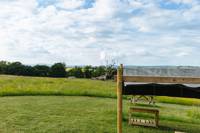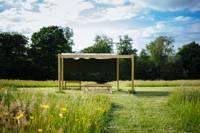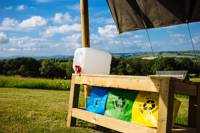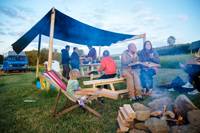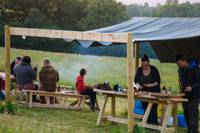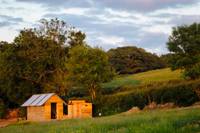 Search all availability at Cowpots Camping
Back-to-basics tent camping on a working farm that produces the finest homemade ice-cream for miles!
The Owner Says
Situated on Pen Back Farm, Cowpots Camping offer 10 pitches for camping in the countryside. We call the camping field "Tree Field" because it has a beautiful Welsh Oak tree in the middle of it. It is a huge 11 acre field, the same size as the roof that covers Wembeley stadium! Accessed by a farm track and 600m away from the farm buildings you'll be sure to find some peace and quiet in the countryside, surrounded by nature. Pen Back Farm is on the border of Carmarthenshire and Pembrokeshire so we have excellent access to the delights and sights of both counties and we are only 15 minutes away from the closest beach.
Site Facilities
2 composting toilets, 2 off-grid, gas-powered showers. No electric hook-ups. Each pitch has a covered area with picnic table, bench, washing up bowl, water canister and a fire pit. Barn with dish-washing facilities, plus an honesty shop for firewood, marshmallows and other treats. The fully-licensed Cowshed Pizzeria and Ice Cream Parlour is open from 11am–9pm.