Cowpots Camping, Penback Farm, Ciffig, Whitland, Carmarthenshire SA34 0NG








Back-to-basics tent camping on a working farm that produces the finest homemade ice-cream for miles!
There must be something special growing in the grass around Cowpots Camping. It's not just that it provides soft, easy-to-pitch potential for a family tent in summer. But, over the fence, a dozen or so Jersey cows graze the green slopes here too. They're Penback Farm's pride and joy and, when you taste the homemade ice-cream, you'll quickly understand why. After a long day on a nearby Pembrokeshire beach or a stroll in the 40-acre wood at the foot of the campsite, you'll quickly discover this is surely the tastiest, creamiest ice-cream in all of West Wales. It's a sign of the way things work at Cowpots: keep it simple, keep it authentic, keep it traditional and, unsurprisingly, things will come good.
The campsite itself is a similarly unpretentious affair. There are just ten tent pitches – each one huge, with some 11-acres of camping meadow in total – while a space in the centre has been mown out for playing ball games and generally hooning about. There's a couple of composting toilets and gas-powered showers mean you can still have a hot, powerful wash in the morning. At the top of the meadow, meanwhile, a wooden shed houses a row of washing-up sinks, too, and a small honest shop where you can buy logs and marshmallows for your evening campfire.
Accessed via a farm track, the Cowpots meadow is safely tucked away for children to run wild (though it is still a working farm so be aware of tractors on the local lanes!) and offers wonderful views of the Preselli Mountains. Though you can't see the sea, it's only a short drive away. Vast Pendine Sands is one of the closest beaches, aided by lifeguards in summer it's an excellent spot to swim, while Amroth beach is similarly close and has excellent rock pools to poke around in on the western end. Both are good places to pick up the famous Pembrokeshire Coast Path, too, for a walk along the dramatic waterfront that this part of Wales affords. It'll all neatly work up the appetite again for your return to the farm where The Cowpots Cowshed serves up wood-fire-cooked pizzas along with that renowned Jersey ice-cream.
Gallery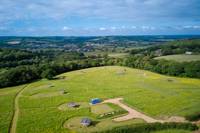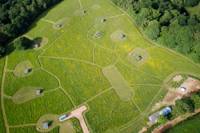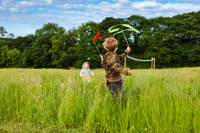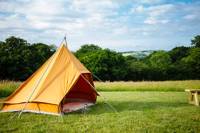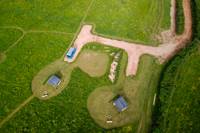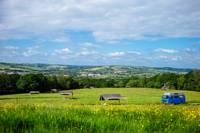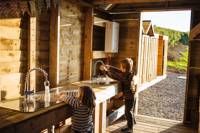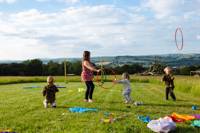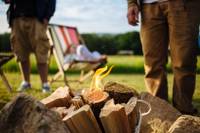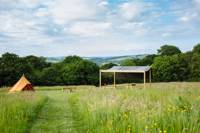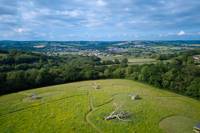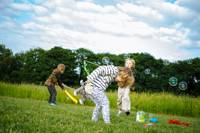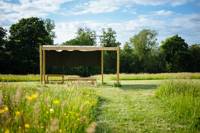 The Owner Says
Situated on Pen Back Farm, Cowpots Camping offer 10 pitches for camping in the countryside. We call the camping field "Tree Field" because it has a beautiful Welsh Oak tree in the middle of it. It is a huge 11 acre field, the same size as the roof that covers Wembeley stadium! Accessed by a farm track and 600m away from the farm buildings you'll be sure to find some peace and quiet in the countryside, surrounded by nature. Pen Back Farm is on the border of Carmarthenshire and Pembrokeshire so we have excellent access to the delights and sights of both counties and we are only 15 minutes away from the closest beach.
Reviews
Add Your Review
A camping idyll!
We booked Cowpots as a one night stop over before moving on to another site to meet friends. If we hadn't already paid for the other site we would certainly have stayed put! What a lovely place. Space, privacy, silence, flat pitches!! And the BEST camping showers ever. Could not have been made more welcome, water already delivered to our pitch, and not an eyebrow raised when we rocked up for pizza 5 minutes before closing - great pizza, great icecream and great conversation. Took our friends back to see it (and so they could experience the jaffa cake icecream) and will all be booking in for a week next summer. Thank you!
Response from Cowpots Camping
Thank you for your review Anna! We hope to see you and your friends next year :)  Martin 
Perfect spot!
What's not to love about this spot...stunning views, plenty of space, lovely warm showers and clean facilities. A lovely friendly welcome and delicious pizza and ice cream to top it all off! We visited as my youngest requested he be camping for his birthday...he had the best birthday ever (according to him!) We look forward to coming back for another visit!
Response from Cowpots Camping
Thank you for your review Vicki! We're glad your little one had a good birthday! We hope to see you again next year :)  Martin 
Beautiful Gem in the Hills
We had a wonderful welcome from Martin, the owner, and were shown to our pitch with an overwhelmingly beautiful view of the Preselli Hills and Carmarthenshire. The facilities were everything we needed with a canopy equipped with all recycling facilities, a picnic bench and surface space. The composting loos were very well kept and maintained and hot running water in the showers!! There is an honesty box with marshmallows and a starter pack for kindling and logs. The washing up space with all eco friendly detergents were in-keeping with the whole ethos at Cowpots, which is right up our street! The little paths mown into the field made it easy to keep track of the children and there was a small open space for playing ball games which was great! We will definitely be back 😊
Response from Cowpots Camping
Thank you for your review Isabella! We hope to see you again soon!!  :)  Martin 
The open space!
We only stayed 1 night but will be back.... I opened the door and the kids just ran (and ran) around the mown paths. I had a camper pitch and loves that I didn't need to unpack all the seating and table paraphernalia, the covered over table/kitchen area was great as we had drizzle at breakfast time...
Response from Cowpots Camping
Thank you for your review Eliza! We hope to see you next year :)  Martin 
Best campsite we been to in years
Staff grate food was spot on really friendly great for kids and dog loved it. Nice shower rooms and good area for washing up highly recommend to any one
Response from Cowpots Camping
Thank you for your review Kevin! We hope to see you again next year :)  Martin 
Gem of a place!
What a lovely campsite! Stunning view of the countryside, modern and clean facilities (showers were fab), large well kept pitches and friendly owners. We were looking for something a bit different after staying at a large, busy campsite in the Gower and this certainly fit the bill. We would definitely recommend and hope to return next summer. Oh and the Cowshed's pizza and ice-cream are good too! Best wishes to Martin.
Response from Cowpots Camping
Thank you for your review! We hope to see you again next year :)  Martin 
Everything!
Quite possibly the best campsite we have ever stayed in! The pitches are large and very well spaced out with wonderful long meadow grass in between with mown paths to make your way around the camping field. We arrived to a perfectly kept pitch, with our own canopy structure and table with benches. There was even a water drum and individual recycling bins ready for us, along with enough wood for a campfire. The facilities were excellent and very clean. The showers were brilliant too. A beautiful, secluded campsite ideally located for exploring a scenic part of Wales. Make sure you book in for a tasty pizza too!
Response from Cowpots Camping
Thank you for your review James! We hope to see you again next year :)  Martin 
Great facilities
Excellent campsite - very eco, but nice facilities on pitches and toilets/showers etc. Pizza restaurant on-site - well worth a visit and only 20 mins from Carmarthen.
Response from Cowpots Camping
Thank you for your review Gareth! We hope to see you again next year :)  Martin 
The view and facilities were simply amazing.
Great facilities, lovely view, very friendly and accommodating campsite owners. Will definitely go again.
Response from Cowpots Camping
Thank you for your review Robin! We hope to see you next year :)  Martin 
Win a £100 Blacks Voucher!
If you've stayed at Cowpots Camping campsite, please take a minute to tell us about your experience. Every month, one lucky reviewer will be picked at random to win a £100 voucher, courtesy of our recommended retailer Blacks. Each review counts as one entry, so get writing!

Best Price Guarantee, with no fees
Instant booking confirmation
Trusted for 10 years
A chance to win camping goodies in our regular competitions!
Book campsites near Cowpots Camping