Tucked away down a quaint country lane, Cwm Ty Coed can be found in one of Carmarthenshire's more secluded pockets, with panoramic views of rolling countryside and magical woodlands
Tucked away down a sleepy country lane, Cwm Ty Coed (meaning Wood House Valley) can be found in one of Carmarthenshire's more secluded pockets just off the A48. Once found, you'll be entranced by the panoramic views of rolling countryside and magical woodlands at this charming 30 acre smallholding. It's little wonder they call Carmarthen 'The Garden of Wales'.
First up; accommodation. The adjectives 'cosy', 'warm' and 'comfortable' fail to do justice to the ambience of the site's eight pitches (two tipis, five bell tents and a yurt) Guests will feel like the proverbial cat that got the cream among wooden floors, large beds, candle lanterns and a private kitchen. Outside, there's your very own fire-pit, log seating area and barbecue, the perfect setting to cook that tasty West Wales produce.
Don't forget to pack your boots/trainers/flip-flops (dependent on the terrain) as the nearby hills and coastline offer hours of pedestrian exploration. Pembrey Country Park, with miles of deserted sandy beach can be reached within fifteen minutes by car, and to the east, the breathtaking bays and subterranean coves of Gower are just waiting to be discovered.
Boasting twelve castles, Carmarthen is steeped in history. It's believed to be the oldest town in Wales and the birth place of everyone's favourite Arthurian wizard, Merlin. More recent history could draw you to the picturesque village of Laugharne and Dylan Thomas' boat house with its evocative views across the Three Rivers estuary.
Back at Cwm Ty Coed, ever-friendly owners Jon & Sarah not only want guests to enjoy the creature comforts of five star glamping, but to also experience a taste of traditional, rural camping; encouraging sing-a-longs by roaring campfires and magical nights spent gazing up at the starry Welsh skies.
Gallery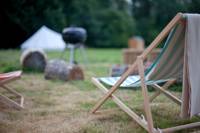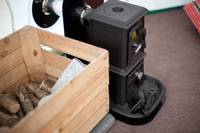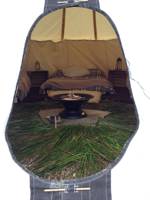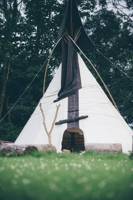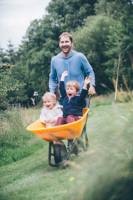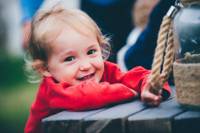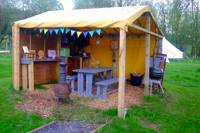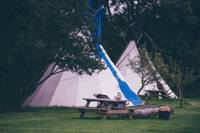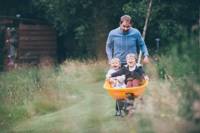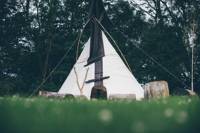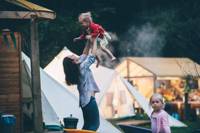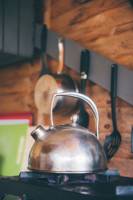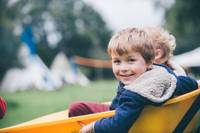 The Owner Says
Cwm Ty Coed is run by ourselves, Jon and Sarah, and set on an established 30 acre smallholding. We have many years of tipi experience and creatively provide comfortable and workable facilities for our guests; all with those little finishing touches which make all the difference. We are keen cooks and gardeners so it is often possible to buy home produced vegetables, fruit, jam and chutney. The smallholding is home to a small flock of rare breed sheep who cheerfully perform their lawn mowing duties. There are often lambs to see and campers can also help themselves to fresh eggs from the hens in the camping field.
Reader Reviews
Add Your Review
Glorious Clamping at Cwm Ty Coed
We were a group of 5 yummy mummies with seven children aged from 9-12 and spent five days at this wonderful campsite. Wales didn't disappoint, windy & very wet, but we despite the weather, we managed to have a fab time exploring Carmarthenshire from this great base and thanks to Jon's fabulous efforts in making the campsite as comfortable as possible. The campsite is nestled at the back of a farm over looking fabulous countryside with chickens, donkeys, horses and very friendly sheep dogs on site (love a game of frisby) and offer super facilities. Each yurt, bell tent etc, has its own enclosed kitchen station with picnic table included (vital for rainy days), all crockery, glasses, cutler (no plastic in sight thank goodness!), hobs, large cool boxes with ice packs & even tea towels! Good quality barbecues are also located at each tent as well as fab fire pit for which Jon delivers logs for every evening (even helping to light if necessary!). The tents are very comfortable, lots of room and feature a small log burner if necessary. Beyond the tents is a small woodland which houses a lovely wooden chalet where you chill out in the dry and recharge electrics etc - the zip wire outside was a huge favourite with the kids who obviously made the most of and required a change of clothes after every visit. It was lovely to see the children become slightly feral and completely forget about their electronic devices for the duration of our stay! The showers were super too, lots of hot water and the eco loos, although took some getting used to, were always clean and in good condition. The only thing that could perhaps have made our stay a little easier were more hooks in the tents to hang towels, clothing etc, as when it does rain solidly for 4 days it's very hard to get anything dry - maybe even a drying room in the wooden chalet located in the woods?? Would definitely recommend and would definitely go back!!
Best 30th Ever!
Four friends and I stayed this weekend gone for my 30th Birthday and it is one I will never forget. The pitches are incredible. We stayed in the big Yurt and it was like a home from home. The beds were very comfortable, it had great ambience with the log burner inside, Sarah even put up birthday bunting for me. The kitchen outside is covered and has everything you need, gas hob, BBQ, bench, fire pit, fresh running water & even a washing up section. My friends and I discovered the hut in the woods on the first night, we played ping pong and games and we could stay there for as long as we wanted. We also discovered the zip wire the next day which was so much fun, even at 30! Wood was delivered each evening for our fires and we were left to it. We walked into town about 4 miles on the Saturday through country lanes to local pubs and discovered some beautiful scenery. The owners and their dogs were lovely and helpful. If you go anywhere camping in the future go here!! It was the best weekend, and I will definitely return. Thank you for such a special birthday.
Fantastic Family Fun
I booked Cwm Ty Coed as our first ever Glamping experience and decided as the family had a lot of big birthdays this year to take them with us. Wow is all I can say when I reflect on the weekend, we are in love with CwmTy Coed. The various tents were beautiful and spacious, Sarah had decorated the 3 tents with birthday people in them accordingly and had also decorated the kitchen for my son and his friends celebrating his 18th. Each tent was decorated beautifully and all individual, they were lovely and warm at night although some people did light their wood burners just for the extra experience.
We were so impressed with the kitchen tents we didn't imagine they would be so well equipped, everything you needed was thought of and somethings you hadn't also. It was wonderful to see each dwelling come alight at night with solar lighting making each one individual and pretty. Showers were lovely and warm and so much fun it was strange having a shower and conversation next to someone you wouldn't normally speak to in those circumstances. Compost toilets were not as we imagined and everyone coped with them and it all added to the adventure. 
The wood cabin was a delight and we played a few rounds of table tennis and used the zip wire daily. As it was the start of the euros and Wales opening match we did take a television to watch it but would not have done if they had not been playing. We certainly did not miss electronic gadgets and due to the fact there was so much space at the site set up a ingenious game of rounders using paddling pools as bases and polythene to run/slide along I between, this created hours of laughter and great videos and memories. We finished our last evening with a huge barbecue and family quiz.
Our first family Glamping weekend was a huge success which was made possible by Sarah's attention to detail from the first email enquiry to guiding us through every step from booking to arriving as well as the wonderful facilities and location of Cwm Ty Coed, there is something for everyone here our age range was 15 to 85 years and everyone loved our time at Cwm Ty Coed and will be recommending it to anyone who will listen. Thank you Sarah. 
Lovely woodland stay
I have just returned from a fab stay in the yurt at cwm ty coed. The yurt was smart and spacious and even in May was very toasty thanks to the log burner! Outside, the yurt had its own covered kitchen area with seating ideal for preparing food and eating. The woodland location was very pretty and the owners were very warm and welcoming. Would highly recommend.
Magical experience!
I have visited Cwm Ty Coed now for two years in a row for my birthday weekend. From the initial booking stage, the owners are extremly helpful and responsive to emails. The latest visit we reserved the whole of the campsite, so around 30 of my friends and family attended. Sarah (the owner) was great from start to finish, she explained how the tipi's and bell tents could be filled with extra beds and I was able to go back and forth with extra numbers a week before... she couldnt have been more accomodating!
As I have visited the site before, I knew my way around, the site is truly perfect! There is nothing else you could possibly want. each of the kitchens has everything you need, with a gas hob for cooking, BBQs, kettle, pots and pans, cool boxes and even wine bottle openers!
The campsite has communal fire areas, which is perfect for big groups, but each tent also has smaller fires if you are after something a little more quiet or romantic. The tipi's and bell tents are far enough apart that you cant hear your neighbours, but close enough that you feel like a community!
There are plenty of things to do on the campsite, including badminton, board games, cricket and there is plenty of gorgeous country side to go and explore. You are very close to Carmarthen town if you fancy the beach or a walk around town or if you want to go out for dinner or some supplies.
The tents themselves are very homely, and again you have everything you could possibly need in there. They are equipped with log burners and lots of wood to keep you warm through the colder nights, the beds are extremly comfortable and the rugs and extra blankets are a lovely touch. If the owners are aware that it is your birthday, they even put happy birthday bunting up, what a lovely touch!!
My favourate part of the campsite is the log cabin, located a short walk away from the main campsite. equiped with charging points, table tennis, log burner, board games, zip wire and an outdoor cinema! it really is idyllic, and to find out that the owner built it himself adds to the charm! The log cabin provides perfect chill out area if the weather isnt on your side!
I am a little worried about writing such a great review about this beautiful place, as it really is a hidden gem. I will be returning every year for as long as I can. The owners are lovely and will do everything to make your stay perfect! I cant recommend it highly enough, see you next september Cym Ty Coed!
Best Price Guarantee, with no fees
Instant booking confirmation
Trusted for over 10 years
A chance to win £50 of Cool Camping vouchers!
Book campsites near Cwm Ty Coed