Dinas – Hideaway in the Hillls
Dinas Caravan Park, Hideaway in the Hills, Dinas, Llanbedr, Gwynedd LL45 2PH










A peaceful, picturesque hideaway in a Snowdonian valley.
With a name like 'Hideaway in the Hills' expectations of Dinas campsite were high. Thankfully, they didn't disappoint. Accessed by narrow roads and nestled in a picturesque Snowdonian valley, you really do feel like you've stumbled upon a hidden gem.
Small, quiet and family-friendly, Dinas Caravan Park is on mostly level ground and split between the stream-side lower field and the upper field, which is surrounded by tall oak trees. Each pitch comes complete with its very own wooden picnic table. Campfires are, of course, what really add the cool to camping, and here they are enthusiastically encouraged. For just a couple of quid you can hire a metal fire box, then you're good to go. Firewood is helpfully brought round each evening and once those flames are flickering you can indulge in some scrumptious S'mores - toasted marshmallows with melted chocolate, sandwiched between two biscuits! Sit back and enjoy the sugar rush.
Dinas is truly a place of peace, and as such the owners ask that noise is kept to a minimum between the hours of 11pm and 7.30am, with loud music being a no-no. All this adds to the tranquil vibe and helps everyone get a good night's kip.
This truly is nature's playground – kids will be entertained for hours building dens in the forest, dams in the stream or playing on the rope swings. The campsite also has its very own lake where you can hire a Canadian canoe and take to the water, or bring a blow-up dingy and enjoy splashing around.
If you like your camping a little more luxe, then Dinas also offers glamping. The pre-erected bell tent comes complete with double bed, duvet, pillows and... wait for it... your own wood heated hot tub! Somewhere in between this and a regular tent is the camping pod; you won't be sleeping under canvas as it's made of wood (and even has a carpet), but it's not too far removed from an authentic camping experience, and feels a bit like sleeping in a snug den.
In truth you could quite happily spend your entire stay without venturing outside the boundary of the campsite, but then you would be missing out on some really special treats this area has to offer. The nearest beach is only three miles away and this section of coast boasts a plethora of unspoilt sandy stretches. Llandanwg beach is close by and has views across the peninsular and rock pools to explore. Shell Island (as the name suggests) is the place to head for some impressive additions to your crustacean collection. It also boasts some of the highest sand dunes in Wales to run up and roll down. Morfa Dyffyn beach is another fantastic stretch of sandy beach and if you prefer to do your sunbathing in the buff this is the place for you – walk half a mile along and you'll spot the sign which declares naturists are permitted to disrobe.
Of course the best way to explore this area is on foot and the helpful folk at Dinas provide walking guides for leisurely strolls or more taxing rambles in the area. There's also a little hill called Snowdon that's not too far away, too.
Gallery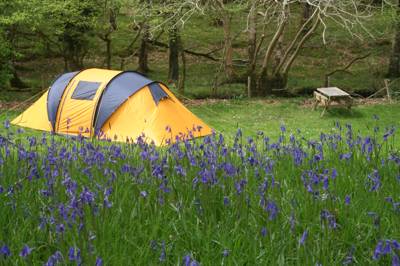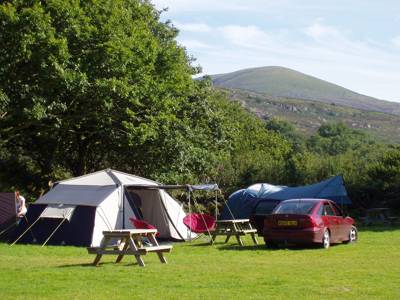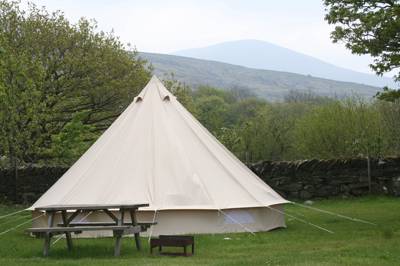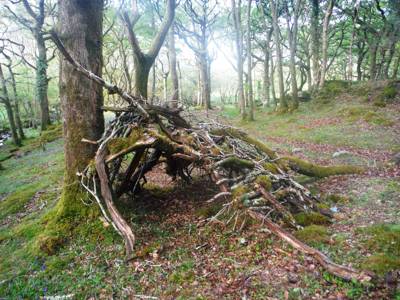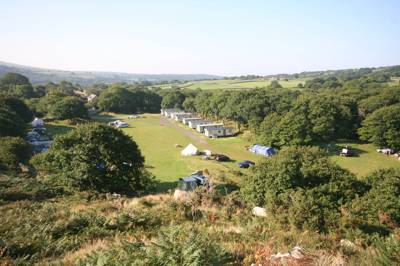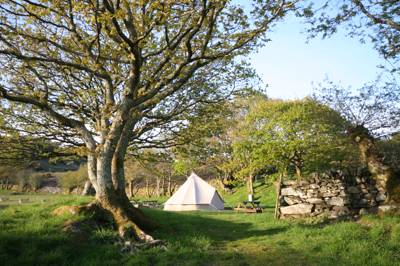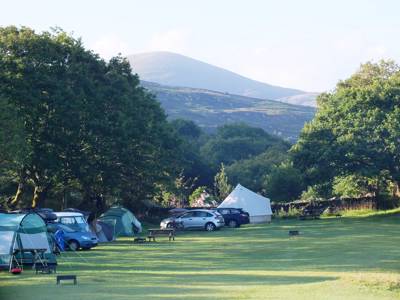 The Owner Says
Small, quiet and family-friendly, Dinas Caravan Park is on mostly ground level and split between the stream-side lower field and the upper field, which is surrounded by tall oak trees. Surrounded by the picturesque hills of Snowdonia, Dinas Caravan Park is definitely a place to loose track of time and completely relax. The campsite has fabulous beaches nearby and the world famous zip wire centre called Zip World Titan. The largest zip zone in the world with over 8km of zip lines. The campsite has a small private lake where you can try and have a go at canoeing. They also allow campfires so be sure to bring some marshmallows! They encourage children to have a go at making dens in the surrounding fields and have a go on the tree swing.
Reviews
Sign up or sign in to leave your review of Dinas – Hideaway in the Hillls
Peaceful, wild and real find!
This campsite is really a hideaway in the hills! It's a great find! We stayed in the camping pod which was brilliant because it was the first time camping since having our child who is 1. The pod gave that extra comfort but we still felt we were camping as we needed all our camping gear apart from the tent and air beds. It just fit two adults and a small child and was warm and comfortable! The toilets were basic but that is all that was needed for this exciting campsite. My boy loved the stream and woodland area and was over the moon when he saw the chickens roaming around! Then sitting around the campfire with a cider was brilliant and we did it every night...no midges in sight! The campsite is great for wildlife and is peaceful and quiet, great for getting away from the hustle and bustle of life. Harlech is worth a visit and the beaches are brilliant!!! I will be definitely returning to the campsite and will recommend it!
Avoid!
We visited this site during an extremely sunny week in June. It was not our first visit to this beautiful area but our first to this campsite. We were very disappointed. The facilities were wholly inadequate: two female toilets and one urinal and one male toilet (as well as a disabled toilet) for three fields of campers. There was often no toilet paper, hand dryers did not work and no paper towels. Towards the end of the week, the ladies toilets smelled very badly. There were only two washing up sinks, often causing queues.
The bins were always overflowing and smelled unpleasant. Either there were not enough, or the owners need to empty them more regularly. The whole site, from the entry gate onwards, had an air of not being looked after. 
The campsite also has a huge problem with midges .... Maybe a seasonal / regional issue, but there is a lot of standing water and a few streams on site which did not help. The midges were so bad that we could not sit outside our tent in the evening. They were a particular problem around the toilets, which added to the unpleasantness of the facilities. All of the electrical hook up sites are in a lower field, shaded by trees and right next to a stream, and this also contributed to the number of flying insects. 
The picnic tables and the rope swings are welcome additions, and to be fair our kids loved the campsite and the woods. The location is beautiful and there is so much to do up here. However although we are already planning a return trip to the Harlech area, there are much nicer campsites close by, and we will definitely not be returning to this one. 
Responce from campsite owner:

Indeed we are very lucky that we are located in such a beautiful area. Children absolutely love playing in the woodlands and on the tree swings, while there are loads of things to see and do in the area. Campers often comment how useful they find our picnic tables.The May Bank holiday week is our busiest of the whole season especially during the fabulous weather we've recently encountered. The weather does contribute to the number of midges, but I must point out they are not just confined to our campsite. During the evenings the majority of campers enjoy sitting outside around the campfire while the smoke helps to deter the midges. Our toilet block is adequate for such a small campsite, although you may have to queue occasionally during very busy periods and peak times of the day. One of our Dyson hand dryers was out of order but we were unable to get an engineer to fix it during the Bank holiday but we did provide paper hand towels instead. I vehemently disagree that the toilets smell, as I check and thoroughly clean them several times a day. The toilet block is lit up at night and the midges are automatically drawn towards the light. Dinas is my home and I care for it. Our camping field is mowed but please don't expect all areas to be perfectly manicured as it is not that type of campsite. We prefer a more natural environment which is the reason we have so many repeat guests and diversity of wildlife.

Fabulous Welsh Gem
We have been waiting for Dina's to hit the Cool Camping book and l am so glad it has as it is one of the nicest sites we have been to.

Our family have stayed twice over the last couple of years and we love it.  The ower Einir is absolutely lovely and welcoming.  The pitches are very generous and you pay for the pitch and not all the added extras so many places charge for like a gazebo or a dining shelter. There is so much space for children to play in with a lovely bluebell wood with a stream running alongside the campsite and a spacious field wher you can kick or throw a ball.

There is a resevoir within the grounds where you can hire a canoe and go sailing which the kids loved. There are also a number of walks that you can do that can last anything from 30 minutes to 3 hours (our favourite was the ice cream walk to Harlech...!!) which Einir will provide a map for directions.

The toilet block is pretty basic but clean and we have never had any issues with your usual camping gripes about no hot water or queues for the shower. Einir brings around wood for your fires every night and is happy to stop and chat answering any questions you have and often returns with a map or leaflet relating to the conversation which makes you feel valued as a customer.
Harlech is a short drive away and is a wonderful little town with the castle and some quaint shops and you are only 10 minutes away from the beach. Other larger towns like porthmadog where you can get a large supermarket is about a 25 minute drive away and you also have Barmouth which is a lovely seaside resort which is about 40 minutes south along the coastline. There is also a lovely gastro pub in LLanbedr about 5-10 minutes from the site which you pass on the way up which serves great food if you fancy a bite out.
When we last went at the end of May 2014 there were a few midges which were not there the year before but we ventured out to have a look at the other campsite nearby (Nantcot Falls) and they had the same problem so it seemed like a problem in the whole area and not just isolated to Dinas. By the way.....after looking around Nantcot for an hour we much preferred Dinas....!!
We would consider ourselves as pretty hardened campers now after 6 years of camping as a family going to many different sites up and down the country, but this is a site we will be going back to again and again as it is our absolute favourite.....see you next year...!!
Best Price Guarantee, with no fees
Instant booking confirmation
Trusted for 10 years
Chance to win camping goodies in our regular competitions!