Child-friendly seaside camping with a private shingle beach out front and a clutch of mighty mountains behind
Bert served the Paice family so well that when the time came to put him out to pasture, they couldn't bear to stray too far from his side. So when they found an idyllic 13-acre farm on the Llyn Peninsula, they transformed one of those acres in to a kitchen garden that'll feed him… in a way. Bert, you see, was the family campervan – home to the Paice family for a large part of four years but now he's a café. And he's destined to serve campers who are lucky enough to find their way to this sheltered haven between epic Welsh mountains and sea.
The first campers to pitch up at this seaside campsite were the Paice family themselves. Their legacy of life on the road (with three young kids in tow no less) is apparent in lots of little touches. If you don't fancy pitching a tent, they'll put one up for you. If you arrive at tea-time, you can book in for the Friday night-supper. And if you need a high chair, travel cot or baby-carrier they'll lend you one. There's also a kids' playground, yurt playroom that's open if the weather is bad and, of course, there's Bert the café campervan. Not only can you buy home-baked croissants and cakes from his little kitchen, but there's free-of-charge tea at all times too.
Around the characterful campervan, the campsite has just 15 pitches and a sociable atmosphere with communal campfires and shared-use barbecues in a designated area. There are monthly 'Feast Nights' too, designed for sharing stories over a sit-down supper. Pitches are reserved for tents and small caravans or campervans (we wouldn't want Bert getting lonely after all) but there's no electric hook-up and the loos are eco-friendly composting ones. It's as green as the trees of the site's little woodland, which are all that separate you from the sea. A track through the woods leads to the campsite's own private shingle beach where you can spend days kayaking, paddleboarding and combing the shores. And there's a sandy beach just a five-minute walk away along the Llyn Peninsula Coastal Path at Trefor too.
But the coast is only half the story with the Welsh mountains proving just as enticing. Hiking, bouldering and climbing opportunities are within easy reach among the Yr Eifl peaks which surround the site – and Snowdonia National Park is just 20 miles away. The granite-mining history of the area is laid bare at the Welsh Language Centre, a few miles away, and it's just a little further to The Tŷ Coch Inn in Porthdinllaen. It's been voted one of the best beach pubs in the world, with views of a sheltered bay and great walks nearby. But, if you don't fancy the drive, there's another place with similar credentials and less of the hype; the mighty hills above Bert's Kitchen Garden. You'll have to take your own drinks but as the sun sinks in to the sea, you'll discover what the Paice family are happy to share; the perfect place for a sundowner.
Best Price Guarantee
Easy and Secure, with instant booking confirmation
Trusted for over 10 years
A chance to win a brand new Coleman tent!
Gallery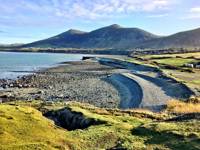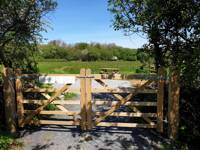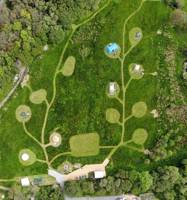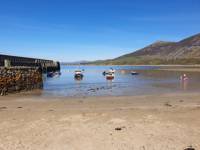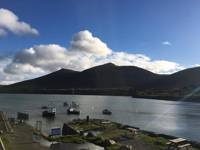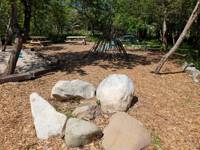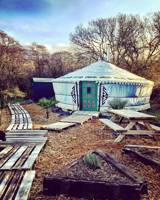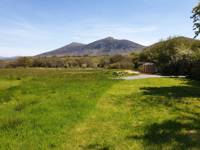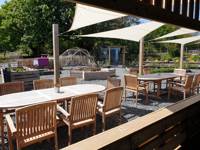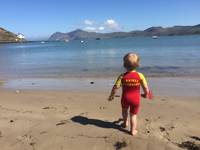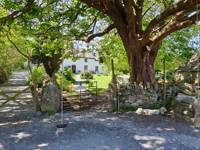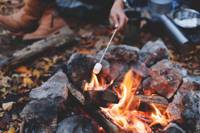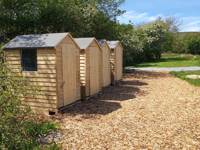 Video Tour
The Owner Says
Bert's offers low key family camping with direct beach access on the Llyn Peninsula. With communal campfires, kids playground, yummy veg from their own kitchen garden and gorgeous coastal walks on your doorstep it's the perfect place to set up camp for your summer holidays.
Here at the farm we have 15 large tent pitches in our wild meadow field with gorgeous views of the surrounding mountains.
Yoga classes are running throughout the summer in the barn or why not treat yourself to an aromatherapy massage or a Reiki Session with our resident therapist after a long day out exploring.
There is plenty of parking but the camping field is car free. You can transfer your camping gear by wheelbarrow to your pitch.
Enjoy back to nature camping with communal campfires, woodland walks, friendly chickens, kids playground, a kitchen garden, feast nights, yoga in the barn and many other activities throughout the year.
With coastal walks on your doorstop, nearby romantic castles, Snowdonia National Park, and pristine sandy beaches the possibilities for outdoor adventures are endless.
Reader Reviews
Add Your Review
Excellent eco campsite
Very peaceful meadow campsite, with beautiful mountain views and a short stroll to the beach. Facilities were excellent – eco-friendly toiletries provided and hot showers. Hosts were extremely welcoming, and we appreciated the campfire and offer of croissants for breakfast. Location-wise it was great for exploring both Snowdonia and the Llyn Peninsula. Have already recommended it to friends and family, and would love to return again in the future!
Fantastic holiday
Bert's is pure escapism for the whole family. In the sleepy village of Trefor, through two five barred gates is this idyllic campsite that feels like a little piece of heaven. We felt relaxed enough to let our children roam free. Our 2yr old adored the low rope swing, the chickens, play barn and the sandpit in the orchard and our 5yr old was in his element hiding out in the secret tree house and checking the chickens for fresh warm eggs. Ian, Ally and the children made us all feel so welcome and provided freshly baked pain au chocolat for breakfast each morning. The campsite has sustainability at its heart with composting toilets and a very impressive kitchen garden, together with fruit trees, eggs from the chickens and free tea and coffee there seems very little need to actually leave the site. With so many surprises to explore, we found it tough to get our children to leave the site to explore further afield. It was a lovely walk down to the beach which is fantastic for crabbing! The tent pitches are generous and well-spaced and are accessed by nicely mown paths which meander through the car free meadow – a beautiful carpet of yellow and purple flowers in early June. We will be back next year.
Response from Bert's Kitchen Garden
Thank you so much Paul, it was an absolute pleasure having your family on site and we can't wait to see you back again soon.
It's the stuff memories are made of......
With a back drop of sea and mountains, and lush green hills you will find a wild flower meadow with a small number of carefully mown grassy pitches, a beautiful new shower block, outdoor washing up area, and sinks. Ecelectic, well designed compost loos. Free eco friendly fragrant shampoos, conditioners, body wash, and washing up liquid. Free tea, coffee and hot chocolate. Supported by the lovely Bert's cafe, for cheeky mid morning coisssants and cappuccinos, and afternoon tea and cake. Our children 3 & 6 years immediately immersed themselves in sandpits, climbing domes, tree swings, tractors, and tree houses, exploring woods and making dens and collecting fresh warm eggs from the campsite hens, (the children found hen egg laying hilariously funny) they had to be coaxed back with hot chocolate. When the weather was less than kind, we took shelter under the covered areas, admiring and coveting Ali and Ian's glorious vegetable patches, later finding a sheltered nearby forest to walk protected from rain and wind. A short stroll takes you a stony beach and slightly further to a small sandy bay, for swimming and crabbing; just perfect. We joined fellow campers for a delicious Saturday night feast, a great way to make friends. Each night we grouped around the communal campfire to demonstrate our honed techniques in marshmallow toasting! This is as " cool " as it gets, our 6 year old asked if we could "stay for ever" !
The perfect eco campsite!
Just returned from an incredible Bank Holiday weekend at Bert's Kitchen Garden. The location of the campsite is just perfect, very quiet, peaceful and 5 mins walk from the beach. The vegetable garden is a great addition to camping, fresh salad, vegetables and chickens eggs available to all! Thank you to the team at Bert's Kitchen Garden for a great and welcoming stay - I will be recommending this wonderful campsite! Joe
Response from Bert's Kitchen Garden
Thanks Joe, We loved having you here and hope you come back to visit us again soon! 
Go here!
... you'd be mad not too. Ali, Ian and family are lovely hosts and have an amazing set up just off the North Wales coastal path and next to National Trust headland offering spectacular views of the Llyn Peninsula, Snowdonia and back towards Caernarfon and Anglesey. It is a great spot (around 20 minutes) from Caernarfon and Pwllheli to explore the local towns, take to the water, literally 2 minutes walk away, or just relax and enjoy the tranquillity of the local area. The walk over the hill will reward you with an opportunity to drop down to Nant Gwrtheyrn, the Welsh Language Centre, which has a cafe, beautiful landscape and story behind it, well worth a trip with no prior knowledge of Welsh required. Food wise though Bert's feasts are great and recommended whether you are local or camping. Highly recommended all round!
Stunning location and awesome facilities
Bert's is a rare find because it meets and exceeds expectations! Before we even arrived, communication was quick and friendly. The campsite is surrounded by mountains and sea but sheltered from any wind. The lovely sandy beach at Trefor is a 5 minute stroll away and the walk across 'West End' cliffs is simply amazing. The scenery really is jaw-dropping. Easy access to the site means unpacking and setting up camp is easy. We were so pleased with the homely atmosphere of the place and our son was thrilled to be able to explore the play area and campsite. We love the eco-credentials of Bert's and are happy to know our stay leaves no impact on the local environment. The campfire was cosy to sit around and we enjoyed chatting to other campers and the family who run Bert's one evening. We would thoroughly recommend a stay at Bert's in this amazing part of Wales.
Welcoming with fabulous facilities
Bert's is a hidden gem, located in a tranquil and beautiful spot. Our two children loved exploring the farm; collecting eggs and playing in the brilliant natural playground were highlights for them, as were the compost toilets which were a novelty for the boys! The camping area has a spacious but cosy feel - far enough from the farm and other tents to have privacy and peace & quiet but close enough to the communal areas if you want to get involved in BBQ's with other campers. We stayed for one of their monthly Feast Nights which was simply delicious (and we made new friends). The shop in Trefor has basics but it's not far from Morrison's/Tesco in Caernarfon or from Pwllheli (which has a great fishmongers and a top wine shop!) The owners and their 3 children are friendly, helpful and available when you need them and have led a fascinating few years travelling before settling here so be sure to have a cuppa and a chat with them!
Response from Bert's Kitchen Garden
Thank you so much for the lovely review, can't wait to see you and your family here again soon. 
Book campsites near Bert's Kitchen Garden