Bwch Yn Uchaf
Station Road, Llanuwchllyn, Bala, Gwynedd, LL23 7DD









Narrow-gauge steam railway station, countryside views, gorgeous riverside setting. What's not to love?!
At the top of Lake Bala (Llyn Tegid) begins a magical journey into a rich historical and cultural past. Whether by train, by car or foot, the way winds alongside the banks of this top-notch lake, the largest freshwater lake in Wales. It continues through fresh, green rolling hills, framed by the three massive peaks of Benllyn, Arenig and Fawr.
Because of its situation, set among the windy hills, the lake is perfect for windsurfing and sailing. There are various slipways and launching places around the lake, but the main hub of activity is on the foreshore in front of the warden's office, where you can get the permits you need.
 The bustling one-street market town of Bala (Y Bala), at the northern end of the lake, is a stronghold of the ancient Welsh language. With more than 80 per cent of the population speaking the region's mother tongue, it's useful to have a suitable local greeting or two up one's sleeve. It's a deeply traditional Welsh town and this area is a great place to catch a male voice choir. Try the village hall at Llanuwchllyn (at the other end of the lake to Bala) on Monday and Thursday nights or keep your ear to the ground – provided you understand Welsh.
 Seldom out of sight of the lake throughout its four-mile journey is a narrow-gauge railway line, operated by three steam locomotives. It begins its journey at Llanuwchllyn, and hugging the shoreline, makes its way to Bala. After the return journey, a visit to the signal box is an interesting diversion, where the stationmaster will demonstrate the original 1896 levers and lamps; an archaic confusion of wooden handles and outdated widgets.
The Rheilffors Lyn Tegid Cyf (Bala Lake Railway) is run almost entirely by volunteers and they're always on the look out for willing helpers. So, if you've ever fancied driving a steam train or just blowing the whistle and waving the flag, become a member and live out your childhood dreams!
 To the left of this quaint old railway station is the unpronounceable Bwch-yn-uchaf campsite. It begins with a vast field of mown lawn, which is great for large tents and caravans. From here, there is a small drivable path that leads away from the main field and ablutions, and winds its way through two smaller enclaves of grass, bordered by a tree-lined shallow river, perfect for a spot of fishing or canoeing.
The narrow strip of riverside turf means that each pitch has an unobstructed view of the sparklingly clear river. There are portable loos and various water points in the middle of the three fields, which is handy if you don't feel like the long-ish, but scenic, walk to the main ablution block.
 So, whether it's sailing on the lake, walking in the mountains or simply a bit of R&R in a valley with a steaming good view, this peaceful spot has all the bases covered.
Gallery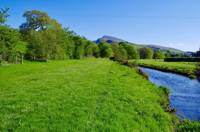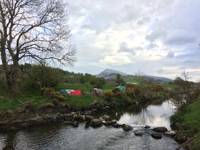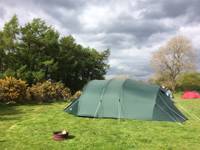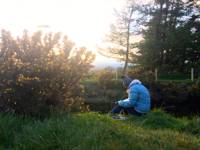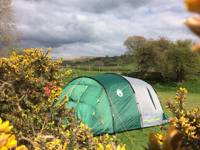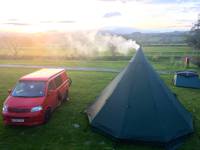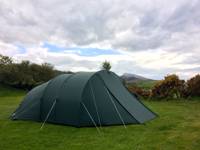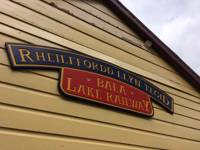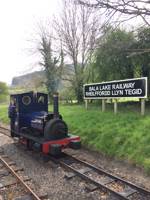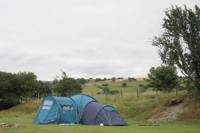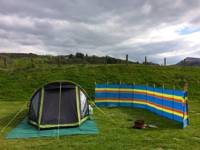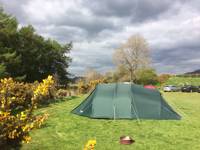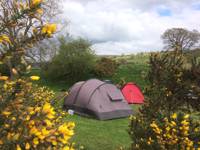 The Owner Says
Bwch-yn Uchaf Caravan and Camping Site is situated within Snowdonia National Park at the foot of the beautiful Aran and Arenig mountain range a mile from Llyn Tegid.
The site is on the edge of the picturesque village of Llanuwchllyn, which enjoys panoramic views of stunning scenery and is an ideal base to explore the areas many attractions including scenic walks (some of which start straight from the park).
The shallow sparklingly clear river Twrch runs alongside the entire length of our site (fishing is free to our guests) and is extremely popular with guests of all ages.  There is low light pollution and no traffic noises so all you can hear is the stream, sheep and sometimes the train passing by.   Also adjacent to the site is the Llanuwchllyn Narrow Gauge Railway Station with its open carriage journeys along the lake. A great way to fully appreciate the stunning scenery the area has to offer.
Win a £100 Blacks Voucher!
If you've stayed at Bwch Yn Uchaf campsite, please take a minute to tell us about your experience. Every month, one lucky reviewer will be picked at random to win a £100 voucher, courtesy of our recommended retailer Blacks. Each review counts as one entry, so get writing!

Reviews
Add Your Review
Tranquil brief one night stay - wish it had been longer
I loved this campsite and visited it at the end of the May half-term holiday when it was surprisingly quiet, which made it even more special. It is in a gorgeous location next to a river and the layout of the site is such that you could never feel like you were on top of each other. I didn't realise how far down the river the site went as it initially seemed to be only a few pitches. Only there for one night as I was swimming in Lake Bala the following day but camping in my 1 man tent on my own away from the kids, right next to the river, with sheep in the field across from me, was BLISS. Would like to recommend this campsite but don't want it to become to popular :-) I can see how it could get quite busy in the summer and the experience may be very different but off-peak season it was fabulous. Facilities are basic but perfectly adequate - could easily see my lot staying here comfortably for a week or so!!
Peaceful, lovely views, great walks, good pub
A beautiful spot, the campsite is spacious, with gorgeous scenery. From the campsite we did the Aran Fawddwy ridge walk (approx 17 km), which has lovely views of the hills deep into Snowdonia, and we only saw one other person during several hours of walking. Finished up the walk with some pints and supper at the village pub - perfect! Everyone very friendly. Thank you!
Peace and quiet lovely views
The camp sire is situated in a lovely area with great views all around. The town is a short drive away if you need supplies and the facilities on site were in great condition and kept really clean I had a very relaxing time and will be visiting again
Fantastic Campsite
We love staying at this campsite. The family are so welcoming and friendly. The location is perfect. We love that you can have a campfire. The facilities are now much improved and a welcome addition. Thanks for another wonderful stay (even though we had terrific thunder storms).
3 days of chilled camping - amazing
We spent 3 days here with fantastic weather. The site is amazing. Unallocated pitches near the river were brill. Great shower block and the owners were really cool. Will definitely be back!
A lovely campsite
Stayed here for a night over the last Bank Holiday weekend. The site is located in beautiful surroundings with a river running along the bottom of the site (which I camped right next to), is well kept and good value. There is also a pub in the village (only a few minutes walk) serving food & drink. I will definitely return again.
Regular camper
Love this campsite. Returned this year for the second time and always take on of the waterside pitches down at the far end of the site on the lower bit. It's just a small river, you can't boat on it or anything, but there aren't any bugs around and our kids love dipping their toes in! We hire a firepit and both this time and last time visited the local pub (really cute and also has a little shop inside). Proper welsh speaking locals and hills all around. Kids loved riding on the steam railway. It's very old and very very slow, so be prepared for a slow journey but it is pretty cool and nice that its all volunteer run. Quite cool when we were there, so no swimming in Bala Lake but can imagine that lake would be awesome in the height of summer
Motor home camping
Campsite lovely and the welcome I had off the owners wife very warm. Do not pay for a fishing licence to start off with as the only thing you will catch is a cold as the water is bearly a foot deep but if you don't manage to catch a cold then the water in the utilities will certainly kick the pneumonia into life. We were asked at 9.10pm to turn the music off which we promptly did, then turned in for the night. Unfortunately the site owner decided to show his true colours and very rudely told us we weren't welcome for a second night and accused us of turning the music back on...very very disrespectful and considering we were thinking of having our club camping with over 100 members potentially using the site im glad this became evident to us before we recommended to our members. Rude, obnoxious and will not be using again that's for sure, shame really
Very spacious, friendly with good facilities and great views
I have just come back from staying a week at this site with my boys (9 & 7) and husband. What a wonderful week we had, using this as a base for exploring Snowdonia National Park. However, the boys equally enjoyed paddling in the river (even launching their kayak), and playing football and cricket with other kids. The owners are really friendly and make you feel very welcome. The village pub is definitely worth a visit, with good food at reasonable prices, and the steam train up to Bala is worth a go. Would definitely recommend this site to families who genuinely love camping,
Lovely riverside pitches
Really loved this site. My girlfriend and I stayed here in late April. Explored the site a little bit before we picked a place to pitch the tent (recommended) as there are lots of different little areas. We took the track down to the very far end and pitched by the river, which we loved. No bugs about at that time of year, a few other campers around and the sound of the river in the background. Loads of lambs in the field opposite too which was lovely! The local pub is excellent (and cheap too, though we didn't look at the foo menu) and the steam train is literally right next door to the campsite. It's worth a ride just for the fun of it. Would definitely return to this site!
Pretty & Relaxed
We visited for one night during the half term week, not a weekend, and it wasn't at all busy (though let's be honest the weather wasn't the best). We have a camper van, and started out with a hookup up near the toilet block, but after a stroll down along the stream to the lower fields we saw how lovely and peaceful it was further along and decided to move; there are portaloos in the lower fields so you don't to go for a great long trek in if you're caught short in the night. The site manager was very friendly and welcoming. He said he'd only been there a month, his kids were loving it, and he is planning to install hookups in the further fields in the next couple of years. You can have fires.
It's right next to the railway, where you can get a train to Bala, although we didn't bother this time round. I would definitely return though. There's plenty to do in the area.

Bwch-Yn-Uchaf
A quiet little campsite tucked away at the bottom of the Lake next to the steam train. The washing facilities are a bit of a walk if you are at the bottom end of the site but there are three portaloos down there which get a bit noisy at night with people using them as the doors tend to slam shut. There is a little pub in the village but if you are after anything more it requires a 10-15 minute drive into Bala town centre. You can have a fire as long as it is off the grass. The owners have a supply of old car tyre rims you can hire for £4 for the length of your stay plus wood, kindling and fire lighters for a small charge for each. Not a bad little place for a short getaway.

Kayak fun
We had fab time kayaking on lake, nice quiet corners and short drive into town for shop or pizza, ace fu 
Lovely, natural, friendly
This campsite is very natural, with a crystal-clear stream at the bottom field, which is grassy, level and on which it is easy to pitch a tent. 

We arrived in the dark and left early so made no use of the facilities other than the clean, nearby portaloos, so I cannot comment more than that on the amenities.

We received a very friendly response over the phone when I called late at 8.30pm to make sure there was a free spot and told that there was no problem paying the next day (Note that the cost has increased to £16 tent + 2 people.)
The site has a relaxed feel, with camp fires greeting our arrival and friendly fellow campers kicking back by the river.
Recommended for people who love relaxed camping without all the frills.

Relaxed Idyll
This site near beautiful Bala lake ticks all of our boxes; campfires allowed, dogs welcome, modern clean facilities and picturesque Snowdonia location. Crystal clear river Twrch running through added to the back-to-nature feel.
Site manager Gareth was friendly and helpful, busting a gut to hammer in a huge windbreak for us that he supplied himself. Many of the site's reviews told of the fabled Fiesta-Firepit, and we were not disappointed when we were treated to a delivery of car wheel from the back of said Fiesta along with plenty of firewood to make our campfire.
The site is located by Llanuwchllyn station, on the line which will take you around the lake to nearby Bala town via narrow gauge steam trains.
I imagine in the summer the campsite (like the train) will be heaving, but it's spacious and relaxed, so I can't imagine it ever being too overbearing. We'll definitely be returning.
Bwch-yn-uchaf
I am reasonably new to camping, but make no mistake this is a great campsite. Staying here for 2 nights in summer 2010. We pitched on the small lower field near to the stream which was fantastic.We hired a fire pit, which was basically a car wheel, and had a great fire going all night.I will be visiting this site again soon....
Bwch-yn-uchaf
THIS YEAR will be our 5th year at this campsite very quiet and peacefull with lovely views over looking snowdonia well placed campsite for the bala railway only afew miles into bala by car for all your needs for a great camping holiday the eagle pub a short walk from campsite well worth a vist for some great homemade cooking
Best Price Guarantee, with no fees
Instant booking confirmation
Trusted for 10 years
A chance to win camping goodies in our regular competitions!
Book campsites near Bwch Yn Uchaf