Ty Newydd Farm Caravan & Camping Site
Uwchmynydd, Aberdaron, Pwllheli, Gwynedd LL53 8BY














A prime location on the very tip of the beautiful Llyn Peninsula in North Wales
Separated from the Llŷn Peninsula by the rip and swirl of changing tides, Bardsey Island pokes from the sea like an inquisitive grey seal. Pilgrims gather to board boats in the fishing village of Aberdaron, setting out across the sea with wind-red faces spattered by the spray of glistening salt-water. The legendary 'island of 20,000 saints' has been a destination for the spiritual since the earliest Christian times – a place where many travellers hoped to die, blessed at 'the gate to paradise; between the world and heaven'. Back and forth they would go, making up their three trips that are apparently equivalent to one pilgrimage to Rome. Yet despite it's ethereal beauty and quaint charm, the rugged isolation of Bardsey led most of its permanent inhabitants back to the mainland for a less laborious way of life. Today indeed, if you are looking for somewhere to kick back and forget the busy world of work, the cliff and cove-lined finger of the Llŷn Peninsula is still the place to go. With views across the sea to the holy island beyond and the tranquil surroundings of typical Welsh countryside, Ty-Newydd Farm Caravan and Camping Site is the perfect perch for visitors – an established outpost that blends seamlessly into the landscape.
Down the narrow country lanes, this charming 40-pitch campsite has all the facilities you need for a relaxing break on the coast. Divided into three fields by wooden fences and surrounded by shrubby hedges, the sheltered camping pitches are flat, grassy and well drained; an easy place to pop-up a tent or park your caravan. Over half of the pitches have electric hook-ups, while all boast ample space and a short walk to the sanitary block, recently extended to add baby-changing and disabled facilities, along with extra toilet and shower cubicles. The grey brick building has a mural painted on its front picturing the lush fields and prickly coastal heathland that surround the site itself, blissful open space to fly a kite or kick about a football.
Though there is a small but well-stocked café at the entrance to the site, passing through the gate and heading a mile and a half back along the peninsula takes you to the lime-washed fishing hamlet of Aberdaron. The Ship Hotel has an excellent array of ales and a restaurant serving fresh crab from the harbour, while 14th century Y Gegin Fawr, once the final meeting place for island-bound pilgrims, is now a simple café serving clotted cream teas on the raised terrace. The village is an excellent place to join the coastal footpath, hop aboard an organised fishing trip or enjoy water sports like kayaking, surfing and sailing. Aberdaron is also still the place to join a boat heading to the famous island. Though visitors can still see the ruins of a 13th century abbey, most now come to watch the staggering array of birds and seals that sunbathe on the rocks at low tide. Head to and fro a couple more times and you could even claim you're a hardy pilgrim – though we can't guarantee it'll feel like you've been to Rome.
Gallery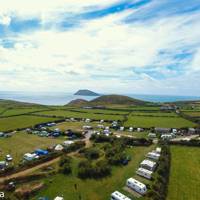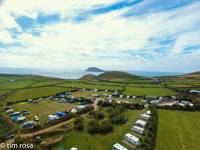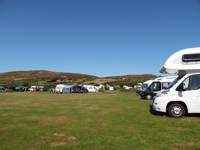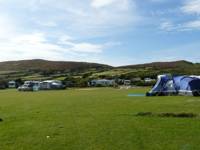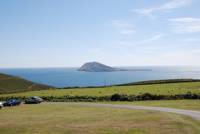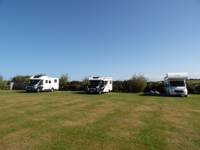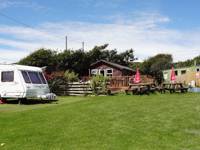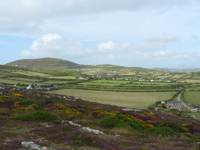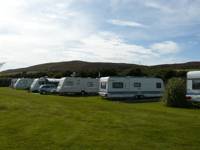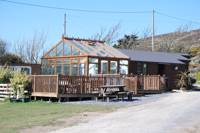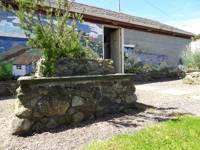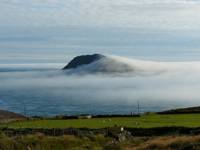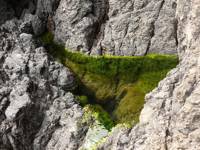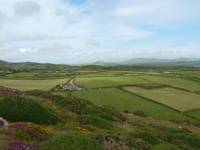 Video Tour
The Owner Says
Ty-Newydd Farm Caravan and Camping Site is a sheltered, long established, licensed site which is situated near the National Trust headland on the very tip of the Llyn Peninsula in North Wales, where you can walk, go rock-fishing or observe the varied wildlife.
The Aberdaron campsite is approximately 2 miles from Aberdaron village and overlooks Bardsey Island. Ty-Newydd has space for more than 40 tents and caravans with many pitches available with electric hook-up. There is ample space for children to play with safe open fields where you can fly a kite or have a game of football or cricket. Stargazing is also becoming increasingly popular with some of the best views of the clear night sky, and stars in Wales.
We are set back from the North Wales coast by about 1 mile and its borders are surrounded by fences, so its safe to let your children explore throughout. We have embarked on an environmentally sympathetic landscaping project to enhance the site. Last year we expanded our toilet/shower block to improve the facilities further with more showers and baby changing rooms. We've also added disabled friendly facilities.
We accept debit cards to make it even easier to book your holiday. We can provide Wi-Fi access in the reception area of the campsite. There is a small charge for this. From time to time we have discount offers available.
Reviews
Add Your Review
Lovely site and location
We were very impressed by the site and it's facilities. The pitches are level and spacious, arranged around the field edges giving a great play area for children in the centre. The toilets and showers were clean and modern. There is an on-site cafe and the traditional Welsh breakfasts were wonderful! The owners were friendly and helpful with local information and also offer relaxing holistic therapies on certain days. The location of the site can't be beaten with sea views overlooking Bardsey Island. A short walk down the lane and you are on the coastal path. We took our bikes which were great for riding the couple of miles into Aberdaron and a trip to nearby Whistling Sands, both stunning beaches. Aberdaron village has plenty of places to eat and a small supermarket. We have thoroughly enjoyed our stay and look forward to returning.
Beautiful Location
We stayed as a couple recently for 3 nights. Friendly welcome, large pitches so plenty of space and great location. We walked the costal path to Aberdaron which has some lovely cafe's and pubs with good food. Would also recommend the sea kayaking. We had wonderful weather which always adds to the experience. Although this was a family campsite with plenty of children, they were all well behaved with lots of space to run around and the 11pm curfew was very well observed. Will definitely return in the future to explore more of this wonderful coast.
Clean, spacious and friendly
The site is in beautiful setting. Grounds and facilities very clean. Shower and toilet cubicles are nice and big. Pitch is extra large. And the café is nice, big, very family friendly, and life saver in bad weather. Definitely deserve 5*
Friendly campsite in a beautiful location
A friendly welcome for our family of four children plus two dogs. The pitch was spacious, the facilities were good and kept clean. The cafe/takeaway food was lovely and staff were very accommodating to special diets. The area around was beautiful and accessible by walking without having to use the car. We will definitely be visiting again.
A lovely campsites
We had a great few days here in July 2018. A very friendly and warm welcome from the Williams family. Nice large spacious pitches and a well laid out campsite with fantastic views. The facilities are nice and clean and well maintained - good hot showers.
Amazing campsite, great views, minutes from several beautiful bays.
Campsite was perfect, helpful staff, great welfare facilities, excellent takeaway food, location was ideal for seeing amazing sunsets, travelling to beautiful bays and generally having a great holiday.
Peace & perfect walks
We so enjoyed our time here.walking the dogs over fields coastal paths to the beach heaven. Everyone we met were so friendly,loved it.and no trouble adding us in for an extra night Thank you,
Lovely site amidst beautiful scenery
We stayed as a group of 4 adults and 3 children in campervans and were given our own corner with loads of space . The kids had a ball playing in the field. We walked along the coastal path to the village for lunch and back along the road - about 7 miles in total. The scenery is breathtaking and we were able to dpy some seals too. Highly recommend.
Stargazing on your doorstep..!
Went  to Ty Newydd Farm end of May. This our first of now many..very friendly owners who have a good welcoming feel to them.  Food on site if required which is reasonable and very good. Child friendly and safe..showers block is very clean and well maintained.  But the best thing apart from the views of Bardsey Island is the fantastic nighttime stargazing..this will take your breath away..great value for money for this alone..just try it..
Fletch
Great Facilities and a Friendly Welcome
We often stay at Ty Newydd Site in our caravan and can thoroughly recommend it. The facilities are excellent with clean, large showers with pressurised hot water - luxury...

The site also has WiFi and I still can't get over the novelty of being in one of the most beautiful and remote parts of Wales while still being able to keep in touch via the Internet.

3 washing up sinks, 2 chemical toilet disposals plus large open fields for children to play and explore make it a great location for a family holiday. There's also a lovely cafe that serves everything from breakfasts, scones, ice creams, coffees and even pizza and chips I believe (not tried that one...)

The view from the site to Bardsey Island is breathtaking as well as the views at night of the stars. (this location of North West Wales deemed 'Dark Sky'). Take your camera!

There are also lots of walks in the area that originate from the site around the headland and also into the nearby village (2 miles) of Aberdaron that has a great chippy).

Recently the site also started taking credit and debit cards too which also helps.

Best Price Guarantee, with no fees
Instant booking confirmation
Trusted for over 10 years
A chance to win £50 of Cool Camping vouchers!
Book campsites near Ty Newydd Farm Caravan & Camping Site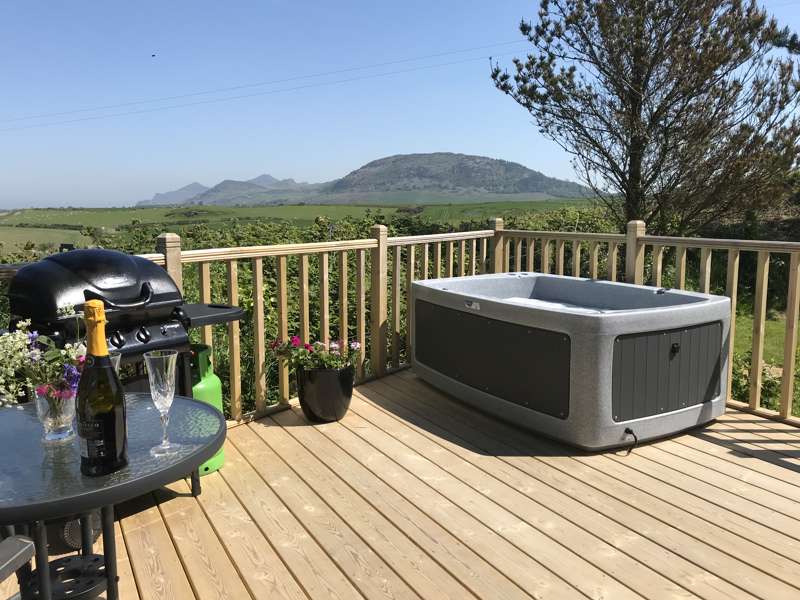 i
Glamping in Gwynedd
Glamping in North Wales
Glamping in Wales