Hirdre Fawr
Hirdre Fawr Farm, Tudweiliog, Pwllheli, Gwynedd LL53 8YY










An incredible mountain backdrop, private access to the beach and flat, grassy pitches
It's a wonder that Rhosgor isn't the top of every newspaper's Best Secret Beaches list. To be fair, it is more of a rocky cove than a beach – it's tiny pebbled crescent is hemmed in by seaweed covered rocks that deny it the picture perfect sands the weekend spreads are after. But maybe it really is just too good a secret. That's certainly what we're inclined to think.
Either way, when you stroll down the private track from Hirdre Fawr Farm to Rhosgor, there's no denying the pleasures of discovering this secluded space on the coast. On the headlands grey seals come and go, lounging in the sun or plopping inquisitively in and out of the water, and at the waterfront itself, pools of shimmering water are rippled by crabs, tucking away beneath the rocks as the kids appear, net in hand and sunhat on head.
The campsite itself follows much the same themes. It's quiet, relaxed and just as seemingly unknown – not the kind of spot you hear about through 'marketing campaigns' or 'a channelled advertising scheme'. No, things here are blissfully simple and come from the owners love for providing a charming place to camp and the consequential word of mouth that sees it flourish.
The open grassland has room for just 40 camping pitches (30 of which have hook-ups) and is a meadowed segment of a wider, 360-acre dairy farm. For a section of coast so dramatically craggy and diverse, it's a surprise to say the fields are flat but even then, flat is not the word. Campers here could bring along a spirit level and you wouldn't find a degree to complain about and the ablutionary facilities, though nothing out of the ordinary, are equally well kept, clean and functional.
To the east, though several miles away, the mountains of Snowdonia loom, teasing you back in land for a day-trip exploring the national park, while to the north, the land ends and the sea begins. Choose your view, choose your pitch and settle down for the evening to decide which you'll take on first; the coastal gems that this remote Welsh peninsula affords or the hiking trails of the mighty national park. If you want a pleasant compromise, of course, we recommend the Wales Coastal Path, running just beyond the campsite. You still get the walking and the exercise, you still get the views and you still get the beaches. Who knows there may also be a handy pub at the end of it!
Gallery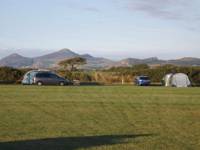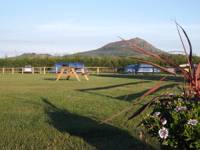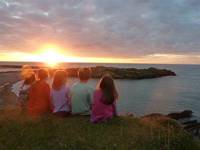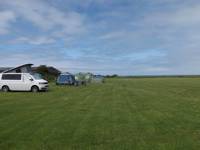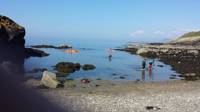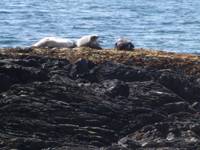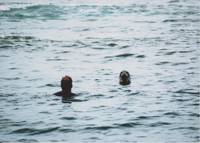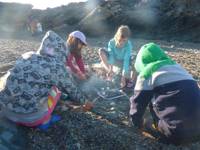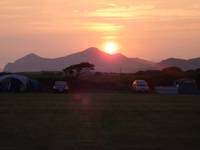 The Owner Says
Reviews
Add Your Review
Oh, no. The secret is out!
We have stayed here for many years, we just keep coming back. We have tried other sites throughout the UK and this by far our favourite. Now that the secret is out on Hirdre Fawr our only concern is being able to get a pitch next time. A fantastic family site!
Just right!
We stayed here in our camper for two nights at the beginning of August, and it was lovely.  We had a warm welcome, plenty of space and the little rocky coves were perfect for rock-pooling and seal spotting.  I can heartily recommend! Thank you for a memorable break!

Seal Cove!
We managed to get a late booking for our camper van at the end of July for a few days due to a cancelation by someone else. We got a very friendly welcome from Anwyn. We were in the sea view field with electric hookup, in amongst the caravans, and had a wonderful view. The toilets and showers are nice and clean. The showers 50p a go and you get plenty of time for a full hair wash - even for my teenage daughter. Good clean area for washing up and washer and dryer.  The best part is the walk down the track (15 minutes, or 20 if you amble like we did, or you can drive), then walk down the steep path where it joins the coastal path to the rocky cove(s). You can watch the sun set and maybe have a barbecue or sandwiches whilst spotting seals. Easy to reach everything on the Llyn peninsular from here, we took to going down to spot seals at the end of evey day. Idyllic!
Great Site
Stayed here 1st week of August 2015 and was really pleased with it, The site is on a working farm and the owner, Anwyn very friendly and helpful. She showed us to the pitch which was great, in a large level field with only about a dozen or so other tents. We also had a hook of, but these appeared to be in short supply.
The site has access to a private beach (pebble) which is about a 15 minute walk down a track and fairly steep descent off the cliff. It was well worth it as there were 3+ seals bobbing around only around 30 mts offshore.
It costs 50p per shower but the block is very clean and the water is lovely and warm. The block itself is fairly small, but as the site is not large either we had no problems getting in.
The location is great as you are within easy reach of a number of fantastic beaches. We would definitely like to return
Thanks Hirdre Fawr!
Best Price Guarantee, with no fees
Instant booking confirmation
Trusted for over 10 years
A chance to win £50 of Cool Camping vouchers!
Book campsites near Hirdre Fawr
i
Campsites in Gwynedd
Campsites in North Wales
Campsites in Wales
i
Campsites in Gwynedd
Campsites in North Wales
Campsites in Wales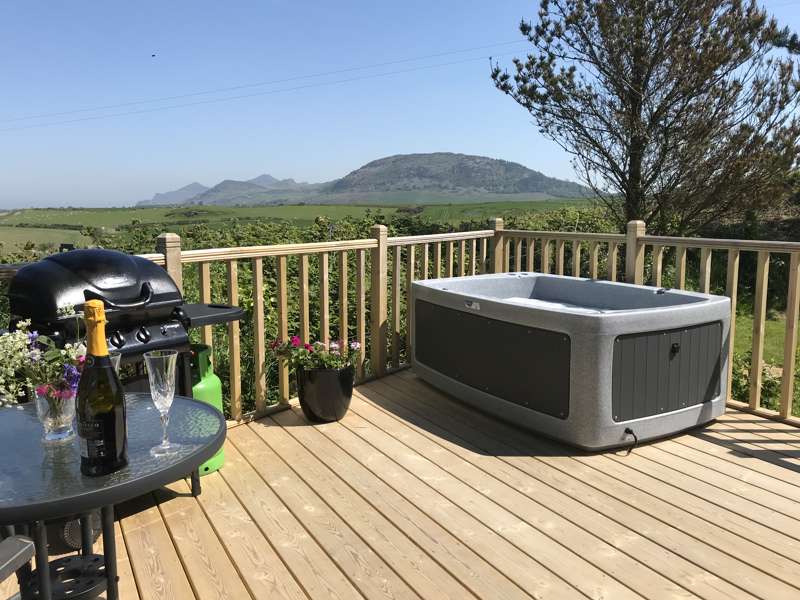 i
Glamping in Gwynedd
Glamping in North Wales
Glamping in Wales