A tranquil site with stunning views in all directions
The rise and fall of The Three Rivals mountain range splinters from the western edge of Snowdonia and drops towards the coast. In the foothills of the National Park, where the slopes peter into tranquil countryside that then merges into beachy coast, Bach Wen Farm lies in a historic building with 7th century origins. Tucked on this ribbon of land between mountains and sea, the farm has been transformed into a welcoming self-catering property. But with such a picture-perfect setting it's more earth-bound accommodation that now boasts perhaps the best position of the lot. Owners Helen and Johnny have stepped from the farm cottages into the lush gardens beyond and shaped an understated yet beautiful campsite – a peaceful destination for lovers of the great outdoors.
Tucked in a secluded woodland glade a short walk from the farm buildings, tent pitches offer a quiet spot to relax on the seafront, while two newly finished glamping pods provide that little extra comfort. The pods boast electricity and a mini-fridge along with a toasty log-burning stove that serves to keep the place warm during the colder winter months. The rusticity of the stove is echoed in the wooden cabinets and old lamps, while a fold out futon acts as a cosy bed that gives extra space during the day. A private shower room and toilet make the place your own, as does a private area on the doorstep overlooking the sea, a dreamy spot to while away the twilight hours.
A recently-renovated barn by the main buildings acts as a sociable space to shelter, where you can hang out with friends and download the days activities. A few yards to the sea lands you on a beautiful stoney beach. Here shingle and rocks are washed amongst the waves before the tide recedes, revealing some softer sandy patches. It's a safe place for swimming and fishing, along with hopping amongst the rocks, sea-life spotting in the pools.
Campers shouldn't let the escapism of coastal living prevent them from heading elsewhere though, since the surroundings of Bach Wen Farm are as pleasant as the site itself. Within walking distance the ancient burial chambers and historic church in Clynnog Fawr are centrepieces to a charming village, only lacking in a pub (though the local is set to re-open soon). A drive west along the Llyn Peninsula rewards you with further sandy beaches and a handful of quaint rural settlements. Hikers will, undoubtedly, head straight for the hills of Snowdonia National Park but it is also worth taking the time to explore parts of the longest coastal walk in the UK which starts just next to the campsite in Clynnog Fawr.
Whether you traipse through the mountains or relax on the beach, Bach Wen Farm acts as the perfect base for exploring the north west coast of Wales. Be sure to get back by bedtime, though, as the campsite itself is one of the best places around to watch the sun kiss the sea and disappear over the Irish Sea.
Best Price Guarantee
Easy and Secure, with instant booking confirmation
Trusted for over 10 years
A chance to win a brand new Coleman tent!
Gallery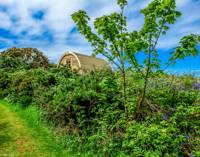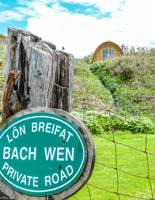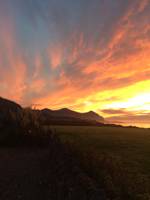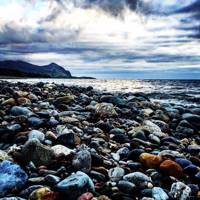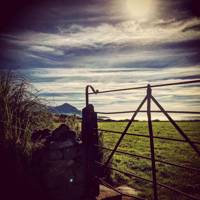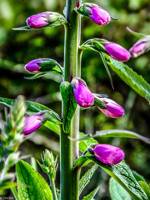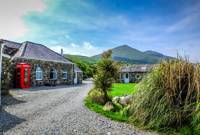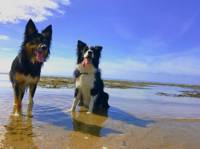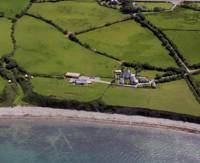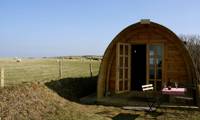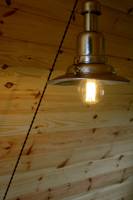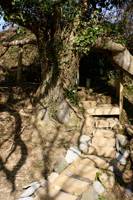 Video Tour
Reader Reviews
Add Your Review
Magical Site
Having just spent Easter weekend camping here with my friends I can honestly say I can't recommend this place enough. Great attention to detail across the entire site with pods, cottages and camping spots scattered across the grounds with privacy and great views. Lovely, hot showers and toilets. Warm and friendly bar with hosts that are always on hand should you need them. We had a Sunday roast which was fantastic with vegan and vegetarian options. We will definitely be back!!
Stunning little pod.
Nestled between the marvellous mountains and wild sea, this little pod was the perfect place to be amongst nature at it's most handsome. The Pods are beautifully decorated and well equipped. Eating breakfast on the veranda, watching the sea rolling in and out was a particular delight. Our stay was incredibly comfortable and our hosts, Johnny and Helen, couldn't have been more welcoming. We can't recommend Bach Wen highly enough. We'll certainly be back for more soon!
A sheer joy and delight
Fabulous setting, fabulous amenities, fabulous hosts - really so much to say and yet so little: You cannot fail to be charmed by this little chunk of heaven, a place to breathe deeply of clean sea air, take time out to meditate, hill climb, beachcomb, chill out - can't wait to go back :-)
Little Gem of a site
Beautiful site nestled at the foot of Snowdonia with its own beach. The facilities are well designed and nicely realised and the bar-dining-communal area is large enough to be accommodating but small enough to be intimate. A short walk up through the pretty little village leads to stunning views of Anglesey and a short drive takes you up the coast to Caernarfon. Recommended.
Peace and tranquility by the bucket load.
I have stayed at Bach Wen Farm several times now.... as a guest in the cottages, under canvas and more recently in one of the stunning pods.  Each visit has been different and each spectacularly fabulous!  As someone who enjoys home comforts the shower block was a real luxury when camping.  Stylish fixtures and fittings and plenty of hot water and always clean and tidy.  The barn with its bar and food is an added bonus and many evenings have been spent with the hospitable owners Helen and Johnny putting the world to rights over a glass of wine. The setting is the stuff of dreams.... it's own private beach and well equipped play area meant the children were always exploring and happy.  Bach Wen also boasts some of the best sunsets I have ever encountered.  It has become a place very dear to me and my family (including our 2 dogs) and I cannot recommend it enough.  
Book campsites near Bach Wen Farm