Cliff-top, back-to-basics camping, located slap bang on the Wales Coastal Path with exquisite views and space for children to play
A campsite with a view? You've heard it all before, right? However the unforgettable scenery greeting campers upon arrival at Nant-y-Bîg is so much more than just a pleasant backdrop. This family-run, environmentally-aware campsite is situated slap-bang on the Llŷn Peninsula, a remarkable region known as the "Edge of Wales" – and if you like walking on the edge, you'll no doubt love pitching your tent in the fields of Nant-y-Bîg.
First thing to decide is where to camp? Guests have three options. There's a section with electrical hook-ups (no coastline views here, but it's only a 10–15 minute walk to the beach); a second meadow has panoramic seaside views of Cardigan Bay, while there's also a third area just above the surf-friendly Porth Ceiriad beach. The majority of pitches are flat, well-maintained and provide plenty of space for the kids to roam. Check the weather report upon arrival; if wind is predicted (and out on an pointy peninsula boy does it get windy!) ask for a more sheltered spot. Nant-y-Bîg's cheerful owner Dylan displays the latest forecast in his tastefully converted reception area, housed in one of the old farm stables.
Facilities here are simple but well looked after. There's a newish shower block and the toilets are kept clean, and although facilities aren't the reason campers visit this unique corner of Britain, the site isn't actually that far from civilisation. Abersoch (2 miles away) comes alive in summer with an influx of surfers, boaties and beachbums. Fringed by lush green hills, the picturesque village has a decent selection of pubs, cafés and restaurants, with some overlooking the pretty harbour.
If you enjoy coastal walking then Nant-y-Bîg is your Eden. The relationship between the Llŷn Peninsula's steep hills and seaside makes for intoxicating stuff. There's wildlife a-plenty – keep your eyes peeled for the bay's famous dolphins – and the peninsula is an important spot for migratory birds in particular. But be warned; when Mother Nature gets herself in a bad mood, ramblers are a wee bit exposed, so make sure you bring a spare pair of socks and a waterproof jacket. That said, the weather can change quickly; and when the sun reappears, illuminating the full, broad blue of the Irish Sea, you'll be ever so glad you came.
Best Price Guarantee
Easy and Secure, with instant booking confirmation
Trusted for over 10 years
A chance to win a brand new Coleman tent!
Gallery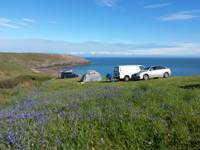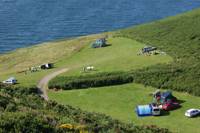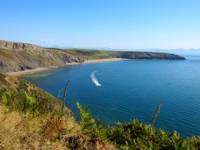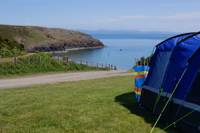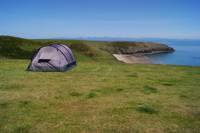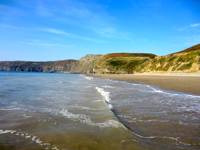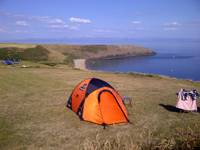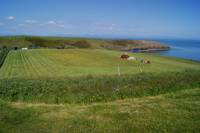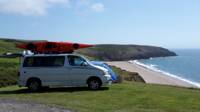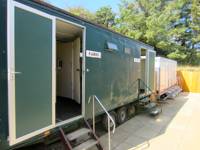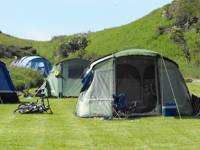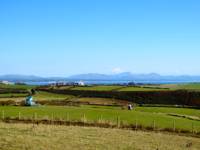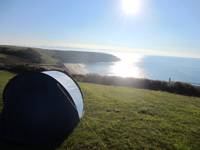 Video Tour
The Owner Says
Nant-y-Bîg has been a family-run camping and caravan site for over 90 years, and is the only campsite positioned by beautiful Porth Ceiriad beach, one of the most picturesque but lesser known beaches on the Llŷn Peninsula. Our Panoramic area is the flagship of our three camping areas, the views of the beach, Cardigan Bay and Snowdonia are why this area got its name. There is ample space for pitching a tent or parking your campervan / motorhome as near or as far from other campers as you like making Panoramic a great option for a quieter stay.
Our site is 2.5 miles from the village of Abersoch where you can stock up on the essentials in the SPAR or Londis or have a bite to eat or a drink in one of the bars or restaurants. The Llŷn Peninsula has a plethora of places to visit and things to do and our staff are happy to offer advice and assistance if you need it.
Reader Reviews
Add Your Review
An amazing stay
My partner and I stayed at Nant-y-Big for four days in late September. There was only one other tent in the three camping fields and we were encouraged to pitch our tent wherever we liked. This spot really is incredibly beautiful and the views from the 'Panoramic' field were simply breathtaking. The absence of anyone else added to the feeling of being 'away from it all'. Mr Jones, the owner, his son Dylan and his team made us feel very welcome. The showers and toilets were basic but very clean. These facilities were a bit of a walk from where we pitched but that was our choice - you either have stunning views or be close to the bathroom! Nearby Porth Ceiriad beach is a gem - clean and secluded. Again we were the only people on it during our evening walk with the dogs. We spent quite a bit of time watching the choughs and buzzards flying over the cliffs. Light pollution here is almost nil and consequently the spectacle of stars at night was awesome. No shops or playgrounds here. At no time did we feel we were at a campsite - it was more like being allowed to stay in a farmer's field in the middle of a landscape that consisted solely of stunning views. We had a great stay here. I would recommend the site to anyone who likes a quiet campsite in a magnificent location. We will definitely be returning, but please don't come at the same time as us!
Great location
Stayed here in May 2016. The site is about 2miles from Abersoch and is easy to find. The best thing about this site is that it is really close to a beach called porth craith (I think it's called that) which if not staying at the campsite is quite hard to access, this makes it a quiet beach compared to Abersoch. The site has mobile toilets and showers that have been put in place permanently. These are better quality than most static shower w/c blocks I have used and are very clean and well looked after. The staff I dealt with we're fantastic and very friendly, actually gives the site a nicer atmosphere. The views are great from this site, I will definitely be returning.
So peaceful
Stayed in the panoramic field. Bit of a walk to the loos but totally worth it for the view over the bay. Really relaxed atmosphere and the warden was so friendly and helpful. The coast walk to Abersoch is spectacular. Our little dog was knackered at the end of it but we all really enjoyed it. 
The showers and toilets are clean and the cleaner seemed to be around and about frequently. 
It is a steep downhill walk to the beach but you can go round the top of the campsite rather than down the big hill which has less of an incline. The beach is unspoilt and clean. 
5 stars
This trip surpassed all our expectations.  There were the most amazing views from the panoramic campsite of the beach and coastline.   Fantastically friendly owners that were on hand to provide local information.  Proactive and patrolling around- especially at night to make sure the campsite was quiet and comfortable for all.   11pm noise curfew which was just right for us.   Ask for the best place to buy local seafood and you might be in luck if one of their relatives have been out to their pots for the day and got some fresh crab or lobsters.  We had it on the beach at sunset- cracking open the seafood with the rocks at the back of the beach.  We visited a few beaches on that peninsula and thought that this was by far the best- really isolated with only local people in the know or from the campsite, clean, sandy and unspoilt.    Really clean and modern shower and toilet facilities.  Would highly recommend.
Gorgeous!
We stayed here over Easter weekend 2015 and were almost alone on the high field overlooking the beautiful and empty beach of Porth Ceiriad. The view was spectacular here. It was a few minutes walk down to the facilities but what's a few minutes walk in this scenery? Toilets and showers are spotless and warm. Walk around the coastal path to Abersoch but then return to the blissful peace of the campsite.
Book campsites near Nant-y-Big