Book campsites near The Willows Abersoch
i
Campsites in Gwynedd
Campsites in North Wales
Campsites in Wales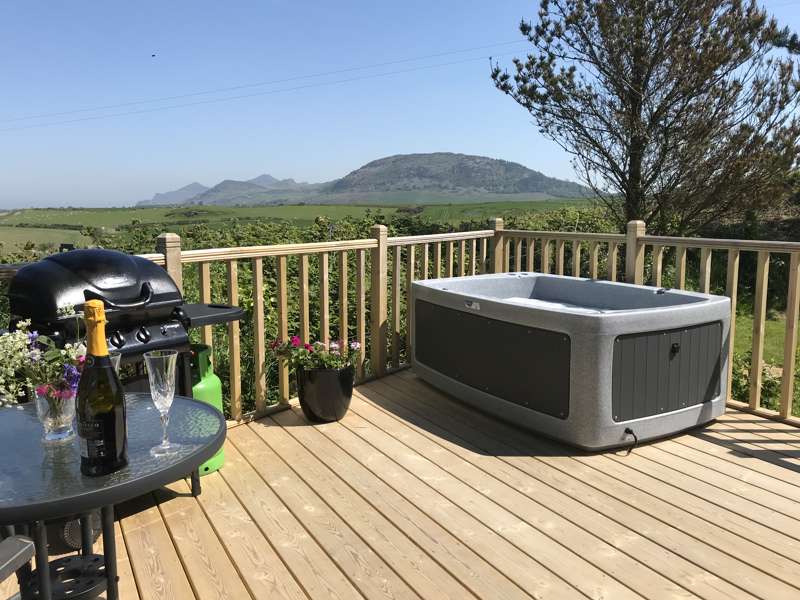 i
Glamping in Gwynedd
Glamping in North Wales
Glamping in Wales
The Willows Abersoch
Yr Helyg, Mynytho, Nr Abersoch, Gwynedd, Wales, LL53 7RW











The owners have been here since 2005 and have been working their wellies off, winning awards and bettering their quality of service year on year
There aren't many 5* campsites that actively promote an intimate, non-corporate atmosphere. Yet there must be hundreds of campers who'd jump at the chance to spread out in spacious pitches, without the fear of having organised fun, solemn regulations or unsupervised children (there's a field uniquely for playing games) thrust under their noses. Instead, just fabulous sea views, marble-interior washroom facilities and über-friendly management ensures their stay is stress-free. Beautifully-tended lawns and flower beds separate family and peaceful child-free zones. Add the spotless, designer-slick shower chalet, which even has a little room for private preening, and a comprehensive tourist information hut, and it's little wonder the 2-acre touring field does a roaring trade in all weather. So far, so 5*. That 22-pitch tourer field is hidden by hedges. One of the three tent camping fields is for couples, one for families and one has two new cosy 16ft 'hobbit' tunnel accommodations. These functionality-over-style, weather-protected, insulated glamping pods could be just the ticket for an out of season stay. A bed, kettle and electricity plugs and the whole peninsula to explore; what more could you ask for?
Reviews
Add Your Review
Outstanding Coastal Site
What struck me was the sea views which seem to encompass the tent fields. On a good day there is an outstanding view of the coastline and the mountains of Snowdonia stand out in the far distance. From the site, it is very easy to drive to the lovely coastal town of Abersoch and the National Trust beach called Tywyn Y Fach. Furthermore, the parking for this beach has recently been improved. Others reviewers have remarked on the facilities which I also found to be excellent. A microwave was an great bonus for me as a solo camper and the owners are helpful and flexible. Given a choice, I would pick pitch 12 in the tent field which has a view but is slightly less exposed to the prevailing wind and is close to the facilities. I found the site to be peaceful and quiet in early September.
Peaceful and quiet
We have stayed at The Willows on 3 occasions, spring, summer and early autumn. Always quiet and peaceful and always immaculately clean and tidy.
Anna and Miles have worked hard to make this a great place to stay and they are clearly proud of their endeavours.  Simple touches such as a kettle to boil water, a fridge and microwave show they care about making the stay stress free. Showers and toilets are very tidy and clean and deserve to be in a hotel!!
For us, the fact that the pitches are very well spaced apart give an air of relaxation and privacy and you do not feel intruded upon by those around you...and visa versa.
We have stayed at other sites locally and this is by far the most pleasant, clean and peaceful....we love it!!
Eye-Pod 16.05.14 - 18-05-14
We have just returned from a 2 night stay in the Eye-Pod and it was fantastic. First of all we checked in at the reception and the owners were so lovely and very helpful. We drove the car to the Eye-Pod and the site was immaculately kept, we noticed that all the tents had an excellent sized pitch, plenty of room between tents and amazing views. So we arrive at the Eye-Pod and once inside it was amazing, the pictures on the website did not do it justice. TV, fridge, kettle and plenty of plug sockets and storage. It felt so light and airy  with two porthole windows which opened and a large star gazing window in the ceiling which has a clever cover so the sunlight doesn't disturb you in the morning. We were lucky to have a clear night sky and lying in bed looking at the starry sky was wonderful ...so relaxing. We found it got quite chilly in abersoch in the evening but not in the Eye-Pod, all cosy and warm but if we had felt cold, no worries as there was a heater inside we could have used. Picnic bench outside was great as we had a BBQ in the evening. The toilet block was the cleanest I've come across .This was the perfect break for us, no tent to set up, just arrived and settled straight in. The owner came around on our first night to make sure we were happy and we were, it was so quiet and peaceful. I highly recommend a stay in the Eye-Pod , it's a unique experience and we will definitely be booking again 10/10.
Highly recommend
Visited this campsite in our campervan this weekend.  The view from the pitch was stunning, really nice spot! Nice, clean facilities all really well presented with a nice quaint style to them.
Location - nice and quiet.  Close enough to everything you need and also far enough away to be peaceful.
Lovely helpful owners.
The pods looked very nice also.
Highly recommend!
Stunning views
Camping at Willows Abersoch was a real treat.
We booked a premium pitch and it was exactly as the owners had described it - panoramic views, excellent pitch size and really good facilities. The shower block was impeccable. The campsite felt really safe. 
A slightly negative point is the fact that they charged a fee for certain essential facilities - one pound to charge the phone, another to charge the laptop and a few more for the hair dyer. 
We stayed there for a few nights and really enjoyed the pitch sizes as well as the magnificent views.
Response from campsite owner:
Hi Diya – we're so glad you enjoyed your stay and thanks for your comments. With respect to charging for certain 'essentials', we do not charge for showers, fridges, freezers etc. We do have a nominal fee (£1) for the use of secure lockable charging lockers for mobile phone, laptops etc. These are not time limited, you can leave your items charging for as long as you want – ultimately, the fee is for the provision of this security. Use of other sockets (for hairdryers, straighteners, kettle, microwave etc.) is just 20p. To counter balance these we provide FREE WIFI (you will find some other sites charging for this at a rate of  £6 an hour!). 
C Midgley
Excellent campsite. Just got back and have booked to go again. The site is immaculate with every facility you require but exactly as described intimate and non corporate. The local produce available to buy at reception was excellent. The pitches were a great size which even when busy I'm sure will not feel crowded. Looking forward to our next trip!
Win a £100 Blacks Voucher!
If you've stayed at The Willows Abersoch campsite, please take a minute to tell us about your experience. Every month, one lucky reviewer will be picked at random to win a £100 voucher, courtesy of our recommended retailer Blacks. Each review counts as one entry, so get writing!