Adults-only safari lodges and a hilltop treehouse in mid-Wales, which take luxury glamping to a whole new level.
The busier our lives become, the more elaborate the ways glampers choose to relax. A 'holiday' is no longer a city break or kicking back on the beach; and nothing encapsulates the glamping phenomenon better than a treehouse. Once you've laid eyes on one it's certainly hard to resist their allure. And at Oaklands Glamping & Treehouse in mid-Wales – a zero-hassle adult-only glampsite, designed by the husband and wife team of Shaphan and Abigail Davies – they've pulled off the feat of building a strikingly modern treehouse that's as fascinating as it is luxurious.
Oaklands is about the most scenic setting imaginable and the south-facing 'Heartwood' treehouse is designed for couples, wanting to unleash their inner child. Inside, there's a king-sized bed with Hypnos mattress and Egyptian cotton bedding, fully integrated kitchen, a beautiful walk-in rain shower and underfloor heating. The real treat, though, is a huge freestanding bath. Who'd have thought it – an enormous bath, designer toiletries and white fluffy towels, all in your own treehouse? Everywhere you turn there are detailed touches; like the bathroom mirror, handcrafted from driftwood collected on the beaches of North Wales.
At nighttime, the embrace of a huge oak tree (which has been incorporated into the decking) creates a magical atmosphere, while, on chillier evenings, the private wood fired hot tub will keep you warm. There's little to disturb you in this remote hilltop setting, but bird song and the distant rush of the Banwy River below. And even though you're not technically in a tree, you're right up there among the leaves and branches, with buzzards and red kites circling above. It's hard to imagine a more romantic place to watch the sun set.
The treehouse is breathtaking enough, but there's fun to be had in Oaklands two safari tents, too, Bluebell and Foxglove (named after the site's resident flower species). Pulling back the tent flap, you may be surprised at just how comfortable it is. Sleeping up to four, each tent has every mod con you could imagine; at its heart there's an all-singing, all-dancing kitchen (with a woodburning stove), plus a bedroom with king-sized bed, beautiful roll-top bath, and outdoor decking with a BBQ area. Deepest Africa this may not be, but the far-reaching views of the Welsh countryside – with a local steam train passing and plenty of wildlife – could be a million miles away.
Gallery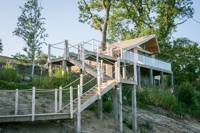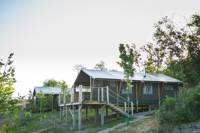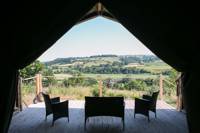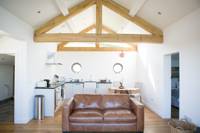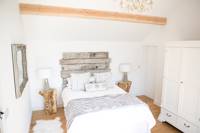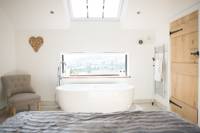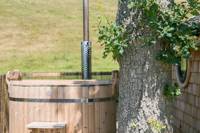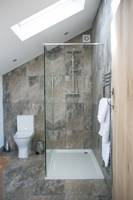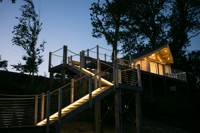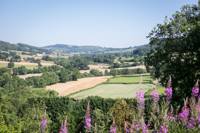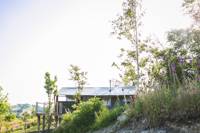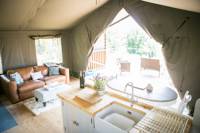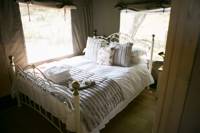 Video Tour
The Owner Says
Tucked away in the heart of Mid wales we have worked hard to create a special and unique holiday experience. We have two safari lodges called Bluebell and Foxglove which take luxury glamping to a whole new level. Our bespoke treehouse called Heartwood has been lovingly designed and handcrafted to create the perfect hideaway for couples. High up in the trees it really is, the perfect 'getaway from it all' retreat. With outstanding views and high end interiors, you won't fail to feel King of the Castle with all the added luxuries including an outdoor log-burning Hot Tub.
Reader Reviews
Add Your Review
Stunning birthday treat
Set in stunning countryside with unbelievable views - the treehouse is a luxurious, relaxing and glamorous retreat where all details have been considered. I was treated to a four night stay for my birthday and absolutely loved it. We have a wonderfully warm welcome and enjoyed the recommendations for day trips and places for dinner. I can't recommend staying highly enough - I want to go back!!!
Completely Amazing - can't wait to return
I booked a short holiday as a surprise for my mums birthday - she was completely blown away and loved every second. It was so much fun 'camping' in the beauty of the welsh countryside, but with a bathtub, full stocked kitchen and warm bed! The weather was very cold, we had snow, so maybe not the perfect time of year to be camping, but it was part of the fun! Everyone at the site was very warm and friendly and made us feel very at home, which was reflected in the level of care and detail that had been taken inside the tent, so that nothing is overlooked and everything is there to make our stay amazing. Honestly its something you have to see to really understand just what an amazing holiday is in store for you at the Oaklands Glamping site! Can't wait to visit again in better weather :)
WOW...Amazing
Lovely warm welcome on arrival. We had a fantastic few days staying in the Heartwood treehouse. What an absolutely stunning place, simply breath-taking with the added bonus of seeing the beautiful sunrise though the mist of the welsh valley. Outstanding detail to the interior Shaphan and Abigail have thought of everything, and with the luxury of the outdoor log burning hot tub watching the sun set. Never wanted to leave. Defanatley will stay here again. Highly recommended. Plenty of places to eat and visit. Well worth a visit to Pistyll Rhaeadr Waterfall.
Breathtaking perfection
What a hidden gem❤️ Absolutely in love with this place and never wanted to leave!! The log warmed hot tub, log fires, fire pit, wildlife, eqsusite furnishings, unbelievable comfy bed👌🏼 Just sheer perfection! Will defo be returning highly highly recommend
Fabulous Weekend!
Had a fantastic weekend here at Oakland's Glamping! What a breathtaking location! Absolutely immaculate and spotlessly clean. Loved the roll top bath (yes even inside the Safari Tent!) and the bedding was top quality. Had everything we needed for a special weekend away, including a fire pit for us to BBQ on. And it felt magical in the evening sitting out overlooking that gorgeous view when all the fairy lights and lanterns came on! Plenty to do in the local area too, with a lovely pub just 10 minutes walk up the lane, although it was so nice on site we were more than happy to chill on the decking and use the cooking facilities at the tent. Shaphan and Abi are both lovely and extremely helpful. Will be recommending to all our friends and family!
Luxurious, relaxing and breathtaking views!!
This is the perfect place to unwind, totally relax and enjoy the scenery and pamper yourself in luxury, we loved it here. The surroundings take your breath away and you have to pinch yourself to accept its real! Furniture and building in Treehouse is high quality. The kitchen has all the mod cons you need at hand. This is definitely a bath with a fantastic view over the valleys. The hot tub is such a welcome bonus and has great views including a bbq area and plenty of outdoor space to admire scenery. The owners have put a great deal of thought into this fantastic place. Definitely want to return. Never thought we would enjoy glamping, but we have been won over. Lots of places to eat very nearby. Hearing the steam train just adds to the experience. It's worth waking up early to see the wonderful mist in the valleys. Can't wait to return!
Best Price Guarantee, with no fees
Instant booking confirmation
Trusted for over 10 years
A chance to win £50 of Cool Camping vouchers!
Book campsites near Oaklands Glamping & Treehouse (Adults Only)