Pod glamping and family camping on the edge of the Brecon Beacons, with a handy location near Brecon town and sunrises you'll never forget.
It's easy to see why an Iron Age clan chose to build a fort on top of Pen-Y-Crug. The hill, known locally as 'The Crug' (pronounced creeg) is a superb vantage point, with breath-taking views across the Brecon Beacons, as well as local hills to the north and a good 10 miles or more of the River Usk sparkling between the trees below. It's an enjoyable mile-and-a-half walk to the summit from the best local campsite, which is found roughly to the west of the hill – though we can't actually verify by how many degrees. Next time we'll take a compass.
Set almost precisely on the boundary of the Brecon Beacons National Park, 68 Degrees West is a camping and glamping site with views to boast of its own. Guests wake up to a sunrise over the Black Mountains, whose crinkled tops outline the horizon, before hopping through dewy grass to the newly built wash-block (super clean interiors and facilities for the disabled). On one side, the campsite is neighbour to renowned Cradoc Golf Club – you can watch people pinging balls across the driving range a few hundred metres away – while in the other directions it's the rolling, sheep-dotted meadows that could only be Wales. For easy access to the national park and a quiet, secluded setting, it's a tough spot to beat.
The campsite itself has been here since the '80s but it's only recently that it's been given a breath of fresh air with the new facilities block and a pair of beautiful timber pods. The structures – fitted with double-glazed doors to enjoy the view, a wood-burning stove for heating and a compact kitchenette for cooking – each sleep a family of four comfortably, while, in the meadow beyond, there is room for around 10 tents and a handful of campervans or caravans.
Hidden behind the hump of the Crug is Brecon town, three miles away. It's a pleasant walk or a 10-minute drive and home to a host of good pubs and cafés. It's also a good place to get your bearings before heading into the heart of the National Park, with mighty Pen y Fan to the south standing out to any keen hikers. Mountain biking and horse riding are extremely popular in the area, too, while fly fishing, for those with permits, in the River Usk is some of the best in Europe.
Best Price Guarantee
Easy and Secure, with instant booking confirmation
Trusted for over 10 years
A chance to win a brand new Coleman tent!
Gallery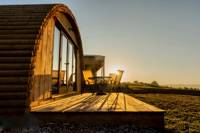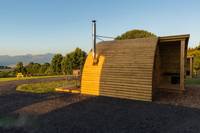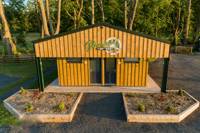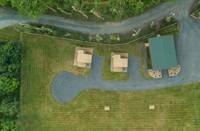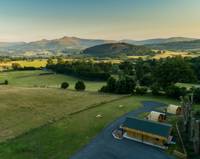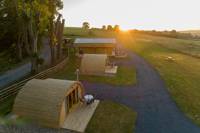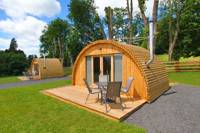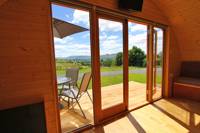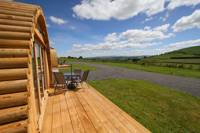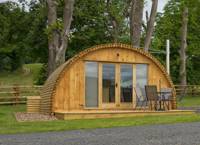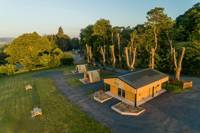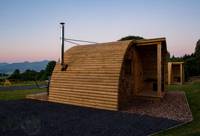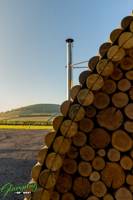 The Owner Says
Glamping at 68 Degrees West is located in a spectacular spot with wonderful views of the Brecon Beacons, Black Mountains and the Crug. We are nicely situated just over two miles outside the historic market town of Brecon, in the picturesque village of Cradoc. The park was opened in the 1980s by the Witcomb family and more recently became a Caravan Club site. It has now been passed onto Rachel and her partner Lewis who are totally committed to their exciting new venture in one of the most idyllic settings in Wales.
 If you are looking for a short stay, a romantic getaway or just a peaceful break in the  tranquil countryside then 68 Degrees West is the ideal spot for you. If you are a golfer, then you're in luck as conveniently situated right on the doorstep is Cradoc Golf Club where you can either enjoy a round on the Championship course, knock some balls on the driving range, or just head down to the clubhouse for a drink and a bite to eat. The famous book town of Hay on Wye and the home of the Royal Welsh Agricultural Show - Builth Wells are only a stones throw away.
Reader Reviews
Add Your Review
Perfect escape from city life
The location is just perfect, with Brecon not far away when we needed things. The Black Mountain Pemberton Pod is very spacious but cosy at the same time and the wood burner was lovely. The hot tub was very welcome after a walk up Pen y Fan! So much to do and not enough time to do it, we will definitely be back.
5 star experience
Breathtaking ,beautifully located,remote place.Very comfortable, showers very clean and everything what you need is just there. Close to Brecons if you need shops .Hot tub is just a bonus in that environment. Fantastic family experience.Thank you.
Amazing location and incredible customer care and service!
From the minute you arrive you get a very warm welcome and nothing is too much trouble. The pods are so comfortable and equipped well. The hot tub was a huge hit! They are the best shower block we have seen on a camp site and equipped with everything you need. We just sat back, relaxed and enjoyed the view.
A Breathtaking Retreat
We recently stayed in the "Y Cwtch" Pod and from start to finish it was genuinely one of the best mini breaks (if not the best) that we have ever been on together. With a hectic start to the year, a stay amongst the stunning Brecon Beacons was exactly what we needed. The site is located in what has to be one of the most picturesque locations in Wales and also has immaculately clean washing facilities. The pod itself was cute, clean and very practical and would easily sleep a family of four. We also enjoyed soaking in the Y Cwtch Jacuzzi, especially after walking up Pen Y Fan the one day. The patio area was also a great size and even though "Y Cwtch" is one of the smaller pods it still felt spacious and great bolthole to enjoy the breathtaking scenery. There is also a golf course located next to the site that has a lovely restaurant with a great menu, plus Brecon town is literally a few minutes away in the car. Lewis and Rachel (The Owners) were also fantastic and made the whole experience of stay at 68 Degrees West one to remember! Overall, we had the most perfect stay and we are already seriously thinking about when to come back, it's the type of place that no matter what the weather is like you will no doubt have the best time soaking up the views and atmosphere.
Beautiful view and fab toilets/showers.
This is such a sweet wee campsite. Well hidden away and the view from the place is just incredible. Doesn't seem to ever get too busy which gives you plenty of privacy and breathing space. The toilets and showers were the cleanest I've ever seen and in great condition too. I would 10/10 recommend and hope to be back soon. Thank you!
Lovely scenery -- and jacuzzi
We had a restful two nights in one of the new glamping pods, ours had a wc in the pod and a nice new Jacuzzi hot tub outside! (check to see what you are booking as there are differences between the five pods) It was great to sit in the tub and enjoy sunset views of the Brecon Beacons below. The owners, a young couple, were friendly and helpful. Recommended!
Great location with new facilities
We stayed at 68 Degrees West over Easter and had a 10/10 experience. The host was so nice and helpful and let us use one of the fire pits. All new facilities with everything you needed (even shampoo etc in the showers). Really gorgeous views of Brecon Beacons and right next to a golf club which my husband loved for a quick round one evening. Not too busy at all and the 'glamping pods' looked very cool, even though we were just staying in our camper.
Relaxing
We stayed here for my partners birthday. We stayed in one of the pods which had everything in there then you would need including a little torch and a USB port. The pod was spotlessly clean on arrival. The toilet block is one of the best I've ever used on a campsite, these were again spotlessly clean and even had shampoo/ conditioner & shower body wash for you to use. If you looking for a nice and relaxing break then do not hesitate to give this little gem a go! I for definitely be coming back here! 💕
The neatest and cleanest campsite I have ever been to!
That really is the neatest and cleanest campsite I have ever been to. The pods have everything needed you could think of including such fancy things as built-in USB charger on the wall and little hand torch which is always at hand if you need it. Not to mention full set of pots, cutlery and even wine glasses. The facilities are great too. The owners are very helpful and responsive, but since all is where it should be you don't really need to bother them. The views are perfect and it is just 15 minutes drive from where you can start climbing Pen y Fan.
That view!
Everything we needed to escape London for the weekend! Clean, easily accessed, great location for hiking and all the amenities plus more! Thanks for having us!
Stunning location
One of the most beautifully located sites Ive ever visited. Perched up on the side of the valley, you have uninterrupted views of the brecon beacons and more. Nicely laid out site with perfect grass. New facilities are, without exaggeration, simply immaculate. Warm, clinically clean and modern. Owners clearly take great pride in their site. Good walking straight from the site and ever so peaceful. Local farmer was also very friendly, pointing us in the right direction for the path when we looked lost. We only stayed one night as a stopover but it was a great end to the holiday and would have loved to spend another day or two. We took a camper van, and as novices I would only observe that there were no obvious facilities for washing up or emptying toilets/waste tanks etc (it is a CL site so not unusual and not a problem for us - maybe i didn't look carefully enough). If campervanning, bring chocks as its slightly sloping (not excessively though) However, I happily trade all of that stuff for the perfect views and clean facilities that we found here. Highly recommended. (Also, if you play golf, which sadly i don't, I cant imagine a better placed site - there is a course right next door but it in no way impacts on the serenity of the site if its not your thing!).
Great facilities
Very beautiful place with great views! Excellent toilet and shower facilities: very clean, modern and in perfect condition. Nice owners too. Ground was perfect for pitching a tent.
fantastic
Lovely view, beautiful facilities, shame it rained so much on sunday, but had a great time Rachel and Lewis are very helpful, they should do very well, good luck
Best Price Guarantee
Easy and Secure, with instant booking confirmation
Trusted for over 10 years
A chance to win a brand new Coleman tent!
Book campsites near 68 Degrees West