Adults-only, dog-friendly camping and glamping on the Powys and Shropshire borders.
Set in a secluded spot on the Powys-Shropshire border, Ian and Jane Whyte's stunning six-acre smallholding plays hosts to Tipis at Ponty, a wonderful new adults-only site that welcomes campers and glampers alike (not to mention well-behaved dogs). This peaceful pocket between Oswestry (on the English side of Offa's Dyke) and Welshpool (on the Welsh) is bordered by the River Cain, making it a magnet for all sorts of wildlife, with kingfishers, herons and cormorants in attendance, and even the odd visiting otter.
Besides these curious creatures, there are few other guests who share the space. With just three spacious tent pitches and a pair of tipis, there's never any danger of overcrowding. The site is strictly a car-free zone (wheelbarrows are thoughtfully provided so you can trundle your gear to camp) so peace and quiet is all but guaranteed, while the trio of pitch-your-own plots range from riverside spaces to more elevated pitches with views to die for. All come with firepits and rustic seating, a fine addition for those who want to admire the unblemished night skies beside the warmth of a campfire.
The titular tipis (Mary and Mavis) are perfect for couples (although a third guest can be accommodated in Mavis). With a wood-burning stove, comfy double bed and bean bags to collapse in, there are few cosier settings to cwtch in after a day spent exploring. Facilities-wise, a pair of newly constructed wet rooms with hot showers and proper flushing loos provide ample ablutions for guests. Campers have use of the communal kitchenette, while the tipis boast their own kitchen shacks with gas ring stove.
Hosts Ian and Jane were chefs in their former lives and still run outside catering events in the area. Their culinary nous is evident in the range of homemade goodies available in the on-site honesty shop. Whether you're indulging in these delights or cooking your own freshly caught trout from the River Cain, 'The Sunset Shack' is a welcoming communal shelter in which to dine – set in the elevated upper copse it is, as the name suggests, a fantastic spot to watch the sunset over the Shropshire Hills.
Best Price Guarantee
Easy and Secure, with instant booking confirmation
Trusted for over 10 years
A chance to win a brand new Coleman tent!
Gallery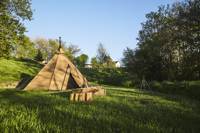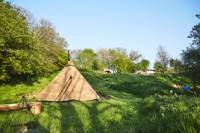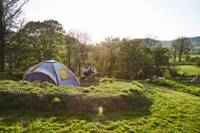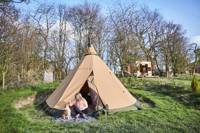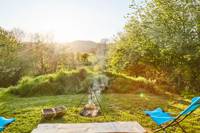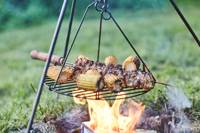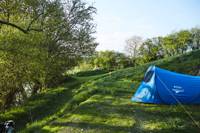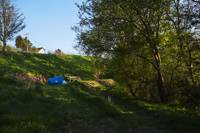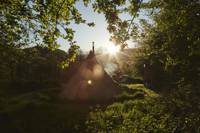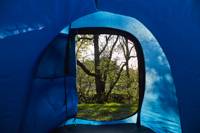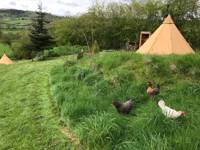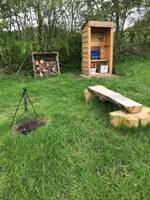 The Owner Says
Tipis at Ponty is situated on the Powys/Shropshire borders and is a picturesque six acre small holding, with a wealth of natural beauty on the doorstep. Comprising of two luxury fully furnished Tipis, Mary and Mavis, and three grass tent pitches, Daffyd, Algie and Don Don, Adults and dogs are welcome. The campsite and our adjoining three acre paddock is bordered by the River Cain, for which we have fishing rights, and has beautiful views up the valley. We are a vehicle free site so provide you with wheelbarrows to transport your belongings. Our brand new site boasts two bespoke wet rooms, a kitchenette (with fridge, microwave and washing up facilities) which has a little "honesty box" shop, stocking various products prepared by chefs, Ian and Jane, who occasionally will offer themed evening meals during busy periods. The Tipis have a fire pit, rustic seating and tailor made cooking pod with double gas hob, the tent pitches have fire baskets and rustic seating. All pitches are welcome to use The Sunset Shack in the upper copse, our purpose built funky shed  which offers a cooking area with double gas hob and seating for dining/relaxing, enjoying the views and spectacular sunsets. The village of Llansantffraid is half a mile away providing two mini supermarkets, pubs, curry house, chip shop, post office and petrol station. Our site is a perfect location to use as a base for cyclists, walkers, golfers, fishermen, sightseeing and retail therapy, or simply chilling on site.
Reader Reviews
Add Your Review
Beautiful location, friendly and helpful hosts
We had a great weekend staying at Tipis at Ponty. Our hosts were extremely friendly and helpful, popping over to check we were OK over the weekend. They lent a hand pitching our tent (as we arrived late and were attempting to do this in the dark!) and lent us various equipment that we'd forgotten, including extra blankets to keep us warm in the night which we really appreciated! I can't wait to visit again, perhaps trying one of the Tipis next time as they looked extremely cosy, and would recommend this campsite. There are many lovely walks and nature reserves nearby as well as a town a short walk away. Our hosts recommended a place for us to eat and the food was excellent.
Response from Tipis at Ponty
Thanks Bex for your feedback, we were happy to help! and glad the blankets helped you sleep! There is another great eating place open in the village now (The Sun) which also has a selection of games in the bar area....spoilt for choice now  :0) ....hopefully see you soon in the new season.
A beautiful and tranquil spot
This went beyond meeting our expectations! We loved how much space we had between each pitch, it felt like we were the only ones camping. It was a beautiful and peaceful experience, and were made to feel as though we were at a 5* hotel. The facilities are clean, the showers are hot and powerful and the hosts were beyond lovely! We were even invited to their first fajita night - and can vouch the food is EPIC! It was my girlfriends birthday and they even bought out a homemade chocolate brownie with a candle to celebrate! We have told all of our friends and family to stay here, and we will definitely be back. Thank you so so so much for a truly wonderful time :-) Love Nick and Pip (p.s. we got engaged the day after! x)
Response from Tipis at Ponty
Dear Pip and Nick,
 MANY MANY CONGRATULATIONS!!! What lovely news, we do hope that means we will be on your list of favourite places to return to ! We are planning many more themed evenings on busy nights this season, and also offer a continental breakfast with prior arrangement. We look forward to welcoming you back!
Fantastic campsite it Wales
We had a two wonderful nights at the campsite, which has amazing views across the valley and is peaceful. The campsite is small and not overcrowded, which is one of the reasons we booked, and has all the facilities needed and very friendly owners. We also liked the fact it is adult only and allows are dogs. We will definitely returning.
Response from Tipis at Ponty
Thank you Karen, We wanted to set up a quiet uncrowded site and have no intentions to alter the number of pitches, or the layout ever! Apart from adding the fencing which we have done this spring so our rare breed Jacob sheep, Dottie, Baabara, and Teddy can spend sometime over in the campsite area! 
Amazing 5 days relaxing!
We had an amazing 4 nights at this beautiful campsite! The toilets/ showers are really excellent, with everything set up for complete ease and comfort, without losing the feel of the wild camping. Ian and Jane were brilliant hosts, and I couldn't recommend the site more ☺️ Will return when next going in that area! Thank you
Response from Tipis at Ponty
Thank you for your positive feedback ! We are glad that the layout of the site gives the feel of comfort and privacy, that was our aim ...We hope you return to the area very soon.
The site itself. Quiet, peaceful, only 5 pitches (2 for tipis, the other 3 for tents), wonderful views.
Ian and Jane couldn't have been more welcoming and helpful. We had a fabulous time, especially the Fajita night where Ian cooked for all of us staying there. Highly recommended, we'll be back!
Response from Tipis at Ponty
We are so glad you enjoyed the Fajita evening...we try to offer food on nights when the campsite is full, we have many other themes in mind for the 2019 season! and look forward to welcoming you back 
OMG we loved this place
Wonderful campsite. Has everything you would want and more. Plenty of thoughtful touches like the sunset shack(where you can hide from the rain and play board games), jams and eggs to available to purchase and the amenities like showers and toilets are the best I have seen. We stayed on the Algie pitch and would highly recommend. We're going to book dates for the tipis very soon. Go go go! Ian and Jane were a pleasure and welcomed us very warmly.
Response from Tipis at Ponty
Thank you Victoria for your comments! We have tried to build our site in what we like ...a hot shower and clean facilities were at the top of the list!! It's so nice to know they're appreciated. we look forward to welcoming you next again in the future.
An idyllic and picturesque escape
If you're looking for a peaceful and beautiful place to escape from modern life then look no further. The location is easy to find, perfectly placed and immaculately presented. Your hosts are welcoming, helpful, thoughtful and will provide everything you need before you even realise you need it. We can't recommend booking this site soon enough before more people hear about it - we will be back!
Response from Tipis at Ponty
Thank you for your kind words! our small site was designed to hopefully offer a peaceful beautiful spot, so we are glad you thought that it fitted that profile !! we look forward to welcoming you back in the coming seasons
Quaint unique pitches for a truly personal stay
If you want a truly relaxing and enjoyable break then stay here! We stayed on 'Algie' and It was perfect. The attention to detail on this site is second to none and honestly very special, from lighting the candles of an evening In the sunset shack playing cards to fishing in the lake on the owners land a short walk away we had a very memorable stay. Will definitely be coming back to experience the Tipi's too. A complete overhaul from your usual 'one big field' camping experience, all of the pitches are unique, I really love the fact that they are bookable in their own right and have their own unique surroundings. The facilities are perfect, its picturesque, friendly, sociable and remote. When staying here I really felt like we were welcomed guests and it shines through that the owners are truly doing what they love, nothing was too much to ask (most of the time you didn't even need to ask). its perfect for dogs too with my German Shepherd having the absolute time of her life, she slept soundly every night. Highly recommend to anybody looking for a unique camping experience - you don't find places like this often.
Response from Tipis at Ponty
Thank you for your lovely comments we are so glad you had a memorable stay and am sure you and your beautiful dog would love to stay in one of our tipis on another occasion! we look forward to seeing you in the future
A beautiful chilled out campsite with everything you can think you might need!!
We had such a wonderful time at this campsite. Ian was so welcoming and helpful and showed us everything as we arrived. There's a wonderful "shack" that has a view of the sunset and place to play games, read and relax. Having a fire pit on each pit was lovely as well as the kitchenette with kettle, microwave and fridge available as well as logs and fresh eggs and jams to buy. What a wonderful peaceful time we had!! We will definitely come back!!
Response from Tipis at Ponty
We are so glad that your stay was peaceful and enjoyable, and that the facilities we offer helped towards that ! We are so happy with the way our first season has been appreciated, and look forward to welcoming you again.
Perfect escape - cannot fault it!
We stayed in Tipi Mavis which was down at the bottom of the field right next to the river. It was a great site and you felt totally away from everything. The pitch was set out so that there were tall grass areas which gave you a real feeling of being the only one around. It was our first experience of staying in a tipi (with our 3 dogs) and it was really good. Having the open fire to cook on and also the cooking area was really good. The site itself had everything you could need. Communal fridge was really handy. Ian and Jane were very warm and welcoming and could not have been more helpful. Overall, the attention to detail was excellent with real thought and care put into everything. The tipi had everything we needed as did the site overall. Having somewhere to walk the dogs when they woke was a real bonus. In fact, being able to take the dogs to such a fantastic place was just great (as it is sometimes difficult to find places that take dogs, let alone 3!). We cannot recommend this site enough and we will certainly be going back again. Thanks Ian and Jane for making the time away so memorable.
Response from Tipis at Ponty
Thank you for your review, it has been a great first season meeting people with their beautiful pets! Our puppies have thoroughly enjoyed socializing with them all. We are glad your stay was all you hoped for and look forward to meeting you again
A truly outstanding place to stay
What can I say, I've been to many campsites over the years and this is possibly the best, in its own unique way. It's small which is what attracted us to the site as we just wanted a couple of days away from it all. Time to relax & do as little as possible. We stayed on Daffyd the largest of the grass pitches. On arrival we were greeted by Jane who showed us around, you couldn't ask for better hosts, Jane & Ian were on hand if you needed them and went out of their way to make us feel welcome and comfortable. The site has a little kitchenette with fridge, microwave & kettle as well as a double sink, which was fantastic. Two generous sized wet rooms, which were spotless. The showers were hot & stayed hot. There's a communal seating area at the top of the bank where you can sit and watch the sunset over the hills in the distance. Each grass pitch has a seating area and fire basket. There's a river at the bottom of the site, which if you follow a short way takes you to a fenced in field where your four legged friends can go for a run around. I would definitely recommend this place, in fact we already have & we only got back yesterday. Fantastic site, great central location, we'll definitely be back... if we can get in. I have a feeling this little gem is going to be booked up with a waiting list before long... thanks for a lovely stay :) x
Response from Tipis at Ponty
Thank you, this review is very flattering! We have loved every minute of our first season, meeting people who enjoy the same things we look for when we want to relax. we look forward to welcoming you back at some stage in the future.
It was home from home
We arrived at the tipis at ponty site on a really wet and miserable bank holiday Friday afternoon , where we questioned if it was a good idea to be camping at all , on arrival at the site , there were two things that instantly rewarded us , first was the site , too see how much care had been put into making this site as beautiful and well presented as it was , secondly how warm the welcome was too us on arrival , it made a massive difference to the day . The campsite has everything you could or want there to create the best experience on your holiday , from the campfire to fire baskets , private cooking areas for the tipis , the tipis have everything you need , all you need is the clothes on your back and a toothbrush, they have excellent beds inside and comfy rugs and bean bags to sit on around the log burner at night . The wet rooms are kept spotless too. It was a shame to leave the site in the daytime as it's set in a wonderful location overlooking welsh hills and the river at the bottom of the site , all you need to relax and unwind , not forgetting are dog Ralph really enjoyed the site too , there is also a larger field for them to let of steam .The site is close too pistyll rydaeadr and lake vyrnwy which are both worth visiting and central to most other places , both Jane and Ian were always on hand to help with any questions too if needed . Overall I can't recommend this site enough , it's one of the best I've been too over the 15 years of camping I've done , you can tell it's run by fellow campers too who know what camping is about . Thanks for a great weekend
Response from Tipis at Ponty
Having just closed the site on our first season discovering all our reviews on coolcamping was a revelation!
 Thank you so much for your kind words, it makes all the hard work very worthwhile. We have taken on board one of your ideas... we started offering continental breakfasts delivered to tipis and tents alike, with prior arrangement. Hope to welcome you again in the forthcoming seasons!
Best Price Guarantee
Easy and Secure, with instant booking confirmation
Trusted for over 10 years
A chance to win a brand new Coleman tent!
Book campsites near Tipis at Ponty