Riverside camping and glamping on the edge of the River Wye where nature abounds
It's not clear whether it would be quicker to walk or to canoe to Hay-on-Wye. Both are possible from Racquety Farm and, just a few hundred metres from the edge of town, it takes a matter of minutes until you're perched on a chair outside a tea shop, cuppa in hand, watching the world go by. As campsites go, few can manage such a supreme combination of tourist-town proximity and remote, countryside feel. Pitch your tent beside the bushy hedgerows and you seem hidden in the verdant Welsh wilderness. Walk across the meadows into town, however, and you're suddenly in the bustling hive that is Hay-on-Wye in summertime.
Racquety Farm is quite the enterprise. A mix of woodland, orchards, organic crops and grazed pastures, the farm is situated directly on the banks of the River Wye – its banks are a designated Site of Special Scientific Interest. The result is a conscientious campsite, with plenty of recycling, composting toilets and no caravans or large motorhomes allowed. The farm is all organic and one acre is even used for the Hayfield Community Garden, a local food-growing and gardening scheme set up by the people of Hay-on-Wye.
The camping, though basic, is idyllic. It comes in the form of roughly 60 undesignated pitches. Some are spread around the orchard where old and young apple trees bulge with fruit in late summer, while others are in a larger, slightly sloping meadow with views of Hay-on-Wye rooftops. There are relatively simple hot-water shacks where you can do your washing up, brush teeth or take a shower and braziers are available to rent for that essential evening campfire.
Pampered types will find glamping options here too. There are five geo-domes in total, though each is a different size, ranging from a four-metre dome for a couple to a ginormous six and a half metre dome that can sleep up to eight people. Each was homemade by Geoff himself and are furnished simply but practically to create warmth and comfort for most weather conditions. Carpets, beds and bedding, wooden furnishings and electric lighting are all included. Most importantly, there's also a cosy wood-burning stove.
Such pleasantries shouldn't distract from the real appeal of Racquety Farm though. Take a morning stroll through dewy grass to the riverside and you'll be reminded why you booked your stay here. Kingfishers and herons can be spotted by the quietest campers and otters are known to frequent the area – notoriously reclusive but occasionally seen. Badgers, hedgehogs, red kites, woodpeckers, dormice, bats and owls also live in the area and a canoe trip on the water reveals plenty more wildlife too. Ros' son runs a well-known canoe hire company from the campsite – 'Want to Canoe?' – and you can launch your own canoes directly from the farm. 'Want to Canoe?' can arrange longer canoe trips too, starting upstream in Glasbury-on-Wye. Multi day outings are highly recommended, partly for the full experience of the river and partly to give you more time in the canoe. The River Wye has popular wild swimming sites just a short walk from Racquety Farm or stick to
terra ferma
and wander into Hay-on-Wye. The town is just moments away and that café cuppa awaits.
Gallery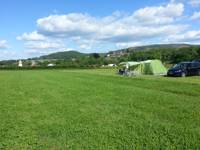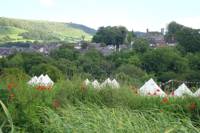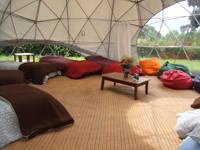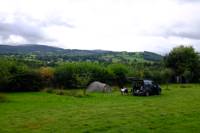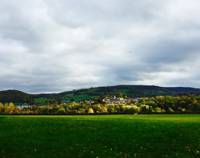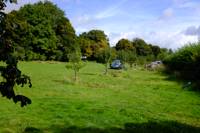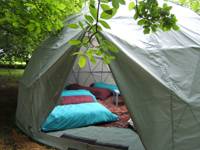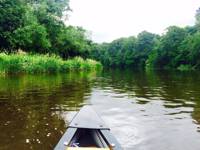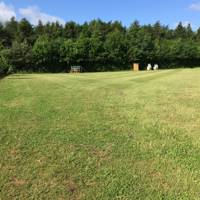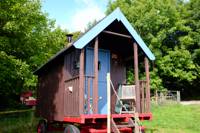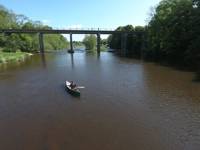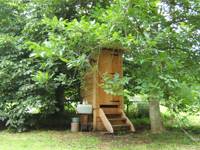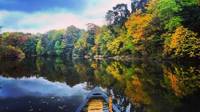 The Owner Says
** Now taking bookings for the Hay Festival of Literature and the Arts (24 May–3 June 2018). **
The views from Racquety Farm are excellent and although you will be in the countryside, the campsite is only a short walk from the charming town centre of Hay. The site boasts private access to the nearby River Wye with exclusive rights for game and coarse fishing and a canoe launch/landing point. There's a canoe hire company sited a short walk from the site, whilst fresh, seasonal fruit and veg is often available to buy as well as basic supplies like tea, coffee, sugar, milk, bacon and eggs. This 60-pitch campsite is a 'Soil Association' certificated organic farm comprised of arable pasture, orchards and woodland and the sites tranquil river bank is an SSSI (Site of Special Scientific Interest).
Reviews
Add Your Review
Nice location
This site is well located within an easy walk of Hay on Wye, and the field itself is pleasant. However, it's described as being by the river and actually you can't see the river from the camping field and you can't access the river (except for canoeing) without walking in to Hay. We were not impressed with the toilet and shower facilities, we are used to campsites with composting toilets but these ones were dark, smelly and covered in cobwebs and our children hated using them. Composting toilets can be fresh, bright and clean so it shouldn't be an excuse for inferior facilities! In any case the main toilet isn't a proper composting toilet, it's more like a long drop (into a bin) which is probably why it was smelly. The showers are behind the washing up areas so lose pressure when someone is washing up and again are dingy and cobwebbed. On the plus side the water was hot and we didn't need to wait to wash up. Admittedly we stayed over the bank holiday weekend but the facilities were not adequate for the number of people staying - the 2 toilets and 2 showers were supplemented with a couple of portaloos and a portable shower (which look very unattractive) but the site was very busy and we had to wait for the toilets and showers more often than not. The recycling facilities are just the standard council offer, previously when we have stayed at eco campsites they have used specialist recycling companies which mean you can recycle far more, such as plastic film etc, so I'm not sure why this is claimed as a particular feature of this site. The owners were nice but all in all we were really disappointed in this site, especially as it was not cheap. Definitely won't be going back!
Beautiful and quiet
I loved this site. So relaxed and simple. The compost toilets weren't as scary as I expected, and other facilities good. Ros was lovely, and the children enjoyed walking her dog around the campsite. The site seemed very quiet, given it was the summer holidays. We aren't the most sociable of campers, but it was even a little quiet for us!
River idyll
Racquety Farm is wonderful. Really well run. Composting loos and showers are practical, well maintained and it all works. We camped in the corner of the top field, surrounded by perfect views and ripe blackberry hedges. A five minute walk down a public footpath took us to the perfect stretch of river for an evening swim. We took our canoe, and the team at Want To Canoe picked us up six miles down the river with minimal fuss. This whole business gets the balance just right - it feels informal and relaxed, but seriously well run by a team who really know their stuff.
Amazing views of Hay Castle
Warm welcome from Ros. Beautiful campsite, perfect for walking, cycling and canoeing. Short walk to Hay on Wye, where there are plenty of places to eat and drink. Would certainly return.
Peaceful friendly campsite in beautiful countryside
Very relaxing 2 night stay in the orchard field. The owners Geoff and Ros are friendly and helpful without being intrusive, and their commitment to sustainability in all aspects of the site is inspiring. It's great to enjoy your own camp fire in the evening, wander through the farm and down to the River Wye, or walk 10 minutes into Hay on Wye. Would recommend to anyone looking for a proper camping experience and hope to return.
The relaxed and peaceful atmosphere
We, 4 adults, stayed for 3 nights with a toddler and a baby in 2 tents. There was plenty of space for the 2 year old to explore safely. Ros wandered around occasionally making sure we had plenty of wood for the fire and everything was ok for us. I was a bit unsure about the composting toilets but discovered they were no problem to use and were clean and odour free (mostly). It didn't take long to get used to them and they weren't at all unpleasant. It was a very short walk into Hay or down to the river and along the river path. Plenty to do and see and lots of places to eat. It was nice to go to sleep and wake up listening to the wild life, although the horses galloping along the next field was a bit of a surprise. We'll definitely be going back for another stay.
lovely site, a must visit
Lovely site with amazing location and facilities. Enjoyed being able to have campfires. Owners were very friendly and helpful with information about town, directions and local attractions.
Best Price Guarantee, with no fees
Instant booking confirmation
Trusted for 10 years
A chance to win camping goodies in our regular competitions!
Book campsites near Racquety Farm