Digeddi Wildlife Camping
Digeddi Wildlife Camping, Digeddi Stud and Stables, Hay-on-Wye, Powys HR3 5PR













Riverside camping and glamping with canoes for hire, a pub within walking distance and the famous book town of Hay-on-Wye just around the corner
There's something almost continental about Digeddi Wildlife Camping. When the sun's out and your down on the riverside beach with sausages on the BBQ you could be forgiven for thinking you're in the middle of France. Canoes are pulled up on the smooth, grey pebbles and the water flows quietly by. It's not long before you're in for a swim.
There are, however, some tell tale signs of England. In the large, gently sloping meadow behind, shire horses chomp their way through the grass, while, around, the oak trees and woodland that cover the Wye Valley are a truly native scene. The temperature is normally a little lower than the south of France, too, but a good campfire can easily sort that problem out. This is proper camping after all.
The camping itself is very much of the traditional kind. There's room for 100 pitches but, as a result, it's rarely full and there's plenty of space. There's nothing regimented either; just pick a spot and pitch your tent. You can pop it down near the riverside – particularly good if you want a campfire by the water ­– or head up to the top of the slope with far reaching views.
Glamping is also an option here for those seeking a little more comfort. A bow top gypsy wagon, traditionally painted and parked at the top of the meadow, sleeps two, and there's a larger, French-style Roulotte that can sleep three. Both have everything needed, so you can simply arrive with a little food and a toothbrush!
The real highlight of the campsite, however, is the location. Like Digeddi, many sites in the area boast footpaths on their doorstep, but few also have such easy access to the River Wye. You can hire canoes and drift gently downstream (picked up later by the campsite owners) or follow it upstream, on foot, to the famous book town of Hay-on-Wye. Indeed, you could easily spend you entire holiday here and never use your car. The town has enough to keep you busy for several days, while walking and canoeing can fill the rest. Even the nearest pub is just a short stroll across the next-door field.
Gallery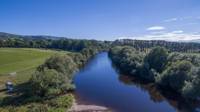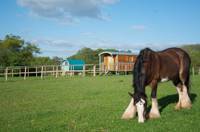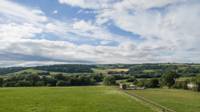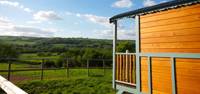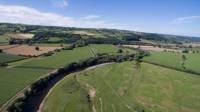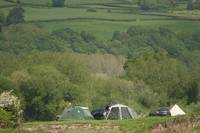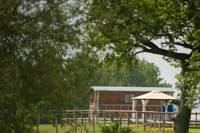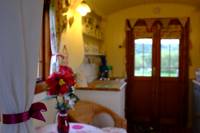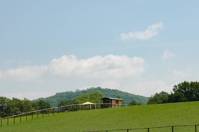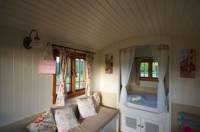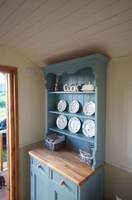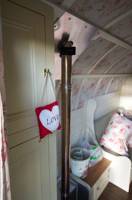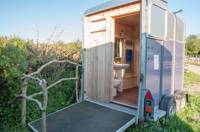 Video Tour
Reviews
Add Your Review
fabulous!
Perfect retreat , everyone made us feel so welcome but left you to it once you were settled in . Every detail was perfect & we loved every minute
Perfect
The perfect campsite.
Beautiul location and brilliant hosts
Our three nights at Digeddi were amazing. Starting with the negative points, there was one. There is only one shower for the whole site, albeit a very nice shower in a disused horse box. On a positive note, the location was exceptional with plenty of space for everyone. We pitched our tent by our car in our own space, big enough for a small group 30 metres from the river. The pitch was flat and came with own fire pit. It is a 5 min drive to the beautiful town of Hay on Wye and supermarket and pubs. Our host Sue-zi was exceptionally accommodating and helpful. I would definitely return and recommend to others including my friends who I hope will join us next time.
Camping like it should be
An idyllic few days camped right on the riverbank. The campsite is lovely...horses, donkeys, swans, ducks, birds and amazing views. We swam in the river twice a day, walked into Hay (beautiful three mile walk around the quiet way) for a nice bar meal and felt thoroughly chilled out. Pete, Sue-zi and their family were really friendly and helpful, popped round to offer logs for the fire pits and helped us find the perfect pitch which was nice and flat, five min walk from the loos and shower but far enough away to feel like we had the whole,place to ourselves. No kids, no noise, no vehicles..perfect!
Great location & views
Had a great weekend with so much to do in the surrounding area the location and scenery are amazing
What A Stay!!!!
My husband, 2 year old daughter and I have just returned from a short break at Digeddi and we're already wishing we were going back. What a beautiful place. So quiet, surrounded by very friendly, inquisitive horses which our daughter loved. We stayed in the French Roulotte and it was very well provided for. We bought some of our own camping supplies thinking we might need them but no. Perfect space, lovely comfortable bed, our own garden (which is bigger than ours at home). Undercover decking for bad weather (we had wall to wall sunshine), BBQ over looking the rolling fields and river. The horsebox shower was superb and thank you so much to Suezi and co for accommodating us and being utterly brilliant. Fantastic hosts.
Great campsite
The kids had a whale of a time as they can pretty much do what they want as they had the space and they loved being able to see and pat the horses. The views from the top were spectacular. Swimming in the river was great fun and being able to have a camp fire made a big difference. As others have said, the facilities are basic but they are spotless. The shower was really fun.
If I could give 6 stars I would!
Suezi and Pete are brilliant, nothing is too much trouble for them. Always chatty and friendly. The toilets are basic but spotlessly clean. The shower (a converted horse box!) is a joy, probably the best campsite shower I have ever used. The site is spectacular, especially as it is part of a working stud farm. We set up on the top field (by choice), yes you are not by the river but the views are stunning and we had the field to our self for the week! If Suezi is not about, the parrot will always say hello! Remember, this is "wild camping" so don't expect rows of tents in neat lines and massive toilet / shower blocks, I shudder just thinking about that sort of site! I have not mentioned the surrounding area as other reviewers have already done so but it is a great place to visit. We are looking forward to coming back as soon as possible.
Amazing family camping experience!
This place is awesome! We previously camped at a place that had a pizza van, bakery, juice bar, coffee bar, restaurant, camp shop and all mod conveniences... so we wanted to try something a bit closer to wild camping. Digeddi provides the basics we needed (shower/toilets/water/firewood) which meant we got the 9almost) self-sufficiency we were after. We got a pitch close to the river. While we were there, the met office issued a yellow rain warning, which meant there was a risk of the river swelling and flooding the lower pitches. However, Suezi and Pete were fantastic in keeping us up to date on water levels and offered us many helpers in the event we had to move. Thankfully this wasn't necessary but they handled it exceptionally and kept our minds at rest so we could enjoy the week with the kids! Everything mentioned on the Cool camping website for this campsite is spot on. Local amenities are great and Hay-on-Wye is a beautiful little village with everything you might need. Easy drive to horse trekking in the hills and a canoeing on the Wye so thoroughly recommend for families. Can't wait to go back!
Wild Riverside Camping with Luxurious Facilities!
This is easily one of my favourite campsites. It's set on a working stud farm, so there are loads of horses in paddocks and stables, and sheep everywhere! The people who run the place are really friendly and helpful, too. We stayed in the wild camping area, right on the banks of the river. Campfires on the ground are allowed and Suezi came by every day with firewood to buy. We were a large group of 12, but there was enough space that we were able to sit around a campfire each night without disturbing other guests. It's quite a walk to the toilets and showers but it's worth it. The toilets are clean and warm and always have toilet paper. Then there's a shower cubicle, with changing area and a powerful shower with endless hot water. Easily the best camping shower, ever. It get's better, though! There's also a glamping shower, which also contains a shower and changing area and toilet, but this shower is almost certainly better than your shower at home! I've never seen anything like it. The campsite is about 2 miles from Hay, though I don't recommend walking down the main road. You can walk about 3 miles through the countryside, which is a much nicer walk. Hay is also lovely. There's also the black mountains nearby and Offa's Dyke, so lots of good walking, and the campsite can help you arrange a canoeing trip with a local firm who will pick you up and drop you off as part of the trip. We have a brilliant day's canoeing this way. The setting of this campsite is the strongest point, I think. Watching the sunrise in the valley was reason enough to camp here. Highly recommended. We will be back :)
Quirky Wild
Firstly we don't normally wold camp and this trip was our neighbours first camp out. So we wanted to be near the loos and found for us our awning and transporter the hill site was a better location. The loos and water in easy distance didn't mean a compromise on setting. Yes it wasn't right next to the river which is the great appeal of this site but I have to say the view was still fantastic. We were greater by friendly laid back Suzi who gave us a choice of pitches. You have to drive through a working stables to get on site and the donkey is very keen to great you. We woke to the sound of sheep surrounding us in the morning before they took themselves off down the hill. It is a bit of a walk to the one shower £2.50 a go but it is a really nice shower situated in a horse box. Very clever. Would be nice to have a couple more though. All in all basic, beautiful, friendly, dog happy and fire pit friendly camp site near lovely Hay On Wye.
Fantastic stay
Me and my pal have just returned from two fantastic nights at Digeddi, staying in the French Roulotte overlooking the fields and river. We had a really wonderful time. The site is really accessible for Hay-on-Wye (five mins by car) which for us was a great base for a hilly long walk around the countryside, but also has the famous bookshops, festival, and lovely cafes. But really - this site could be in the middle of nowhere and be perfect - we could easily have spent the whole time on the site. Staying in the Roulotte you have special access to the most luxurious (hot!!!) shower, toilet and sink in a converted horsebox - a real luxury - yes it is a short walk away from the Roulotte but a real luxury compared to camping 'proper'! We had a magical time watching the sunset, watching the activity of the farm from our pitch looking over the rest of the site. Being woken up by the sound of pheasants, lambs and playing horses. Just perfect. Very functional space inside - comfy bed, good kitchen facilities, with a plug in electric stove that we used for cooking - BBQ would be possible but as someone else said maybe good to bring your own charcoal and even firelighters - for us having a log fire outside for two nights in April was great! Lastly, Susie our host was super friendly, made us feel really at home, welcome and comfortable - very communicative and helpful. Thank you very much - we had a really fantastic time. Helen & Lisa
wonderful site, wonderful people!
We stayed at Digeddi over the bank holiday weekend. It is a beautiful, natural site, with plenty of space and a wonderful location. The stars on the first night were stunning, as we enjoyed sitting around our campfire. There are few facilities at Digeddi, but what there is are clean. We took our kayak and launched 20m from our tent, and enjoyed watching many others messing about on the river as they passed. The Children enjoyed seeing the horses, and swans, and the freedom such a space provides. There is a lovely looking gypsy caravan if you need more comfort with a river side location. What we cannot fault is the lovely welcome you get at Digeddi, they Suezi, Pete, J.D and co. certainly go above and beyond to ensure you enjoy your stay. Our holiday nearly didn't begin when our car broke down 10 miles from the site, just as it was getting dark. They were wonderful, driving out to locate our car (with boat on top!) and tow us into site. So our weekend was saved, and they also put us in touch with a local garage who transported our car home (and on a bank holiday weekend!!). We will definitely be returning, once the car is fixed!!!
Chilled
A lovely campsite - close to nature in a gorgeous setting. We parked our van right on the riverbank. There are toilets and showers which are a five minute walk from the river bank. This is definitely a wild camping site at the moment although they do have plans to add more facilities. However, we loved it just as it was. There is paddling and swimming in the river; local towns to visit; a swimming pool in Hay that you can book for an hour for £10!. All in all excellent.
Glorious...
Trying to find great campsites is not easy. As the saying goes, 'One man's meat is another man's poison'. You can read reviews on the various camping websites and here and still not really know if the place is going to be right for YOU. With the sun due to shine for a couple of days and my kids off school, i decided on a last minute run to the sun in our campervan and jumped online to find a campsite in the Wye Valley area. We only have a few requirements when camping and these generally help us get something that suits us... Campfires allowed, dogs allowed, campervans allowed and near water... with those filters we generally get some decent sites. Not always, but mostly. Quiet, friendly no frills, no caravans. And Digeddi or Wildlife Camping is exactly that - AND MORE! Situated on the banks of the Wye, the picturesque site is pretty big. But not big as in crowded, big as in has loads of space for the visitors to be able to camp away from other people... It's the nearest thing you will get to wild camping whilst still having access to a few facilities. But that is it... a few facilities. And they're not exactly on your door step! There are 3 toilets and a shower. All of which were immaculately clean. But a good 5 minute walk from our pitch, and probably more like 7/8 from the furthest pitch! There was a tap for water, and I think the owner Sue-Zi mentioned a fridge and freezer. So that just left us, and the 5 or six other sets of campers with nothing other than a bit of space, a bit of quiet, a lovely meandering river just a few feet from our doors, and a clear night sky... oh and a ground firepit. On the way home, we all agreed that Digeddi is the nicest campsite we have visited. my 7 year old (eldest) daughter summed it up best... I loved the river, it was great to be able to go where we wanted and not have loads of people around. With all that said and done, I have a feeling that Digeddi may well not be the same when we go back - and we will. The owners have in the last few weeks added the campsite to cool camping. And following a number of 5 star reviews, they are expecting a bumper bank holiday weekend... I look forward to seeing the reviews over the net couple of weeks and hope that the guys manage to retain the charm it had for us when they get discovered by more of us!!
Kingfishers with breakfast
Made a last minute decision to stay here having read the Cool Camping description and we were not disappointed. Suezi took us to a beautiful, sheltered riverside pitch with not another tent in sight (or sound) and a couple of swans (more on them later) gliding past on the river. We had the company of three horses in the field to the rear of us, but otherwise we had the place to ourselves. It truly was wildlife camping with so many birds on and around the river, grey heron, little egret, cormorant, buzzard, thrush, long tailed tits and kingfisher - seeing these brightly coloured birds darting between perches over the river, blue and orange glinting in the sunlight and reflecting in the calm water, was one of the highlights of our stay. Suezi and her family were very friendly and helped us settle in nicely. Most of the other human contact on the site came from waving good morning to the canoeists taking a break from paddling as they drifted past our spot. The swans provided considerable entertainment as just next to our pitch was a steep bank that a pair of swans used to ascend from the river several times a day and join the horses grazing in the field behind us. It could be quite startling at times to find a huge swan just next to the tent, but added to the general wildness of the location. It was a great setting for campfires (logs delivered to your tent) as the sun set behind the further bank of the river. No light pollution meant lots of stars were visible right down to the horizon so you could see lots of constellations and the Milky Way. All-in-all one of our best camping experiences in the UK.
Cooler than cool!
What a find! This has to be the best camping experience we have had. Our 5 night stay in the beautiful Gypsy caravan was warm, comfortable and fully equipped. We had our own private view of the river, where we sat for hours watching and listening to the river birds - and canoeists navigating the gentle rapids, with evenings spent cooking on the barbeque and burning logs on the fire basket, all supplied by Digeddi, with amazing night skies devoid of light pollution. As well as the comfort of the bow top caravan, the quirky bathroom (...a converted horse trailer...) has the most amazing shower and cleanliness not usually seen when camping - a real treat! There's plenty to do in the area if you can pull yourself away from Digeddi, Hay-on Wye is lovely book town and canoeing down the river Wye is a must! Digeddi itself is peaceful and welcoming. Suezi, Pete and family take care to make sure the area you choose to camp in remains well spaced away from others to allow for privacy so you can appreciate your surroundings rather than listen to neighbours. This is a perfect retreat for nature lovers, walkers, artists, photographers, fishing etc, not to mention horse lovers (...like myself...) as it has the extra added bonus of being on a very well run family stud farm. We received a really warm welcome on arrival which remained throughout our stay - Suezi even took me to see her stunning horse which was a real treat. The whole place has a family feel, not at all commercial, it is as if Suezi and Pete want to share the magic of Digeddi with everyone. It was very difficult to leave it all behind but we will definitely return to try out the French roullotte!
Win a £100 Blacks Voucher!
If you've stayed at Digeddi Wildlife Camping campsite, please take a minute to tell us about your experience. Every month, one lucky reviewer will be picked at random to win a £100 voucher, courtesy of our recommended retailer Blacks. Each review counts as one entry, so get writing!

Best Price Guarantee, with no fees
Instant booking confirmation
Trusted for 10 years
A chance to win camping goodies in our regular competitions!
Book campsites near Digeddi Wildlife Camping