Red Kite Tree Tent
Newbridge-on-Wye, Builth Wells, Powys, Wales LD2 3SG








An innovative tent-cum-tree-house that offers both a unique camping experience and a wonderful location.
Remember when you were young, carefree and charging around like a wild thing in the woods? And then you got that little bit too carried away and found your frisbee was stuck in the trees or your football wedged high amongst the branches? Well take that football, enlarge it into a bright and bulging sphere of wendy-house type proportions and you get an idea of what this weird and wonderful tree tent looks like.
Well… sort of. It certainly hangs among the branches like something only an overzealous human could have flung there, its bright turquoise exterior contrasting colorfully against the trees, yet this is far from a children's toy. Deep in the woods of mid Wales, overlooking a babbling, rocky brook, Red Kite Tree Tent is in fact a masterpiece of design and architecture, and a rightful show stopper in Channel 4's recent series of George Clarke's Amazing Spaces.
A combination of hybrid aluminum and steam bent, green ash, Red Kite Tree Tent's frame is suspended among native pines by unobtrusive metal wires. Initially it may sound a little daunting, as if you're dangling far from anything, but the tree tent also backs on to a large decking area with chairs, a table and an outdoor cooking space. Inside a main support pole is a shiny centre piece, surrounded by a plush double bed and a cosy wood burning stove, while the magenta lining gives a mature and cosy feel that seems to fit with the forest setting. There are few places that are as enjoyable to camp in when the weather is both good and bad but here a dodgy forecast is almost a pleasure: You can shut yourself away, stoke the fire and feel unbelievably cocooned, the wind making an accentuated rushing sound amongst the trees and the tent rocking gently within the air!
Though its innovative design could fill a book – or indeed a television show – Red Kite Tree Tent owes as much to its setting as to the structure itself. Down a seemingly endless single lane track, the site has an immediate sense of peace and isolation. It's a place to re-engage with the forested surroundings, dabbling around in the stream and simply enjoying the pleasures of having the vast 80-acre woodland entirely to yourselves. There's wildlife aplenty and, as the name suggests, red kites swooping overhead are not an unusual spectacle. To really get up close, though, it's a 20-minute drive to the Gigrin Farm Feeding Station – not to be missed.
Gallery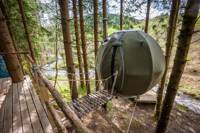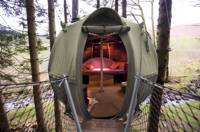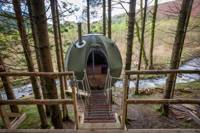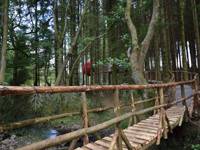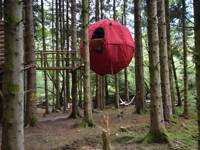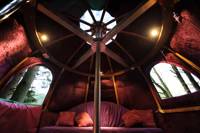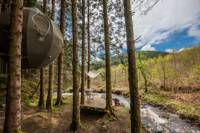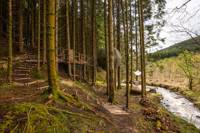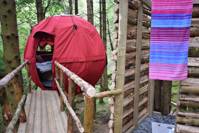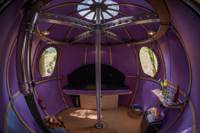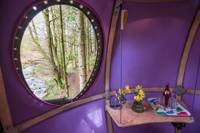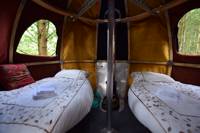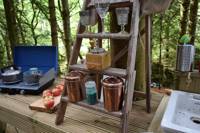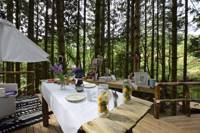 The Owner Says
This bright red "Dragon Egg" tree tent is located off grid in a wonderful, remote, rural woodland location set beside a small babbling stream and located centrally between the Brecon Beacons, Builth Wells and Llandrindod Wells. Making it perfect for long countryside walks through forests and valleys, mountain biking, fishing and canoeing.
Win a £100 Blacks Voucher!
If you've stayed at Red Kite Tree Tent campsite, please take a minute to tell us about your experience. Every month, one lucky reviewer will be picked at random to win a £100 voucher, courtesy of our recommended retailer Blacks. Each review counts as one entry, so get writing!

Reviews
Sign up or sign in to leave your review of Red Kite Tree Tent
Last year's magical woodland retreat. September 12th - 15th, 2017
Beware of the muffin thieving bird! We had an amazing time at this beautiful place when we stayed last year, and it was so relaxing chilling by the tyre or the hammock. The countryside around was breathtaking; highly recommend you go for a horse ride through the Welsh mountains! (LD1 CPN) Thank you for letting us stay here and hopefully we'll be back soon!
Little bit of awesome
Thank you for building this little bit of awesome! Surrounded by trees and being next the river falling asleep to the sounds of it babbling has been such a treat and we have both enjoyed ourselves immensely. Hope to return again! Ceri and Alex
Escape from City
We are a couple from London. It was a lovely escape for us from the chaos of big city. Views are absolutely stunning, and relaxing. Shame we didn't have time to do everything what we wanted. So we look forward to visiting again. Jane and Neil xx
Brilliant birthday present
We came here to celebrate both of our birthdays. We had a lovely relaxing time getting away from technology, we'd love to come back and stay again!
Unique and Wonderful place
We had an awesome stay out here at this tent. It was a wonderful escape and perfect rest to recharge your batteries before returning to "work life". Thank you for really warm and nice contact. Hope to be back soon :)
Best Price Guarantee, with no fees
Instant booking confirmation
Trusted for 10 years
A chance to win camping goodies in our regular competitions!
Free Eat Natural hamper with every Cool Camping booking in April.
Book campsites near Red Kite Tree Tent