Just a 20-minute walk to the foot of the Black Mountains region of the Brecon Beacons, where fabulous walking is to be had
The beauty to be found about the Brecon Beacons is no secret and every year many thousands of tourists come to walk the hills, breathe the air and take in the exceptional views. Principal stopping-off point is the town of Brecon (Aberhonddu), from where there's easy access to the most popular routes. Hay-on-Wye (Y Gelli), to the northeast, serves a smaller number of visitors and, again, has well signposted thoroughfares to the hills and a steady stream of walkers. Between these two bustling centres is Newcourt Farm campsite, the launch pad for an altogether different experience of the Brecon Beacons.
A defiantly non-touristy site in a lesser-visited slice of these hills, Newcourt campsite demands some effort on the part of the visitor. Firstly, you'll have to find it; no easy task in a sprawling landscape of narrow lanes. You also have to bring all your own supplies as there's no shop onsite, nor any shop for many miles. And if your aim is to take to the hills, which is pretty much the only item on the agenda here other than sitting in a deckchair and looking out at them, then you'll need an Ordnance Survey map and a compass, as well as some basic orienteering skills. The rewards, though, are worth the effort. Not only does the view from almost every pitch encompass a rich Black Mountains landscape, but when you do set off to explore, you're likely to have the hills to yourself.
The campsite, a hedged field with the thinnest scattering of pear and apple trees, is within the vast 520 square miles of the Brecon Beacons National Park, so as you might expect, development has been kept to a minimum (though there is a handy shower block). Reception is on the campsite at the end of the tractor shed – a suitabley rustic enironment. If there's no one available when you arrive, just pitch up and someone will come and find you later.
It might be a good idea to take a book or two with you to Newcourt campsite, given the lack of busy entertainment in the area, but there is a hearty local pub in nearby Felindre and, really, the low key nature of this site is precisely where the attraction lies. For campers who don't mind a bit of planning, preparation and perseverance, Newcourt Farm is an outstanding countryside site with rewarding walking.
Best Price Guarantee
Easy and Secure, with instant booking confirmation
Trusted for over 10 years
A chance to win a brand new Coleman tent!
Gallery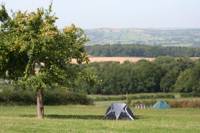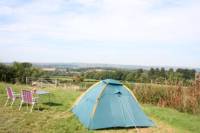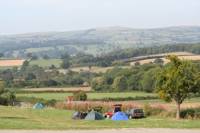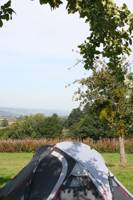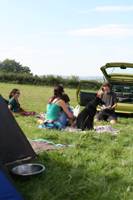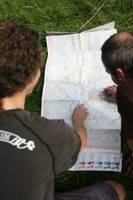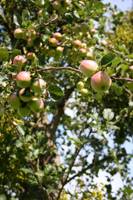 Reader Reviews
Add Your Review
Great campsite
Fressly arrived from Holland we used Coolcamping to find places like this. At arival we were welcomed by David, the owner of the site. It take some time to talk to David and he told us all about the site and especially the DofE, of wich we didn't know much about. Now we do, we've seen it in action. As we pitch our tent in the far end of the field, it's quite a little walk to the facilities. But David installed freshwater tabs at strategic points in the field so water is always near by. If you are looking for a campsite with outstanding natural beauty, great walks just out of the field, this is one of them !
Newcourt Farm
We arrived on a Thursday before a bank holiday weekend, the site was very quiet but soon filled up on Friday. The washing up area, toilets and showers were clean and really nice, but just not enough of them for the amount of people there over a bank holiday. The fields are mostly on a slight slope and the grass could do with being mown a bit more regularly. Overall, probably fine during quieter periods, it advertises it is a DofE site, which it is very well suited to.
Lovely campsite
A lovely quiet campsite  with stunning views. The facilities are clean and well maintained, the site owners are friendly and there is lots of beautiful countryside to explore. Definitely worth a visit.
Newcourt Farm
Newcourt Farm
Perfect campsite for a quiet, relaxing few days. Almost exactly as described in the book. Great views of sky and valley. Well sign posted. Farmer David Mills very friendly, filled us in on great forest and hill walks. Stunning area to blow away the cobwebs.
Local pub in Felindre much better than described in book (perhaps it has changed hands). Welcoming to us and dog. All day reasonably priced food.
We definitely intend to go back.
Newcourt Farm
We have been visiting this site for many years, mostly during Hay Festival week, and we love it. It is everything we want in a camp site; tranquil and with the most beautiful views and the owners don't come any better.
Newcourt Farm
A delightful campsite with outstanding views and well managed. Looking forwrd to a return visit. Fantastic walking from the site. Highly recommended.
Book campsites near Newcourt Farm