Pentre Cwrt, Llandysul, Carmarthenshire SA44 5BB










Two glamping bell tents nestled on the banks of the River Teifi in West Wales
A shingle bank on the opposite side of the Teifi makes the perfect spot to practice your skimming at Henfryn Farm. Weedy, wild grasses sprout from the surface like tufts of natural hair and the choice of fine, flat stones mean those in the know have ample choice on offer. Pick up your chosen cobble, place it flatly in your palm and send it out across the river, skipping along the water until it plops delicately beneath the surface. With enough practice you could even enter yourself into the Welsh Open Skimming Championships around an hours drive away. The winner is given his own special pebble and crowned the Welsh Champion Tosser – though, we're not sure whether that's a title to strive for or not.
Tucked down the rural lanes of West Wales, the simple pleasure of sitting in your deck chair as the kids skim stones in the sun is just one of many dreamy scenarios at this small-scale, organic farm. Home to a herd of traditional Hereford-cross cattle and fluffy Llanwenog sheep, Henfryn Farm is the sort of effortlessly attractive place that has little in the way of man-made attractions, yet somehow provides endless fun for all the family. The surrounding landscape is riddled with excellent footpaths to explore, while the aforementioned river – languid and inviting – is also perfect for boating and dabbling along the edges (though the bank closest to the bell tent is steep so kids should be careful). The two farm dogs are friendly and playful and the organic status of the farm, including adjoining acres of SSSI landscape, mean wildlife is bountiful.
The site itself is made up of just two secluded camping pitches, a trio of fully furnished bell tents and, new for 2017, a shepherd's hut with a built in bed, kitchen area and wood burning stove. All the glamping structures are dotted around in their own private spaces – one bell tent overlooks an open hay meadow, another is directly on the riverside – and, though entirely off-grid, the homely abodes are kitted out with comforts in mind. There is a double bed in each bell tent, accompanied by either a double futon or a pair of inflatable beds. Along with bedding and linen, they also include wood-burning stoves for cooler evenings, plus all the pots, pans and crockery you need for cooking up some fresh meat bought from the farm shop.
The more adventurous, of course, bring their own tents along and try cooking over the open campfire – fires are an encouraged part of the outdoor experience here. To top it off, you can enjoy your molten marshmallows with a bottle of the farm's own home-brewed cider, made with apples from the orchards around the campsite. A homemade treat at a homely little campsite. We'll cheers to that.
Gallery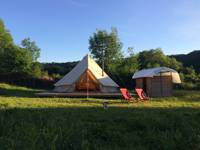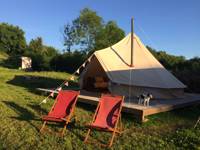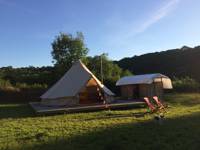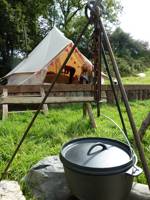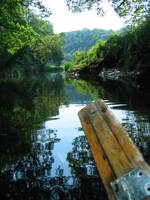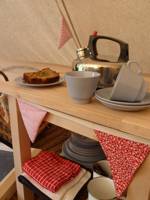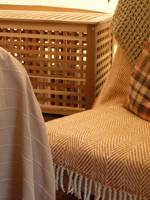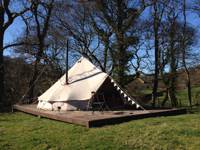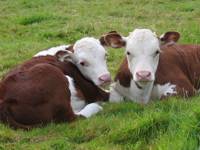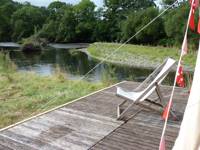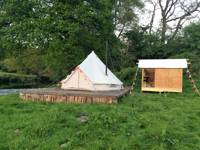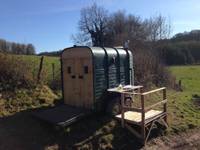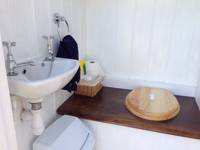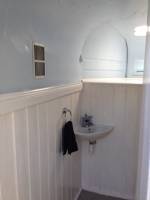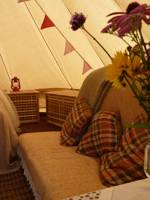 The Owner Says
We think Henfryn is a very special place so we would like to invite you to experience it for yourself!
Enjoy the lovely views down to the river, have a camp fire and relax in beautiful surroundings. On the edge of the Carmarthenshire Ceridigeon border, we are a stones throw from the West Wales Costal Path, the beautiful Preseli Mountains and many gardens museums and beaches.
If you want to travel a little further, Pembrokeshire and Ceridigeon attractions, or even the beautiful Island of Skomer can be reached by day trips.
This is a working farm so expect to see cows, sheep, geese and chickens. Collect some fresh eggs for your breakfast or try a couple of our delicious steaks or burgers from the freezer for your BBQ!
Reviews
Add Your Review
The peacefulness
Came back from our 4th B/H annual break at Henfryn Farm on Monday. Absolutely brilliant as usual. Brand new tent, all equipment immaculate, beautiful weather & such a relaxing experience right next to the river in the bottom field as usual. Rob & Mhairi are the loveliest people & work so so hard to ensure that every single stay is perfect. The farm dogs Rosie & Bramble are just adorable & we never leave them without a stock of sausages... We've considered trying to sneak them home with us but the farm wouldn't be the same without them! Already booked our next year break & have added in an extra night! Thank you Rob & Mhairi - You're the best
Under the trees
We arrived at a traditional looking farm, chickens pecking around, cattle having a nose at us new arrivals over the top of the fence and sheep grazing in the fields. They provide wheelbarrows to carry your luggage down, though we didn't use them as was just staying one night, last weekend of their season. We had mentioned we were bringing my 5year old son, and they fixed up a fire guard around the wood stove, which soon gets the place warm. The tent itself is positioned under the trees, you could hear the wind through the leaves, lulling you to sleep, very peaceful no near neighbors only the wildlife. Good selection of pans, wine glasses, glasses, cups, cutlery, very tasty hot chocolate too. The double bed was very comfy and snuggled under the blankets, we; my childhood friend, my son and I all slept in the double, plenty of room, though there is a sofa bed too. 
Throughly recommend here, organic farm that produces eggs, beef and lamb when available. Looking forward to next year.. Oh and lovely hot showers too 😀 
Best Price Guarantee, with no fees
Instant booking confirmation
Trusted for 10 years
A chance to win camping goodies in our regular competitions!
Book campsites near Henfryn Farm