Middle Ninfa Farm
Llanellen nr Abergavenny, Monmouthshire NP7 9LE













If ever a hill can be said to cascade down into a valley it's the Blorenge, halfway up which perches the smallholding of Middle Ninfa ('charcoal burner' in Welsh). From its three tiny and secluded wild pitches on the edge of the Brecon Beacons you can imagine yourself an eagle lording it over the Usk Valley. A little closer to hand, though still far below, is the owners' cottage with its tennis-court-cum-croquet-lawn, next to which is a space for another tent or two. Even down here the view is an extraordinary one, off out into the blue and across to the Skirrid mountain. Around the fire listen out for tawny owls in the woods, the occasional scream of a steam train's whistle, and the crack of wood on wood if other guests are playing on the croquet lawn (or the crack of wood on scalp if things have become sufficiently heated). In the morning, expect a visit from a playful young cat and one exceedingly gentle chestnut horse who is all happy to be made a fuss of and careful not to tread on anything she shouldn't. A short trek upwards leads to a wonderful nature reserve and pond, while vertigo sufferers can check themselves into a luxurious bunkhouse by the cottage. Meanwhile, the site's eco credentials even run to a compost loo in a tiny shed in the garden. And just in case all this were not heaven enough, you can book yourself a session in Middle Ninfa's very own wood-fired sauna. Just spare everyone the jokes about becoming a Ninfa-maniac.
Gallery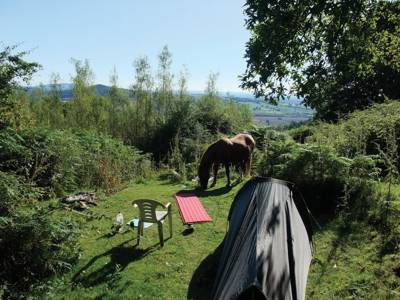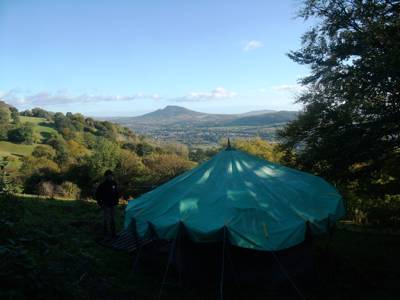 Reviews
Sign up or sign in to leave your review of Middle Ninfa Farm
Warm and friendly tiny site!
If you love nice hot showers, flat, stone-free, easy access pitches but a rubbish view and grumpy owners, this is certainly not the site for you. Yes, it is a bit hilly but the view is outstanding! The owners are most friendly and full of interesting stories of life in Africa. Having lived in Kenya ourselves, we marvelled at the Kenyan engineered water tower next to the eco-loo block. Home from home! The 'solar' shower was, again reminiscent of African travels, consisting of a radiator painted black situated in deep shade and entirely useless. We stayed at Easter and the site was awash with bluebells. We wandered up to the beautiful glacial tarn above the site where we swam in the cold water along with a swim in the Usk (however, possibly warmer than the shower!). We would definitely return with friends for another Welsh adventure. A stay of 3 nights we found to be perfect!
Basic, rugged, perfect!
Me and my partner stayed on the 'forest pitch' at the beginning of July, and we loved it! To get to the pitch requires a fairly long, very steep walk up the hillside but it was so worth it and we felt wonderfully secluded - but maybe we'll travel a bit lighter next time to avoid multiple trips up the hill with our gear! The pitch is under a canopy of trees in the woods and looking past the fire pit offers a cracking view of the distant hills. The area was fantastic, great walks in every direction and some lovely pubs to find along the way. We can't wait to go back!
The ultimate city break
We went to Middle Ninfa last weekend. It was the best campsite we have been to in the U.K. If you're tired of camping in a large open field then this is the place for you. We stayed in one of the secluded sites and it was perfect- quiet, peaceful and relaxing. We also bought veggies from the owner to cook for dinner. We enjoyed making a fire each night in the fire pit. The hiking nearby around the Blorenge was great and the owner provided us with a handy sheet describing the circular 8-mile walk. If you're looking for a place where you have peace and quiet, and like a rustic eco-friendly ambiance then this place is for you. If you want fancy facilities and prefer to drive your car right next to your tent site then this isn't your type of place.
Fantastic place
I spent three nights at the end of May 2014  in the Celtic Roundhouse with my husband and three boys and we had a wonderful time. The boys loved the fact that we could have a campfire and I loved the seclusion of our own private spot. We have booked to go back next week with our own tent. This is a real gem of a place to have discovered!

Tranquil
Just got back from Middle Ninfa where I spent two nights on the Dixie pitch. Apart from one other couple, I was the only person there as the Lewises were on holiday, although I did chat to Rohan on their return shortly before I left. I was expecting wonderful views and peace and quiet and got both in spades. I like the wilderness and the absence of humans when I go camping and this was a good compromise. The facilities were basic but fine for me – luxury of luxuries, I even managed a cold shower (not enough sun to trigger the solar power at this time of year I suppose).
I did make it to the top of Blorenge as part of a short 8-mile circular walk  – windswept and magnificent views and worth the climb. Passed Punch bowl on the way down and remember thinking it would not look out of place at Stourhead or other NT properties! Beautiful and tranquil, and a couple of visits from the horse. I spent a good 2 hours stargazing through binocs the first night - pretty much zero light pollution up there and looking north-east at that time of year, Cassiopeia in the middle of the Milky Way provides almost endless wonders. Hope to be back late winter.
Best Price Guarantee, with no fees
Instant booking confirmation
Trusted for 10 years
Chance to win camping goodies in our regular competitions!
October rain
Camping in Wales in October..
Well yes, what fun if you have a copy of tiny campsites as I do. This is the first site in the book I picked, mainly because I love the area, but also because it is in the top 5. The owners were a delight, despite preparing for a holiday, and were most welcoming. Small Leafed Lime is a wonderful remote site up on the hill and an excellent choice for my first visit (and there will be more, despite the rain almost stopping me from getting up those last few yards into the farm itself on the second night). And with the Black Mountains as a lure, there are few better reasons to return again.
What a great campsite!
There's not much more I could add to the other reviewers. It's a wonderful campsite that's easy to get to yet remote enough from civilisation, and Richard and Rohan are lovely hosts.
Richard kindly showed us the best way to hike to Blaenavon, taking the scenic route along the Iron Mountain Trail. The sauna is a top-secret luxury if you feel like camping in winter. 
We've stayed at two of the sites now, Small-leaf lime and Skirrid View, and both are ace.  Probably one of the nicest things about Middle Ninfa Farm is that you've got your own campsite, pretty far from the other sites - rather than being lined up with other tents in some farmer's field or at the front of a youth hostel.
So in three words to round off: highly, highly recommended!
Middle Ninfa Farm
What a fantastic campsite! A beautiful campsite (though the drive up the hill with a full car was a bit touch-and go) with fantastic views and a really individual feel to it. There are a choice of pitches, all in small dells and tiny little field-lets, which gives it a personal feeling. We felt like there were very few people around us, yet the campsite was pretty full.
The owners could not have been more helpful. Richard is knowledgeable, sturdy and approachable, and Rohan is that fantastic British eccentric mix of warm, lovely and totally barking mad. We felt at home!
We did not get a chance to sample the home-grown organic veg, sold on site, but we did do two fantastic day walks from the campsite itself.  You can walk straight up to The Punchbowl, a beautiful lake, in 5 minutes and from there choose your direction. Had we had the time and the stamina, we could have done more without moving the car, but we were only there for the weekend.
The compost toilets were nicely kept and did not smell; the only down side are the home-made Heath Robinson solar-heated showers, which simply didn't get warm even after a long hot day.
Would definitely visit again - just take plenty of wet-wipes.