Authentic hand-crafted wooden roulottes in a charming meadow setting
Take one chilled out yoga teacher, one sleepy wild flower meadow and a quintet of handcrafted roulottes (gypsy style French wooden caravans) and you have one seriously relaxed escape. This is where Audrey Hepburn would have glamped and owners Avril Berry and Alan Fraser are rightly proud of their caravans of love. Children are a no-no, but many guests actually turn out to be parents looking to put a bit of gypsy romance back into their lives.
The roulottes are not so much rustic as resplendent, reminiscent of a luxury train suite with smooth hardwoods, delicate carvings and lush furnishings. One of Avril's ancestors was a renowned painter of gypsy caravans and his talents have been passed on with real attention to detail woven into each roulotte. No two are the same. Karlotta is all art deco flourishes, Moorish influences and Celtic imagery, while Devanna takes her cues from India. What they all share in common is that they are all lush, extravagant and seriously sexy.
The roulottes are sprinkled around the lochan in the wildflower meadow, where the two resident geese sometimes wander in to have a swim. Afterwards they stretch out their wings to take in the sun as guests stretch out their own limbs, relaxing on their decks whilst having a barbecue or lounging by the communal campfire. Most people don't even make it out to explore the famous Borders scenery of rolling hills and snaking rivers that so entranced Scotland's greatest ever writer, Sir Walter Scott.
Back at the Retreat there is also a cottage, which comes with its own small gypsy caravan, while the four person roulottes – Zenaya and Gitana – also have their own eco hot tubs, hidden away in secret for exclusive bathing under the star-scattered Scottish skies. Roulotte Retreat also has a 1950's wooden studio with a large covered deck wrapped around a Scots Pine Tree woodland. Its perfect for gatherings, celebrations, weddings or workshops and has consequently seen Avril start to offer regular yoga sessions. So you can do your Cobra, Half Moon pose, or Downward Facing Dog as the sun casts its warm, morning shards through the canopy. Now that's glamping!
Best Price Guarantee
Easy and Secure, with instant booking confirmation
Trusted for over 10 years
A chance to win a brand new Coleman tent!
Gallery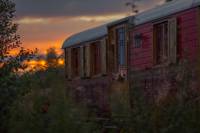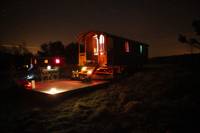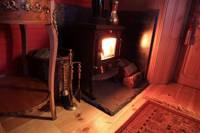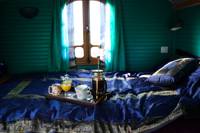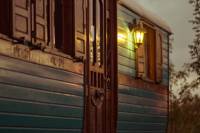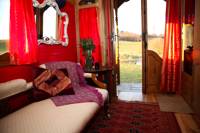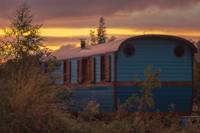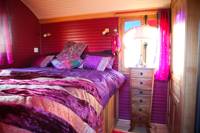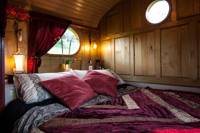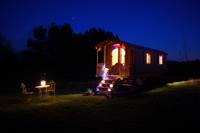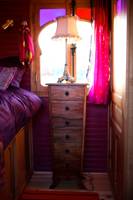 The Owner Says
Imagine French chic in the heart of the romantic Scottish Borders countryside, et voila ... Roulotte Retreat - eco, chic, romantique, c'est magnifique! Whether you want to practise the 3 R's - rest, relax and revitalise, or get in touch with your inner Audrey Hepburn, you are assured of a memorable stay at this hidden gem in the Scottish Borders, unique in UK! Roulotte Retreat is situated in a beautiful three acre meadow nestled below the Eildon Hills just below an ancient Roman site, Campknowe near Melrose. The meadow is greeted in the early morning by the sun to the east and enjoys south facing climate all day before the dazzling sunset to the west in the evening.
The West Burn traverses through the field offering delightful pools en route to its junction with the Bowden Burn and onwards to the River Tweed and the sea. In the middle of the meadow is an enchanting lochan complete with jetty and small shingle beach. The meadow landscape reflects that of the surrounding countryside with mounds of broom, gorse, hawthorn and wild rose. Each roulotte has its own unique space for enjoying some al fresco time situated around the lochan. Wildlife abounds in and around the meadow - hear the hooting of the nightly owls, watch the early morning deer. A family of badgers are known to come out and play at the end of the drive when they think no one is looking. Bird-watching is right on your doorstep from swallows performing their acrobatic skills in and out of the water to herons dropping in for a snack.
What is a Roulotte? Hand crafted Romany style wooden caravan built in France, which are roulottes or in Holland they are often known as woonwagens. Our roulottes are created to bespoke designs modelled on the styles of a bygone era of India and reminiscent of the elegance of the Orient Express. Made of sustainable oak, ash, chestnut, walnut, pine and wild cherry by artisans in France, each of our French roulottes takes two carpenters six months to complete. Each detail has been lovingly crafted to create the authentic romantic ambience of life on wheels. Relaxing in one of our magical roulottes with all modern comforts is the perfect way to experience 'Glamvanning'. Devanna, our Indian inspired roulotte was the first to arrive in June 2010 and now she has several sisters around the meadow … Karlotta, Gitana, Maharani, Shivanni and Zenaya for two people and Rosa Bella who sleeps four.
Reader Reviews
Add Your Review
Roulotte Retreat
In our usual style, we were very late booking somewhere for May Bank Holiday, but the Cool Camping email revealed that the Roulotte Retreat had availability and an offer on so we snapped it up. It is absolutely stunning. In 'real life' the site is even more picture perfect than on the website. Our caravan was luxurious in colour and comfort, and the place is utterly restful. Alan and Avril were wonderful hosts and filled us in on local events and places to go - the 'Bogey Race' was a particular highlight!!   We hadn't expected the beautiful, hot sunshine we got, but even in less-perfect weather the caravans themselves would be a treat to spend time in. We'd definitely go again.
Roulotte Retreat
We left our delightful children (safely with friends) and ran off for a night away from the worries and stresses of everyday life. We just loved every second. We stayed in Karlotta which is a bijou shimmering gem of a gypsy wagon. When we were there at the very end of the summer, the last of the summers swallows were skimming over the lochan at sunset. It is quiet peaceful and very romantic place and Alan and Avril are simply lovely.
Roulotte Retreat
I stayed here with my mum for 4 days as we were looking for something quirky and to get out of the 'rat race' to recharge our batteries, and we weren't disappointed. Avril and Alan were so lovely and accommodating, informing us of the various activities and events that we could access. During our stay we had snow (the earliest of the winter in 17 years!!) Despite this, Avril and Alan ensured our stay was warm and comfortable, the snow also enhanced the scenery. Being "snowed in" was the perfect excuse to stay around the cottage with a book in front of the fire. A relaxing break was exactly what we were looking for and Avril's one-to-one Yoga session was the perfect end to our stay. We would definitely recommend!
Roulotte Retreat
"What an unforgettable place to spend Valentine's Day (and a wonderful surprise)! The peaceful surroundings created such a romantic atmosphere. We thoroughly enjoyed our time in Karlotta and will surely be back for a longer stay next time! Sarah Jane and David, Glasgow"
Roulotte Retreat
what a wonderfull,peacefull place to stay!!! i booked the cottage with ruby the gypsy wagon as a suprise valentine weekend for my partner and we loved every minute of it! the owners were very helpfull with helping preparing and advice for the suprise (there are lots of extra they can organize like food hampers flowers treatments ect) And once we arrived they made us feel very welcome and have both great knowledge about the area they live in and gave us advice were we could go during the day to explore and we have seen some amazing views and visit some of the local heritage sites. with the cottage and ruby we had the best of both worlds we slept both nights in ruby on a wonderfull comfy bed! its was a truly magical romatic break and will go back this year but for longer ;-)
Roulotte Retreat
Wonderful Magical Sumptious Restoring Reviving Thank you so much for our fabulous stay in Devanna. We didn't want to leave" Cat and Bill, Montrose (August 2010)
Book campsites near Roulotte Retreat