Book campsites near Marthrown of Mabie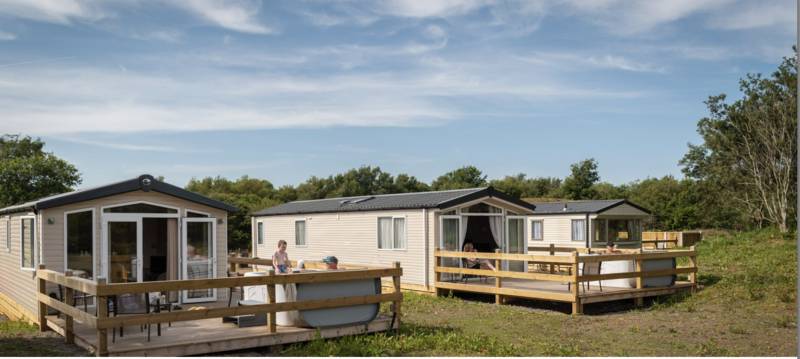 Campsites in Dumfries And Galloway
Campsites in South Scotland
Enjoy the simple life and cosy nights by the fire like your ancestors
Huddled around a life-preserving fire that illuminated the gloom of their Iron-Age roundhouse, our ancestors eked out a living in places like Mabie Forest. Today you can follow in their footsteps in what has to be one of Europe's first reconstructed Iron-Age roundhouses that you can actually stay the night in. Get down and dirty and all elemental hunter-gatherer while cooking your own food over the fire, enjoying the pleasures of an al-fresco toilet and a dense and moody forest where little has changed over the last few millennia.
Marthrown is a special place in so many ways. The forest itself is awash with native Caledonian trees, with characterful old Scots pines each managing the wilful Scottish trick of being a different shape to the rest of their brood, as well as birch, rowan and juniper. Edging over the grassy mound that separates the heart of the 'multi-activity centre' from the roundhouse, you half expect to find a gaggle of Iron-Age hunters crowded around a clearing where Celtic songs and stories were once celebrated in wild ceilidhs.
Today, the roundhouse – an impressive construction that manages to stand up to the full might of the Atlantic weather systems sweeping in off the coast – is similarly full of life. Perfect for groups as it sleeps up to 16, it inevitably plays host to the occasional stag and hen party, and is also popular with groups of friends looking for something a bit different.And different it is: you camp around the central woodburner (in place of the old open fire), perfect for cooking up something tasty and keeping the place cosy. Just nearby is a canvas tipi that sleeps an additional four people and a Mongolian yurt with room for four, but the roundhouse is the real star.Tents are also welcome and it is possible to hire the whole site for exclusive use.
Rather than just sticking up the roundhouse and leaving it at that, the family team behind Marthrown has made an effort to recreate other earthy features, which fit neatly into today's vogue for all things clean and green. Rather than clog the local sewage system there is a simple, highly effective odour-free straw urinal as well as a compost toilet and an 'outdoor' shower. Luxurious extras include a sauna and hot pool that are free of charge for guests.
The surrounding forest, which is alive with red squirrels and woodpeckers, is one of the best locations in Scotland for mountain biking.All skill levels are catered for, with everything from easy and gently undulating forest trails that are perfect for beginners to some seriously testing 'black runs' that fling you and your wheels at high speed through tough terrain.
Back at camp, the atmosphere is one of relaxation and all-round bonhomie. However you spend your day at Marthrown, the highlight is getting back around the stove, whether you are in one big group or sharing space with complete strangers.Taking a star-lit stroll and then walking back to the welcoming and gently smoking arms of the simple dwelling is a strangely comforting experience that people have been enjoying for thousands of years.
Details
Facilities
Wooden facilities building houses a kitchen, hot showers, composting loo and urinal. Large woodburner/campfire in the Roundhouse and firepit outside. The Marthrown Challenge course is a low ropes climbing circuit that has sorted the men from the boys on many a stag weekend (needs to be booked in advance; no need for helmets or instructor; under-16s must be accompanied by an adult). There's also a Finnish sauna and spacious wood-fired hot tub in the grounds. BBQs are allowed under the covered all-weather area. Campfires are not permitted in the woodland camping area.
Suitable For
Tents, glampers, groups, parties (stag, hens and weddings) and dogs – yes. Caravans and motorhomes – no.
Nearby
You can hire a bike from dedicated cycle centre 'the shed' (01387 270275) just a mile away and explore the forest, which has been opened up as part of the excellent Seven Stanes programme (01387 702164). Forrest Estate Experiences (01644 430015) offer the chance to try your hand at clay pigeon shooting, fishing and all sorts of outdoor activities. Not far away is the tiny village of New Abbey, which is home to the expansive ruins of the oddly named Sweetheart Abbey (01387 850397), a 13th-century complex whose widowed founder carried the heart of her dead husband with her for life. Nearby Dumfries, to the north, is south-west Scotland's largest town and was the home of Scottish national poet Robert Burns, who spent the last 5 years of his short life here and was buried at St Michael's church in the town. There's an impressive mausoleum, and you can also visit the poet's house, which remains much as it was in the 18th century and has been turned into a small museum devoted to Burns (01387 255297). Burns wrote 'Auld Lang Syne' just to the north of Dumfries, at Ellisland Farm (01387 740426), now a museum.
Food & Drink
On the site you can get breakfast for £5.50 or a light brekkie for £4 and 3-course dinners for £13.50, but you have to book all meals in advance. Pam can also do you a packed lunch for £5 or a soup & sandwich lunch £5.50. For groups of 40 or over, Marthrown offer a hog roast (min 40 people – £17.50 per person or £700). In terms of eating out, you're spoilt for choice in Dumfries, 5 miles away. The Globe Inn (01387 252335) was Robbie Burns' favourite watering-hole and as such is worth a visit for its Burns memorabilia and an interior barely changed since the poet drank here. A couple of the best places to eat in are the riverside Coach and Horses (01387 279754), which serves hearty pub grub, and the Hole in the Wall (01387 252770), although both only serve lunch. For evening meals, try the excellent Linen Room (01387 255689) whose modern Scottish menu won't disappoint. Mabie House Hotel (01387 263188) is nearby too. You will be spoilt for choice in Dumfries, 5 miles away. A couple of the best are the riverside Coach and Horses (01387 279754), which serves hearty pub grub, and the Hole in the Wall (01387 252770) – both serve lunch only, though, so if you're after a good evening meal head for the Linen Room (01387 255689).
Open
All year.
Location
Contact Marthrown of Mabie, Mabie Forest, Dumfries, Dumfries & Galloway DG2 8HB
Getting There
Leave Dumfries on the A710 towards New Abbey. When you reach Islesteps look out for the right turn to Mabie Forest and Mabie House Hotel. When you come to the sign for Mabie House Hotel the road bears left and you will see signs for Marthrown of Mabie Education Centre. The site is a mile from here along a winding forest track.
Bus no. 372 from Whitesands in Dumfries stops at the bottom of the road; from there it's a 1½-mile walk into the forest. If you have a heavy load, it's perhaps best to opt for a taxi from Dumfries.
Reviews
Add Your Review
Rated ★★★★★ over 3 reviews
Great July Visit
Visited early July. It was mid-week so the sight was very quiet but really incredible spot, properly hidden in the woods. Took a while to find as you have to ignore signs saying "no entry unless authorized" but once you drive the long forestry roads you find it. Camping right in amongst the ferns. Shame I didn't have a mountian bike as the best route runs directly past the campsite but went for a run instead which was just as good. Evening beer and book in the wood-fired hot tub too! Just what the doctor ordered.
Great camping
Pros: Remote, secluded location (if you like that) Beautiful surroundings with lush greenness everywhere! Great hot showers and the compost toilets do the job. Fantastic biking in the Mabie forest and surrounding area Dumfries only 4 miles away Cons: MIDGEES!!! They are everywhere! We got eaten alive Nothing else Would visit again.
Marthrown of Mabie
Get your friends and family together like I did and book the roundhouse for a camping trip with a difference. 12 of us (girly night for 18th birthday party - granny came too!) had the best night ever. It is very basic with a dirt floor and wooden futon beds and mats. Very good replica of an Iron Aged Roundhouse. The large wood burner/cooker stove is amazing and the outside area with place for camp fire and sitting on the logs kept us very happy (and a wee bit of music on the i pod too) These city girls also managed to survive the eco loo and shower! The hot tub and sauna on a lovely Scottish (dry) summer's night was so good. Sorry to the wee couple who were trying to have a quiet time together. The staff were so helpful and attentive. You could not get a better breakfast than the one we had down at the bunkhouse. Great value - only £4 per head and I really enjoyed my fry up! Would I go back? Oh Yes! Cocktails, laughter and stars...best night ever!