Woodland Small tent pitch (no EHU). No view
(13 at North Rhinns Camping)
Private grassy pitch within woodland. Takes 1-3 person . Away from others, but close to main camping area. No campfire. Sheltered. No electricity.
The Owner Says
Grass pitch, takes 3 man tent maximum. Very sheltered and secluded. Gate can be closed to keep others away.
Gallery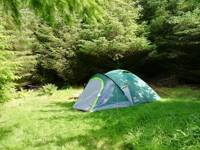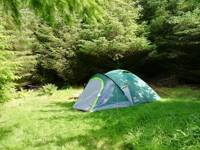 About North Rhinns Camping
Suitable For
Tents, small campervans (maximum of three on the site), couples, families, friends, groups of up to 10 people and dogs – yes. Caravans and large motorhomes – no.
Nearby
There is a well-stocked and licensed village shop two miles in Leswalt that gives cashback. The local sea fishing is fantastic – visit The Sports Shop (01776 702705). There is a sandy beach 2 miles away (walk there) and other secluded beaches can be reached by car, as well as some on foot. The holiday town of Portpatrick is 10 miles away. The Southern Upland Way (01835 824000) is five miles away and particularly good walks can be found at the RSPB reserve at Mull of Galloway along with a Lighthouse there. The North Rhinns Coast path is now agreed and parts are under construction and accessible. A favourite section is between Killingtrangin lighthouse and Portpatrick. There is also an interesting route to take in to discover all the gardens of Galloway with a nearby favourite being the grounds of Castle Kennedy, well worth a visit.
Food & Drink
The hotel in the lighthouse (01776 853220) at Corsewell Point, nine miles from the site, does fine food and does yummy tea and scones, too. The Crown (01776 810261), The Harbour House (01776 810456), Mount Stewart Hotel (01776 810291)  and Campbell's resturant (01776 810314) are amongst others at Portpatrick, with live music at The Crown on Fridays and Saturday nights. If you're looking for something a little more on the hoof then try the fish and chip van in Portpatrick harbour (high season only).
Site Reviews
Add Your Review
Rated ★★★★★ over 69 reviews
Ideal for a quiet getaway
We loved this small, quiet campsite. Clean facilities, good recycling (no rubbish piling up anywhere) and friendly unobtrusive owners. Each pitch was lovely and far away from each other for privacy. The local store in Leswalt is well stocked for supplies. We would come again.
A gem of a campsite 🏕
A gem of a campsite in a beautiful getaway from it all setting with easy road access.We were in a camper van and found the facilities more than met our needs. Some of the pitches for tents were particularly stunning with slightly elevated uninterrupted views of countryside. A small and personal set up , the owners Ray and Jane deserve particular mention for their friendly and helpful approach and for maintaining such a lovely non commercialised site that offers the perfect antidote to the hectic pace of normal life. We look forward to a return visit!
Private pitches, roaring fire, Great facilities.
A cosy wee campsite run by Ray and Jane who make you feel very welcome. Pitches are secluded and spacious with well kept facilities which are clean and well aired. The Rhinns of Galloway is one of Scotland less well known gems and no better place to camp than here.
So good!
Ray and Jane are lovely people, and very welcoming. The site is charming and quaint, but in a really good way. So lovely and quiet. Great area too. We will be back! Mary and Lizzie
Beautifully isolated and quiet
We stayed in the camping pod for a long weekend and had the nicest stay. The owners are lovely, friendly people and the site is lovely and quiet and very relaxing. The kitchen and loo facilities are spotlessly clean and everything is has been well thought through. There are folders in the kitchen area with recommendations for places to visit. If you get chance to walk to Portobello beach it is just magical. We spent a very pleasant sunny morning there, completely alone, having a dip in the sea. Cannot wait to visit again!!
See all reviews at North Rhinns Camping
Location
North Rhinns Camping is located at Glengyre Cottage, Leswalt, Stranraer, Wigtownshire, Dumfries and Galloway DG9 0RG
Getting There
From Stranraer head west following signs for Leswalt, Kirkcolm. After golf course on right go straight on at roundabout into Leswalt. Pass shop on left and continue straight up steep hill, after which site is one mile further on, first cottage on left. There are Tourist signs for North Rhinns camping two miles away at Leswalt Kirk crossroads in the village.
Long Distance buses and coaches direct to Stranraer from Carlisle, Dumfries, Glasgow and Ayr. Bus 408 runs from Stranraer to Leswalt, 2 miles walk from site. There is also a railway station at Stranraer (6 miles) that has direct trains from Glasgow and Kilmarnock.