Back-to-basics camping near Scotland's wildly beautiful south-west coast
'Our number one rule?' smiles Rob Googe, the co-owner of North Rhinns.'You must be laid-back.' And, with his wife Kath, he has created a hideaway campsite that makes you want to be just that. This gem of a site harks back to the golden days of camping that your grandfather may have told you about, when he tramped along some sun-dappled byway with no real plan in mind and needed no more than a few grassy feet of a local farmer's orchard to be completely happy.
When the Googes came here in 2010 they found a small forest run wild with bracken and brambles, and saw the potential to create the campsite they had always wanted to stay at themselves. Inch by inch, they hand-cut pitches according to the shape of the land and the feel of the space. So each spot has its own character – one is perfect for watching the sunset, another completely lost amid the trees or favoured by grazing deer at dawn. Find the one that suits you best and settle down.
As you do, you'll begin to discover more special things about this deceptive site. The trees you thought were all pines also include young oaks and odd exotics (is that really a eucalyptus?). That odd 'ack-ack' noise isn't a misfiring tractor but a boisterous buzzard, and that vole isn't actually scurrying away from you, but the barn owl that happens to be sat on the fencepost. This is a site you'll want to tell your friends about – but not too many of them, as it truly is one of the best-kept secrets in UK camping.
Best Price Guarantee
Easy and Secure, with instant booking confirmation
Trusted for over 10 years
A chance to win a brand new Coleman tent!
Gallery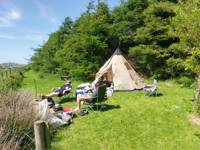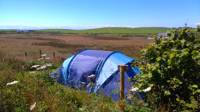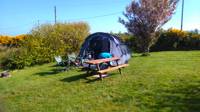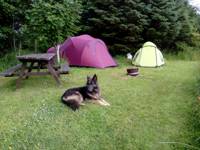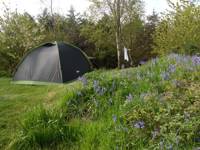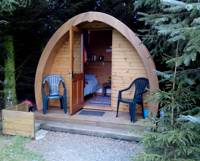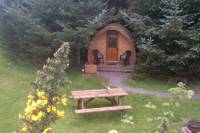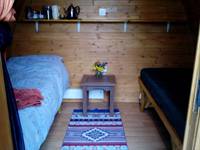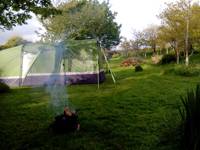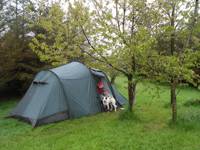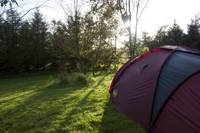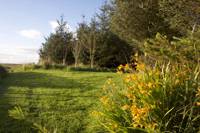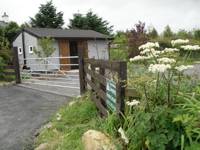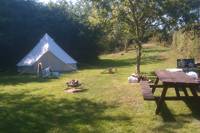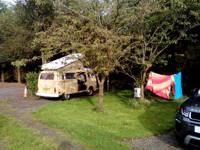 The Owner Says
Back-to-basics camping near Scotland's wildly beautiful south-west coast – North Rhinns Camping is a small quiet camping field in a stunning rural location. Tent pitches are well spaced and private, according to the lie of the land and leaving bushes and trees to divide them.  Small campervans accepted, under (6.3 metre), plus we have a  fully insulated camping pod. Modern facilities building has hot water for shower, wash basins and washing up sinks included in price. Campfires at most pitches.  Drinking water at all taps. No need for bottled water.
We keep a strict limit on the number of people who are on the site at any one time, so at busy times we may make some pitches unavailable to make sure we are not overcrowded.  Very young children (under 6 years) are restricted to certain pitches (for online bookings).
Dogs and other pets are welcome, with considerate owners. Agressive dogs NOT welcome. We need to know the breed or type of your dog/dogs when you book, helps us to offer suitable pitches.   If your dog attacks/bites anyone on the campsite you will be told to leave.
When we are not fully booked we can be very flexible, so if our online offers do not meet your specific needs, please contact us directly by phone or by email or our website to discuss options.
Our campsite is suited to campers who enjoy PEACE AND QUIET. Ideal for birdwatchers, cyclists, walkers, sea anglers. Bird life in abundance.
FAMILIES WITH  CHILDREN ARE ASKED TO RESPECT THE PEACE AND QUIET OF OTHER CAMPERS. Children should be supervised by their responsible adult at all times. WE DO NOT PROVIDE PLAY FACILITIES.
Noise and nuisance. We as owners have the right to advise you to leave if you do not respect other campers, or ourselves, by making a continual  noise or nuisance of yourselves.
If you are making a booking to arrive the same day or the next day please phone or text us to let us know that you are coming, in case we have not seen our emails.
Reader Reviews
Add Your Review
Peaceful and sheltered campground
We are a family of four with 2 young children. We stayed over the recent Bank Holiday and enjoyed the site. It is on a quiet lane, which we were able to walk along with the kids on an evening without concern. The site itself is very well landscaped; this means that even when the winds are blowing across the Rhinns it can be calm beside the tent/camper. Cars for tents are parked separately and there are wheelbarrows to transport your things (which my children may or may not have turned into an improvised ride). Due to the landscaping it is private and I think although kids might like to play there you could go as a couple and be quite secluded too. The facilities were small but adequate for the size of the site. They were clean and I liked the honesty supplies left by previous campers/dishwashing liquid by sinks and shower gel in the shower in case you were forgetful. The area has plenty to do if walking/gardens/cycling and outstanding views are for you. We would recommend and would gladly return.
Secluded and beautiful
A lovely little campsite, small and secluded, just remote enough to feel wild and rural, yet handy for getting to Stranraer and lots of lovely walking, gardens etc.. The facilities are clean and tidy, Kath and Rob the hosts are friendly and helpful, but there is plenty of privacy too. Just what we were looking for!
Response from North Rhinns Camping
Thanks Gill, we are pleased you enjoyed your stay. 
Beautiful area, friendly people
My husband and I normally spend our holidays in our campervan, however decided to try one of these glamping pods for a change. The campsite is beautiful. Very peaceful and well kept, the facilities are more than adequate (although I do worry that 1 shower and 2 toilets simply wouldn't be sufficient if the campsite was full as there's 12 pitches). The only issue we had was with the pod itself. We were the first arrivals of the season and unfortunately you could tell -as the pod didn't seem to have been given the once over - there were cobwebs very visible and the floor was a bit dusty, and there was a very musty smell.. The kind you would expect from your garden shed after winter. Now I appreciate that technically it is a shed, and you are camping, but personally I would've taken the time to give the pod a bit of a freshen up before having paying customers stay. The thing my husband pointed out as well is that although there is a ventilation hole in the pod, it's as good as useless unless there are two ventilation holes as with only one, air cannot circulate, causing us to have very stuffy heads the next morning. And although we paid for 2 nights, we actually went home for the second night as we were only a 2 1/2 hour drive away. That being said though Kath and George were both very welcoming and gave us a superb recommendation to go to the lighthouse for sunset which was an absolute delight!! We had a fabulous time exploring the surrounding area and went to the Logan botanical Gardens which I highly recommend!!
Response from North Rhinns Camping
I'm sorry you found the pod unsatisfactory. It was cleaned thoroughly before your arrival, ventilated. When the door is open some dust  will blow in.There is a notice in the pod ,-if it is stuffy  put the chain on the door with the door ajar,   We are installing a window.
We keep numbers of people  strictly limited on site , always some pitches are resting between campers..
We would have been pleased to hear your concerns whilst you were here.
Lovely, welcoming stay.
Myself and my two young daughters (6 & 4yo) were accommodated very thoughtfully and had a fantastic time at North Rhinns. The owners could not have been more considerate and helpful the entire time we were there. Everything we needed was perfectly and conveniently supplied. The girls especially enjoyed the luxury of the evening fire and the picnic table. We only stayed two nights (waiting for the Larne Ferry) but we could happily have stayed much, much longer (we had a wife/mother to find in Dublin!). The weather helped, but the warmth of the welcome was the main thing. We very much hope to return.
Great, peaceful woodland campsite
This campsite was fab, we had a lovely stay. Each pitch has its own character and the surrounding woodland is beautiful. Rob and Kath are extremely friendly and happy to help with any advise on the site and local area. The site is well equipped with everything you could need for a comfortable stay, and it was lovely to have a campfire every night!
Response from North Rhinns Camping
Thanks for your very positive review. We are glad you enjoyed your stay,
Great little campsite with some hidden gems.
We have just come back from North rhinns campsite having spent 2days there over Bank Holiday weekend, when we arrived Kath made us feel very welcome and showed us around the site and straight away we were impressed with the layout and all the cool little extras. They have both put a lot of effort into making your stay as good as it can be.Kath spent time explaining about the area and places to visit. We spent our evenings sat around the campfire listening to the birds and watching the sun go down. All I can say is if your looking for a cool 😎 campsite this is the one for you we will be back. Thanks again.
Response from North Rhinns Camping
Thank you for your kind comments, and for your entry in our visitors book.  Since your visit we have been doing work to level the sloping pitch you used by adding topsoil , and have sown new grass seed on it, hopefully ready for next season!!
Peaceful, friendly, adventure-filled!
Rob and Kath have made a lovely campsite hidden amongst the trees in a very sight-filled rural location. They are very friendly to talk to and have loads of advice on the surrounding areas to point you in the direction depending on what you want to do. My wife and I just spent our first year anniversary there this past weekend and couldn't have been happier with it! (We did luck out on very beautiful weather). We stayed in the pod which was a really cool experience and perfectly cozy with all the cooking appliances and utensils included. The campsite has showers and washing sinks as well as a fridge to use which are very well looked after by Rob and Kath. It's the little things that make a big difference! The location is very central to the peninsula of Galloway so it's quite easy to access all corners (we had rented bicycles and covered a lot of miles in a few days) with plenty of beaches, ocean and rolling hill views, lighthouses, ruined castles, cliffs, and cute little towns to see! Definitely a little secret oasis that we highly recommend!
peace and quiet .
this site is one of the best I have ever been to. secluded wildlife friendly site with well thought out private pitches. Owners Rob &Cath make you feel very welcome very nice genuine people who take time out to speak to campers every night . spotlessly clean toilet and shower block .if you like peace and quiet this is the perfect site for you .Good base for exploring Galloway .fishing ,walking , wildlife . would thoroughly recommend a trip to the cliffs at mull of Galloway .I will definitely be back to this site in the near future .
Peace and tranquility in a lovely rural setting.
This is a small but beautifully thought out camp site, making the most of natural features, planted woodland and landscaping to afford a sense of seclusion, whilst at the same time not being far from the site's amenities. The main facilities are situated in a compact building, are kept scrupulously clean and provide for all basic needs. There are two WCs, with mirrors and clean hand towels provided; a level access shower cubicle; electric shaver point; two washing up sinks, with dish drainer, dish towels and washing up liquid, all nice touches. Some pitches have electric hook ups and most have fixed or portable fire pits. The sack of logs and kindling provided kept me going for two evenings, all for a cost of £6, which is excellent VFM, likewise the site fees, which are more than very fair and offer great value. I planned to stay for three nights in the second week of May. However, a spell of heavy rain and winds forced me to cut my visit short. Kath could not have been more helpful and despite the wind and rain, went out of her way to help me finish my break, including offering drying facilities and the pod for a last night. I am heading back for a couple of nights in two days time.........what more can I say?
excellent site
This was the best site i have been on, friendly, peaceful, the couple who run the site, (sry forget the names), could not do enough to help you, the plots are perfect, i really cant say enough to justify the site, you have to see for yourself, definately booking the pod for the next visit
Turned a home body into a happy camper
We stayed here with our three chidden in August of 2016 and on arrival our reluctant head of the household relaxed. Initially we were offered the pitch we had mentally picked out from the pictures but quickly decided on an even more secluded area. Rob and Kath couldn't have been more helpful and I would highly recommend this site to anyone who is not sure if camping is for them.
Tranquil and birdsong
We stayed for three nights on pitch 9 - recommended, also pitch 10 for more privacy. The site has been very well thought out with actual pitches to set up at. Ours had a fire pit, table and benches and a very nearby tree which was a haunt for a chiff chaff. Clean facilities, useful information and friendly owners in Kath and Rob who had many top tips. Very thoughtful fuel for fire with bag containing paper, firefighters, kindling and logs. Local walk to Portobello beach recommended, Mull of Galloway ( most southern part of Scotland there) and cafe at Drummore on the way - you can't miss it on the Main Street. There is also little museum there.
Lovely break
Very nice site. We stayed here for a week over easter,and how the site is laid out, we hardly noticed any other people there. We had pitch 10, which had beautiful views and an awesome fire hearth. The owners could not do enough for us to make our stay enjoyable. Dog friendly. Lovely clean facilities (cleaned daily by Kath) and a hot shower (which makes all the difference). You can't park by the pitch,but there is a wheelbarrow to use to move all your gear. A real hidden gem. We will definitely be back again.
Lovely site
The dog and I thoroughly enjoyed our stay in the pod. Given the rainy weather, the television was great. If IKEA produced pods it would look something like this - elegantly simple, safe and cosy. Other campers scarcely impinged on my consciousness - so well sited are the pitches. Kath was extremely kind in helping me with my new camping cooker. The toilet block is clean and warm and there is even a fridge to store perishables . 
North Rhinns
I have camped all over the world from Europe, south east Asia,Australia and extensively in the Uk but North Rhinns site near Leswalt in Scotland was a new very nice experience.Lovely people VERY quiet,spotless facilities,well thought out pitches,good views and a general nice vibe.The perfect site for an overnight stop between ferries to NI.
Many thanks I will be back,with more Oak logs 1
ps pitch 11 is the best
Cheers ,
Russell

Fantastic Site
North Rhinos is a very friendly and welcoming place. Each pitch is individual and well thought out. Kath and Rob have created something quite special.

Lovely site
It's the little touches that make this site special: the hot water for washing up, the hand towels and bath mat, the draining rack with the washing up sinks. The site is so sheltered that even with gusty strong winds you feel safe and secure. We had a lovely few nights here and enjoyed exploring the area. The walk to the nearby monument gives spectacular views over Loch Ryan and if the weather lifts for long enough you can easily see Ireland.
Fantastic
I regret writing this review as it may result in this site being more popular and more difficult to book but it deserves all its accolades. I was looking for a campsite that would allow me to relax, enjoy some peace and quiet and have some privacy. This site has exceeded all my expectations. The owners Kath and Rob Googe are friendly and welcoming, even helping me out with a windbreak after a particularly blowy night.

There are a selection of pitches all of which are individual in their own right. The ability to have a campfire was an added bonus (and necessity to cook on after forgetting the connector for the gas) and made the evenings quite pleasant.
The facilities include a shower, toilets and washing area all based in one hut by the entrance, where there is also a variety of guides, spares and a swop box for food. There is also a fridge for campers to use.
There are plenty of walking trails in the area and other items of interest within a reasonable driving distance.
The nearest supermarket is in Stranraer with Morrison's being the biggest one.

It is not often I would go back to the same place twice but my experience here means it is likely I would return.
Hidden Gem
We were so fortunate to stumble upon North Rhinns. The site we normally camp at in this area was full................. and what a joy!! You can tell that this site has been set up by campers. It is beautifully laid out and the little fire places and cooking areas dotted about are brilliant. The facilities are compact but spotless and everything that you need is provided by the very thoughtful owners.  We will definitely return and would have no hesitation in recommending. Thank you

Peace and Quiet this is a must
Arrived to the site and received a very warm welcome and made us feel at home. Facilities very clean and spacious. Perhaps could do with an extra shower as I would imagine when it is busy there would be a queue. The site itself is a little gem for peace and quiet and the pitches are well apart. Stranraer not too far away to get all you're shopping and there is convenience store is Leswalt. Plenty of places to visit in the area but the Mull of Galloway and the Galloway Forest are a must. Would back to the site if we were to visit the area again and thanks to Rob and Kathy for their hospitality and their help especially when the weather got bad.
Great campsite
I stayed here for 2 nights & really enjoyed it. So nice to stay at a small campsite with a bit of privacy so you do feel you are in the middle of the country. Can't wait to go back - small is definitely beautiful
Camptastic!
What a cool little place! So refreshing to stay at a campsite where the owners focus on making the campers happy rather than trying to make as much money as possible. The campsite is beautiful and well maintained. Each pitch is like a little garden. We stayed on pitch  number 2, we had privacy and plenty of space, a picnic table and a hearth where we could have our BBQ and campfire. We were close to the immaculate amenities - 2 x toilets and a proper shower room, 2 x washing up sinks and fridge to share which is free to use. There is also a covered cooking area near pitch 6 if you need to cook in bad weather. They are dog friendly and couldn't do enough to help you. Rob and Kath make you feel like you are camping a mates well provisioned back garden!

Fantastic!
Brilliant little campsite. It was my first time camping and I loved it. Facilties are in great order with toilet and shower block, fire hearths at all pitches, fire pits and bbq available. Hook ups were available for use too. 
Kath and Rob were very welcoming when we arrived. They came to see us at least once a day to make sure we had everything we needed. 
Plenty of information available in the shower block for all local restaurants, activities, shops etc. Something for everyone.
Would definitely recommend to all campers: novice or experienced. :) 
Fab
Our very first camping trip ever was to this fabulous site!!! It is a little hidden gem. The owners and their dog, Tinker, are lovely. The facilities are spotless. We cannot thank them enough for their invaluable advice – and Kath, we have bought a tent heater !
Great Site
Spent a few nights here a couple of weeks ago. A real hidden gem of a site with friendly owners, shower/toilets etc are spotless and best of all having a campfire is no problem. Plenty to see and do in the surrounding area. Great value for money, one we will go back to. 
North Rhinns Camping
The owners could not have been more helpful and dogs are very welcome. Facilities nice and clean. The trees made a useful windbreak and I took advantage of the shelter for cooking. The coastal walks are splendid. I very much enjoyed being on a small and friendly campsite. Excellent value for money and hope to see Rob and Kath again soon.

North Rhinns Camping
Just got home after seven nights at this tremendous camp site ( the best site i have stayed on in fifty years of camping ) The owners Rob and Kath could not do enough to make our stay a pleasure. On arrival it was very windy, Kath helped me put the tent up, made me and my mother (92) a cup of tea, brought more blankets for Mum. lent us a windbreak, booked a table for us at a local pub (even joined us for a meal). Customer care 15 out of 10. The facilities are very good and very clean. Good pitches on site. overall 10 out of 10 for everything. Well done Kath and Rob, you will definately be seeing me again.
Vaughan

North Rhinns COOL Camping
We stayed at North Rhinns Campsite over Easter for seven wonderful nights and we will definitely go again. The campsite is beautifully quiet with new and very clean facilities and we parked our camper and set up a tent within well maintained trees which provided shelter from the wind. We were made to feel very welcome by Kath and Rob who generously offered their help (as we were somewhat underprepared for the Easter cold snap) by lending us blankets, a heater, logs and kindling, and even a jacket for our dog, as well as chocolate treats for us and numerous doggie biscuits. The campsite is a great base to explore the coastline and there are breathtaking walks and views to be enjoyed. We can thoroughly recommend North Rhinns Camping and want to say a big 'thank you' for the hospitality we received!!!
Excellent Site !
A group of us stayed here for a short weekend away. The drive down (from Glasgow) was easy and the map shows the position of the site well. We arrived and pitched our tent in one of the very spacious pitches. The trees make for an excellent windbreak which means the campsite is very still even if it is windy. The facilities are also great, with two toilets, a fridge/freezer and an electric shower. The owners are both lovely and did not hesitate to help us ensure we enjoyed our time there. The site is well positioned for Portpatrick, which is worth a visit if you get the time. Absolutely could not recommend this site enough and great value for money to boot.
Best Price Guarantee
Easy and Secure, with instant booking confirmation
Trusted for over 10 years
A chance to win a brand new Coleman tent!