Philosophically spot-on organic eco-camping with a warm welcome
Not for nothing did the poet and novelist George Mackay Brown say that the Orkney imagination was haunted by time. There's something otherworldly about the Orkney Islands. There's been a human presence here for thousands of years; the living in places like Skara Brae and the dead in the Neolithic burial chamber of Maes Howe, whose entry shaft is perfectly aligned with the setting sun on the winter solstice.
The land's been smoothed over by the prevailing winds, and the resulting views are of rolling hills and water, water everywhere between the 70 islands that make up the archipelago. The dun hills are are like the patternless tweed of a geography teacher's jacket and the sky can do everything from broody to menthol-clear.
Many visitors arrive on the short ferry hop from Gills Bay, between Thurso and John O'Groats, to the charming little port village of St Margaret's Hope. From here it's a couple of miles over the hill to Wheems Organic Farm. Owned by Mike Roberts, though now largely run by his daughter Islay, the campsite has a simple and fitting ethos; to keep things small, simple and eco friendly but, most of all, to share the beauty of this ethereal setting with all who choose to visit.
For those seeking creature comforts, Mike has constructed two solid wooden bothies, insulated with sheeps' fleece and with long double-glazed doors that open onto a deck overlooking the bay. Islay, meanwhile, has poured her efforts into a new, Mongolian-style yurt, with beautiful latticework walls and a toasty log-burning stove in its centre. Between them they bridge the various gaps in the world of camping accomodation, leaving something for every visitor. Campers and caravanners can pitch in the meadows, visitors travelling light can bunk in the wooden bothies, while those pipping for the full comforts of a double bed and furnishings can head straight for the yurt. Everyone is welcome.
Facilities-wise, there are toilets, showers and a communal kitchen housed alongside the farm buildings and, if the hens are playing ball, fresh eggs are available along with other homegrown produce (when in season). BBQs and small campfires are permitted, depending on the wind direction and the possibility of spark damage to neighbouring tents – if unsure do check with the owners first. Dogs are welcome as long as they are kept on leads.
On your way back south, try if you can to stop at the small Italian chapel on Lamb Holm, built by and for the POWs while they were here and skillfully preserved. Like most things in the Orkneys, it's a simple and unassuming place, but beautifully done.
Gallery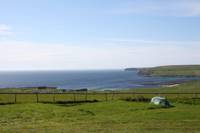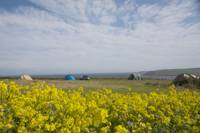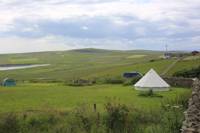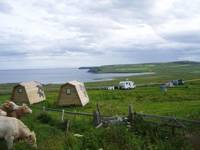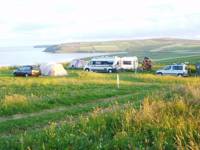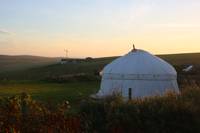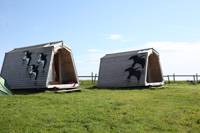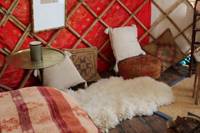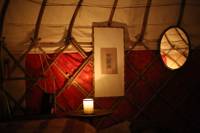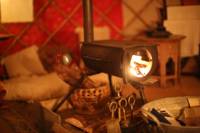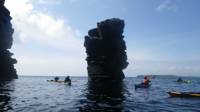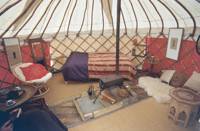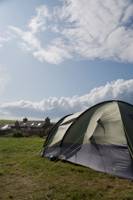 The Owner Says
Wheems Organic Farm is an ecological and organic 6 hectare horticulture and animal smallholding, producing organic food for a local market. Wheems farm buildings are 200 years old and have been renovated using local, traditional and sustainable materials. Wheems farmland has been sensitively landscaped with areas set aside for conservation, areas carved out with stone dyke walling, and areas of tree planting.
Reader Reviews
Add Your Review
Lovely pitch with hook up and great views. Owners pleasant and helpful.
Location, wildlife, walks and cycle rides
Relaxed site
This is quite a relaxed site overlooking a bay on the east coast of South Ronaldsay and very convenient for the fast ferry to the mainland. It is a little exposed to the weather as you might expect but then most places on the Orkneys probaly are.  Facilities are basic but perfectly servicable, the communal cooking area is useful especially the electric kettle great in the morning if you prefer the short walk to fiddling arouns with the camping stove first thing. This area also provided a social focus if you are so inclinded.
You probably need a car to explore the full bueaty of the islands in comfort but there is also good regular bus service from St Margrets to the main towns on the island, we used it to visit the ring of Brodgar, it took a little over an hour each way, plus a twenty minute walk from the cmapsite.
The beauty of Wheems
I've visited Wheems campsite three times now and I've loved every single visit. Placed in outstanding beauty with the most spectacular views of the sea, Wheems is quirky and eco-friendly - completely in sync with the surrounding environment. If you are looking for something remote and peaceful then this is definitely the place. Orkney as a whole is a great place for creative inspiration and Wheems has something extra special about it. And yes, the strawberries are totally delicious, as are the fresh eggs and bread! 
Not very welcoming
Petty rules enforced by sanctimonious owner and their friends. Couldn't enjoy our stay as we were told to keep dog on leash at every opportunity. Even when we were in an enclosed field by the site with no campers in it. The welcome was not particularly warm and indeed the only contact we had with him was to ask for the money and to keep our dog on a leash. No strawberries , just a run down old farm with exceptionally basic facilities. The only saviour is the location. 
Response from Wheems Organic Farm
It is a shame you did not enjoy your stay at the campsite. Wheems is an organic farm so there are sheep, chickens, ducks and bio-diverse meadow close to the campsite to encourage wild birds, that is why we detail on our website that dogs are permitted but only if kept on a lead. I've not met a guest before who has made any negative comment about the facilities, the hot showers and basic cooking equipment seem to be adequate for most of our guests.  As for the organic strawberries and raspberries if you come in the right season they are delicious and bountiful! 

Wheems Organic Farm
A Gem of a site with a warm welcome. Basic facilties but perfect. Spent 2 nights enjoying the peace and quiet of the site and Orkney. Useful lean too near toilet factilities had kettle which is a godsend for a camper used to waiting ages for a caming gaz stove to semi heat water for morning coffee. Fridge and Washing machine on site too, but not used. Organic produce availble from "farm shop". The Strawberries were to die for with a bottle of Orkney Ale.
Best Price Guarantee, with no fees
Instant booking confirmation
Trusted for over 10 years
A chance to win £50 of Cool Camping vouchers!