Book campsites near Glenbrittle Campsite & Cafe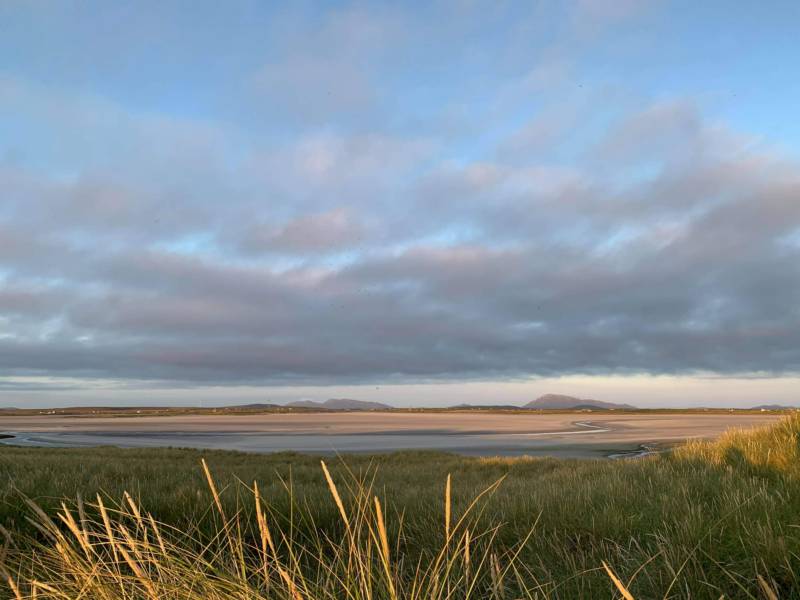 Glamping in North Uist
Glamping in Uist
Glamping in Scottish Isles
Glenbrittle Campsite & Cafe
Great views of the Milky Way and a beautiful beach on the doorstep
Poor Glenbrittle, it must be like having Miss World for a sister. Skye's Black Cuillin mountains are so jaw-droppingly beautiful that people often forget to enjoy the delights of the lowly glen at their foot. A thread of a road twists along a valley where red deer slip silently through the forests, a tumbling river forms exquisite pools of water and where, after seven sinuous miles, you will find one of the finest campsites in the country.
Glenbrittle campsite seems to have come to some peace agreement with its savage and towering mountain neighbours, allowing it to flourish quietly by their rocky flanks. The site is large but at the same time intimate, with long grass cropped into neat little sections that hold a few tents each. This, with the undulating terrain, gives the land a secretive feel: you could put 50 tents up and swear the place was half empty.
All of this makes selecting a pitch deliciously difficult. The view of the Cuillins is a gem, but no sooner do you align your tent towards it than you realise there are other treasures around. You could camp beside the riotous flowers that line the tiny stream, or next to the sleepy stretch of farmland inland from the campsite. Or how about next to a view of the beach that curves as firm and smooth as the belly of a young salmon? Whichever spot you fall in love with, you'll soon discover that this family has more than one beauty queen…
Glenbrittle is not one of those sites with shiny toilet blocks and vast children's playgrounds. The facilities at Glenbrittle have been upgraded, and the number of pitches has risen by 20, but the rugged simplicity of the site still attracts those in need of some serious R&R. It is a little like a Links golf course, with smooth broad fairways in which to pitch your tent and knee-deep rough in which to lose stray tent pegs.
Glenbrittle attracts an eclectic clientele from all corners of the world. You may stumble upon Scottish hippies singing 'Ziggy Stardust' around a fire on the beach, a gaggle of Polish climbers returning to the site, jangling their crampons and carabiners, or a quiet Japanese couple with a state-of-the-art tent and a worrying collection of sashimi knifes. Just don't let them see the Pot Noodle you're cooking up for your own supper.
Glenbrittle is probably most popular with climbers, who use it as a base for tackling the Cuillins, the mountain range that dominates the Skye skyline. Like a jaw full of broken teeth, it looms over Glenbrittle, blotting out the early sun. Every morning, plucky climbers can be seen setting off at dawn; climbing here is a serious business and not for the fainthearted. But even if you are not part of the crampon and carabiner crew, there are plenty of low-level adventures to be had along the peninsula. Whether you find yourself hanging from the rocks or simply relaxing on the beach, Glenbrittle is the perfect tonic for anyone who wants peace, tranquillity and a mobile phone with no signal.
Details
Facilities
There is a long sandy beach, which is sheltered enough to be safe even for toddlers to have a paddle and a number of walks from the campsite to suit all levels of climber and hill walker. Washing-up facilities, washing machine and tumble-dryer, waste disposal points and filtered mountain spring water are available for your stay. The shop is well stocked and fresh baked bread, croissants, pastries, snacks and light meals are available from our café. Fishing permits can be purchased from reception Payphone available onsite 24/7.

Suitable For
Tents, caravans, campervans, dogs, backpackers, groups – yes.
Nearby
Discover the joys of Skye by hiking the infamous ridge trails or enjoy the pleasant quietness of its remote beaches. This is a real paradise for outdoor lovers, where bikers, hikers and kite-fliers have space to roam. If you're on the souvenir hunt, pay a visit to Skyeskyns (01470 592237) to pick up a few of the island's famous handcrafted wares or, on less outdoor-friendly days, visit the Hebridean stronghold of Dunvegan Castle (01470 521206). Alternatively, you can visit the Talisker Distillery (01478 614308) at Carbost – it's one of the smokiest, peatiest malts around.
Food & Drink
7 miles down a single-track road means this really is self-catering territory. The campsite has its own shop, which is fully stocked with everything you might need. There is a coffee machine too. If you really need a bit of civilisation, head to the Sligachan Hotel (01478 650202), where there's a swanky restaurant and a cheaper bar. The Old Inn (01478 640205) at Carbost, 8 miles back up the single-track access road, has regular live music throughout the summer and a lively atmosphere.

Open
1st April – 30th September.
Campsite shop and cafe are open daily between 8am and 6pm.

Location
Contact Glenbrittle Campsite & Cafe, Glenbrittle, Carbost, Isle of Skye IV47 8TA
Getting There
A850 from Kyle of Lochalsh to Sligachan, then turn left onto the A863 to Dunvegan. Turn left at Drynoch and take the B8009 to Carbost. Just before you reach Carbost, turn left at the signpost for Glenbrittle. Follow single track road for 7 miles to end of the road at Loch Brittle beach where you will see signs for the campsite entrance.
The only public transport to the site is by taxi, the bus will only stop at the road end which is 7 miles away. The best transport to the site is by car.
Reviews
Add Your Review
Rated ★★★★★ over 11 reviews
Most peaceful campsite ever
We enjoyed a stay here for only one night but that was enough to get us hooked,with towering mountains behind and a beautiful beach in front this has to be the most perfect setting to stay in.its so peaceful and relaxing and there's even something quite nice about having no internet or phone signal which allows you to just enjoy where you are.the staff make you feel welcome and important and see you as a person not just a couple of quid.would highly recommend this site to everyone in fact the next day I sent a German couple to here promising them they wouldn't be disappointed.A MUST FOR ALL CAMPERS.
Stunning Place
Loved this place so much when staying here recently! Perfect place to stop off park up and pitch layout of the pitches are great with stunning views. I would definitely bring the family again very friendly and helpful staff nothing's too much 😃
Beautiful glenbrittel
We have stayed at glenbrittel campsite twice in the last two years and believe me it's a most with its beautiful surroundings, great facilities and lovely and helpful staff right on the coast with mountains all around could not think of anywhere better to be x
Great location
A great location  A bit unloved. Very expensive hook up at £7 . The toilet and shower facilities are small and cramped entered through public toilets with a code for a key pad.Not enough toilets and showers for the high volume of people . The lock on the ladies facility was broken so open to everyone . Cleanliness poor.
The owners have a disregard for their customers by not providing good facilities.owned by McLeod estates.
The excellence or the location should not be an excuse for second rate treatment.
dirty, expensive, best avoided
Booked a hookup pitch here for 3 nights in September. When we arrived there was no booking, so no reservation. The hookup 'pitches' are a small area right next to the toilet block, which isn't marked out so it's a free for all - resulting in no suitable space for us, so we decided to go off grid. It's an expensive site, £23 with hookup or £16 without, and I paid in good faith for 3 nights. What a mistake. The amenities block is quite frankly disgusting. It is honestly covered in mould, all over the walls and ceilings and festooned with massive cobwebs which are full of large dead insects. Showers were 20p for 8 minutes with good water pressure, which is the only good thing to say about it, since you don't feel very clean due to sharing it with the mould, dead things and clammy dirty shower curtain. It really is that bad. Dishwash sinks are located in the toilet areas so your other half can't help with the dishes, and the water from the sinks is nearly boiling point meaning you have to run a sink of water before you can use it, which due to the extremely suspect hygiene was not an attractive prospect. 
When I asked for a refund or our remaining 2 nights due to the poor facilities I was refused. We left anyway and went to the lovely Torvaig site near Portree, which I can highly recommend. None of the 9 campsites visited during our holiday were anywhere near as dirty as Glenbrittle. Or as expensive. 
Yes the location is amazing, but it's miles from anywhere (trust me you do not want to drive to Glenbrittle from the Sligachan hotel after more than a pint, if at all) and the walks up the hill behind the campsite and to the Fairy pools were both teeming with tourists so you're better off choosing other walks if you don't want to feel like you've joined a coach party. 
Best corner of Skye
I've been to the Isle of Skye before and if you can forgive the fickleness of the weather then it's one of the most beautiful places in Scotland... that I've seen anyway, and admittedly I've never been further North than that. I fell in love with how varied the scenery is on Skye and I thought I'd seen it all until on this visit we randomly chose Glenbrittle as our campsite. Good choice. I've found my new favourite corner of Scotland. The location is fantastic, Cuillins looming on one side, azure sea on the other. I should add we had good luck with the weather! The owners have thoughtfully divided each pitch with patches of uncut meadow giving everyone a decent amount of space. Everything was neat and tidy and definitely well looked after. The facilities might not be the newest or the most luxurious but we found everything to be nice and clean. After wild camping for a few nights previously, the warm (could have been a little hotter...) showers were bliss and 20p for 8minutes is not bad at all. There are cheaper campsites out there but Glenbrittle is worth a visit. 
Glenbrittle retreat
If you want somewhere to stay away from the hustle and bustle of 21st century living, you could not wish for a better place.  We have just returned home from 6 of the best days of our life, due in part from the wonderful base of Glenbrittle campsite and with a little help from the spectacular scenery and delightful walks we found on Skye, not to mention the seals on a well-worth-it boat trip from the base of the campsite's owners, Dunvegan castle. The views from our tent were worth the 12 hour journey to get there alone but added to our enjoyment was the peace and tranquility the campsite offered.  We usually don't return to the same spot twice as there's a big world out there waiting to be discovered, but this time, we may just be tempted....
Camping Glenbrittle
We stayed at Glenbrittle in June 2013, it was our last camping destination on our months camping tour around the west coast of Scotland. We were amazed on our arrival of the beautiful mountainous backdrop (the black cullins). There spacious camping area with individual slots - which is great as your never too close to other campers so you can just relax in your own space! ... The shop is amazing - its a campers heaven ! The wee beach right next to the site, has lovely sand and a suprisingly warm sea! We got some great shots at Glenbrittle and the fairypools we loved. 
Glen Brittle
We stayed here on one of the wildest nights we've seen at this time of year, but even with rain driving at us horizontally, this was one of the most spectacular places I've stayed.  The shop was well stocked for essentials, the showers and loos were clean, and the location was jaw droppingly beautiful. It is miles from anywhere, which was exactly why we'd gone there, but if you are looking for amenities it's probably not for you. We can't wait to come back, we only hope the weather is kinder on our next trip!
Mountain sea and sky
Surely one of the best sites in Britain, with the Cuillins on one side and a sheltered bay with a lovely beach. It is a good base for walks into the Cuillins, and several less ambitious walks are feasible around the area. Soay and Rum are visible across the sea. We were in our motorhome and made the mistake of booking into the hardstanding area with hook ups, which was grotty and right next to the toilets. After one night there we moved to the main grassy area which was like moving to a different campsite. The grass is mown to mark off areas which gives everyone their own space without being too regimented. The shop is very good but you need to stock up before coming here as it is a long way from civilisation. There are not many showers and they can get very busy- plan your shower visit for a time of day or night when it will be quieter. Midges? Well there are going to be midges in any Scottish site in midge season, I didn't find them too bad here. The location far outweighs the practicalities on this site.
Glenbrittle
What an amazing campsite! Right beside the sea, surrounded by mountains and way out on its own. The site itself is well laid out with pitches denoted by the cut grass and given a bit of space and privacy fom other campers by the long grass surounding them. Myself, my husband and our wee dog stayed here at the end of July and despite the weather being a little less than perfect we would be back here in an instant.
The only downer (as mentioned on this site!) was the amount of midges. I thought the repellent we had would be strong enough to fight awa anything - but we were wrong! thousands and thousands of them! However, a little bit of wind and they all disappeared making the evening bearable. The showers and toilets in the morning were a bit packed - but the site was busy and it was the height of summer - so if you allowed for it you could avoid the queues.
The campsite will be seeing us again - it was so amazing to have a sunset stroll down the beach beside the sheep and then back up for hot chocolate before bed. Perfect!