It's an unspoiled piece of grazing land beside a spectacular bay
Look into my eyes, not around my eyes, look into my eyes, and three-two-one you're falling fast asleep...
When you wake up you will forget that you have heard of a beautiful, unspoiled, remote campsite on a simple piece of flat machair beside a mile of tidal sands. You will forget that it has no facilities beyond a couple of public WCs and a water tap and that it is, quite simply, lovely. You won't remember that, when the tide comes in, there's an expanse of knee-deep water that's ideal for an idle paddle, or that when the tide goes out there's a swathe of sand that stretches nearly a mile out to the waves. Neither will it occur to you that you've seen a couple of whitewashed crofts and some grazing cows across the bay, nor that behind you are the mountains. You won't realise that there's absolutely nothing here to spoil the view.
When you wake up, you will forget that you've ever heard of the beauties of the Ardroil Grazings Committee campsite and you will never, ever, go there. Because if you go, you'll enjoy it and then tell other people about it, and then it won't be just our little secret anymore. So, when you wake up, you'll forget everything you've just read.
Three-two-one and you're back in the room. So, you were saying you're off to Skegness for your holidays this year? How lovely.
Gallery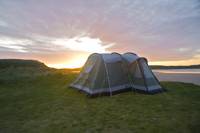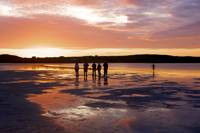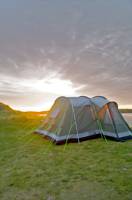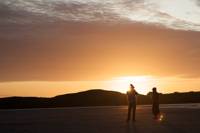 Reader Reviews
Add Your Review
The peace and natural beauty
I wish no one would find out about the place but that is selfish of me. Please don't change a thing.
Ardroil Grazing
New facilities building, showers, toilets, all very clean. £2 per night if you can find someone to pay. Stunning beach to play on and shop etc close enough. Campervans are welcome but where they go is not very clear unless you maraude into the dunes which I'm sure can't be right. Similarly no clear indication as to where tents go, in fact it looked as if no tents were allowed so a clear map in the facilities would be helpful as it's a great place to stay and Cnip, the next place, is not as good!

Ardroil Grazing
I stayed at Ardroil in July 2010 with my six year old son. We had the place entirely to ourselves and spend an amazing couple of days enjoying the huge unspoilt beach. Its windy though so bring a kite ! I would mention that Ardroil only has a toilet block an no other facilities. Mac
Best Price Guarantee, with no fees
Instant booking confirmation
Trusted for over 10 years
A chance to win £50 of Cool Camping vouchers!
Book campsites near Ardroil Grazing
i
Campsites in Ross-shire
Campsites in Highlands
Campsites in Scotland