Lazy Duck
Nethy Bridge, Inverness-shire PH25 3ED












The perfect place to introduce your kids to the pleasures of laziness.
The Lazy Duck campsite is well named. Its resident Aylesbury Ducks are so relaxed that the site owners David and Valery once had to bring in nanny ducks as the Aylesburys were too lazy to bother hatching their own eggs. The site seems to have an equally soporific effect on campers, and new arrivals soon slip into a similarly relaxed state here, as doing very little becomes the main aim of the day.
To call the Lazy Duck a campsite is perhaps a little misleading. It's more a chilled forest clearing, blessed with a sauna, wood-fired hot tub, and a bush shower, where swings and hammocks dangle from the tall trees and man and duck idle side by side. It just happens to have plenty of room for four very lucky tents and their (maximum of three) inhabitants. With typical unassuming attention to detail, David and Valery and their team ask you to move on every three days to another spot to save the grass. Welcome new comforts include the Campers' Shelter, where you can relax by a chimenea in the evening and meet your fellow lotus-eaters. Other welcome include the eight-bed hut hostel; the Woodman's Hut, a seriously romantic eco log cabin-style getaway for two; the Duck's Nest, an enviable couple's retreat on the waterside; and the Lambing Bothy, which stands alone among the nuzzling Soay sheep and free range hens.
The larch-built, wood-fired sauna is not just an afterthought, either, with a small chill-out area by the sauna room where you can light a candle, burn a little essential oil and listen to the collection of ambient CDs. The views, both here and all around the site, are sublime, with the heather moorland and patches of Caledonian forest stretching out in front, while the peaks of the Cairngorms National Park lurk to the rear.
Once you've managed to rouse yourself from this wanton relaxation – no mean task here – then even setting out on a walk requires little effort, as the Speyside Way, one of Scotland's designated network of marked long-distance trails, passes nearby. The area is also very popular with mountain bikers and you can cycle on the Speyside Way itself, around the Abernethy Forest or the Rothiemurchus Estate. The forest and estate are both highly regarded, with a variety of terrains from smooth forest roads to tough muddy single tracks through the thick trees. In winter there are ski slopes nearby; the Deans advise 'hutters' (there's no camping from November to May) to bring their own toboggan if they fancy a spot of sledging.
Back at the campsite, one of the simple pleasures is just watching the eponymous ducks amble through their day. They are joined in the ponds and Fhuarain Burn by myriad other birdlife including mandarin, widgeon, goldeneye and whistling ducks. Red squirrel, roe and red deer, and the odd capercaillie can be spotted within the surrounding forest.
If you want to shun the laidback ways of the Aylesburys, you can also tackle the Spey in a canoe or kayak, or just sample some of its famous produce on a choice of distillery tours – this is serious whisky country. After a few drams, a swing in a hammock is the perfect recreation at a site where relaxation is practically mandatory. Just ask those ducks.
Gallery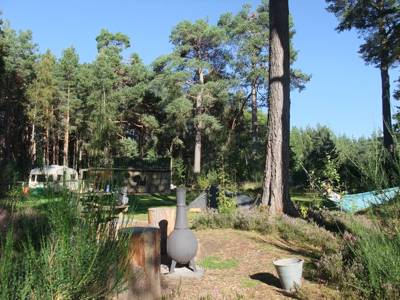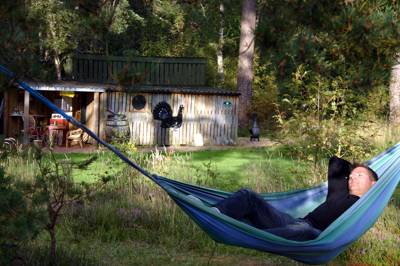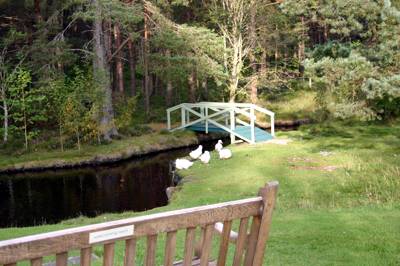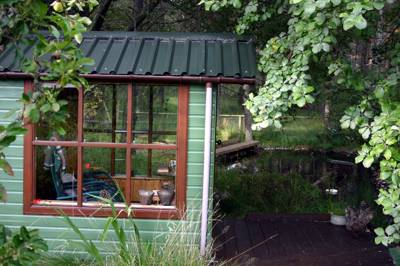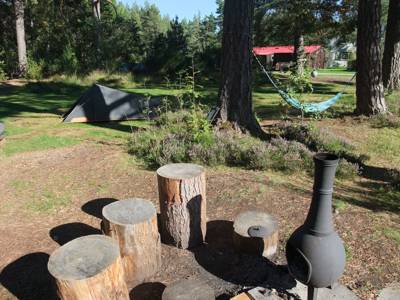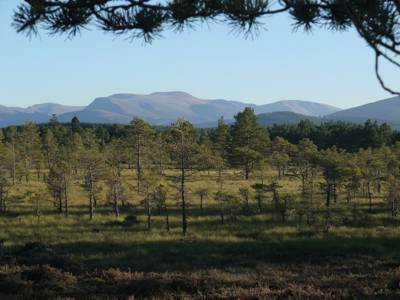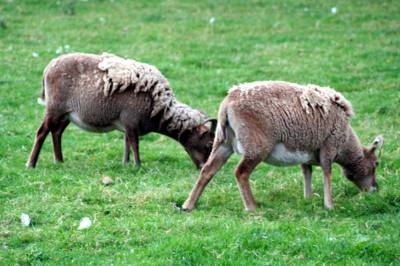 The Owner Says
Reviews
Sign up or sign in to leave your review of Lazy Duck
An unforgettable weekend
Put simply, one of the most memorable camping experiences of my life. I first stayed at the Lazy Duck before it was really geared up for camping, and the main accommodation was a log bunkhouse. The owner was (in contrast to the sites we'd already tried that afternoon) extremely welcoming to a large-ish group of mixed 25 year-olds turning up without notice, and offered to let us pitch in a beautiful sheltered clearing. The weather was as perfect as the setting, and we spent two fabulous days walking in the Cairngorms, drinking whisky, telling tall tales and toasting marshmallows in the site's chiminier. The various additions to the site over the years have only served to enhance its welcoming, romantic and very personal feel. I don't even resent (too much) that our secret camping paradise is now public knowledge; it deserves to be shared!
Lovely, personal campsite
We spent a night camping at Lazy Duck this summer and felt really inspired by it's un-commercial set up, quirky ideas and perfect location. Great touches such as the campers shelter, the chimenea and lots of happy ducks make this place very special indeed. We particularly recommend the trail around the juniper woods, with a bench in just the right spot to enjoy a magnificent view of the Cairngorms.

Lazy Duck
Very enjoyable 2 nights camping at The Lazy Duck. Campsite has bookable pitches for 4 small tents plus a couple of spaces for walkers/cyclists so very quiet & peaceful. Perfect location in a clearing in the forest near Nethybridge. Site is very well maintained with a cooking shelter with comfy chairs, tables and a chiminea (wood provided) providing a great place to relax of an evening. The bush shower is an experience not to be missed and there is also a hot tub with fantastic views towards Cairngorms and a small sauna. Owners & volunteers are always available to assist if needed and we will certainly return to this site perhaps to use the Woodman's Hut, Duck's Nest or the small hostel, all of which looked very inviting. Would recommend this site to anyone looking for something a wee bit different from the average campsite.
Very good campsite with very protective owners
Very nice place but unfortunately not very relaxed. You will find laminated instructions pinned everywhere. They will even advise you how to flush the toilet! The place is very well maintained almost manicured and the owners will give you a lenghty pep talk at check-in. Having said the owners are very friendly and the campsite is lovely but I'd personally prefer a more laid back approach.
Response from Campsite owner:

Thanks Mags for your review. We don't like too much surplus information either. With our experienced campers like you no doubt we could do with less but surprisingly and welcome news overall is that around half of the campers coming to us over the last two year call themselves newcomers to camping.  They particularly welcome lots of guidance from us and from those more competent folk pitching next to them. Most of the other notes are to let people know what they can do here and from here rather than what they can't do. I expect you noticed that.  As for the quirky loo flush; you may not have noticed but it is very, very old and secretly we are seeing just how long we can keep it going before adding to the country's landfill excess. Finally, yes we are fairly tidy in a half wild garden, duckpond, lambing field, woodland sense; that's why so many folk keep coming back I suspect. 

Lazy Duck
very lovely campsite, especially for hikers and bikers. we got on de spare place because there were already four other campers, but I think it was the best one. after a very warm welcome with tea and a snack David recommended the bush shower and it was very good. Also the shelter was very basic but cosy. if you don't need any luxury, it's the best. love to go there again
Best Price Guarantee, with no fees
Instant booking confirmation
Trusted for 10 years
Chance to win camping goodies in our regular competitions!