Grass pitch with big views
Badrallach Campsite, Bothy & Holiday Cottage, Croft 9, Badrallach, Dundonnell, Ross-shire IV23 2QP
Sleeps 6

(max 6 adults, 5 children)
Book camping accommodation at Badrallach
The Owner Says
Take your pick of available grass pitches at our lovely lochside campsite – Little Loch Broom is just beyond a small hillock. We do not assign particular pitch numbers for bookings made online, so when you arrive please take an available pitch. Some of our pitches have fire pits - availability of fire pits is on a first-come, first-served basis. If you are booking for several tents, please book a pitch per unit, but feel free to pitch together when you arrive!  If you require a pitch with an electric hookup, please select one of our four pitches with electric hookup, if available.
View Gallery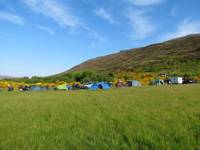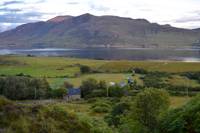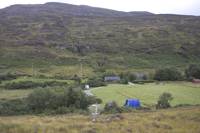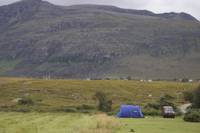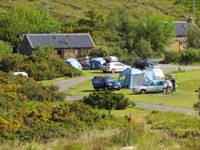 Search all availability at Badrallach
Where the end of the road is the start of your adventure
The Owner Says
We are a remote Highland campsite, complete with holiday cottage and a simple bunkhouse that comfortably sleeps 12. If the weather or midges are terrible then the bunkhouse (we call it the bothy) is there to help you escape – often this is best with a dram on front of our wood-burning stove. We have toilet and shower facilities better than many larger campsites and different types of pitches for different tastes – either hide in the gorse or stay out in the open. We've even got four electric hook-ups!
You'll find some of the most stunning scenery in Britain here, be it the spectacular mountains, the ever-changing coastal weather painting dramatic colours everywhere, or the incredible diversity of wildlife, which, sadly, is rarely seen elsewhere in the UK. Little Loch Broom (it's not that little) is the sea loch we are situated upon and it is part of a wider MPA (marine protected area) for the unique life that resides within it. There are excellent boating opportunities on the loch on calmer days, and also opportunities for recreational fishing around the entire coast – just ask Chris the campsite attendant for some local, rugged Highlander knowledge. There is much to be made of the hill-walking (especially the foreboding yet beautiful An Teallach), fat-biking, trail running, hill-loch fishing with the small chance of ferox or arctic char (which we ask you to return as these are genetically distinct and isolated populations). It's also a very popular stop-off point for NC-500 travellers.
Our price range is lower than that of any managed campsite we know of and you'll find an abundance of peace and quiet whilst you're here.
From EarthMind Fellowship CIC: At various points in the year we can provide a variety of workshops for exploring nature, both inner and outer, incorporating herbal medicine and nutrition, health and wellness, stress-management, HeartMath, Wilderness Therapy and creative approaches such as dance, music, art and writing. If you would like to know more please contact Owen Okie at emf@earthmindfellowship.org.
Site Facilities
20 grass pitches on a gently sloping field. 3 electrical hook-ups; 2 men's, 2 women's and 1 disabled loo, plus 2 unisex showers. Communal kitchen (including washing-up area and fridge) and a washing line. If not booked by a group, the bothy facilities can be used by campers: eating area, wood-burning stove, darts, board games, tourist info, small library and comfy settee. Campfires allowed; firepits provided on half of pitches. BBQs must be off grass. Owen runs nature-based retreats for mental and physical health and self-development (visit his Earthmind Fellowship website for further details). You can also rent the gas-lit cottage for a more luxurious stay.