Romatic woodland escape? Adrenaline-filled adventure? Paintballing war with the work crew? This secluded Scottish gem in the spectacular Findhorn Valley offers it all.
Ace Hideaways is a remarkable place. Enigmatic in many ways, it avoids any one, single definition and makes its name as a campsite – or hideaway – for every kind of escape. The setting is one of serenity and peace – clearings in the woods with off-grid glamping accommodation and basic camping pitches – yet its adrenaline-pumping, heart-thumping adventure arm lends an altogether different atmosphere when needed; one of white-water action and paint-balling fun.

The type of holiday you're after, of course, is entirely up to you. Families and campers heading north for a quiet escape are blessed with the remoteness that Morayshire affords. The elegant, mature trees of the site reach across one another to enclose you in a cocoon of quiet, while miles of footpaths, rivers and empty open space remind you what makes this part of Scotland so special. Adrenaline addicts meanwhile can weave through the campsite footpaths to the banks of the River Findhorn, don a lifejacket and hurl themselves (both literally and metaphorically) into its depths – be that via canoe, kayak, raft or simply plunging in on one of their cliff-jumping sessions.
Facilities-wise, things are similarly eclectic. There are a few tent pitches, three large bell tents – furnished with mattresses or bean bags – and a shepherd's hut for two (more fully-equipped for a luxury glamping break). Each have their own clearing in the woods, while off-grid compost toilets and gas-heated showers blend seamlessly and appropriately into the woodland surroundings. There's also a communal area for cooking, with campfire pits, utensils and washing up sinks, along with a huge log table and stools, crafted out of a giant tree that blew down on the banks of the river.
There's plenty to do locally. The Findhorn Valley is typified for its rich woodland and spectacular gorges, with footpaths leading directly from the campsite. You can, in fact, walk the two miles from the campsite to Logie Steading Visitor Centre where there's ample information on the wildlife of the area. Not that you really need to go that far. Couples in the shepherd's hut can peer from its tiny windows like bird watchers in a hide, observing the myriad creatures of the forest, while everyone else can make do creeping quietly around with a pair of binoculars to hand. You'll be surprised just how many creatures will frequent the campsite itself – a welcome sign of just how subtle and eco-friendly the whole place is.
Best Price Guarantee
Easy and Secure, with instant booking confirmation
Trusted for over 10 years
A chance to win a brand new Coleman tent!
Gallery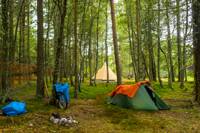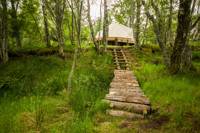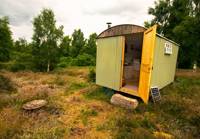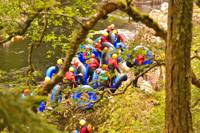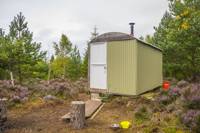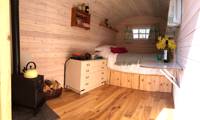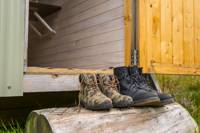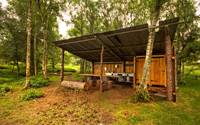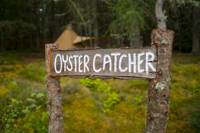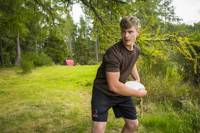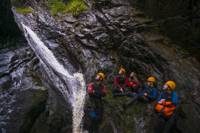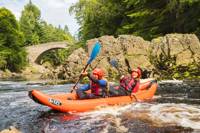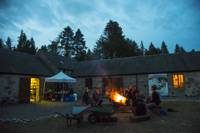 The Owner Says
A natural retreat hidden away in the Findhorn Valley with camping and glamping spots to suit couples, families or groups of friends, and a whole host of activities right here, a stroll from your doorstep or canopy.
Reader Reviews
Add Your Review
Secluded and peaceful
Flipping loved it! Tent pitches hidden away from one another in trees. Really great camp kitchen area to cook and wash up and meet fellow campers. Peaceful and quiet! Loved the walks nearby along the river. Great location for a road trip along the stunning moray coast and black isle. Well worth the drive to get there!
Fantastic experience
Loved the location, pitched amongst trees. A fantastic outdoors experience! Didn't partake in the activities choosing to explore the countryside and local towns instead, although the paintballing area looked lots of fun. Friendly, helpful staff in reception, a great time had by myself, children and dog, would definitely return. Only drawback was ticks which is quite unavoidable in woodland areas, certainly hasn't put us off. 5🌟
Campfires, stars, trees...
Really loved camping here, felt like real wild camping and we had a great pitch in among the trees. Spent most of the time around the campfire. We didn't get particularly involved with the activity centre stuff nearby but spent a lot of time on the coast (lesser known part of Scotland; peaceful and pleasant). Would defiantly return and would also consider staying the shepherd's hut if the weather was colder. We had a little look at it and it looked very cool!
Absolutely Chilled
This is what camping should always be. My daughter and I had an amazing time here! Camp fire cooking was great and the staff were outstanding in their welcome and enthusiasm!!! We loved the raw natural experience. I will def be back.