Splendid location on the edge of Loch Sunart, in an unspoilt, largely undiscovered corner of Scotland
Where can you go camping if you fancy spending half your time ruining your body in the name of physical exertion, and the other half trying to improve your mind? Is there a campsite whose philosophy embraces both fast and slow lanes? A campsite where you can do extreme exercise one day, then an art course the next? It surely can't exist, can it? But it does, here at Resipole Farm, out on the western edge of the Highlands next to the shining shores of Loch Sunart.
Knowing that Resipole is a place frequented by the outdoorsy active-types, we sent members of the Cool Camping (muddy) biking team to inspect the site, hoping to get their (mucky) single-track minds improved in the process, as nothing is said to be utterly impossible.
What they found was an unmistakable 'activity aura' enveloping the whole site, with canoes and sailing boats being hauled to and from the loch, mountain bikers returning from a long day in the saddle in wonderfully filthy states, as well as plenty of folk who only want to get out there sometimes, but are happy to spend the rest of their holidays exertion-free.
Although this is a big campsite, which gets pretty busy in midsummer, the effect as a whole (thanks to big pitches and careful landscaping) results in a pleasant environment that never feels too hectic, or full. If it does get full, though, and you show up on your bike or on foot, it's guaranteed that room will be found for you.
What really matters here, though, is not how big the pitches are, nor how superb the facilities, but what you can do to your body (and mind) in the world surrounding Resipole Farm. The boating potential has already been floated, but there is also a slipway for launching small powered craft into Loch Sunart, which is big enough for everyone to take advantage of.
For those whose concerns aren't as focused on all things outdoors, the campsite's cycle-friendly owners (bless 'em) run the Resipole Studios, which provide a hefty heap of culture to balance out all that adventure. Here campers can not only check out the various summer exhibitions and indulge their wallets on varying forms of art to stick on the walls back home, but they can even have a dabble at creating some artistic masterpieces of their own.
But enough of that art malarkey, and back to the important matter of biking, because this area is about as good as it gets for rampant cyclists, with the quiet lochside road giving velocipedic access to rides as far as your legs will take you. Pedalling to the ruins of Castle Tioram makes a pleasant day out, Kentra Bay is amazing and Ardnamurchan Point – there and back – is about 55 miles of pleasure and pain. With Ben Resipole peeping up out of the scenery just behind the site, it ain't half bad for walkers here either. Or landscape painters, for that matter.
Gallery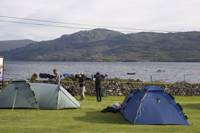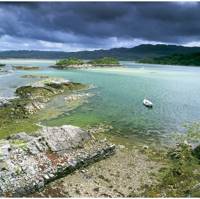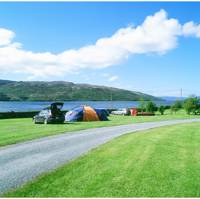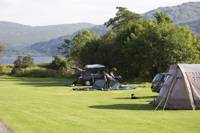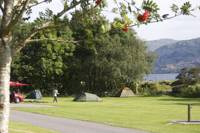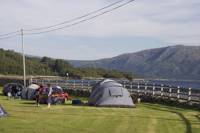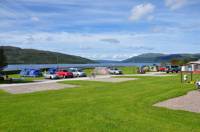 The Owner Says
Resipole Farm Holiday Park is on the north shore of Loch Sunart overlooking the Morvern Hills. Perfectly situated to explore the Ardnamurchan Pennisula with its spectacular ancient oakwoods, deserted beaches and wildlife in abundance.  60 grass and hardstanding pitches to accommodate tents, caravans, camper vans and motorhomes. Electricity hook ups on both grass and hard pitches. People who enjoy staying with us are walkers, wild life enthusiasts, fishermen, canoeists and kayakers, divers, cyclists, photographers and just about anyone who likes to be outdoors.  Spend the day doing your chosen activity then relax on our quiet, low key site, maybe have a barbecue or a fire on the beach and watch the spectacular sunsets we have here.
Our facilities include a shower block with lashings of hot water to warm you after a day playing on/in the water. Deep sinks for washing pots. A launderette, a must for washing all those muddy cycling and walking clothes. A small provisions shop for milk and bread and essentials like ice cream and chocolate. A dedicated 'off lead' dog walk so that our four legged friends can have a daily workout too. So please come and visit , bring the children introduce them to natures playground and make memories that will last their lifetime.
Reader Reviews
Add Your Review
Good location
Nice site well looked after
Poor toilets and showers cramped and old
Midges!
Lovely clean campsite away from everything.  Very friendly staff.  But watch out for the midges- they were horiffic! (July 2014).  The kids were screaming, they were attacked so much.  Bring a midge suit.

Fantastic place. Great views, very quiet but mind the midges!
We spent one night here on our tour and it was glorious! Admittedly we were very lucky with the weather as we had a week of balmy sunshine. Its a very well kept quiet campsite and clearly very well suited to fisherfolk (I think they have a slipway for guests to use, or maybe its just that a free slipway is convenient to the site). Downsides are that as its inland the midge factor could be very high, we got bitten but it wasn't as biblical as is reputed. Also the nearest pub is about 10 mins drive but as the road is narrow, definately not safely walkable. If you go make sure to visit Castle Tioram near Acharacle. It just one of the most beautiful settings I've ever seen. We went in but workmen arrived to weld new gates on to the entrance just as we left so you may have to content yourself with the view. (That's good enough though). Loved this place and will go back. Mark
Best Price Guarantee, with no fees
Instant booking confirmation
Trusted for over 10 years
A chance to win £50 of Cool Camping vouchers!
Book campsites near Resipole Farm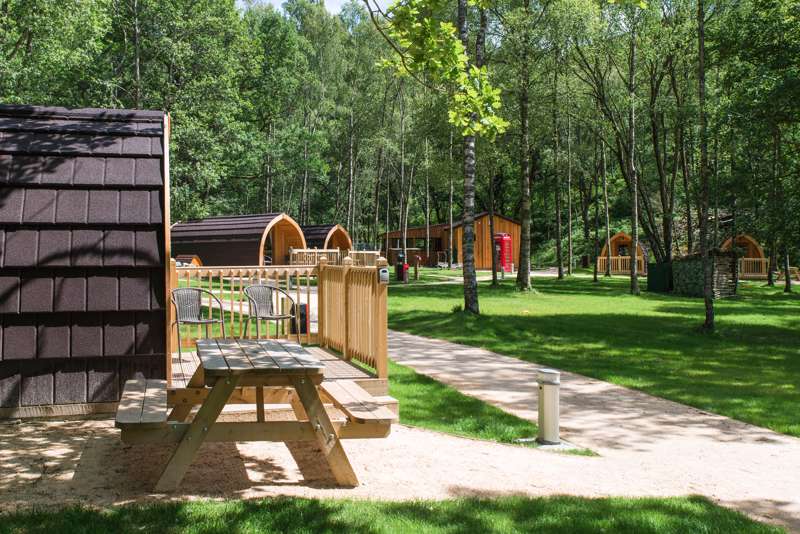 i
Campsites in Stirlingshire
Campsites in Central Scotland
Campsites in Scotland
Available:
2 Pitches
2 Pods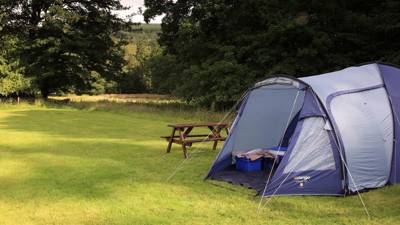 i
Campsites in Argyll & Bute
Campsites in Highlands
Campsites in Scotland