Small, friendly and midge-free beachside site miles from anywhere remotely touristy. Great for cyclists and canoeists.
Fancy a challenge? How about heading down a seeming road to nowhere in search of Kintyre, a place that truly encapsulates the phrase 'out on a limb'?
Getting anywhere near Kintyre can itself be a long and arduous undertaking, involving a route around the shores of both Loch Lomond and Loch Fyne. You can try crossing the two lochs aboard a ferry – it may not be any quicker, but it's more relaxed and even feels a little exotic – or take the recently opened direct route, ferring all the way across the Firth of Clyde from Ardrossan with dramatic views of the Isle of Arran along the way.
But is Kintyre really worth all that travel time? Well, rest assured that the doubts that may have plagued you along the way (despite all the glorious scenery en route) are bound to evaporate on reaching this very special place. Perching on not-so-towering cliffs that measure just over a metre in height, Muasdale Holiday Park sits directly above the purest white sands. The calm waters that reside in this bay are so sheltered that, despite the campsite's proximity to the water's edge, there's no danger of sharing your sleeping bag with the sea.
The beach itself is exceedingly beautiful and the water warm enough for extended bathing. But what really stole the hearts and minds of the Cool Camping team was the view over the water to the islands of Islay and Jura. It wouldn't be out of the question to simply sit here with a good book for a whole week, occasionally glancing around to confirm you've won big in the lottery of life.
Taken over in 2016 by friendly owners Alan and Ailsa, the campsite is part of the tiny straggling village of Muasdale, which retains an air of everyday life about it that is yet to be troubled by tourism. The camping area takes up a slither of well-drained, midge-free ground between the main road and the sea, and with no more than eight pitches available, it's rather small. The official Cool Camping inspection took place over the school holidays, but the place wasn't full, nor did the road prove noisy at night, even though we slept right next to it.
Should you finish your book, hole your canoe, break your bucket and spade or lose your Speedos, it's worth popping your derrière on to a bike saddle, as the mainly flat road on the western side of Kintyre is made for two-wheelers. The ferry to the small island of Gigha is a four-mile pedal, or you could present your thighs with a real challenge and cycle the amazingly scenic road on the eastern side of the peninsula. Surf dudes and chicks can find some serious waves at Machrihanish Bay, or you could take a ferry ride to the island of Islay to the west, where the distilleries produce some of the finest malts in the world. If you do take your bike over, stick to the east of the island and enjoy the impressive sights of nearby Jura as you pedal.
On the other hand, that might be one challenge too many, so maybe just sit back, relax and open another book.
Best Price Guarantee
Easy and Secure, with instant booking confirmation
Trusted for over 10 years
A chance to win a brand new Coleman tent!
Gallery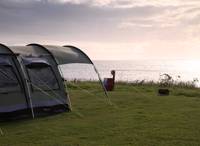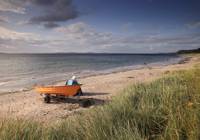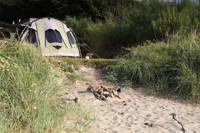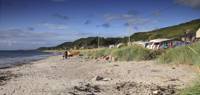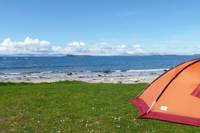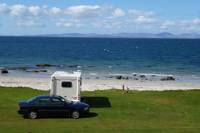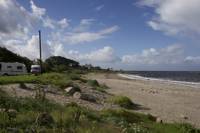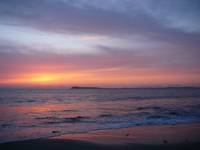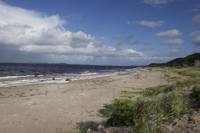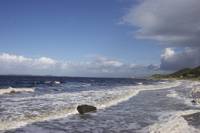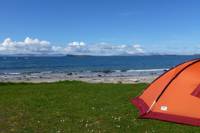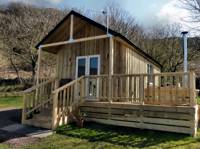 The Owner Says
Situated right beside the Atlantic with unobstructed views over the Atlantic to Islay, Jura, Gigha and Cara, with a peaceful white sandy beach, ideal location for families and those wanting a slower pace of life for their holidays. Make sure you pack your binoculars to watch the wildlife, lots of wading birds to be spotted (your tent becomes a hide).  Ideal location for launching canoes/kayaks.
Modern Amenities Block:
  Providing showers, toilets, private wash-room, hand-dryers, hair-drier (ladies) shaver sockets (gents) and indoor washing-up area with two sinks. No coin meters on showers, plenty of hot water.
Free WiFi available.
NB:
There are 8 pitches available which are suitable for tents, trailer tents, camper vans, tourers, or medium size motor homes.
BOOK EARLY TO AVOID DISAPPOINTMENT.Check Out:
Departure time is 12 noon. 
Reader Reviews
Add Your Review
Camping Muasdale
We came to stay at Muasdale in May 2013. Its such a lovely lovely quiet spot with amazing sunsets! We were both so pleased with the set up and the facilities you have available.(Also you were some of the friendliest camp owners we came across during our months camping tour!) We got some fab photographs.
Pitch Perfect
Stayed here for 5 nights in August, words can't describe this wonderful site. Perfection in every way - location, tranquility, service, cleanliness, size and I could go on and on. You must experience this campsite for yourself, a dream come true. Thank you.
Muasdale
Hi folks, just wanted to let you know that me and my wife thoroughly enjoyed our weekend stay at the park. We were very lucky with the weather (considering the deluge of rain you had prior to our visit!!) and we enjoyed just "chilling out" in the warm sunshine, sitting outside our caravan taking in the beautiful scenery looking out to Islay, Jura and Gigha. I can't recall being on a site with the stunning views that Muasdale has to offer. We were lucky to see three sunsets as well. After we booked our touring pitch, we were counting down the days to our visit and I must say that everything about your park was "spot on" and just what we expected it would be. The toilet block was 1st class and I enjoyed a hot shower in a spacious cubicle. We enjoyed our walks along the white sandy beach and the best part about it was that it was only a few feet from our caravan!! With the weather being so nice during our stay, we didn't get the chance to play pool and table tennis in the games room (there just wasn't enough hours in the day!!) Finally, thanks to you both for your hospitality and friendly chats during our stay. We will be back next summer for a longer stay and hopefully we will see more stunning sunsets. Colin and Caroline H
Book campsites near Muasdale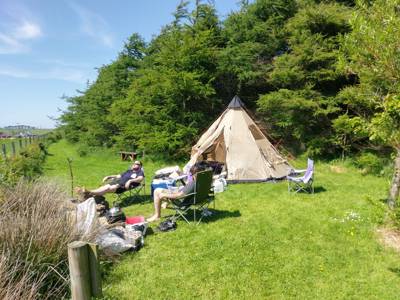 i
Campsites in Dumfries And Galloway
Campsites in South Scotland
Campsites in Scotland
Available:
4 Pitches
1 Pod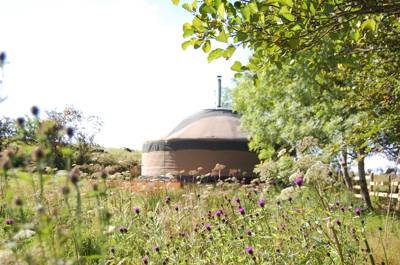 i
Glamping in Isle Of Arran
Glamping in Scottish Isles
Glamping in Scotland
Available:
3 Yurt or Gers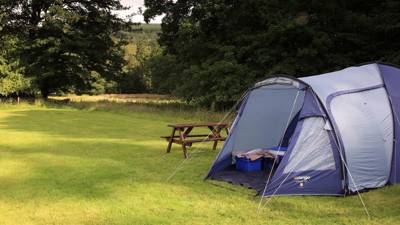 i
Campsites in Argyll & Bute
Campsites in Highlands
Campsites in Scotland