Greenhillock Glamping & Camping
Glamping and camping in five gorgeous acres of wild flower meadow in Eastern Scotland
If the point of camping is to immerse yourself in nature then few places do it better than Greenhillock Glamping. A five-acre site with just 20 pitches and a scattering of beautiful bells, it exudes a wonderfully wild and natural aura yet without simply abandoning you in the hills. In fact, Greenhillock is really a family site – a haven for kids and well equipped with showers, toilets communal cooking and chillout area – yet its sense of nature comes not from feeling isolated in the wilds, but rather from being a part of the natural surroundings.
As a campsite the place is excellent. The pitches are generous and well spaced out and the communal field shelter is perfect if is perfect doesn't play ball. There's an 'Art Shack' for creative kids, while those seeking comfort can ditch their tent and pluck for one of their three bell pods instead – fully furnished with wooden floors and a private deck area with firepit.
As a place to explore, though, Greenhillock really is something else. Nature trails, some mown narrowly among the long wild grasses, others meandering into surrounding copse, weave and separate through the surroundings, linking back up again like a vast natural maze. Hedgerows and mature trees provide enough fallen branches to set the scene for the next World Den Building Championships and a pond in a quiet corner of the site is set up with wooden board platforms around its edges; purpose built spots from which you can poke and prod with a net and bucket. Insect inspecting is an essential part of any stay here. They even provide some basic scientific equipment to help you out.
The abundance of nature – thanks to more than 20 years of careful cultivation – make it an excellent spot for walking and cycling, with quiet B-roads keeping things safe and sound. More hardy types, though, should hop in the car and head north to the Cairngorms National Park, where formidable mountains offer tougher outdoor trails. The east coast is a similar distance in the opposite direction and a good alternative place to end the day, munching fish and chips along the harbour at Arbroath. Only if your not whiling away the hours around the campfire, that is; the essential ending point for most at Greenhillock.
Best Price Guarantee
Easy and Secure, with instant booking confirmation
Trusted for over 10 years
A chance to win a brand new Coleman tent!
Gallery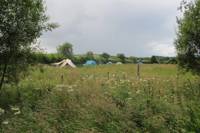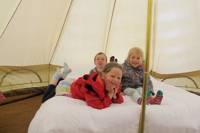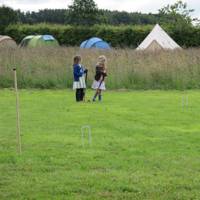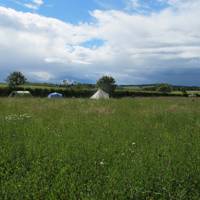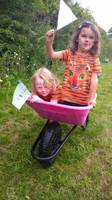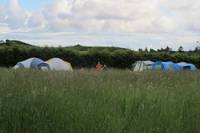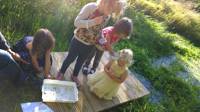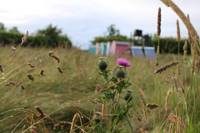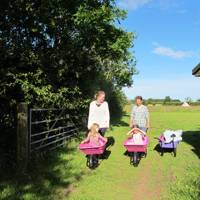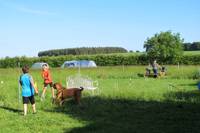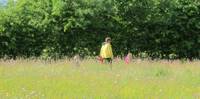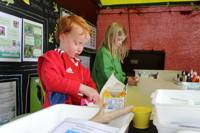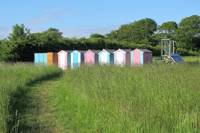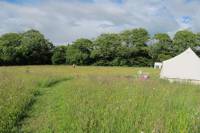 The Owner Says
Our gorgeous eco-campsite boasts secluded bell tents and spacious grass pitches nestled in picturesque wild flower meadows. You can wander along a nature trail, enjoy a quiet moment in the wedding wood or relax by your own campfire. However you unwind there's something here for you. Little people are catered for too with pond dipping, mini beast hunting and den building all on offer on a car free site . By providing opportunities for people to relax together 'off-grid' we strive to conserve nature's precious balance for future generations and inspire others to do the same. 
Reader Reviews
Add Your Review
Nice sized, Eco friendly, lovely people
Lovely little camp site with great facilities. Feels very natural , no motorhomes, caravans tarmac roads etc and you get the feeling of being out in the countryside. Having a firepit on each pitch is fantastic and we all loved it. Very family friendly site with nice clean facilities. Well Done
So good we went back a few weeks later!
I first stayed at Greenhillock with my 3 year old daughter in June at the solstice celebration. We loved the relaxed, friendly and laid back atmosphere. The site felt safe for the little one and there was plenty to do for imaginative minds. We had so much fun that we returned in August with husband and our friends and their 2 kids and had a great time again. Yes the composting toilets get a little bit funky if the site is busy but it's not a big issue. We will definitely visit again next year.
beautiful location, great facilities, we had a blast
Just home from two lovely nights camping with three families in total, kids from 8 to young teens. Loads for the kids to do, den building, board games, a craft hut and lots of room for hide and seek, ball games and other outdoor fun. The amenities are all clean and well maintained and the site itself is lovely with a great view of the stars and the milky way on the first night with no clouds in the sky.
An excellent family campsite
We stayed at Greenhillock with 3 other families and we had a great time. The Bell tents were very comfortable and had lots of useful items such as pots and pans, plates, bottle opener etc. The kids enjoyed toasting marshmallows, making dens, pond dipping and painting rocks. We will return.
Magic natural haven
We had a fantastic family camping weekend at Greenhillock and right from the start Isabel and team were able to answer questions and give advice. The site was fantastic for both kids and adults. Its always a bonus to have a proper fire and we certainly were grateful for the inside space after when the storm broke. Lots of great facilities while still being eco friendly in every way. Will definitely be back though almost want to keep it to ourselves!!
Facilities were brilliant
Me and my partner have just returned from a weekend at Greenhillock, we travelled 5 hours and requested a late check in which was absolutely no problem. What a great experience, spacious tent pitches, excellent facilities especially for those without much camping equipment. The staff are lovely and very informative. Great weekend, thanks guys.
great experience
this was our first camping experience, as novices we were nervous about what to expect, the staff were friendly, helpful and informative, fellow campers were also friendly. All the pitches are fairly close to the facilities. Its been a lovely weekend, thanks.
Peacefull. Secluded
Nice secluded campsite away from any roads. There are 5 glamping pitches but we brought out own tent and booked the adults area which is a great idea. There are 2 fields, 1 mains one with all the tents, toilets, showers and kitchen area. Then theres the adults field next to the main one, where there is the glamping tents also in this field. Each pitch has a fire pit and if you need wood they come round and ask of you want to buy any wood etc which was really cool. No cars are to go past the car park so kids can roam free, There are loads of wheel barrows setup there, so you can transport your stuff to your pitch with ease. This is a well thought out camping area for tents and glamping and would highly recommend!
Beautiful wildflower meadows....
A wonderfully thought out eco friendly campsite with great, simple, eco friendly facilities! Very welcoming owners and staff who talk you through everything and are on hand to answer questions or sell firewood! Nice spacious pitches with campfire pit. We thoroughly enjoyed our stay and our two girls loved pond dipping! (Kit was provided for a small deposit if you don't have your own!)
Love it!
We stayed here in August, most of the Scottish schools were back and there were just a few having the last weekend away. It's a beautiful, yet basic site. Lots of thought has gone into facilities, from extra sinks for brushing teeth, clean composting toilets and solar showers (lovely and hot after a sunny day, not so attractive when overcast, but that's understandable). Having the option to eat in the Field kitchen, with fridge and freezer space was great on the inevitable wet day, also the artists tent for children, particularly when the adults were washing up was well used. The only tears were on the day we had to leave when I told the kids (4 and 6) that not every piece of "art" covered in grass seeds could join us. Campfires were no problem and owners very friendly and helpful, plenty of barrows for kit transfer to and from car. Lots to do on and off site, would love to head back. And of course, no midges got to us on that side of the country...
Our new favourite site!
We're just back from a one night stay at Greenhillock last night - we (family of four - 2 boys ages 5 and 8) were camping with another family (also two kids of same age). What a beautiful site - so much thought has been put into it, with the wild flower meadow dividing up the pitches, the cool 'beach hut' loos, the pond and pond dipping, the den building, the art shack, the field kitchen, the outdoor games, the bug shack, the campfire spaces on each pitch. We will definitely be back. This is pretty much exactly how I like a campsite! Pitches not too close together, a beautiful space, and campfires. The compost loos are so cool - not in the least smelly and so much thought has been put into them with the colours and the mirrors and basins inside (running water to wash your hands - and even hot water!) Our kids loved just being able to run wild, but we knew they were safe. Stig and Kate (the owners) are just delightful - they even willing joined in our game of charades with the kids around the campfire! I look forward to going again - I like the idea of the pizza ovens that Stig has in mind!
Great for kids
I stayed the night here with my 5 year old son. Despite the dreadful weather we had a fabulous time. Particular highlights were the campfire and pond dipping. We never had time to explore the den making area or the art shack! The owners were so friendly and helpful, they were fine with the dogs mooching about and we're really engaging with my boy. We'll definitely be back with the rest of the family!
An idyllic escape
We spent an idyllic weekend at Greenhillock Glamping on the 15th & 16th of July and we couldn't have been made more welcome by owners Kate and Stig . A 10 minute drive from Forfar, Greenhillock is situated amongst rolling fields and flower rich meadows and is the perfect place for families, for those wishing to explore the many historic castles and palaces nearby or for those just wishing peace and tranquility. The beautiful beaches at Lunan Bay, St Cyrus and Carnoustie are 30 minutes away and there are many small towns and village to explore nearby. And for those who like to paint, Greenhillockwould be perfect with its wild flowers and beautiful meadows We stayed in two of their stunning bell tents and they were beautifully furnished and very roomy, with superbly comfortable double beds, fine linen and many extras including a luxury hamper of local produce. The patio areas were perfect for BBQs and the fire pit gave a warming rosy glow as the sun set through the trees. We all slept like logs and even though the weather turned for a time during the night, we were warm and cosy in our tents and were loathe to get up in the morning. The campsite is immaculately kept and we wanted for nothing. There is a communal indoor kitchen with everything to hand, a ready supply of chopped wood for the fire pits and acres of space for children to play and explore safely. We especially loved the Bug Zone and although my boys are in their late teens and early twenties, it's the first place they went to explore! The loos, showers and changing huts were spotless and cleaned daily and looked so pretty as they were painted to look like seaside huts. Owners Kate and Stig are very keen to ensure the campsite is as environmentally friendly as possible and the solar heated showers etc worked a treat for all of us. I really can't recommend Greenhillock Glamping highly enough, it truly exceeded all our expectations and as first timers at glamping, we are now well and truly hooked.
Fantastic weekend away
Spent an amazing weekend at Greenhillock Glamping. I can honestly say it's the most beautiful campsite I have ever been to and couldn't be better for kids. As soon as we arrived our children ran off to play, and apart from when they were hungry, they spent every waking minute we were at the campsite exploring and playing independently. It is such a safe, natural environment for children and adults alike. We stayed in one of the bell tents which was a wonderful combination of comfort and convenience while still being a proper escape and feeling like a real camping experience. There's not many better ways to spend an evening than sitting by a campfire in the middle of a wild flower meadow drinking hot chocolate and eating toasted marshmallows and we were able to enjoy that and so much more during our stay. I really couldn't recommend it highly enough.
Family heaven
Lovely, small, beautiful, friendly campsite. We all (2xadults and 1x5yr old) had a brilliant time. Thx too for lending is a set of pans- why is it the most obvious things you forget?? we will be back and happily recommend to others!
Fantastic first glamping experience!
Short weekend break with friends was made even more fantastic by the incredibly friendly welcome and great set up. Bell tents were awesome! We're more used to wild camping but really enjoyed this new experience!! Between us we brought 5 young boys and a girl who all love running around exploring, pond dipping, the arts tent and games but most of all freedom to run away from us! We quite enjoyed that freedom too! Really enjoyed the relaxed atmosphere and Stig & Kate's eco ethos! Thanks for an awesome experience!
Simple & Beautiful
We stayed here from Friday night to Sunday morning this July. We informed Kate and Stig that we would be late arriving due to coming from Edinburgh but they weren't fussed at all. They greeted us warmly and we were shown around the campsite. The idea of no cars is brilliant, and you get wheel barrows to take your stuff to you tent. The meadows are so beautiful it would be a shame to ruin these with cars! Kate and Stig were very conscious about the environmental impact of the campsite which meant everything was so amazingly thought out!! The compost toilets were brilliant and so clean! Even the dirty washing up water gets filtered and recycled! The best bit of the campsite however is the solar showers. I was very skeptical due to the cloudy days we had and hardly any sun but they were so hot!! I was very surprised! Stig is a very very clever man to build these himself! I've been to a lot of campsites since i was a child and in all honesty this one is my favorite so far. If you looking for simple, quiet and relaxing, this is the place for you.
FANTASTIC
Four friends and dog went to Forfar - no this isn't Enid Blyton!!!!! but lashings of fun, fun was had by all. Kate and Stig couldn't do enough to make us welcome. This is a wonderfully tranquil place, safe for dogs and children, with nothing but nature - the wild flower meadow is stunning (with tiny wee Orchids - Stig did say what they were but I can't remember!). Two adults and a hairy bairn (dog) in a bell tent - luxurious space with real attention to detail. We were sorry to leave and we will definitely be back.
Great Site
We spent a wet weekend in June at Greenhillock with our two boys aged 5 and 3 and had a wonderful time! Great facilities, a warm welcome on arrival and adequate space to pitch our large-ish tent - plus the added bonus of a firepit. The owners have worked hard to ensure there is plenty to keep the younger folk occupied - pond dipping and the art shack were very popular. As was the open air urinal with our 3 year old!! I can definitely recommend this as a great family site
Can't wait to return next year
When I bought a discount voucher online for Greenhillock Glamping, I wasn't quite sure what to expect. Having just gotten back from a weekend stay, I can safely say it would have exceeded any expectations we would have had. Kate was ever so friendly and helpful and made the booking process easy and comfortable for our needs. We stayed in one of the bell tents and it was simply lovely! So much space, comfortable mattresses, and the decking at the front is a wonderful addition. We stayed with two autistic children who are usually very technology-obsessed, but they barely came indoors all weekend. There was plenty for the children to do - den-building, bug hunting, and just being outdoors and enjoying the amazing location - even the dog was in her element. The facilities were fantastic - I was originally a bit squiffy about the thought of composting toilets, but the gorgeously painted 'huts' were comfortable and spacious, and the process very simple. The 'field kitchen' is equipped with everything you could possibly need, including access to a fridge and freezer to keep your own food fresh if needed, and the site owners have covered all bases, down to board games for the family to enjoy, doggy treats, and the funkiest wheelbarrows I have ever seen for transporting your things to your tent (or your children, if they are monkeys like mine!) The other campers were all so pleasant and friendly towards myself, my mum and the children alike, and it is comforting to know that all guests had a common interest in being eco-friendly. The site was clean, tidy and spacious, and the added extra of a firepit beside each pitch (logs and kindling can be bought onsite for a very reasonable cost) made it an ideal site to sit and watch the stars come out - a particular favourite of my 11 year old daughter. Within an hour of arrival, my children were already begging to come back. We can't wait for next season and making another booking.
Idyllic
We were warmly welcomed onto this beautiful campsite and felt completely wowed by the high standards and attention to detail. It's a really very special place for adults and children alike. The meadow flowers are beautiful, the pond dipping is brilliant fun and the field kitchen perfect for gathering together. Our short stay was fantastic and I'd heartily recommend it. 
Happy Campers
We arrived 3 families, 3 tents, 6 children, one mad camper, one medium camper and one 'I have never camped' we left restored, reflective and all happy campers. A great location. Loved the loos / showers in beach huts, activities for children and environmental knowledge of the owners. What a treat, so welcoming and accommodating!

A great time had by all!
I was part of a group of adults and kids who visited in 2015. I like the fact that you can have a campfire beside your tent and that there is a degree of privacy as the tent pitches are well spaced and all look over the wild meadow. We loved the sharing platters round the campfire and the friendly welcoming hosts. I would like to come back and stay in the Bell tents for the complete glamping experience at some point. Thank you Greenhillocks! :)
A family friendly escape to the wild with home comforts
I didn't think I was Glamping in my own tent but the delicious sharing platters, hot, good quality showers and the composting loos made it feel Glam! I was impressed by what was on offer and I love all the thoughtful details. The best bit was a safe place for kids to roam and the friendliness of the owners.
Best Price Guarantee
Easy and Secure, with instant booking confirmation
Trusted for over 10 years
A chance to win a brand new Coleman tent!