Ythan Valley Campsite
Smithfield, Ythanbank, Nr Ellon, Aberdeenshire AB41 7TH









The welcome, the bread, the herbal bush showers, the roaming ducks and the beautiful rambling surroundings
Is there any part of Britain still unknown and undiscovered? Anywhere still anxiously awaiting (or dreading) a visit from its first tourist? Alas, probably not. But there are still a precious few hidden corners and secluded valleys in Scotland, free from any accommodation for the curious traveller. Ythan Valley was one such place, until David, Libby and daughter Iona decided to open a campsite in their meadow.
Despite it's rather Welsh-sounding name, Ythan Valley campsite really is Scottish, and can be found tucked away in a north-eastern corner of Aberdeenshire. This undisturbed part of Scotland can't compete with the Highlands for dramatic scenery, and thus there are fewer tourists. Those who do venture here tend to hug the coastal margins rather than stray inland where, in places such as Ythan Valley, visitors are usually limited to day-trippers.
But things have started to change since these five pitches at Smithfield Croft appeared, along with four beds in the onsite lodge. The campsite is tucked behind the croft on the edge of the small hamlet of Ythanbank, and from here the lucky and exclusively small number of campers can wander as lonely as clouds in the empty – but not bleak – surroundings.
Camping here is a comfortable experience indeed, and the welcome extraordinarily warm and friendly. You get the impression that the campsite staff (the family) are really, at heart, doing this for the fun of it and to share their rural backwater with new folk. This ethos extends to the slightly theatrical, converted coal shed, now a quirky campers' Wash House.
But that isn't all they do here to make you feel at home, for Libby does B&B, but not in the traditional sense; here it's 'bread and breakfast'. The early morning sustenance they rustle up is varied and delicious and can even be delivered to your tent if you so wish: full Scottish or veggie breakfasts, bacon butties, eggs-however and the speciality of the house – toast – or, more accurately, Libby's toasted freshly baked bread. It's little wonder then that the eminent folk at Aberdeen City & Shire awarded Ythan Valley the prestigious Best Holiday Accommodation in their annual tourism awards in 2015.
Campers can order a fresh loaf every day in a bewildering variety of seed mixtures and flavours including granary; pumpkin & sunflower seeds; chickpea, coriander & cumin; cinnamon & raisin; onion & rosemary or just a plain white or brown loaf. You can even invent your own recipe. So be sure to ditch the diet before you come here. All this talk of being in the back of beyond, while it feels true enough on the spot, may not be wholly accurate. For instance, if 'one' has a weakness for stately homes, Haddo House and Fyvie Castle are an easy drive or cycle away. Both boast landscaped gardens and rambling country parks with woodland and lakeside walks, ideal for working off all that baked breakfast goodness.
The nearest settlement, Ellon, is four miles away and if campers still feel the need for the big city, the local urban madhouse that is Aberdeen lies just over 20 miles away. This may seem like a long way in England, but up here, in the wider world, it's positively local.
But with the welcome, space, tranquillity and completely unspoilt nature of the countryside on hand at Ythan Valley, it's tempting to just stay put and maybe tuck into a little more of that bread.
Gallery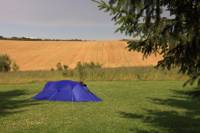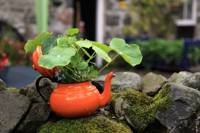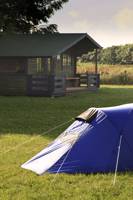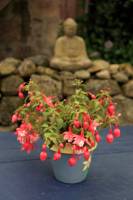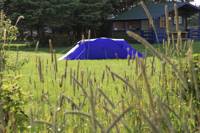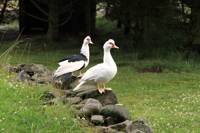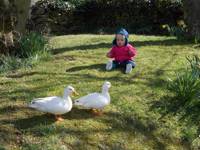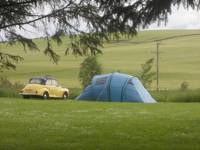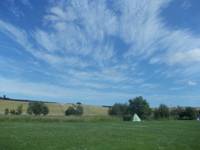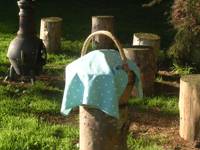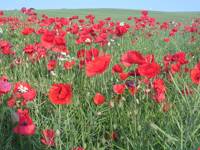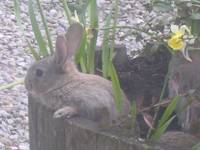 The Owner Says
Nestled in the tranquil Ythan Valley and surrounded by rolling farm land with beautifully 'large' skies, we are a tent-campers retreat. With less rainfall than the West and no midges, our little site has been deemed one of Scotland's hidden secrets and has cheerfully been awarded Best Holiday Accommodation in the north of Scotland.
You are guaranteed a warm welcome at our small hideaway site and we limit the number of pitches to ensure that a quiet, relaxing atmosphere is maintained. A peaceful environment for everyone's relaxation is paramount, therefore advance booking is essential to ensure there is a space for you.
You can order homemade bread to be warm and ready for you in the morning, and free range eggs are available from our own happy, healthy hens. Tasty breakfasts can be delivered to your tent, or served under the canopy in the sheltered courtyard.
The toilets, washing & shower facilities are in the newly built and much admired Wash House which is a simple, 'back-to-nature' inspired, conversion of the old coal shed – clean, comfortable and with a bit of a funky twist!
Iona's mini 'shop on a shelf' has an ever changing array of quirky items for sale to enhance your dining and camping experience. Fresh seasonal garden produce is often for sale too.
There is a warm-water Bush Shower offering showering outdoors, hidden to protect your modesty! We are happy to prepare a herbal infusion for you to enhance your outdoor ablutions. Try Lemon Balm, Mint, Nettle, Rosemary, Lavender....
Being keen environmental enthusiasts we provide facilities for our guests to embrace recycling & composting in order that as little waste as possible goes to landfill.
We can pop small items in our fridge for you and put ice packs in the freezer. You may use the washing line too.
Once you return from your day out exploring, then gather round the communal fire, meet your fellow campers, toast some marshmallows, watch the sun go down and stargaze... we might even join you because we love the summer-evening stillness, the flames and the stars too!
From the Visitors' Book:
"Thanks for such a wonderful experience – from toasting marshmallows to watching the ducks in their washing up bowls! Obviously a campsite made by campers, although this is much more than just a campsite. We loved it."
"A successful first camping experience…will be hard to beat"
"The peace was wonderful, and the bread delicious. Thank you for a beautiful escape from the rush of everyday life. Perfect!"
"Lovely, peaceful, scenic camping site with delightfully friendly owners. Superb hospitality! Thank you"
"Breakfast was just fab"
"An amazing spot for star gazing"
"Bacon sandwiches to be recommended"
"The perfect place to camp – the kind of place one dreams of finding!"
"It's a lovely change from all the commercial sites – fantastic views!"
"This is not camping! It's more like you set your tent in the garden of some old friends"
"This place makes my heart sing"
"We have cycled 3,500 miles this summer through Europe & UK…. this is absolutely the best campsite we've ever had… campers heaven!"
What is there to See & Do when you are here? So much... where do we start? Our guests tend to use us as a base from which to explore the local area. Just to let you know we are not really the type of campsite that folk stay at all day... we only have a meadow full of daisies!
We have information leaflets highlighting an enormous variety of places to visit and things to do. There is a super selection of activities in this area, spanning a wide spectrum of interests and weather options.
Given our location at the heart of Aberdeenshire we are encircled by delightfully rural country lanes excellent for cycling and walking and we are perfectly placed for you to:
Explore Aberdeenshire's famous Castles – there are more castles in this area than anywhere else in Scotland.
Checkout National Trust properties including stately homes and special gardens.
Challenge yourself on one or more of the friendly, quality golf courses.
Enjoy the quiet coastline: We are lucky to have two different coastlines, one is sandy for wonderful walks, superb surfing and obvious sandcastle building, and the other is rocky and pebbly - excellent for rock pooling, climbing and discovery. Both are beautiful and fun for paddling and swimming. The Coastal Trail explores remote beaches and quaint wee fishing villages with picturesque harbours (leading you to yummy fish & chips and award winning ice-cream!). It also takes you to some fabulous bird & animal spotting reserves (ask us about the seal colony and the puffins).
Visit some of our visually stunning geological & historical highlights including striking cliff formations & hidden stone circles.
Enjoy hours of fun in some of the best sand dunes in Britain.
Explore the rural countryside by bicycle or on foot – two National Cycle Routes pass close by and we have loads of maps you can borrow.
Walk: Gently stroll on a remote beach, ramble through rolling hills, discover ancient woodland, amble along river banks or take on a bracing hike in the craggy mountains.
Go boating: Canoe the rivers or the coastline, sail a loch, or travel to sea under motor power.
Get the most out of bird and animal watching and enjoy the nature reserves, both near the sea and inland, from osprey to puffins or dolphins to otters. You'll see on our own campsite notice board how lucky we are with the array of nature's creatures who visit our campsite regularly, plus we can point you in the right direction if there is something specific you want to search for.
Raise your spirits (or drown your sorrows) in a real ale pub with traditional Scottish folk music.
Explore our top notch museums – so many subjects are covered, here are just a few: Scottish Lighthouses, North East Life & Farming, Local Maritime History, the Natural World beneath the North Sea, a Steam Railway and a Transport Museum ... and more .... They ALL make marvellously good days out.
Go fishing – there is estuary fishing, river fishing, sea fishing, hire-a-boat-on-a-lake fishing, or just go to the coast and chat up a fisherman and bring home fresh fish for the BBQ!
Enjoy the work of local crafters and artists – admire it or buy it and take it home! The North East enjoys a very special light and a very varied geography both of which attract artists of many sorts, so remember to pack your sketch pad! If you visit us in September you are in for a very special treat; a huge number of local artists and crafters open their studio doors so that you can visit them and see them in action.
Learn about whisky. Ten minutes away is the superb Glen Garioch Whisky Distillery with excellent guided tours and a Visitor Centre. It is part of the 'Secret Malts of Aberdeenshire' whisky distillery trail.
Ten minutes in the other direction is the home of Brewdog. They have a tap room where you can enjoy the beers directly from the keg and they offer tours of the brewery too.
We can also point you in the direction of a fabulous operating cooperage, as well as wool mills that still weave tweeds for local estates & international designers, and we can suggest glorious local eateries as well as remote beauty spots to relish and remember.
And the list goes on and on... we still feel like we're on holiday and we've lived here for over 15 years! How lucky are we!
Reviews
Add Your Review
What a wonderful campsite in a glorious part of Scotland
This was our first visit to this campsite and it was a great experience. Libby was very helpful and a breath of fresh air with her great humour and enthusiasm to help in any way she could. The facilities were very clean and tidy. It was a very relaxing place to be and would highly recommend it. The Aberdeenshire coast was wonderful, with fantastic beaches and a great place for bird and wildlife watching. I can't wait to return.
One of our favourite places to hide from the rat race
This is our second time at this wonderfully secluded meadow of beauty. Not only are the surroundings gorgeous and the toilets sparkly but the personality and friendliness of the wonderful family who run it make this place a very special secret escape. We were happy to see mellow fellow ( the old duck) had some lady friends to wander around the meadow with ( Polly and molly). The kids were also excited to meet the new additions in the chicken coop with Libby the owner. Will be back again next Easter.
The model campsite
My son and I were lucky enough to be the first campers of the season and even luckier to have the site to ourselves!! Ythan Valley is the model of how a camp site should be. The toilets and showers were second to none, the floor was a little cold on bare feet in the morning, so bring some flip flops. The walls of the toilets tell of various local activities and encourage you to donate to various charities supported by the camp site, like spend and penny and pop a penny in 'Henny penny' to support toilet twinning in Ethiopia. There is a covered outdoor sink, perfect for washing up, but you will need to heat some water. We weren't brave enough to try the Bush shower but it was April. There are no camp fires, but there is a chiminea 'lum' with log stools round it to relax in the evening. It would be nice to perhaps upgrade the lum to a wood burning stove you could cook on. We cooked on our own gas in the evenings and used a trangia for breakfast in the morning. For breakfast don't forget to order fresh bread the night before and get it delivered to your tent in the morning - never had that level of hospitality at a campsite before. There are some short local walks available on printed cards, we followed a walk up to the wind turbines above the campsite. All in all an amazing site, especially with the ducks having free range of the site, perfect if your son is feeling a bit lazy and needs some encougement to get quacked out of bed. And the mystery of the idea that the campsite isn't widely advertised locally and that you just get directions when you pay a deposit adds to the mystery and excitement.
Friendly, cosy and idyllic
We had such a lovely time during our two night stay. Libby was friendly and helpful. The breakfast she cooked for us was delightful and beautifully served outside. She would have brought it to our tent, except there was way too much to carry! The loos were clean with lots of personalised details to make you feel comfortable and at home. The site is peaceful and very tranquil. We heard the resident badger snuffling at our tent on the first night which was cute. We would definitely return to this quiet part of Scotland, there's loads to do & well away from the obvious tourist routes.
Gets better and better!
We have just had what must be the forth or fifth holiday at Ythan Valley and it just gets better each time. It was good to meet new people and to renew the friendship with the owners Libby, David and Iona and to make friends with Quentin the cat.

We spent a lovely two weeks there with some cycling and walking revisiting old favourites and finding new ones.




If you want to really get away from it all this is perfect, there are enough 

conveniences

 to make it comfortable yet not OTT. Libby is very thoughtful and makes wonderful bread and great breakfast.
 Looking forward to returning in 2016 :-)
Ythan Valley bliss
Had a wonderful four nights at Ythan Valley campsite in July 2013. Libby, David and Iona were charming and welcoming and went out of their way to ensure we had a lovely stay, they even organised a heat wave for us! The site never had more than four tents and so remained peaceful and restful. Lots of really lovely touches, from the bush shower, the chimeria, freshly baked bread and fresh eggs, some absolutely adorable ducks and a new warm and welcoming toilet and shower block. We even had a field of bright red poppies to look out on, which was quite stunning. Only problem was that this was our first camping trip for some time and I expect we are now a bit spoiled! Keep up the excellent work and thank you.
Ythan Valley
What a charming little campsite! This was my very first camping adventure and the welcome couldn't have been warmer. The site is limited to 5 pitches, which gives it a really chilled feel. The facilities are 1st class with two toilets, a great electric shower, a sink for drinking water and dish washing, and recycling facilities. Lovely touches include toilet roll, soap, hand towels, and a floor mat in the shower. There's a campers 'lounge' in the form of a Bedouin tent complete with hammock. And the ducks provide wonderful entertainment. These guys put in a huge amount of effort to make sure your stay is perfect.
Ythan Valley
we stayed for 3 nights and had a lovely peaceful time. this is a real home from home with friendly, helpful owners. the home made bread and fresh eggs are delicious. would go back any time.
Win a £100 Blacks Voucher!
If you've stayed at Ythan Valley Campsite campsite, please take a minute to tell us about your experience. Every month, one lucky reviewer will be picked at random to win a £100 voucher, courtesy of our recommended retailer Blacks. Each review counts as one entry, so get writing!

Best Price Guarantee, with no fees
Instant booking confirmation
Trusted for 10 years
A chance to win camping goodies in our regular competitions!
Book campsites near Ythan Valley Campsite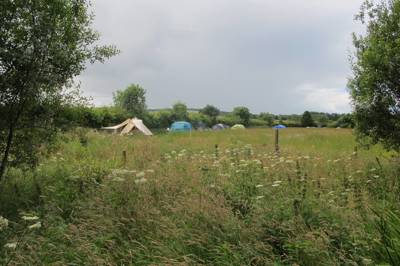 i
Campsites in Angus
Campsites in East Scotland
Campsites in Scotland
Available:
4 Pitches
1 Bell tent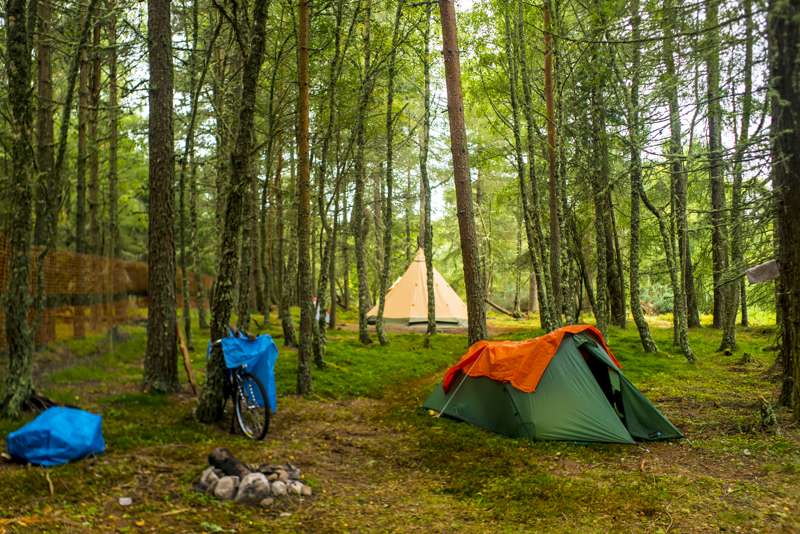 i
Campsites in Inverness-shire
Campsites in Highlands
Campsites in Scotland
Available:
1 Pitch
1 Bell tent
1 Shepherd's hut