Book campsites near Bramble Bield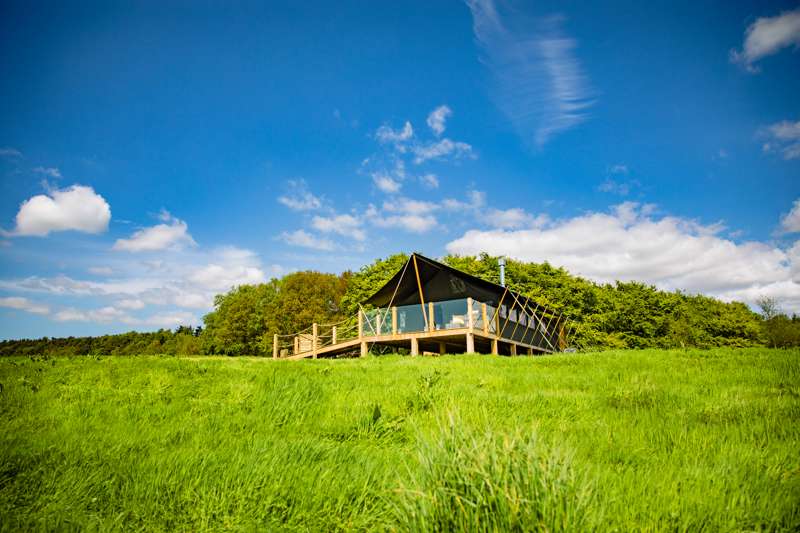 i
Glamping in Stirlingshire
Glamping in Central Scotland
Glamping in Scotland
Bramble Bield
Powis House, Stirling FK9 5PS





Cutegypsy caravans reclining in a wee glade just a catapult's hurl from some ofScotland's most famous battlefields and castles.Breakfast hampers, campfire and BBQ enhance the glamping feel.
In the shadows of the bloodiest battlefields in Scotland and perhaps the nation's finest castle lies a sleepy wee gypsy caravan retreat that could not be further from the days of clashing broadswords and bloodcurdling war cries. Bramble Bield may be firmly in William 'Braveheart' Wallace country, just a catapult's hurl from Stirling Castle and the omnipresent Wallace Monument, but life here is a relaxed affair with just a pair of little brightly painted traditional caravans tucked between the meadow and beech, ash, and hawthorn trees.
Rowan and Holly are no off the peg designer caravans. They are the real bow-top wooden caravan deal and Bramley which no longer offers accommodation but has a seating area for reading or enjoying dinner, has been here or hereabouts since the 1920s. They are cosy and compact inside with luxurious bedding, original Queenie stoves and tea and coffee making facilities making up for the lack of space. You are allowed to pitch a two-person tent by each caravan too. An outdoor patio set accompanies each caravan and there is a communal campfire to toast marshmallows over. Neat touches include a welcome bag with fresh bread, eggs from the Powis hens and jam from the local farm shop, butter, milk and fresh fruit in the fridge, and cereal in the cupboard. After a morning feast fit for a warrior beyond the tranquil world of Bramble Bield those epic battlefields and castles await. 
Reader Reviews
Add Your Review
Little family getaway
Very friendly and relaxed stay with delicious continental breakfast included. Caravans are small but very pretty (and comfortable) and large kitchen means cooking etc is straight forward. We had a great few days and enjoyed two nights by the camp fire (with free fire wood provided). Our hosts and even the neighbouring sheep were very friendly (Archie can be hand fed grass - something our 18m old daughter found particularly delightful!) Only down side would be that kitchen and camp fire shared so if site full (three caravans in total) either could be busy - we where very lucky to have everything to ourselves. Upside is that a group booking would make for a lovely private family / friends holiday - there was a hen night staying a few weeks after us :-). Lots to do near by with plenty of town and country walks with some great views and lovely pubs/inns to visit (and even a beer brewery in Bridge of Allan - ask for details). Highly recommended
Bramble Bield
We have just returned from a fantastic short break in Bramley the caravan. All the caravans have absolutely loads of character and are in a wonderful (and quiet) setting in the grounds of Powis House close to Stirling and Bridge of Allan. Colin and Jane were fantastic hosts with nothing being too much trouble and the breakfasts certainly are as tasty and plentiful as promised!! Let's just say lunch wasn't really neccessary! The facilities are very clean and the converted stable is nearby for cooking and eating if the Scottish weather takes a turn for the worst. If the weather does hold up - the setting is perfect for lighting up a campfire once the barbie dies down - firewood provided. Would not hesitate to recommend this site and we will definitely be going back!