Book campsites near Comrie Croft
Glamping in Perthshire
Glamping in Central Scotland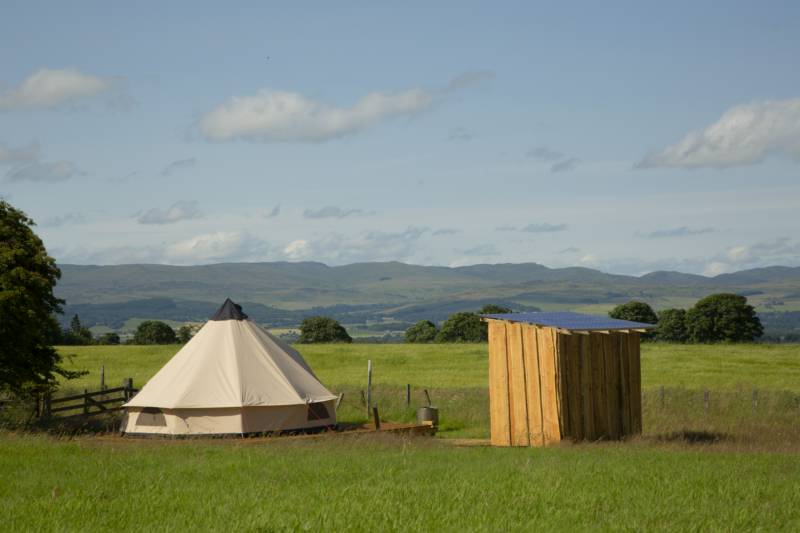 Glamping in Perth
Glamping in Perthshire
Glamping in Central Scotland
Available:
1 Quirky
1 Shepherd's hut
6 Bell tents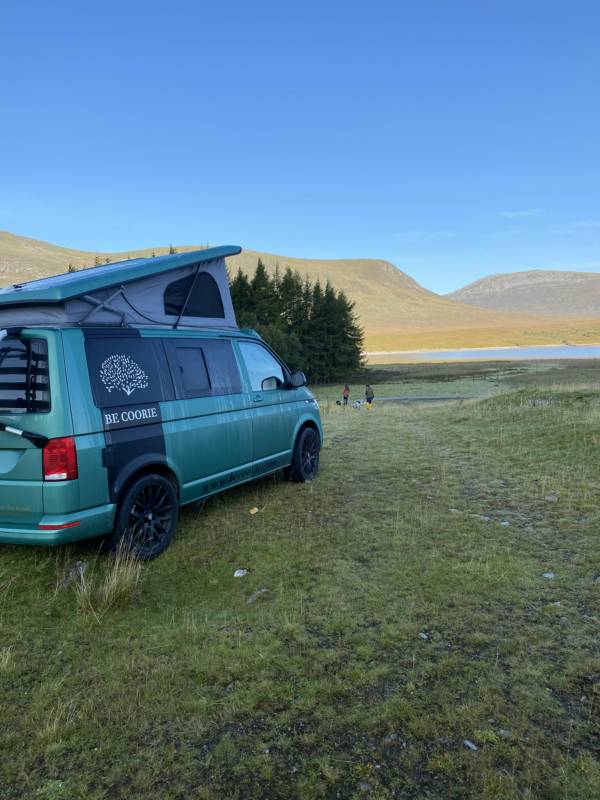 Holidays in Perthshire
Holidays in Central Scotland
Communal eco-aware living under canvas in charmingHighland Perthshire
Before the Act of Union and the birth of the modern British state many Scots lived on crofts, small holdings of land where communal living was the norm. In the heart of deepest Highland Perthshire this communal, everyone in it together ethic has been re-created at Comrie Croft. Run by a co-operative of likeminded, environmentally aware, individuals this is no mere campsite. Yes they take tents, but they've also got Norwegian katas, an on site Tea Garden and a superb bike shop, the latter handy for exploring the network of trails that snake off up the Croft's wooded hillside.
First timers might feel most secure down in the main camping field by all the facilities, but more adventurous souls will want to push on up into the forest where secluded pitches await, each with their own campfire. Four of the seven katas lie up here too, a sort of Swedish tipi complete with a wood burning stove and a large sleeping area strewn with soft blankets. Not exactly super chic glamping, but supremely cosy.
There is little need to leave the Croft. Down by the car park is a superb camp store. Real thought has gone into what they stock from fluorescent camping pegs through to their free range eggs and fresh local meat. Up the hill are those trails. You can walk them, but biking provides a much better way of exploring the hillside, though the tough red route is not for the fainthearted! You can brush up on your technique first at their skills park. On a busy day – and most weekends are busy – Comrie Croft buzzes with life, just as the traditional crofts once did all over this charmingly scenic corner of Highland Perthshire.
Details
Facilities
Campfires allowed. Solar and wind powered amenities block with toilets and good free showers (including disabled access seat). Compost loos in the upper meadow that's furthest from the main toilet block. Excellent camping store. Blue and red mountain trails and skills park with bike hire and helmets available. Network of marked walking trails as well as picnic areas.

Suitable For
Tents, dogs, groups, young groups, weddings and campervans – Yes. Caravans – No.

Nearby
The high land beyond the boundaries of the Croft is tough going, but opens up sweeping views of Strathearn for adventurous, well equipped hikers. Perthshire is excellent for both walking and hiking with a map detailing local routes both posted and available for sale in the Croft store. The Croft lies between the neat, Highland Perthshire towns of Crieff and Comrie, with their characterful high streets, parks and walks. The Auchingarrich Wildlife Park (01764 679 469) is a handy family attraction just south of Comrie.

Food & Drink
The new on site Tea Garden at Comrie Croft (open Easter–end of Oct) is a welcome addition, with croissants or bacon rolls for breakfast and the likes of salmon bagels with cream cheese and salad for lunch. The vintage crockery is a nice touch, as is the wooden deck. The cakes are homemade and huge, you have been warned! Comrie offers a reasonable chippie (0751 467 8833) and the Royal Hotel (01764 679 200.) The Royal has a characterful hunting lodge-style bar in the main hotel and a more pub-style drinking den just outside with real ales and whiskies. Their restaurant, under the smooth hand of chef patron David Milsom, features succulent Perthshire lamb and salmon, amongst other delights.

Open
All year.
Family Friendly
Adventure-loving families scramble, run and jump this way... Comrie Croft has forest to roam around, mountain bike trails to race along and a small loch to fish. An opportunity to truly embrace the great outdoors from the moment you pith your tent.
Location
Contact Comrie Croft, Braincroft, Crieff, Perthshire PH7 4JZ
Getting There
2 miles out of Comrie on the Crieff road heading east, signposted on the left.

Reviews
Add Your Review
Rated ★★★★★ over 11 reviews
Beautiful scenery and friendly staff
This was our third vist to this truly special place.We opted to camp in the woodlands with our own spot and fire pit. The bike trails and woodland provide a great play environment for the kids. Mine played happily outside from sun rise to sunset. The staff are all lovely and very friendly. We were very sad to hear of Georges passing( one of the crofters) but Colin has learned his wood carving skills and ran an excellent wood carving workshop. We left with wooden carved spoons of varying shapes and sizes. Look forward to our next escape to here. It is truly lovely !
Regular visitor
We visit Comrie pretty much every year, camping in the lower meadow. The kids love it, and the no cars rule makes it easy to let them run free. They love roaming around the forest and playing on the rope swing. We do love Comrie; they've made some changes to the area around the lower meadow in the last few years. They've extended the facilities building and moved a kata, both of which have cut into the lower meadow camping space. Also they've started taking fairly regular weekend wedding bookings in the barn. All of this has depleted the 'open space, sounds of nature' aspects of camping there a bit. So this year we're trying the upper meadow - hopefully the extra distance from the farm buildings will mean we get the space and quiet that made us love Comrie so much before... Facilities are great, campsite well run.
Superb site
We visited in August, it is a fantastic place with loads to do on site and nearby. Our 9 year old spent hours every day with other kids on the mountain bike skills section, whilst our 4 (and a half) made friends and played hide and seek around the tents! It was such a safe place to play as no cars are allowed near the tents (wheel barrows provided) and with fire pits for each pitch it meant sitting out at night was a fab end to the day. The shop and cafe on site was a bonus, though unless you got there early the fresh stuff -eggs and bread, had all gone.
An amazing place, and well worth the drive!
A little bit of heaven
We love Comrie croft, we've camped there 3 times so far. I like the high meadow best for the space and sweeping views up the valley. The bike tracks are fantastic, the staff are friendly and helpful, the ethos is sound. Campfires, stars, space... We can't wait to go back. 
Woodland tent pitch
My Wife, Dog and I had a Woodland tent pitch at Comrie Croft in May. The site was really well run, thought out and clean. We had a great little pitch up near the pond, the trees provided a bit of additional shelter on the one day when we had rain. Facilities were nice and clean and the whole site had a sensible level of green ethos invested into its running. Staff were always friendly and were seen out actively inspecting the site for rubbish etc. Both the cafe and the shop come highly recommended. Next time I think we will try a Kata!

Brilliant campsite
Great campsite plenty of places for kids to play, amazing fees and an interesting wee shop with the freshest eggs. Lockers for valuables & charging phones are a bargain at £1 for 24 hours. Lovely woodland walks & views. 
Great campsite
Stayed here last week  and it was a great little site.  A little shop on site with the odd few bits  but do your main shopping in crief.  We stayed in kata 2 and it was very quirky with its wooden beams and doors however if it hurts your back to bend stay in the disabled kata as he doorways to the other ones are very small and we caught 3 jumpers on them and they all got holes in!! Lovely little pond at the top of the site and loads of woodland trails to wander on . For bike lovers it is the ideal site, they really should advertise and brag about their bike trails far more than they currently do. Outside every kata and pitch there is the option to have an  open fire . Had lots of fun making them and toasting marshmallows at night . Inside the kata is cosy especially with the fire on it's boiling!! I'd recommend u bring your own utensils and crockery as it's very basic . Also make sure u store ur food in a right container  as we had a mouse visitor  in ours!!! Overall a great site with lots to do in the surrounding areas  we will definately be back!! 
Comrie Croft
This has to be one of the best sites I have ever stayed on it was a great place for the kids, loads to do and see.  The staff were really helpful and have thought about what we need as campers, lockers for our Ipads n phones so that we could keep them charged, we loved it so much we stayed an extra day
Comrie Croft
Very friendly place, we stayed in a Kata a sweddish version of a yurt, we had a wood burning stove and the bed area was raised up on a wooden platform covered in wool and a canvas cover, it was very warm despite the often pouring rain. The site is large with lovely secluded camping areas as well as clean loos and a very eco-outlook. For such a large complexs of hotel and campsite it had a friendly warm atmosphere and it didn't feel large because it is on a massive site and no one is allowed to get too close. Well recommended for all type of people, our six and two year old loved it.
Comrie Croft
i'm just back from 2 nights here and all I can say is stop telling people about it! It's too good to share. I arrived having driven up from Glasgow after work and arrived about 7pm. The site was quite quiet so i could choose where to stay. The guy at Reception recommended the High Meadow for the views, even if it was a bit further away from the "Facilities" He wasn't wrong about the views they were brilliant. There were only four other pitches in use - one had several families aged from a few months up, so I kept going to the far end on the field. Seemed a good idea at the time and it was! so quiet you could hear the wildlife and not a lot else. Considering the campsite is not far off the mainroad the traffic noise didn't affect me, a very gentle hum rather than noise. The Toilet and shower block was exellent, the temperature of the water at the "wash up" station put my home water to shame. The weather was mixed but even the heavy rain on Friday night had little impact on the quality of the field. Probably the best thing about this site is the lack of cars on the field means that the ground is in good condions The smell of cooking and wood burning campfire was lovely, even if I stuck to the camping Gas cooker, this time!
Comrie Croft
This is a fantastic site and the owners have put lots of thought into how to make the site unique and eco friendly. Cyclists, walkers, children and those of us who want to sit around doing not a lot are all catered for. All rubbish is recycled and there is a bucket of wellies that you can borrow if you get caught short by the weather... Wheelbarrows are provided to take your stuff from the carpark to your pitch as you can't drive right up to the field and the lack of cars on the pitches gave the site a less congested feel. The children had a fantastic time roaming the woods collecting wood for the fire, playing on the tyre swings and feeding the chickens. However the best thing about the site is the communal fire pit and the parachute which we used nearly constantly during our stay. If you don't want to join in the group there are several wheelrims available where you can have your own private fire/BBQ at your own tent. We have tried to camp on this site several times since this visit but have not been able to because it was fully booked so make sure you book early. If you are lucky enough to get a pitch make sure you buy some eggs from the shop. Ours were still warm and you can't get any fresher than that!