Book campsites near Gimme Shelter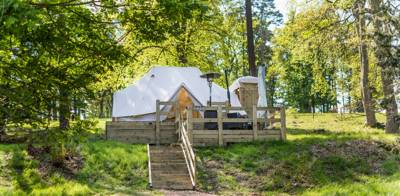 i
Glamping in Lothian
Glamping in South Scotland
Glamping in Scotland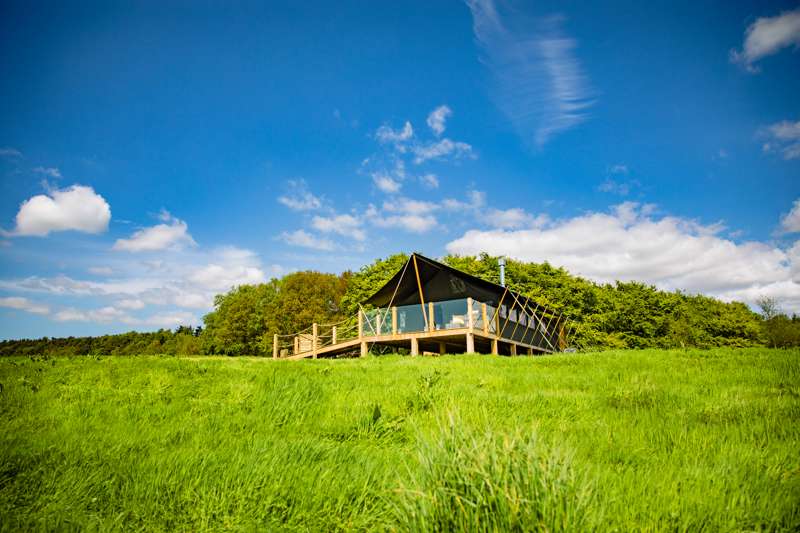 i
Glamping in Stirlingshire
Glamping in Central Scotland
Glamping in Scotland
Proper woodland camping with real wood fires
Many campsites talk a good environmentally friendly game, but few put it into practice quite as well as Gimme Shelter, situated amid the meadows and hills just a few miles from the Forth Bridge. Recycling is practised throughout, there are no showers or hot water, and toilets are of the sawdust-composting variety – not trendy off-the-peg numbers but, like most things here, self-built and brilliantly improvised. Rainwater is collected in various systems, including an old wine barrel, while a woodburner has been made from a cleverly rejuvenated gas bottle. Rat-race escapees Chris and Yvonne Barley may have been dubbed hippies a decade ago, but really they were one step ahead of the eco-friendly game, banging the drum that is only now being heard by the rest of the world.
Over the years, Chris and Yvonne have managed to extend the property to include a couple of cottages and, ultimately, the hilly woodland that forms the campsite. Gimme Shelter's DIY style is undeniably impressive, from the handcarved wooden furniture that adorns every pitch to the funky but solid 'camping shack' made of oak and fir beams salvaged from the nearby dockyard, which boasts a large living space and two balconies that are ideal for sundowners.

It's all surprisingly quiet and secluded given its position in prime commuting territory for Edinburgh. Admittedly you can just hear the M90 from some of the pitches, but elsewhere it's the Pinkerton Burn tumbling through the site that makes the most noise.
The camping fields, like the site itself, give away the Barleys' tastes in music – choose between 'Strawberry Fields' and 'Rising Sun'. In the site's upper pitches, out in the open and exposed to the blistering Fife sun, there's drinking water available in containers. Then in the lower pitches, which tend to be secluded arbours within the shade of all the trees, there's cold-running mains water. All have their own campfires and are set amid rich woodland. And it's such a mazy wood, with some of the pitches accessible only through narrow grassy strips fringed with encroaching woodland, that there's a real feeling of safety and seclusion, making it great for kids. Unless they're planning to machete their way through the woodland, the only way out is past their parents' tent.
Gimme Shelter's other stab at glamping is a brilliantly reinvented caravan: it does give shelter, but very much in the Gimme Shelter style, where less is definitely more.
When it's time to go exploring away from the site, Inverkeithing is less than a half-hour train ride from Edinburgh across the famous Forth Rail Bridge. Or if you fancy something a little less busy, take a trip up the Fife Coastal Road. And if you want to go the whole hog, you can swing back through Dunfermline, another of Scotland's former capitals and proud birthplace of Andrew Carnegie, once the world's wealthiest man, and indeed, Gordon Brown.
Reader Reviews
Add Your Review
Lovely Camping
we are a couple from Germany, and we spent almost a month at Chris and Yvonne's Camping, it was a fabulous experience, lovely place, and the most important thing the owners are adorable, Highly Recommended!
Cool and relaxed
My kids and I really enjoyed this beautiful woodland campsite.  There are a variety of habitats to explore and the kids loved to pick the abundant redcurrents which grew in the woods.
Thoroughly reccommended.