A family-run back-to-basics, campfire-friendly camping & glamping site with plenty of space for each pitch and a laid back family ethos.
"No clubhouse, no caravans, no electric hook-up, no close neighbours", it reads in bold on the Hidden Valley Campsite website. It's the truth, too. Set in a sloping field in Worcestershire's Teme Valley, this is not only an off-grid campsite where traditional tenting is order of the day, but it's also the sort of landscape where caravans and electricity simply wouldn't work. From the initial meadow beside the lane, where there's room for a handful of tents, the land falls suddenly away, sloping down toward aptly named Stony Brook. Natural terraces provide aprons of grassy space, perfect for pitching the tent and having your own personal area, while a trio of pre-pitched bell tents bag some of the best spots above the stream. Caravans wouldn't stand a chance but old school campers are in heaven.
"We are keen campers ourselves", manager Simon explains. "There's nothing worse than site owners cramming as many tents into their fields as they can." It's certainly shaped the Hidden Valley ethos. There are rarely more than around 25 people on the campsite at any one time and facilities are typically low key and close to nature. Gas-powered showers, composting toilets, a covered washing-up area and a small honest shop is about the grand sum of the facilities, though if you arrive at the right time, you might also benefit from the luxury of a quad-bike ride to your pitch instead of the customary wheelbarrow walk. It's all part of the laid back vibe here, where campfires are encouraged (raised off the ground) and they won't charge you through the nose for a fire-pit (you can even bring your own if you like).
In the morning, there's a dawn chorus that weary urbanites could only dream of and in the evenings you can look out for muntjac deer and foxes slinking away beyond the hedgerows. As for the daytime? Fill it with trips to local attractions like English Heritage-owned Witely Court or the family friendly zip lining at Go Ape! or indulge in the real local highlight… the food. Nearby Ludlow and Leominister are well known for their annual food festivals, while the nearest pub to the campsite is a scenic one-mile walk away. And, since the wildflower-dotted campsite is actually set in what was once an orchard, it would be rude not to try a local cider while you're there!
Best Price Guarantee
Easy and Secure, with instant booking confirmation
Trusted for over 10 years
A chance to win a brand new Coleman tent!
Gallery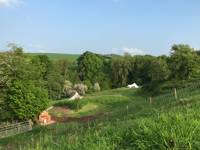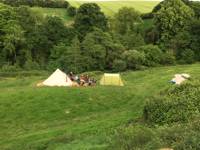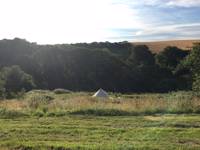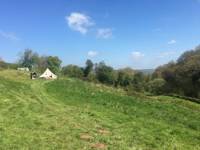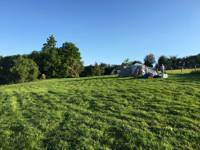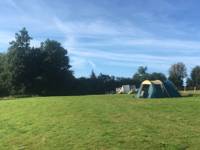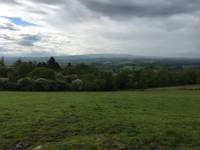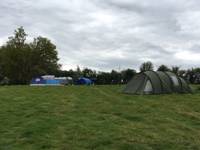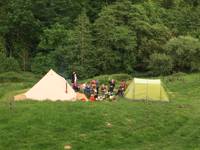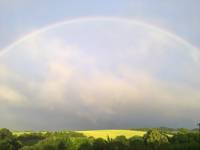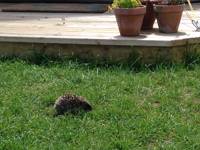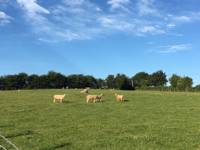 The Owner Says
Off the beaten track, and tucked away in a rural corner of the beautiful Worcestershire countryside, we welcome you to Hidden Valley Camping.  Set in an ancient orchard on our small working farm, we offer wild-ish camping and glamping, with unrivalled views, huge dark skies, and an abundance of wildlife. With just 3 bell tents and a handful of camping pitches, you are guaranteed your privacy and plenty of space to sit, relax and get away from the hustle and bustle of everyday life.
Reader Reviews
Add Your Review
Charming, peaceful getaway
Booked this as a surprise birthday treat and in spite of the wet weather, it did not disappoint. The location is scenic and peaceful (aside from the amazing dawn chorus!) with lots of space between you and your nearest neighbours. The bell tents have been thoughtfully furnished, are cosy and comfortable, and with the lanterns lit, look quite magical. The little 'kitchen' hut was well equipped and it was fun to use the fire pit. The owners were helpful and friendly but unintrusive. All in all, a great place for quiet getaway - all the fun of camping with added home comforts and without all that packing.
Relaxing, quiet, just what we wanted
We had a lovely three days at Hidden Valley with fantastic camping weather. We loved having a quiet pitch, fire pit, quad bike available for transporting the tent, grass area for playing games, the honesty shop, hot water for washing up and running water for hand washing! Thank you very much.
Relaxing, bucolic views.
We were 3 families and we stayed in the top field that had amazing views. We were lucky with the weather and found a place nearby for wild swimming/cooling off. The campsite provides fire pits and we had a wonderful time playing cricket and toasting marshmallows which we got from the honesty shop on site. Solar showers were perfect and the family that run the site are very friendly and welcoming. A place to get away from it all and relax.
How quiet and peaceful it was.
I don't really want to write a review because I want to keep this beautiful place a secret for myself. It is such a lovely peaceful place, so quiet, only the sounds of the farm animals and wildlife to be heard. Lovely, friendly owners there to lend a hand if needed but largely left to our own devices. Free to roam the extensive lands and plenty of beautiful countryside to be enjoyed, didn't see a soul apart from cows! Night sky worth a mention as so clear and unspoiled by unnatural light. Can't wait to go back!
Peace and quiet, lovely views
Friendly owners, very helpful. Clean facilities and lovely level pitches with great views - very quiet and pretty location.
Perfect family camping
Exactly as described on their website. Quiet, relaxed and amazing night sky view of the stars. Modest facilities as described, but it had everything we needed and was always clean and tidy. Would definitely recommend and will stay again.
Beautiful quiet site
Lovely quiet little spot in beautiful countryside, some fabulous sunsets, and nice walks from the site, down into the woods or footpaths across fields to the Tally Ho pub which has a nice beer garden with great views. We'd ordered a fire pit and enjoyed watching the stars and cooking the sausages and burgers we'd bought from the honesty shop. We were blessed with beautiful hot weather. We had everything we needed, the composting toilet was kept clean, the shower was warm, and we grew fond of the three sheep that roam the site, we called them the three musketeers. Hope to return at some point in the future when we need to recharge and relax.
A great weekend away
A great camping experience for our family. The scenery is stunning and our two boys loved being able to run around and explore without worrying about cars on site. Simon was very helpful, friendly and always on hand. We loved the little honesty shop with lots of essentials and more! The compost toilet was a novelty, but a great idea. We will definitely be back again.
A different speed to life. A chance to chill and relax
Beautiful campsite and bell tent was super. Lovely area of country to visit and local town tenbury Wells and river stunning
Welcoming, magical, quiet, with lots of beautiful places to eat and visit if you like.
We have camped with Hidden valley on 4 occasion and will keep going back to this magical place, visiting the beautiful area that surrounds the site . Congratulations to you, it is perfect in every way and see you soon.
Book campsites near Hidden Valley Camping