Twitey's Tipis and Camping Meadows
Lowe Farm, Hunscote Lane, Wellesbourne, Warwick CV35 9EX










Busy days, peaceful nights. Life's good at Twitey's Tipis... Relax in this spacious meadow camping and glamping spot.
Cross 14 acres of grass meadows, accommodating a maximum of 15 tents at any one time, with friendly owners who hold a relaxed, camp-where-you-like attitude, and you've got yourself one roomy place to pitch. Throw in some world class Shakespearean sights, neighbouring medieval castles and countryside vistas that inspired some of the worlds greatest literature, then you've stumbled upon Twitey's Tipis and Camping Meadows; 'A Midsummer Night's Dream' of a campsite.
"Peace and tranquillity is the order of the day," says the sites owner Michael Twite, who's created a truly loveable, back-to-basics campsite. Upon arrival, you'll be presented with a wheelbarrow to help move your kit, unusual yes but fun, especially for the children who get a ride from mum or dad. All who stay at Twitey's appreciate the lack of overcrowding. The flat, mown pitches come well spaced out and hidden in one of the two wild flower meadows, providing a sense of remoteness and seclusion. As the name suggests Tipis can also be rented. The sites small 'Hamlet' of abodes (3 in total) have been thoughtfully positioned to overlook the meadow, and come furnished with lanterns, kitchen utensils and logs for a sunset campfire.
Perhaps Warwickshire may have been just another pleasant English county were it not for the birth of one rather gifted playwright. William Shakespeare was born, and died in Stratford-upon-Avon (4 miles), and the sights linked to the great mans life have become a magnet for tourists. To sample some of Warwickshire's glorious countryside, follow 'Shakespeare's Way' which replicates the 146-mile route the young writer took on his travels to and from London. The scenery is sure to inspire; the earliest section of the walk passes rolling hills, the weaving River Stour and honey-coloured Cotswold cottages.
Pooped parents looking for offsite activities to tire out their energy sapping youngsters have plenty of choice in Warwickshire. However back at Twitey's Tipis and Camping Meadows, care-free kids usually wear themselves out finding their own fun, playing hide and seek in the long grass and chasing butterflies; ensuring a sound snooze for the whole family. Busy days, peaceful nights. Life's good at Twitey's...
Gallery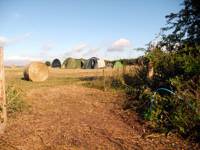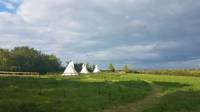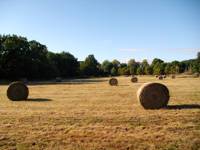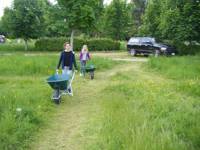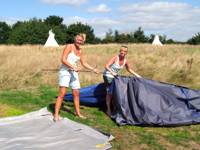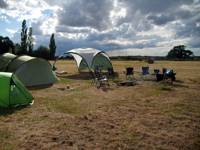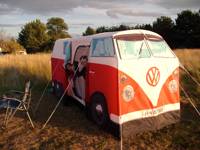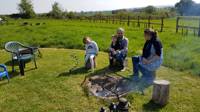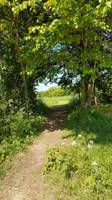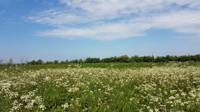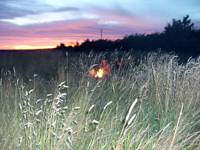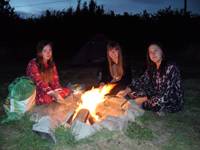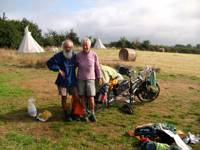 The Owner Says
Welcome to our small, beautiful and cosy campsite. Just 4 miles east of Stratford upon Avon and 8 miles south of Warwick, we provide the perfect location to enable you to breathe in the atmosphere and fully explore the delights of Shakespeare Country,Warwick Castle and the Cotswolds nearby. A family friendly site where pitches are hidden in the grass and wild flower meadows, providing seclusion and exclusivity.
Win a £100 Blacks Voucher!
If you've stayed at Twitey's Tipis and Camping Meadows campsite, please take a minute to tell us about your experience. Every month, one lucky reviewer will be picked at random to win a £100 voucher, courtesy of our recommended retailer Blacks. Each review counts as one entry, so get writing!

Reviews
Sign up or sign in to leave your review of Twitey's Tipis and Camping Meadows
A charming meadow, and brilliant holiday😃
We all feel so relaxed, and happy after our weekend here. The site design is brilliant, you can tell the owner is also a landscape architect. The car park is hidden, and man-made light is minimised at night. And i reckon any campsite that involves wheelbarrows is bound to be brilliant.
The children loved it! Or son spent hours charging round the mown paths and pitches with the other children from the site. They all played so nicely, and it felt good and safe to give them that bit of freedom.
Thanks so much for our serendipitous last minute discovery. Lovely, just lovely 😃
Beautiful site, apart from the wasps!
Some friends and I stayed here for two nights mid-August, with our children (aged between 10 months - 6 years).  The site is really beautiful and we loved the circular mown pitches with fire pits.  There is lots of space between pitches - it was full on the second night but in some of my photos it looks like we are the only ones there!  The owners were welcoming and helpful and the facilities were clean and pleasant to use.  The little shop stocks essentials including marshmallows, and there are sofas and tables in the spacious wash up area.  Taking our stuff up to the pitch in wheelbarrows was hard work, but worth it for the car-free meadow, completely safe for the kids, and no engines or slamming doors to disturb the peaceful atmosphere.
The children absolutely loved roaming the field with all the new friends they made, exploring through the long grass, meeting the chickens and ducks, and toasting marshmallows on our campfire.  The site was very quiet from 10pm and we enjoyed peaceful evenings and nights.  During the day we visited the airfield just down the road - walkable even by toddlers - where you can get a good cooked breakfast/lunch and a hot drink.  There are loads of attractions nearby if you were staying for longer.
It would have been an absolutely perfect experience, if it hadn't been for the wasps.  There must have been nests close by as we were constantly being pestered by them - it wasn't just the odd one or two, they were there as soon as we started pitching, even with no food out.  This really put a downer on our stay, as we all felt on edge and it was almost impossible to prepare or eat food.  A real shame, obviously not the fault of the site owners and everything else was amazing.  I've had to put 4* because of that, but if there were no wasps it would have been 5*.
I'd love to come back, just not in August!
Camping as it should be
As we were leaving, my son asked if we could go again next year but for more days... Cooking on an open fire, toasted marshmallows, running through the long grass, following chickens, bike riding on the nearby Stratford Greenway, falconry at Warwick Castle, walking by the river Avon - need I say more?  The facilities were good - clean toilets and showers. The site feels like a real labour of love for the owners; they have thought through lots of little details - long grass around each pitch, well-stocked basket in the tipi - including loss of firewood and everything needed to cook, solar candles to light the way at night, shop stock with marshmallows, firewood and fresh farm eggs....  A special thanks also for posting back my son's soft toy - see you next year!
Lovely campsite
We stayed here for 9 days with our family. We loved the relaxed atmosphere. The meadows are great (as are the campfire pits). The campsite has brandnew toilets, a small shop and a large space with showers , washing facilities, room to play, chairs, and refrigarators. Stratford upon Avon is nearby, with of cause a lot of Shakespeare but also boat rowing and a lovely butterfly farm.

Thank you so much
We visited with our young family as a trial run (not far from home), just before Aug Bank holiday.  We loved it!  Stuart is fantastic, he does so much to keep things running smoothly, looking good and most of all was so welcoming, hospitable and helpful, he really went out of his way to make sure we were all sorted and settled in. The site is so well maintained and I love the long grass around the pitches.  All of the amenities were kept clean and tidy and there was everything you need readily available.  It was our first trip with our six-month old and although we'd prefer to go further from home we will definitely go back as it was fab and the view from the top field was beautiful.  Thank you and very special thanks to Stuart - you really made the trip for us x
Best Price Guarantee, with no fees
Instant booking confirmation
Trusted for 10 years
A chance to win camping goodies in our regular competitions!
Free Eat Natural hamper with every Cool Camping booking in April.
Loved it!!!
Stuart you are fabulous!!! He made our visit so welcoming and made it such a friendly atmosphere, he was so very helpful!! The place itself is in working progress but it is fabulous for what you pay for!! I could not complain! Me and the 5 others girls who stayed for 2 nights all thought it was perfect for a weekend get away, log fire and camping games!! It was truly fantastic!! We would love to go back, and also to see Stuart because he is so enthusiastic and helpful!! Every camp site needs a Stuart!! :) thank you very much!! See you again soon 
Great tipi's
Stayed here for 3 nights in a tipi.  It was our first time in a tipi and kids thought it was great.  They are very well equipped & comfortable, although we had 4 of us in 4 person tipi- if we went again I would book a 6 person for more space.  The solar fairy lights inside were a nice touch.
The site itself is lovely, very peaceful & the long grass is a great idea. The pitches are all really well spread out providing a good sense of privacy, but with communal areas for kids to play.  Stuart, who showed us around on arrival was very helpful, and whilst the facilities are basic they have thought of everything and lots of little extra touches, such as an electric kettle in the barn with tea & coffee, fresh eggs for sale & disposable bbq's. The portaloo showers & toilets were kept very clean & tidy and were never busy- there is no lighting in the barn though, and even with torches my children found it a bit scary cleaning their teeth in the dark, so just had to remember to do that before it got too late!
The fire pits were great & plenty of wood and kindling supplied with the tipi, more than enough to keep us going!
The site is well located for Stratford & warwick, also kenilworth castle which is well worth a visit.  We would definitely go back, either in a tipi or our own tent.
Lovely Campsite
This was a one night stop on the way north to the Peaks and we couldn't have asked for better. Great pitches mown into a beautiful wild flower meadow; the poshest compost toilets I have ever experienced and nothing was too much trouble for Stuart who was always available to help. The weather wasn't great but the facilities in the barn - hot showers, tea making facilities, comfy chairs and somewhere to dry your things as well as a wealth of local info - made it not a problem. We will definitely come back again, for longer next time! Thank you for accommodating our last minute booking as we are sure you are always busy! Debbie & Rod Shore

Excellent
We enjoyed a lovely weekend in the long grass of the Meadow.  The site is well laid out and the facilities are excellent and spotless (don't be put off by portaloos and showers).  Special thanks to Stuart who was very welcoming and helpful.  We will definitely be returning.
Superb
Such a great weekend break at Twitey's Tipis.

We took the oversized pitch on the top field and were able to pitch a big 6 berth family tent with lounge area and our mountain two berth tent. There was ample space for 4 seats outside in the pitch and also rug to sit on.

The top field is great for families as their is a large mowed circular area in the middle of the field where kids can play (rounders, football etc), whilst still in view of the pitches.

Showeres, sinks, toilets - basic. But this is fine with us. Nice touches like a communal kettle, sofa, fridge and freezer, ice packs in the main unit.

No cars on the fields ... big bonus with kids. We were more than comfortable for our kids to play freely.

Stewart, your on-site concierge, is a great chap, always ready and happy to help or assist whenever needed. Martin too was also very approachable and friendly.

As suggested by Stewart, the airfield cafe was a great experience. We went on Sunday morning and it was filled with bikers, locals, non locals and pilots. What a great atmosphere. Great pictures and plane models in the cafe and large viewing area outside with table and seating to watch planes and helicopters landing and taking off while eating your grub. The kids loved it.

We will be returning with no hesitation.
Fantastic, well maintained and tranquil campsite
On arrival we were greeted by Stuart and shown around the campsite, facilities and a variety of pitches to choose from.
Each one of the pitches were spacious and offered privacy from other campers, with fantastic views of the countryside.
The facilities provided were exactly what we needed for a long weekend stay (shared fridge, freezer, hot showers, plenty of information and guides on the local area) all of which were clean, tidy and well maintained including the washing up area, toilets, shower block.
Fire pit provided and kindle and log wood was available on site, of very good quality and not at too much cost.
The staff and management were extremely friendly and polite, nothing was too much trouble and a pleasure to talk to (not like some of the
staff we have experienced at other camping venues).
The car parking is secure, only being a short distance away from the pitches and it was nice to have no cars in view when pitched up.
We have only been camping for around a year but would definitely recommend and return to Twitey's Tipis.
Could not fault it!!
We have just returned from a thoroughly enjoyable weekend at Twiteys Tipis and campsite.  We camped in our tent at the back of the field with lovely views out over the surrounding countryside.  The pitches were spread out so that you had plenty of privacy and the beauty of this place is that it isn't over crowded in the slightest.  Pitches and paths are mowed and the surrounding grass left to grow.  We had a fire pit on our pitch as do all pitches and wood is sold at a reasonable price on site.
Don't be put off by the porta loos and showers.  Stewart keeps them immaculately clean and the water is hot!  It's a basic site but that's the beauty of it!  The barn area is being renovated currently to include sinks and running hot water.  There is a washing up area too!  There is a fridge freezer for use by campers which was brilliant for popping your milk an the odd beer in, and of course the option to refreeze your freezer blocks.  There was even a kettle so that you could make a brew in the morning if required!
We received the friendliest welcome we've ever experienced from a campsite and we were given a full tour of all the amenities and pitches and then Stewart left us to choose which pitch we wanted. 
I can not praise Stewart enough he really made us feel welcome and the owner was very friendly also.
The addition of the sale of free range eggs on site from the local farm was welcomed by us too!!
There were lots of things to do in the local area too, with a nearby airfield and national trust property on the doorstep and it is so close to Stratford and Warwick you could never run out of things to do. 
We will definitely return to Twiteys soon we loved it SO much!

Book campsites near Twitey's Tipis and Camping Meadows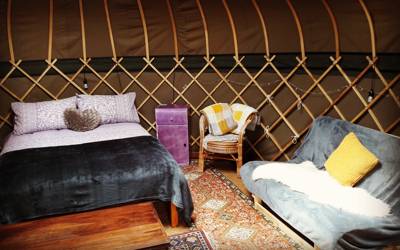 i
Glamping in Gloucestershire
Glamping in South West England
Glamping in England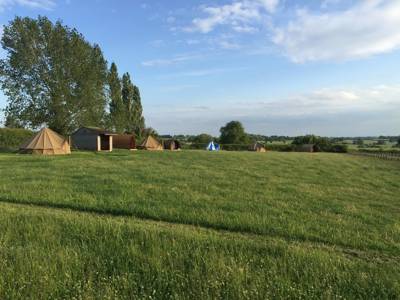 i
Glamping in Warwickshire
Glamping in West Midlands
Glamping in England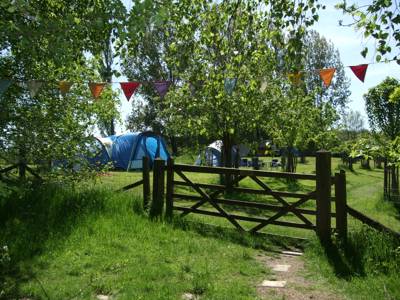 i
Campsites in Warwickshire
Campsites in West Midlands
Campsites in England