Book campsites near Chase Camping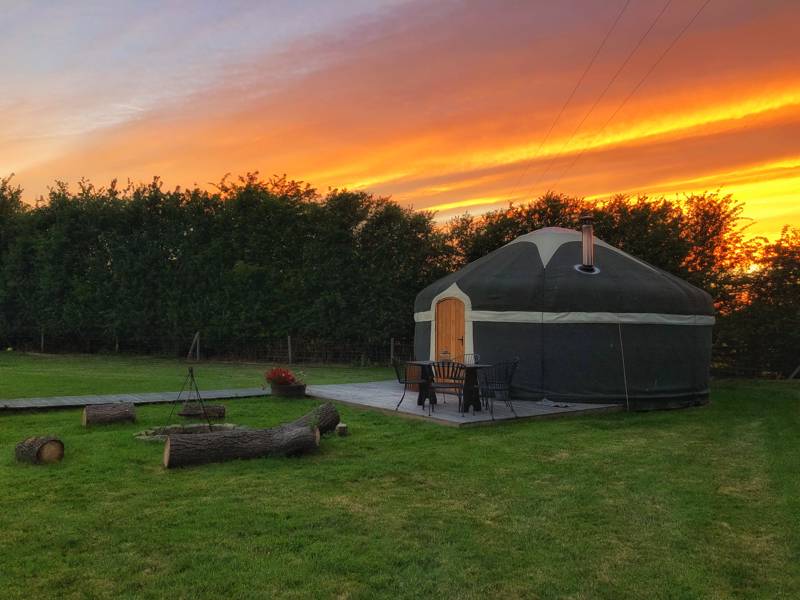 Glamping in Burton upon Trent
Glamping in Staffordshire
Glamping in West Midlands
Available:
1 Airstream
2 Yurt or Gers
Tent camping and glamping on a family farm within easy walking distance of Cannock Chase Forest
There are almost as many bikes as there are tents at Chase Camping, a pop-up campsite spread across some 30 acres of open land behind Four Oaks Farm in Staffordshire. Not that this comes as a surprise. The campsite, open just a handful of weekends a year, is a mere hundred metres from Birches Valley Forest, home to the Midland's first dedicated mountain bike trail and attracting hundreds of riders all year round. In the heart of the Cannock Chase Area of Outstanding Natural Beauty, the campsite is also a hive for the worlds' less hardy cyclists, with family bikes and tiny tots' trikes peppering the grassy meadow, too. There's something for everyone here, whether you bring a bike or not.
The campsite itself is a wonderfully laid-back affair. There's room for almost 100 tent pitches, though the reality is the place is never totally full, so campers are left with endless space instead. Pets are welcome, campfires are permitted (with firepits available to rent and logs for sale) and a live-and-let-live atmosphere pervades, while those without their own camping clobber can hire it all instead, with fully furnished bell tents available to book.
Just across the road, the Birches Valley Forest Visitor Centre is a handy starting place for getting your bearings. As well as the mountain bike trails, the forest is home to a GoApe activity centre with treetop walks and ziplines, as well as a Gruffalo nature trail for children. It also houses a decent little café and fistfuls of brochures about other good things to do in the local area. Take a browse and plan your stay – perhaps you'll follow local footpaths to the local pub (a warm old establishment with cask ales, a vast gin list and a Little Trekkers menu) or take a tour of the National Trust's nearest and grandest Staffordshire property Shugborough Hall. Whatever you choose, there's more than enough to do to fill a weekend and then some. And, since Chase Camping isn't open during the week, to do it all you'll just have to come back more than once!
Details
Facilities
Toilets, showers, water taps, rubbish bins, fire pits to hire and logs for sale. Common wildlife sightings includes deer, muntjac, owls, buzzards, foxes and rabbits.
Suitable For
Glampers, campers, tents of all sizes, dogs, groups – yes. Campervans and caravans – no.
Nearby
The campsite is a mere 100m from Birches Valley Visitor Centre (03000 674340), the main starting point for an exhilarating day out in Cannock Chase Forest – cared for by Forestry Commission England. Around the visitor centre, activities include, Go Ape (08450 949253; including Treetop Adventure and Forest Segway activities), Cannock Chase mountain bike trails (some of the most celebrated in the country), a Gruffalo spotters trail for children and 'Forest Live' concerts in the outdoors (see their online calendar for details). Further afield, the campsite is also very close (6 miles) to the National Trust's Shugborough Hall (01889 880160). Unlike many of the trust's properties, almost every aspect of the estate remains fully intact and open to the public. The complete estate, has all major buildings including the mansion house, servants' quarters, working farm and walled garden, plus a museum and an excellent model farm. On another note, the Staffordshire IronMan triathlon in June also goes directly past the campsite gate, making it a popular base for spectators as well as participants.
Food & Drink
Birches Valley Café (01889 574475) across the road at the Birches Valley Visitor Centre serves light lunch options, snacks, drinks and ice creams. It's an easy 10-minute walk to The Horns Inn (01889 586000) in Slitting Mill, which boasts a warm, cosy atmosphere in spring time – open fires, hearty food, real ales and endless gin options – and outdoor space in summer time. Dogs are welcome too. By car, drive the short distance to The Wolsey Arms (01889 883179) in Wolsey Bridge – it also makes for a very pleasant longer walk.
Opening Times
6 weekends only, between late March – end of August. See calendar for details.
Location
Contact Chase Camping, Four Oaks Farm, Penkridge Bank Road, Rugeley, Staffordshire, WS15 2NE
Getting There
The area postcode is WS15 2NE. The Chase Camping campsite entrance is just off Penkridge Bank Road, 50 yards after the junction with Birches Valley Road (when traveling from the Stafford direction). You'll receive a map detailing the exact location in your booking confirmation e-mail.
The best train station is in Rugeley – Rugeley Trent Valley Railway Station (
0845 748 4950
) 3½ miles from the campsite – where there is also a bus and coach station. There is actually a slightly closer train in Rugeley Town Station, though the line is much quieter and trains are less frequent.
Reviews
Add Your Review
Rated ★★★★★ over 10 reviews
Beautiful Location
Really beautiful position. The owner was a really nice gentleman and very helpful. This is a basic site but I found all the services to be adequate for my needs. Clean toilets and showers. Just the sort of site I like.
Everything just as described
We have just come back from a wonderful weekend at Cannock Chase which was no doubt helped by the good weather! The initial booking was easy, the welcoming on arrival was good and set the scene for a relaxing visit. The bell tent was clean and tidy as was the site which was well managed with all facilities clean and functioning. Overall we were very pleased and look forward to visiting again next year.
Fabulous Find !
Wow ! Great location for Cannock Chase forest with all the activities including Forest Live concerts. Large pitches with lots of space. Showers were warm and toilets were clean. Would highly recommend, we will be back.
it was nice and relaxing and friendly staff
friendly staff and right near where we needed to go. fab place to visit
Relaxed 😌
Lovely relaxed site with no pitch sizes or marking out....... you literally pitch where you like & take up as much room as you like! Plenty of space for kids to run & play. Opposite a big country park with go ape, cycle hire (mountain bikes), walks and a cafe. The only downside was the portable showers....... the water temperature was either Baltic or scorching but I did see a plumber working on them on our pack up day. I was not told of any noise rules for the site but in general most campers drastically reduced the noise levels bang on 10pm. There is no ehu which is fine by me....... my teenage son was not so impressed 🤣. I would definitely recommend this site when it is open, which I gather is not permanently.
Great location, plenty of fire pits, brilliant basic experience
We loved this site. It was pretty basic, as we expected based on the descriptions online, but we love this. The portaloos were perfectly adequate and the showers were absolutely fine. There was plenty of space, even on a busy bank holiday Sunday, and loads of fire bowls up for grabs. The location was fantastic, right opposite the forest park - we did the segway experience and had a lovely trail run. Loads of stuff for kids too. The guy taking care of the campsite was friendly and on hand to answer all our questions. We would definitely stay again and wish the owners best of luck in getting more established - although it is already great as it is!
Lovely location and views
I wasn't expecting quite such a basic site. There are no proper facilities at all. The is a trailer with chemical loos and some portaloos. The showers were in portaloo cabins and there were only 2 showers and I would guess at least 300 people. There was nowhere to wash dishes etc. It is fantastically close to Birches Visitor centre but also next to a noisy road. It was lovely to have the fire pits and the site attracted a real mix of people which did mean some loud music late into the night which is not so fab with young children. We actually had a fantastic time but would not go again. It was more like a £5-10 a night place and so in my opinion overpriced for such basic facilities.
Absolutely Fantastic
The campsite was in the heart of the forest near the visitors center, loads of walking paths and bike trails to do and beautiful views all around. the location of the campsite was perfect as like i have said opposite the Forrest, a Pub with good food and good drink choice was 10 minute walk away and it was also easy to find and pitch up. when we arrived we were greeted by the site owner who gave us our fire pit and wood, told us about the area, things to do where to eat ect ... and he would check up on us two or three times a day to see everything was good. overall great site :)
Beautiful, basic site with camp fires
Well located site with plenty of space so you aren't disturbed by other campers. Facilities are definitely basic, but perfectly adequate, and being able to have a camp fire is lovely! The owner was very helpful and friendly when needed, but otherwise left us to get on with it (perfect!). Would highly recommend for a weekend trip.
Basic site with gorgeous views and in a great location
We had a fantastic stay at Chase camping over the bank holiday weekend. Basic site but with everything we needed for a lovely stay including loads of space for the children to play and a shower once we worked out that was what the disabled toilet cubicle was. It was a lovely atmosphere at the site in the evening with all the fires going; the fire pits and wood were a perfect addition to our stay. The campsite couldn't be better placed for access to Birches Valley where we spent every day of our stay. One evening we had a lovely walk through the woods to the Horn Inn. We will be back next year.